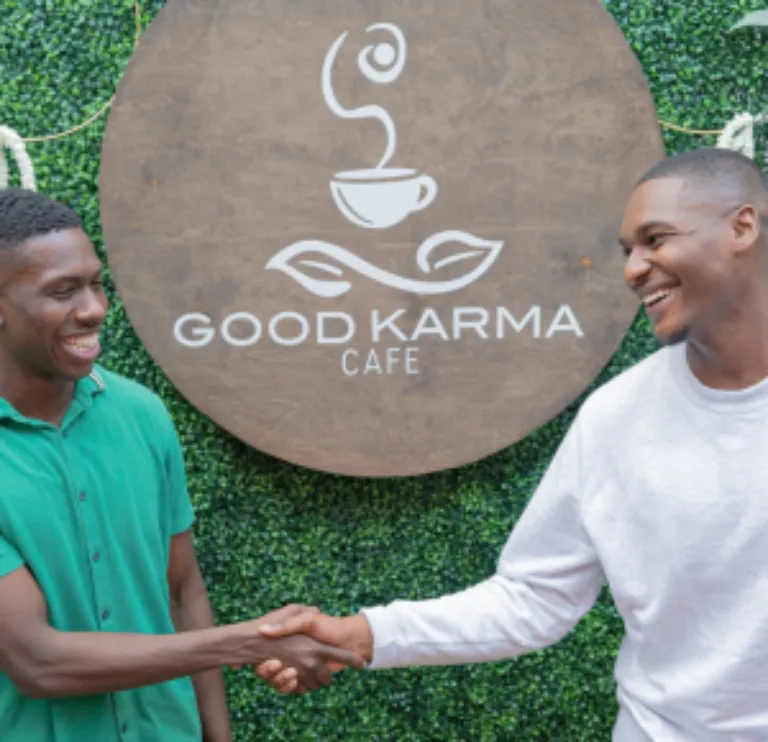 Profiles in Passion - Entrepreneurial Partners
Dimitri Thompson and Kendall Farrell, business graduates from the Class of 2019, continue to pursue their entrepreneurship goals and purpose. In the summer of 2019, Thompson, who earned his degree in accounting, and Farrell, who earned his degree in marketing and entrepreneurship management, shifted their focus from product development to consulting and established their new business, 431 Consulting. Primarily, 431 Consulting focuses on content creation, marketing, social media management, data analytics and reporting. Thompson and Farrell have found their niche market by serving small businesses, with clients in Scranton and Philadelphia, Pa.
Knowing that entrepreneurship can involve a series of trial and error, the duo reevaluated their goals by strategizing what they were passionate about and marrying that passion with their purpose. When they were students at Marywood University, Thompson and Farrell invented a device that cleans the undercarriage of a car. The name of their product was called, "The Uni-Glider." While in the midst of their Kickstarter Campaign for their Uni-Glider product, and as a follow up to strategizing for the future, the business partners took lessons learned from the Kickstarter Campaign and applied them to their consulting business.
During their time as students, Thompson and Farrell were two-time top 5 finalists in the techBridge competition (also known as The Business Plan Competition), a regional contest designed to stimulate innovative thinking to leverage a technology-driven economy while retaining our regions' talent. Through the techBridge competition, and with the assistance of Christopher Speicher, Ph.D., associate professor of marketing and entrepreneurship at Marywood University, the duo of entrepreneurs were able to fine-tune their prototype and move closer to being able to offer the product on the market.
Recognizing that Philadelphia, Pa., offered both opportunities and contacts needed, and, similar to Scranton, wasn't too big or too small, the partners relocated to Philadelphia to grow their business while still maintaining their client base in the Scranton area. As students, Thompson and Farrell both resided in Scranton, but were originally from New York City. The pair knew that they would be able to navigate a larger city and would have additional opportunities in the Philadelphia market.
Excited to continue to hone their marketing, accounting, and entrepreneurship skills, Thompson and Farrell are growing their clients' businesses, while also working full-time jobs outside of their consulting business, with the goal of eventual full-time management of their business. Thompson works as a senior financial analyst at the medical technology company Enovis, and Farrell works as a senior marketing associate at the online casino Fox Bet.
Originally T&F Products, a marketing firm for small businesses, 431 Consulting is assisting its clients with the expertise needed to give them an edge over competitor start-up businesses.