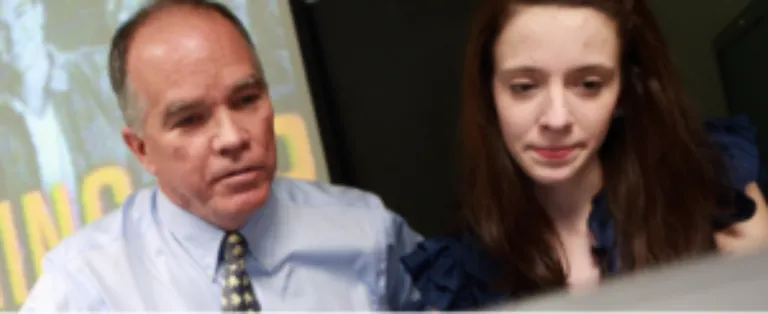 Marywood Students and Faculty Take Part in International Business Project
Marywood University master of business administration and undergraduate business students, as well as their faculty advisor, Christopher Speicher, Ph.D., associate professor in the School of Business and Global Innovation, participated in the X-Culture International Business Project. The X-Culture Project is a large-scale experiential learning exercise designed to provide students with an opportunity to gain first-hand experience in international virtual collaboration.
Of the more than 5,000 students from over 132 universities in 65 countries, 68 Marywood University students participated in the Project through Dr. Speicher's International Business management course.
Vasyl Taras, Ph.D., X-Culture Project founder and coordinator said, "Marywood can be proud of your faculty members and students, who did exceptionally well. Based on peer evaluations and our performance records, Marywood students came in very well prepared. They did a wonderful job of establishing contact with their international peers, put an impressive effort into working with their teams, made significant intellectual contributions, and made a very positive impression on their team members."
Working in global virtual teams, the students developed a business proposal for companies that partnered with X-Culture this past semester and provided a detailed plan for implementing the idea. During the project, the students had numerous live webinars with their client company, owners, or CEOs. The students had an opportunity to learn more about the business, its history and products, ask questions, and receive feedback on their suggestions. Depending on the geography, many students had an opportunity to visit their client's company, have a company tour, meet the management team, and present their work.
X-Culture also sent a letter of appreciation and valuable contribution about Dr. Speicher to Sister Mary Persico, IHM, president of Marywood University. The letter states, "Christopher Speicher proved to be an innovative and inspiring educator and a very reliable partner, who took the responsibilities related to the project very seriously, completed all tasks on time, worked diligently with the students, and responded promptly to students' questions and concerns. Moreover, Dr. Speicher showed interest in the research side of the project and has been actively helping with data collection and contributed otherwise to our research efforts."