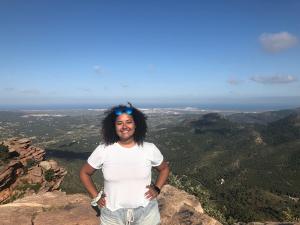 Krystine Jiménez, was selected to Cooper-DuBois Fellows
Marywood University senior Spanish and biology major, Krystine Jiménez, was selected to join the next cohort of Cooper-DuBois Fellows at the Pennsylvania State University. Through this program, she will learn about Penn State's commitment to Africana, African American, and Ethnic Studies through the historic cluster hire of 13 faculty specializing in African American life and culture, as well as its 2020 launch of the new Center for Black Digital Research.
Ms. Jiménez will also attend a variety of workshops related to new directions in the field of African American and African Diaspora literary, cultural, and rhetorical studies, and hear about opportunities for Black digital and public research. The mentorship program will also provide an opportunity to meet with faculty, area, and program heads, as well as current and former graduate students to provide support as she applies to graduate programs.
Ms. Jiménez said, "When I first decided to take Spanish classes at Marywood University, I never thought I would minor in it, let alone take on another major. In my first Afro-Latinx course, taught by Joshua Deckman, Ph.D., assistant professor in the Foreign Languages program at Marywood University, I learned more about myself and my heritage in one class than I have learned my whole life. I am Dominican. I am Dominican, and I am Black. I decided to apply to the Cooper-DuBois Fellows program to see how I can pursue a career in Black Studies to build upon what I have learned in my courses at Marywood. The knowledge that I have acquired through my Afro-Latinx courses at Marywood and what I will acquire from this fellowship program is the first step in reaching my goals."
The world is full of languages. It's a first step toward a wide world of career options. At Marywood, every student is able to study a modern language as part of the University's core liberal arts curriculum. There are numerous opportunities for students to study abroad in countries throughout Europe and Latin America. Exposure to different cultures and diverse people helps prepare students for study and travel abroad and local and international internships.
For additional information about Marywood University's Communication, Language and Literature department, please visit www.marywood.edu/efla, or call the Office of Admissions, at (570) 348-6207.