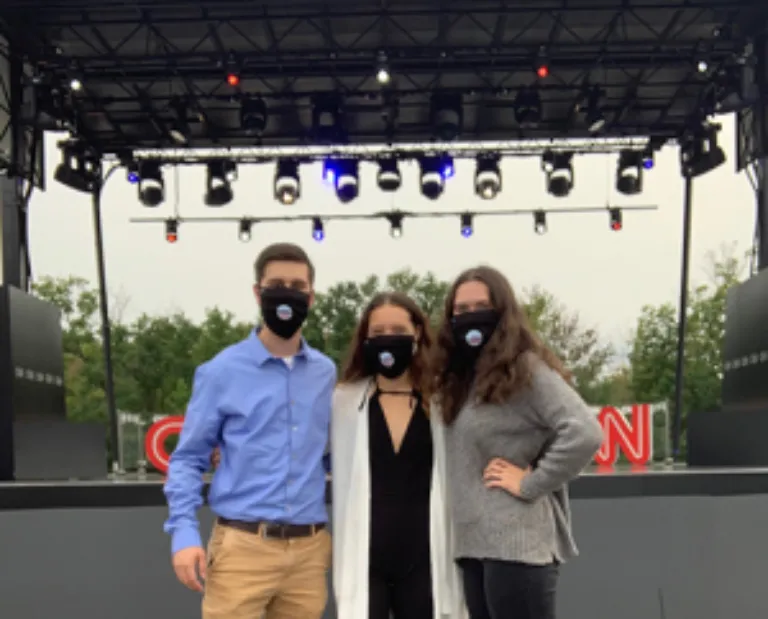 Front and Center at Vice President Joe Biden's Town Hall on CNN
For Marywood University students Austen Miller, Honesdale, Pa., sophomore history/pre-law major, and vice president of the student government association (SGA); Madison Howell, Enfield, Conn., junior music therapy major, and multicultural and international affairs SGA representative; and Lexi Palys, Scotrun, Pa., senior computer science major, and SGA president, being invited and slated to ask a question at Vice President Joe Biden's Town Hall on CNN was the opportunity of a lifetime.
Mr. Miller explained that as a history/pre-law student, he has made a lot of contacts and was encouraged to fill out the application to have his question considered at the CNN Town Hall with Anderson Cooper.
"I submitted three or four questions that I wanted to ask. Within a week of filling out the application and submitting it, I received a call from CNN the night before the Town Hall to advise that I was invited to attend and potentially ask my questions of Vice President Biden."
Mr. Miller, Ms. Howell, and Ms. Palys arrived on time and were the second ones to be admitted to the venue. As such, they were able to get front row, center billing for the Town Hall.
"It was really exciting. We went through the routine of a vehicle check, but, after all of that was complete, we were able to speak with Anderson Cooper on multiple occasions and had some one-on-one time with Vice President Joe Biden, who reminisced about attending kindergarten at Marywood and growing up just a block away from Marywood's campus."
Although time had run out prior to being able to ask his question, Mr. Miller said he would have asked Vice President Biden the following: "As a voter from rural Pennsylvania, I see many people who are former democrats who have become disenfranchised with your party. What would you say to these voters, and what is your plan to help reinvigorate small towns that feel they have been left behind?"
When the evening concluded, Mr. Miller and his co-students conveyed that this was the opportunity of a lifetime. As officers and members of the SGA at Marywood, they are especially excited, since, at the time of this writing, the election is just 46 days away. SGA members are planning a Pacers to the Polls event for this Tuesday, September 22, 2020, in conjunction with National Voter Registration Day. Planned events for the day include a face mask giveaway from 11 a.m. – Noon, from Noon to 2 p.m., a drive-through voter registration event will take place, and the day will conclude with a pledge signing and cookie giveaway from 3-4 p.m. All students, faculty, and staff are invited to attend these events.
For Mr. Miller, the event was "the best experience," and he will carry the memory of it into his future. His plans are to go to law school, following graduation from Marywood. "While I'm not sure if I want to practice law or go into politics, I will figure that out as I continue on this path of learning about the law, history, and politics," Mr. Miller said.