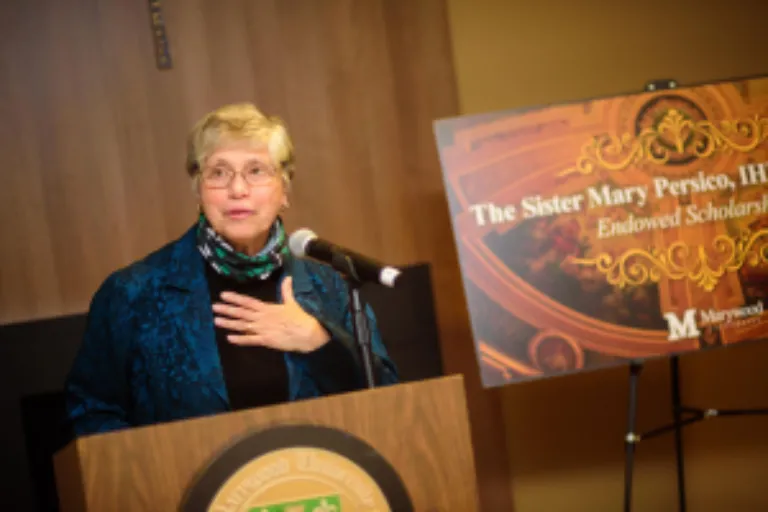 Board of Trustees Honors Sister Mary with Endowed Scholarship in her name
Sister Mary Persico, IHM, Ed.D., president of Marywood University, was recently honored by the Board of Trustees with an endowed scholarship in her name to celebrate her 50th Jubilee. Since professing her vows in 1970, Sister Mary has been, and continues to be, a servant leader.
Lisa Lori, Esq. '93, chair of Marywood University's Board of Trustees said, "She [Sister Mary] is an incredible leader and is an inspiration to many. She has been an inspiration to me, both professionally and personally. The Board wanted to endow this scholarship to honor her Jubilee Year, but, more than that, to signify the scope of her lifelong dedication to Marywood, as well as to her Congregation, which she loves and cherishes with all that she is. Through this scholarship in her name, generations of students, who might not otherwise have the means to do so will be able to pursue a Marywood education."
Sister Mary Persico is the 12th president of Marywood University. She earned her undergraduate degree in education and French from Marywood, her master's degree in French from Assumption College, and her doctoral degree in Educational Leadership from Lehigh University. Sister Mary has served as a teacher, an administrator, and a leader in educational, health care, and congregation settings. She was the treasurer, then the president of the IHM Congregation, serving eight years in each role.
Sister Terry O'Rourke, IHM said, "Sister Mary has always been a person of vision and a master of collaboration. Whenever Sister Mary served in her IHM Ministry, her many gifts and skills led her to ever increasing responsibilities and various leadership roles. Sister Mary has always been and remains a woman of prayer and discernment."
Following her congregational leadership, Sister Mary went on to serve as executive vice president at Trinity Health, one of the largest multi-institutional Catholic health care delivery systems in the nation. Her lifetime of leadership and service to Marywood University was brought full circle when she took the role as president of the University. In her position as president, she has thrived by guiding Marywood through tough, but prudent decisions to position the University for the 21st century. Marywood has prospered under her leadership, even when facing unforeseen challenges like the COVID-19 pandemic.
During her junior year as a student at Marywood, she entered the IHM community and finished her studies as a candidate. Sister Mary recalls, "I was attracted to the IHM Sisters because of their spirit at Marywood. I was impressed by the way they work, their community, and their sense of service to others, especially the poor and less fortunate. I was hooked."
For additional information about The Sister Mary Persico, IHM, Ed.D. '69 Scholarship, please visit Marywood University's Advancement office.