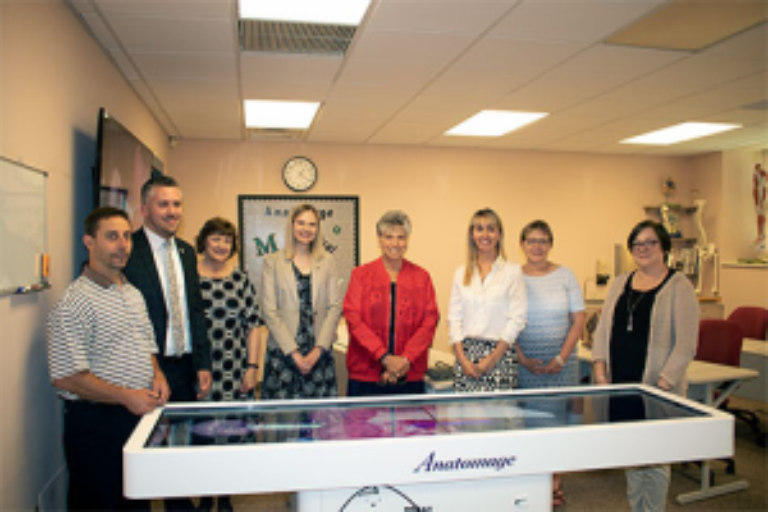 Anatomage Table Demonstration Held for Moses Taylor Foundation Representatives
Marywood University recently held a demonstration for representatives of the Moses Taylor Foundation, whose grant award funded the purchase of the Anatomage Table.
The Table will enhance the University's ability to train students on state-of-the-art equipment, and will be utilized in multiple health-related educational programs, including the Physician Assistant, Nutrition and Athletic Training, Nursing, and Communication Sciences and Disorders programs.
The Anatomage Table is the most technologically advanced anatomy visualization system on the market. It is both a virtual library of human and animal cadavers, as well as a clinical diagnostic tool by visualization of any Medical CT, CBCT, or MRI Scan.
LaTida Smith, Moses Taylor Foundation president and CEO said, "With investments including health care workforce development, mental health and counseling services, and capacity building, these 2018-2019 second quarter grants support our partners' efforts to improve both the health of individuals and of organizations in the communities we serve."
Photo ID (left to right):
Steven Reggie, DC, clinical assistant professor, Doctor of Chiropractic at Marywood University; Jeff Smith, Moses Taylor Foundation program officer; Ellen Stevens, office manager for the Moses Taylor Foundation; Christine Marcos, program officer for the Moses Taylor Foundation; Sister Mary Persico, IHM, Ed.D., president of Marywood University; Lisa Antoniacci, Ph.D., associate professor of biology and biotechnology, director of the Biotechnology Program, and Health Professions Advisory Committee chairperson at Marywood University; Deanne Garver, Ph.D., chairperson and assistant professor of Chemistry at Marywood University; and Deborah Wardach, M.S., laboratory manager at Marywood University.