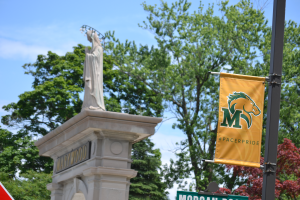 Psy.D. Program Ranks Among Top 50 in the Nation
Marywood University's clinical psychology doctoral program (Psy.D) was recently notified that its program ranks #30 among the top 50 in the nation for students to consider in 2020. The ranking notification was provided by PsyDPrograms.org, a leading online social community for graduate-level psychology students. PsyDPrograms.org considered more than 80 American Psychological Association (APA)-accredited doctorate of psychology degree programs, comparing them across a range of factors, including selectivity, tuition and completion time, and found the Psy.D. program at Marywood University ranked within the top 50 in the United States.
According to its website, PsyDPrograms.org states, "Marywood University's clinical psychology Psy.D. empowers graduates with the ability to deliver cutting-edge, compassionate clinical mental and behavioral health services to a diverse range of populations. Marywood's Psy.D. program is nearing its 15th year of accreditation by the American Psychological Association, and the program was designed not only to give students the psychological background to help people in crisis, but to succeed as mental health professionals by grounding them in the fundamentals of legal and business practices."
The Clinical Psychology Doctoral Program at Marywood University trains students to provide state-of-the-art, ethical, humane and culturally sensitive clinical services to diverse populations. On the way to earning a Psy.D. in clinical psychology, Marywood teaches students to be research-informed practitioners with general skills who pursue development in specific areas through electives, practicum sites, internships, and post-doctoral training.
For additional information about PsyDPrograms.org rankings, please visit psydprograms.org/apa-accredited-psyd-program-rankings.