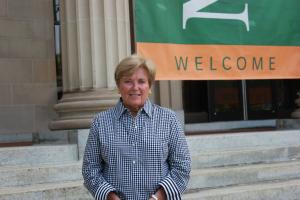 Elizabeth Burns Elected to Board of Trustees
Sister Mary Persico, IHM, Ed.D., Marywood University President, recently announced that Elizabeth "Betty" Burns, of Jefferson Township, Pa., and Charleston, S.C., has been elected to Marywood's Board of Trustees. She will serve on the University Advancement Committee and the Financial Affairs Committee.
Burns retired in 2005 from The Capital Group of Companies in New York, where she served as Senior Vice President of Capital Guardian Trust Company, an investment advisor to Public and Corporate Pension Funds, Endowments and Foundations. Prior to her 16 years at Capital Group, she worked at Time Warner, Inc. as Assistant Treasurer in the company's Corporate Finance Group. She was responsible for the company's pension, 401-K, and corporate cash portfolios.
Since retirement, Ms. Burns lives in Charleston, S.C., and in Jefferson Township, Pa. She serves locally on the Board of United Neighborhood Centers and is a Founding Member and Trustee of NativityMiguel School of Scranton. She also is a member of Women in Philanthropy of Scranton.
A graduate of Fordham College at Lincoln Center (B.A. Economics - 1983), Ms. Burns has served as Co-Chairman of the Board of Advisors at Fordham College at Lincoln Center. She also served on Fordham University's Board of Trustees from 2008-2014. She attended Lackawanna Junior College and graduated from St. Patrick's High School in Olyphant, Pa.