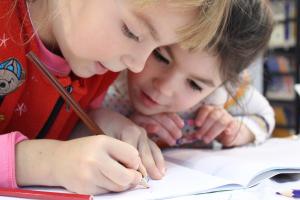 Early Childhood Education Program Ranks Among Best in the Nation
October 07, 2019
Marywood University's Early Childhood Education Program ranks among the best in the country in a recent listing of Study.com's Best Early Childhood Education Schools. Ranked at #26 from the hundreds of schools evaluated, Marywood ranked among the 50 schools that offered exceptional early childhood education programs selected. The schools on the list all have early education programs that prepare students for state certification and outperform the competition in terms of field hours, student organizations, classes, financial aid, and more.
Study.com said, "Schools found on this list would be an excellent choice for an individual looking to prepare for a career in this teaching field."
According to its website Study.com, when selecting its list, the organization looks at statistics from the U.S. Department of Education as well as examining the unique programs, features, and learning experiences offered at each school. Study.com's education degree rankings are distinctive in that they emphasize accessibility, affordability, and quality of education, which are considered the most important attributes in its school rankings.
Study.com said, "Marywood University understands the need to develop excellent teachers through its bachelor of science degree in Early Childhood and Elementary Education and bachelor of science degree in Early Childhood and Elementary Education/Special Education programs."
Marywood University's educational tradition is rooted in offering students the benefit of innovative, personalized programs that balance theory and research with practical application of that knowledge in real school settings. Marywood offers a variety of programs and teacher certifications.