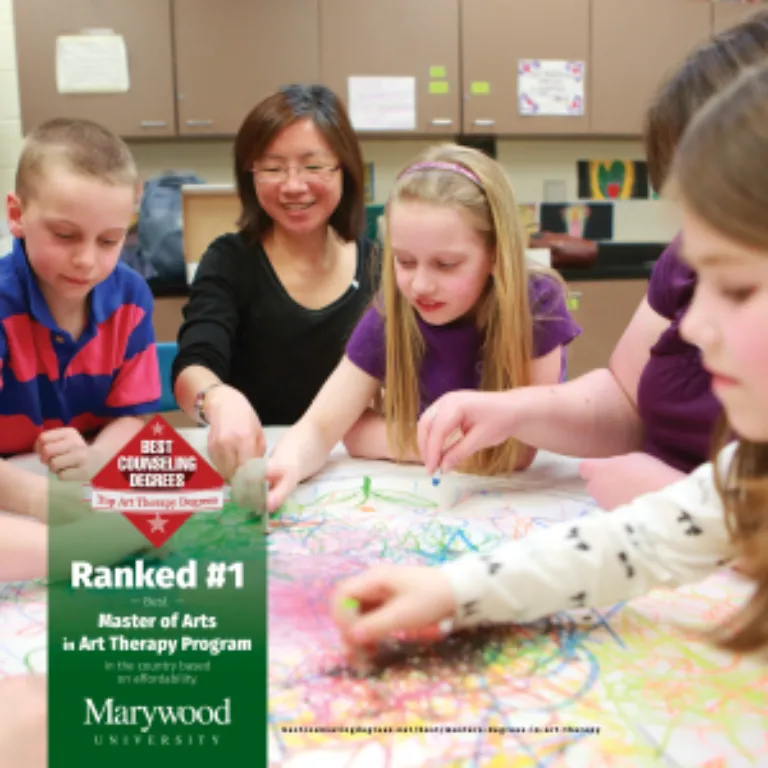 The University's Art Therapy Programs Receive Top Rankings
Marywood University was recently notified that its Graduate Art Therapy program is ranked first for the best art therapy program in the country based upon affordability. Additionally, Marywood's undergraduate program is ranked 30th for best Undergraduate Art Therapy program in the country. Both the graduate and undergraduate rankings were done by Best Counseling Degrees and were ranked by affordability from statistics supplied by the National Center for Education Statistics.
The University's master of arts in art therapy degree program is offered through courses in art, ethics, and attention to spiritual values. The program focuses on training students for professional careers as art therapists. Students have the opportunity to integrate the practice of art with academic and clinical theory for the purpose of providing mental health services to diverse populations. Graduates will be prepared to pursue certification as an art therapist and licensure as a professional counselor.
The bachelor of arts in art therapy degree program at Marywood University is offered to those who plan to pursue a master's degree, and students can complete both the undergraduate and graduate degrees in just five years. The program is designed for students who are interested in having a career focused on both making art and on providing direct services to others. The undergraduate courses concentrate on the pre-professional level by building a foundation in studio skills and the behavioral sciences, while the master's level program emphasizes training to prepare graduates for professional practice as an art therapist.
Stephanie Wise, director of art therapy and clinical associate professor of art at Marywood University said, "In our art therapy program, each learner is encouraged to cultivate and integrate both their artist and therapist identities. Our commitment to the healing capacity of the art making process goes beyond theory alone, as each student embarks on the journey of professional development within our humanistic program. Within the program we strive to regard all people with dignity, compassion and a firm belief in the creative potential of everyone."
To view the graduate rankings for Best Counseling Degrees in Art Therapy, visit bestcounselingdegrees.net/best/masters-degrees-in-art-therapy/. To view the rankings for Best Counseling Degrees in Art Therapy at the undergraduate level, please visit bestcounselingdegrees.net/best/undergraduate-degrees-in-art-therapy-ranked-by-affordability/.