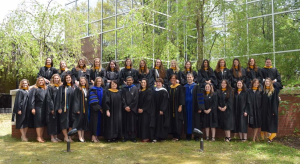 Communication Sciences and Disorders Graduates Earn 100 Percent Pass Rate
The University's Department of Communication Sciences and Disorders (CSD) is proud to announce that its 2018 graduating class from the Master of Science program in Speech-Language Pathology has achieved 100 percent pass rate on the National Examination in Speech-Language Pathology. A pass rate is required for certification as a speech-language pathologist by the American Speech-Language-Hearing Association. All graduates passed the examination on first attempts. The CSD Department currently has a three-year average of 100 percent for passing of the National Examination of its graduates within one year of graduation.
First row standing:
Victoria Tingley, Neversink, N.Y.; Kristen Emery, Stroudsburg, Pa.; Brittany Odell, Honesdale, Pa.; Taylor Patullo, Basking Ridge, N.J.; Natalie Turner, Williamstown, N.J.; Dr. Lauren Burrows, academic faculty, Scranton, Pa.; Mrs. Mary Margaret Mazzaccaro, clinical faculty, Duryea, Pa.; Dr. Vijay Ramachandra, academic faculty, Stroudsburg, Pa.; Mrs. Amanda Bennett, clinical faculty, Jefferson Township, Pa.; Ms. Andrea Novak, clinical faculty, Olyphant, Pa.; Ms. Renee Jourdanais, clinical faculty, Pleasant Mount, Pa.; Dr. Bruce Wisenburn, academic faculty, Clarks Summit, Pa.; Ashley Garrido, Saylorsburg, Pa.; Amanda Petersen, Gap, Pa.; Lauren Schneider, Port Jervis, N.Y.; Samantha Michael, West Chester, Pa.; and Faith Harrison, Springfield, Pa.
Second Row (seated left to right)
Erin Byrne, Warwick, N.Y.; Carissa Robishaw, Clinton Corners, N.Y.; Catherine Kunz, Oakland N.J.; Mary Swift, Clarks Summit, Pa.; Cassie Caldwell, Mountain Top, Pa.; Taylor O'Neil, Lansdale, Pa.; Vanessa Latorre, Peckville Pa.; Sofi Walter, Hamilton, N.J.; Brianna Bruster, Vestal, N.Y.; Tiffany Mathis, Staten Island, N.Y.; Alyssa Bavaro, Westbury, N.Y.; Natalie Burke, Yorktown Heights, N.Y.; Erin Regan, Hopewell Junction, N.Y.; Brooke Labs, Perkasie Pa.; and Anthony Muscato, Lincoln Park, N.J.
Absent from picture:
Rachael Amarante, Lewisburg, Pa.; Polina Odegova, Newark, N.J.; Dr. Mona Griffer, academic faculty, Clarks Summit, Pa.; Mrs. Marla Kovatch, clinical faculty, Archbald Pa.