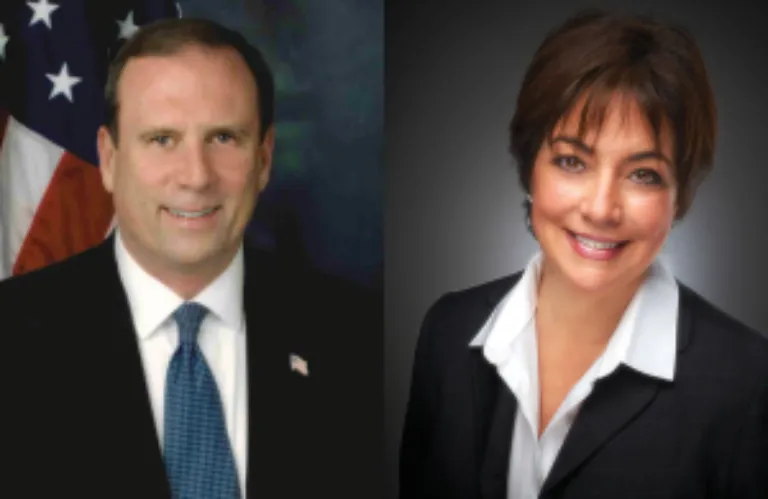 The Scrantons to be Honored at Fifth Annual Community Leadership Celebration
The University's Fifth Annual Community Leadership Celebration on Thursday, May 3, 2018, will honor former Lt. Governor of Pennsylvania, William W. Scranton III and Maryla Scranton, North Abington Township.
Mr. Scranton is a fifth generation descendent of the founders of the city of Scranton. He has followed a career similar to his forebears, including business management, community service and public office. He directs the Scranton Family Office and previously served as the Chairman of the Board of the Harleysville Group of Insurance Companies. Mr. Scranton is currently a member of the boards of Allied Services, Penn's Northeast, The Greater Scranton Chamber of Commerce, Geisinger Marworth, the Willary Foundation, the Wilkes-Barre Chamber of Business and Industry, and tecBRIDGE, an organization he helped found. He has been a strong and persistent voice for a cooperative regional approach to NEPA's economic revival and for putting behind us our region's historic divisions.
As Pennsylvania's Lieutenant Governor from 1979-1987, he developed and implemented the state's first energy policy and was instrumental in managing the state's response to the Three Mile Island crisis. As Chairman of the Governor's Energy Council, he was an early leader in the national effort to deregulate electric utilities, and developed Pennsylvania's first renewable energy atlas. Mr. Scranton created the Pennsylvania Energy Development Authority, developed the blueprint for the Thornburgh administration's comprehensive reform of human services, and championed the state's entrepreneurial revival through the Pennsylvania Small Business Council and Ben Franklin Technology Partners. In addition, he chaired the Pennsylvania Board of Pardons and the Pennsylvania Emergency Management Council. In 1986, he was the Republican nominee for Governor.
Though a seasoned public leader, Mr. Scranton's life has largely been defined outside the halls of political power as an entrepreneur and job creator. Prior to public service, he ran small businesses in Northeastern Pennsylvania, including Greenstreet News Company and Sauquoit Industries. From 1987 to 1995, he managed consumer direct marketing companies in the San Francisco Bay area, including Smith & Hawken, Fortune's Inc., and Worthington-Tuthill. A 1969 graduate of Yale University, Mr. Scranton holds honorary degrees from King's College, Lehigh University and The University of Scranton. He has received numerous awards, including the Pennsylvania Newspaper Publishers Association Award for Investigative Journalism, the Salvation Army Others Award, NEPA Boy Scouts Distinguished Citizen Award and The National Wildlife Federation Conservation Service Citation.
Maryla Scranton is a community activist and volunteer. She had a long and successful career as a fundraising executive for non-profit organizations, where she planned and executed Annual and Capital campaigns that raised millions of dollars throughout the United States. Mrs. Scranton served as Director of Development for The University of Scranton and as Campaign Director for their first national capital campaign, A Second Cornerstone. In addition, she has been Development Director at Lackawanna College; Allied Services; Marywood University; and The Langley School, McLean, Virginia. She also served as Vice President of Community Relations and Development for The Mercy Health System regionally, a division of Catholic Health Care Partners, and established the Mercy Foundation and the Monsignor Andrew J. McGowan Institute for Community Health Initiatives.
A graduate of Penn State University, Mrs. Scranton started her own business, MPS Consulting, in 2004. She has done volunteer work in Pennsylvania and Virginia. Currently, she is a member of the Board of Governors of The Scranton Area Community Foundation and a Trustee of The University of Scranton. She also serves as Chairman of the Chancellor's Board at Penn State University, Scranton. Mrs. Scranton has presented at numerous local and national conferences. She was the Commencement Speaker at Penn State-Worthington Scranton's 2013 commencement. She has been the recipient of several awards during her career, some of which include; The Children's Advocacy Center's Champion of Youth Award, and Penn State's Greater Scranton Chapter Alumnus of the Year Award
For additional information on the Fifth Annual Community Leadership Celebration at Marywood University, to inquire about sponsorship opportunities, or to buy tickets to the event, please visit Community Leadership Celebration, or call 570-348-6238.