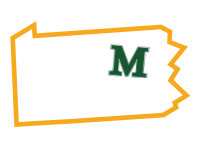 Marywood's location in Scranton, PA is a great option for all students. Our expansive campus and proximity to regional state parks make it possible for students to enjoy plenty of engaging outdoor activities such as hiking, kayaking, biking, and more whenever they want some fresh air.
There's ALWAYS something to do near Marywood's campus! Start exploring! Check out local deals, events, a top 40 bucket list, and much more through our partners, DiscoverNEPA.
Yes, Marywood is located in Scranton, home of "The Office"...and so much more!
Scranton provides an array of cultural opportunities–concerts, theatre, ballet, lectures, festivals, and art shows–as well as sports and other fun activities. Scranton's distinguished history as a labor center is celebrated in museums and Steamtown National Park. Located in the Pocono Mountains region, the Scranton-Wilkes-Barre area is renowned for the beauty of its lakes and forests, as well as access to all kinds of winter and summer sports and other outdoor adventures.
The greater Northeast Pennsylvania region has even more to offer! We are home to two minor league sports teams, the Scranton Wilkes-Barre Rail Riders (minor league baseball team of the New York Yankees) and the Wilkes-Barre Scranton Penguins (minor league hockey team of the Pittsburgh Penguins). Whether you're craving city life or seeking solitude, there are plenty of options and settings to suit your mood.
Attractions
Art Gallery & Workshops
Alumni Local Businesses
Historical Sites
& Attractions
Local Dining
Lunch Spots
Cafés & Sweets
Bakeries/Party
Creative & Performing Arts
Movies & Cinema
Local Entertainment Websites
Networking, Leadership, & Chambers
Sports Complexes
Outdoor Recreation
Shopping
Bus & Cab Services
Airports