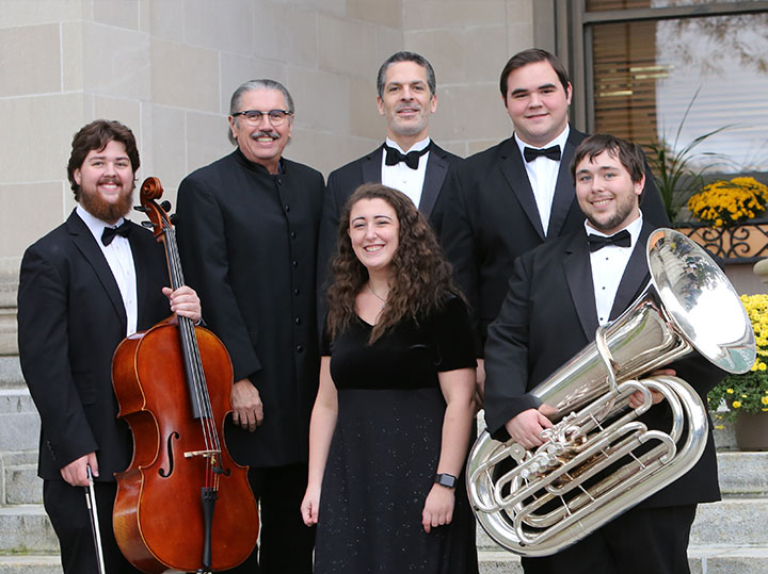 Sharing the Gift of Music
Music nourishes the whole person—mind, body, and spirit. By educating students in music, especially at a young age, we invest in their growth and development and enrich the broader society. Marywood's National Association for Music Education chapter (NAfME-c) volunteers over 100 hours collectively, hosting 3-4 large music festivals for students in grades 6-12 each year. These festivals provide students with large ensemble experiences, the opportunity to work with first-rate clinicians, and the chance to interact with other music students from around the region.

Sophomore Music Education student Craig Beavers noted that the organization's work simultaneously affirms all five of Marywood's Core Values. "NAfME demonstrates our Catholic Identity by promoting the beauty and goodness of music in our world and diversifying our students. It shows Respect through our commitment to our students, by giving them the same opportunities we are given at Marywood, and honoring their uniqueness through music," said Craig.

"It exemplifies Empowerment by giving our members hands-on experiences of working with young students, allowing them to achieve their full potential as music educators in our society," he continued. "NAfME demonstrates Service by allowing our members to volunteer their time to give to less fortunate students much-needed access to music in our community, and it embodies Excellence by offering festivals of the highest quality possible, allowing students to have the experience of a state-level festival right here at Marywood."

The best part of this gift? It is freely given to the students who participate; additionally, the excellent performance that culminates the experience is free and open to the public. The Marywood University Wind Band Celebrations are independent outreach programs designed to provide support to band students (grades 7-12) and their directors. The Marywood University Department of Music, Theatre, and Dance, the Marywood chapter of the Collegiate Music Educators' National Conference, and the Marywood University Bands sponsor the event. The Celebrations experience features auditions, rehearsals, a director's banquet, featured ensemble concerts, a performance by the Marywood University Wind Ensemble, and each event will conclude with a final concert given by the participants in either the Celebration or Honor Bands.

This year, middle school band students from throughout the region will meet at Marywood University for the 10th Annual Junior Wind Band Celebration. Over two days, these select students will study with three band conductors who all share national acclaim. The event will conclude with a free public festival performance starting at 7 p.m. in the Sette LaVerghetta Center on Saturday, December 1.


Marywood's Music, Theatre, and Dance (MTD) Department [needs link]
MTD Department Upcoming Performances and Events [needs link]
Community Outreach Efforts of the MTD Department [needs link]
Wind Ensemble Opportunities at Marywood [needs link]