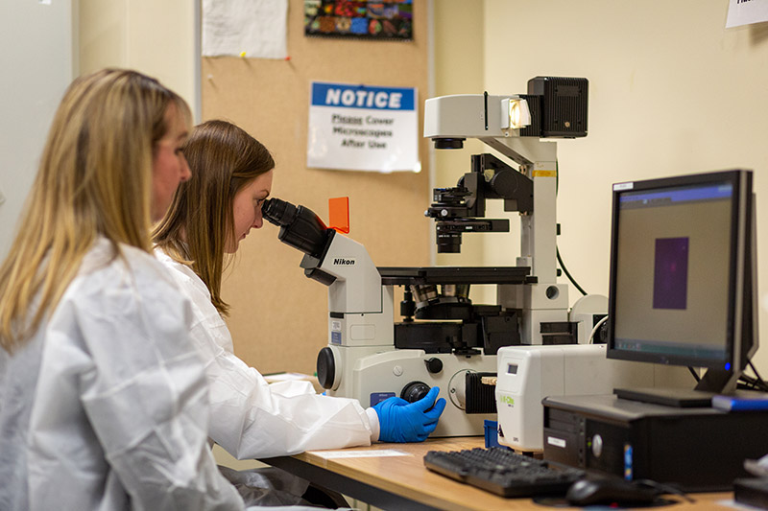 Marywood University Launches Completely Online Biotech Master's Program
Building on the success of its existing biotechnology programs and meeting emerging educational and professional needs within this growing science industry, Marywood University is launching a completely online biotechnology master's degree program.
Featuring a competitive, affordable pricing structure for all students, along with the convenience and flexibility of asynchronous online learning, the 32-credit program will be ready to begin in June 2023. The program cost will be $515 per credit, making it one of the most competitively priced graduate biotechnology degree programs in the Northeast region of the U.S.
Marywood's M.S. degree program in biotechnology is the only graduate program of its kind in Northeastern Pennsylvania, including a two-year master's program or a five-year bachelor's to master's program, with emphasis on either a research track or a business/entrepreneur track. Marywood University has had a professional science master's program in biotechnology since 2006, but this new, completely online program format "meets students where they are and offers greater flexibility as well as affordability," said Deanne Dulik Garver, Ph.D., associate professor of science and chairperson of Marywood's science, mathematics, and computer science department.
"It's an affordable, flexible option for working professionals who want to advance their career with a master's degree," said Dr. Garver. "Individuals with a bachelor's degree in the life sciences, who want to find their fit professionally, who may be seeking a new career direction or promotion in the broad fields related to biotechnology, pharmaceuticals, and healthcare, would benefit from a master's degree in biotechnology."
Marywood's interdisciplinary graduate degree in biotechnology blends modern science education with communication skills, management and business understanding, and analytical reasoning. Featuring MBA-level courses, a master's degree in biotechnology is considered the scientific equivalent of the MBA, with emphasis on cutting-edge science. Additionally, a master's degree in biotechnology greatly enhances admissions qualifications for students who eventually plan to apply to medical, dental, or veterinary programs.
"Our biotechnology graduates are in demand, immediately employable, and have great career growth potential in biotechnology, pharmaceuticals, healthcare, and more. That's an outstanding edge to have," stated Lisa Antoniacci, Ph.D., associate professor of science.
For working professionals who seek career growth and advancement, Dr. Antoniacci added, "Marywood's online master's program in biotechnology is ideal for mid- and upper-level technical/lab research and business management/research positions, and also gives students the ability to start a new company with a combination of biotechnology and business skills. There are so many possibilities!"
The present market for scientists with an M.S. Biotechnology degree is strong. The Bureau of Labor Statistics states that biomedical research is growing at a rate of 17 percent (2020 through 2030 period)—double the average growth across all occupations. Companies that currently employ Marywood University biotech graduates include Sanofi Pasteur, Biospeztra, Bristol Meyers Squibb, Novartis, Glaxo Smith Kine, and many others.
Photo ID: Dr. Lisa Antoniacci, associate professor of science, oversees the work of Megan Hedgelon, who graduated from Marywood's five-year B.S. to M.S. Biotechnology program in 2022.
Learn More about Marywood's Online Biotechnology Master's Program