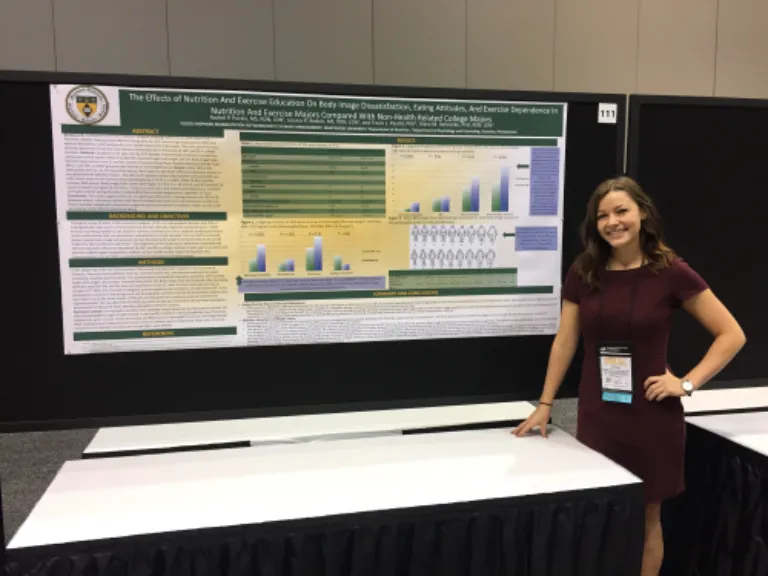 Rachel Pacala MS, RDN, LDN
Rachel received her master's degree from Marywood University in 2017, and she is also an alumnus of Maywood's Onsite Dietetic Internship (2015-2016). She is currently the Outpatient Dietitian for Metz Culinary Management at Good Shepherd Rehabilitation in Allentown, PA. Rachel facilitates Good Shepherd's Nutrition Wellness Program, where she provides individualized nutrition counseling sessions for children and adults. The emphasis of the program is to maximize nutrition and aid in the recovery from illness or injury. Rachel sees a wide spectrum of diseases and disorders including, but not limited to, the following: traumatic brain injury, spinal cord injury, stroke, feeding and swallowing disorders, overweight/obesity, diabetes, tube feed management, and neurological disorders such as Multiple Sclerosis, ALS, and Parkinson's disease. Her additional responsibilities include participation in many community events, like grocery store tours, Good Shepherd open houses, and health fairs/wellness events. Further, Rachel often presents to Good Shepherd support groups (i.e. the Spinal Cord Injury Support Group and the Stroke Support Group).
Rachel had the honor of presenting my Master's Thesis at the Food & Nutrition Conference & Expo (FNCE) this past year in Chicago, Illinois. Her research is titled "The Effects of Nutrition and Exercise-Related Education on Eating Attitudes, Body Dissatisfaction, and Exercise Dependence in Health-Reported Majors Compared with Non-health Related Majors". Her results showed that there are no significant differences in eating disorder risk, body dissatisfaction or exercise dependence between majors, indicating nutrition and exercise-related education does not predispose students to negative eating attitudes. However, weight gain prevention programs may be beneficial for students' health, as well as for decreasing risk for body dissatisfaction and disordered eating, because the results showed the overweight/obese students in all majors being at highest risk.
To her pleasant surprise, the recipe that she submitted to the Food & Nutrition Magazine through the Academy of Nutrition and Dietetics was featured in the March/April 2018 Edition in the "Lazy delicious! Pilfer Your Pantry And Make Something Out Of Nothing" section. Rachel wrote about one of her favorite go-to "non-recipes" of a sweet potato and egg hash.
"My love for this field is forever growing. There is something new to learn every day. I have begun to share my passion for nutrition and cooking with others through my personal food blog and Instagram account: @guac_nroll. My short-term career goals focus on the publication of my Master's Thesis in a nutrition-based journal. After I accomplish this, my future initiatives are as large as my appetite aka endless!"