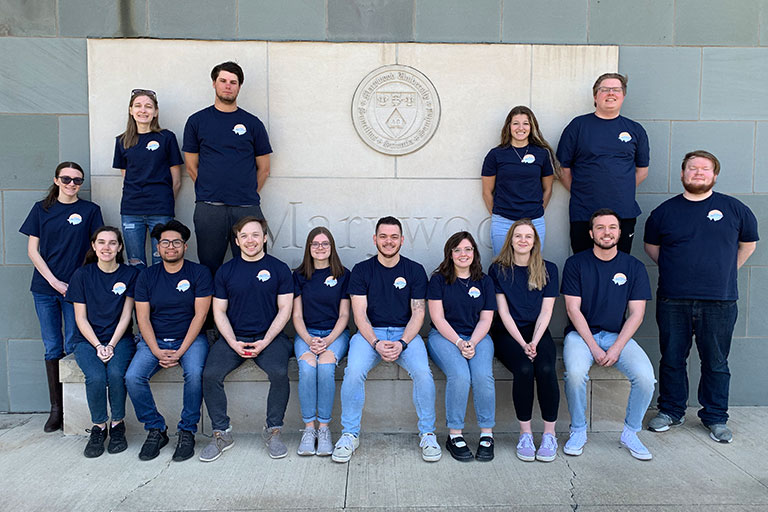 Architecture Students Earn Second Place Finish in National Design Challenge
Marywood University's School of Architecture (MUSOA) captured second place honors in the Retrofit Housing division in the final stage of the U.S. Department of Energy Solar Decathlon® 2023 Design Challenge, which took place in Colorado on April 22. The student team was led jointly by MUSOA faculty Jodi La Coe and Maria MacDonald, with design advisors Elizabeth Andrzejewski (MUSOA), Sara Melick (Marywood), Cole Hastings Goldstein (Johnson College), Jeremy Leaidicker (Penn State Extension–Susquehanna), Paul Pearson (University of Scranton), Matthew Finkenbinder (Wilkes University), and Joseph Wheeler (Virginia Tech) and industry partners Richard Pedranti Architects and Greenman Pedersen, Inc.
Students competing in the Solar Decathlon Design Challenge work in multidisciplinary teams to create innovative and high-performance building designs that address real-world issues related to climate change, affordability, and environmental justice. Marywood University was among 55 Finalist Teams representing 61 collegiate institutions during the 2023 Design Challenge. Teams presented their zero energy building designs to a panel of industry experts, and finalists were selected based on their innovations, technical plans, and the quality of their presentations. The competition included six residential and commercial divisions: New Housing, Retrofit Housing, Attached Housing, Multifamily Housing, Office Building, and Education Building.
"Just making it (to the finals) is a major accomplishment," stated MacDonald, founding director of Marywood's interior architecture program and Center for the Living City executive director. "To earn second place at this level of international competition is a prestigious honor and accomplishment."
Together with faculty, design advisors, and industry partners, students designed Glacier Jane—two floating cabins on Ely Lake and a Girl Scout troop house in the forest at Girl Scouts at the Heart of Pennsylvania's Camp Archbald in Brooklyn Township, PA. Glacier Jane is inspired by urban activist Jane Jacobs, who attended Camp Archbald, and Ely Lake, formed during the Last Glacial Period. Utilizing solar panels, wind turbines, and rainwater collection, Glacier Jane will be completely grid- and utility-independent. During the Fall 2022 and Spring 2023 Semesters, 15 architecture students worked as a team to design the buildings and hillside of Mariners' Unit. Also, during the Spring 2023 Semester, these 15 students were joined by students from other disciplines at Marywood University to create a 1:1 model of the floating cabins, which is on display in the Kresge Gallery in Insalaco Center for Studio Arts at Marywood and is open to the public.
Over the next two years, while competing in the 2025 Solar Decathlon Build Challenge (SDBC), these and many more students will build this project at Camp Archbald gaining valuable experiences alongside industry partners. For this phase of the project, Marywood University's new Living City Lab will organize students, faculty, and experts to build Glacier Jane.
The student team included: Front row, seated left to right, Michelle Petrik, Alex Hernandez, Patrick Moorhouse, Kayla Flyte, Alexander Laudone, Tess Brown, Lauren Beemer, and Ryan Fitzsimmons. Back row, standing left to right, Sam Labrosky, Lindsay Chaplik, Tyler Quick, Jade Rolon, Dean Heminghaus, and Blair Brooks. Tyler Muir was missing from the photo.