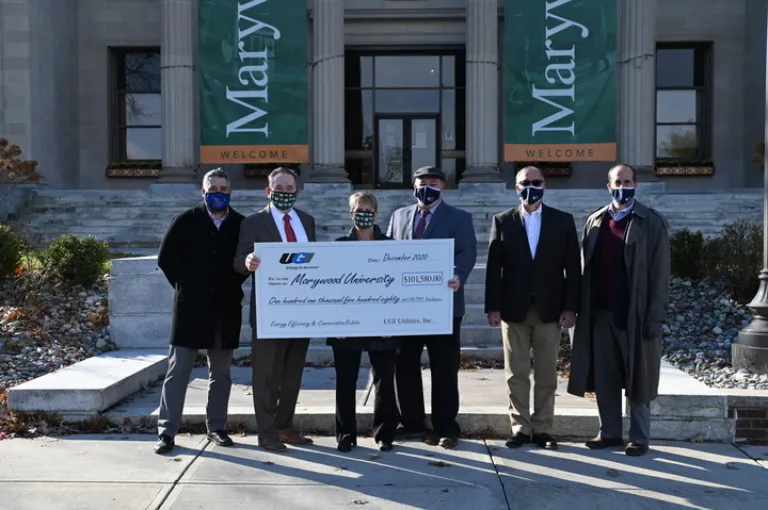 Marywood Receives Energy Efficiency Rebate Check from UGI
Marywood University was presented with a $101,580 Energy Efficiency and Conservation (EE&C) rebate check from UGI for energy efficiency improvements that Marywood made during a campus-wide energy efficiency project.
Marywood received the rebate through the Custom Program provision of UGI's Gas EE&C Program. As part of the campus-wide project, an inefficient central steam boiler system was replaced by high-efficiency hot water boilers in each building. This allows each building to be controlled independently, leading to both savings of natural gas and reduced carbon emissions.
By undertaking this project, Marywood University will save approximately 124,775 MMBtu of natural gas over the estimated life of the new equipment. As a result, the carbon emissions reduction achieved by the University is equal to removing 1,523 cars from the road.
"UGI is pleased to provide this check to Marywood University," Robert Stoyko, UGI vice president of marketing and customer relations, said. "Innovative solutions and the installation of energy efficiency technology at education facilities allows institutions to reduce operating costs while improving the environment by reducing their carbon footprint."
The UGI Gas EE&C program is designed to achieve lower energy usage and reduced overall costs for customers. The program is available to both residential and commercial customers. UGI also offers an Electric EE&C program for electric service customers.
UGI customers interested in learning more about the EE&C program are encouraged to visit www.ugi.com/savesmart.