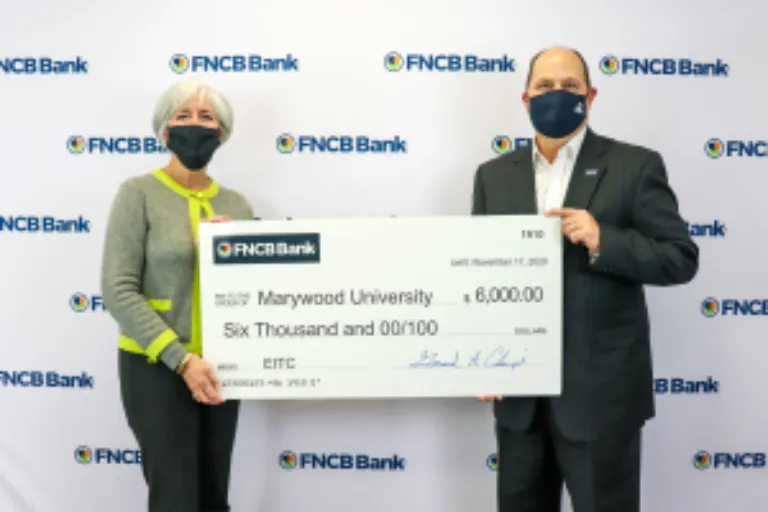 FNCB Bank Donates $6,000 to Marywood's Momentum Program
FNCB Bank presents a $6,000 Education Improvement Tax Credit (EITC) donation to Marywood University's Momentum Program. Marywood University's Momentum Program provides high school juniors and seniors with the opportunity to get a head start on college by enrolling in college level courses. Students can choose from a variety of courses, most often liberal arts courses, during the fall, spring, and summer semesters through to high school graduation.
Since 2010, FNCB has contributed nearly $2 million dollars to local educational and scholarship organizations through the EITC program. Tax credits may be applied against the tax liability of a business for the tax year in which the contribution was made. These are available on a first-come, first-served basis for contributions to EITC approved organizations like Marywood University.
The support of Marywood University is part of FNCB's larger Community Caring initiative. As a true, local community bank, FNCB Bank is making a difference through volunteerism, donations, and outreach programs. FNCB Bank, locally-based for 110 years, continues as one of Northeastern Pennsylvania's premier community banks—offering a full suite of personal, small business, mortgage and commercial banking solutions with industry-leading mobile online and in-branch products and services. FNCB remains dedicated to the communities they serve with an on-going mission to make your banking experience simply better.
Learn more about Marywood University's EITC program.
For additional information about FNCB Bank, please visit fncb.com.