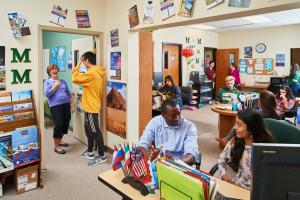 Top Ranking for Financial Aid for International Students
Marywood University was recently notified that the University has been recognized by LendEDU as an institution that provides a noteworthy amount of financial aid to international students, placing among the top third of institutions ranked.
Marywood University ranked #322 out of more than 1,000 schools that were analyzed for the report. On average, Marywood University gave $20,099 to an international student seeking financial aid.
The data was provided to LendEDU through the Peterson's Undergraduate Financial Aid Database. LendEDU states on its website that the ranking is done to determine which schools offer the most financial aid to international students to help prospective students coming from overseas decide on which school to attend and to better plan for their college careers in the U.S.
For additional information about the LendEDU ranking, please visit lendedu.com/blog/international-students-financial-aid-study, visit the Office of Admission at Marywood University at marywood.edu/international or call (570) 348-6234.