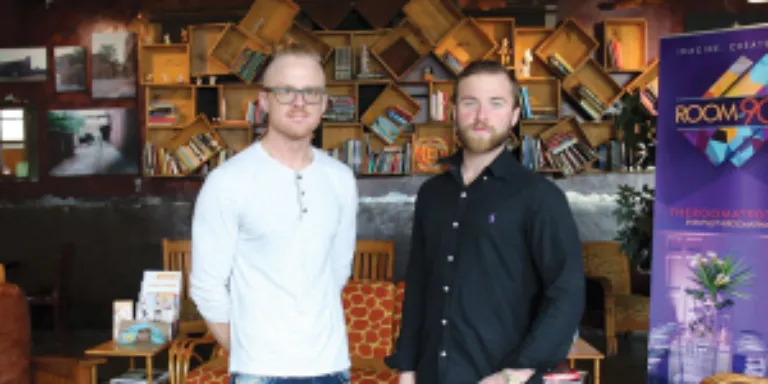 Sharp-Dressed Men
Ask Zack Graham '15 (M.A. '16) and Eric Kuhn (M.A. '18) how they became friends and eventual business partners, and both respond with one word: "Fashion."
The Marywood University graduates opened their venture, The Haberdashery, Forty Fort, Pa., this past summer. They sell a wide variety of clothes, from jeans and t-shirts to full suits. "We have something for everybody," says Eric. That "something" includes their own private label shirts. The label design is inspired by the painting, The Son of Man, by Belgian surrealist painter René Magritte, which in turn inspired one of Eric's favorite movies, The Thomas Crown Affair.
Zack recalls finding his love for fashion in high school. "I realized that your sense of fashion tends to define the person you are. I never thought I fit in, and when I decided to not be in 'the norm' was when I discovered the love of fashion. It's not about brands or what's 'popular' but more so what makes you comfortable and what makes you feel confident. My style has always been louder, but that matches my personality, so I just roll with it."
Eric relates a similar passion for fashion. "I have always loved fashion for as long as I can remember. I hated sports and never liked video games. I loved when school started, solely for back-to-school shopping. My first magazine was GQ, and I was always hooked." Eric was also fortunate enough to work under the mentorship of Philip Friedman, who owned the Scranton area's iconic fine men's store, Friedman's Clothier, until his retirement at the end of 2016.
Eric recalls, "I met (Mr. Friedman) at his store one day while buying a sport coat for my grandfather. He started talking to me about clothes and was amazed at my knowledge. I was amazed at how much I didn't know. He asked me to come work for him, and he became a very important mentor and role model. He taught me the business and would have me work with his reps to bring a more youthful approach to compliment his store. He also took me to Fashion Week, and I loved the business."
In the meantime, these two friends of fashion met at Marywood as both were pursuing their graduate educations in Communications and Business. Zack earned his bachelor's degree in 2015 and master's degree in 2016. Eric, who holds a Bachelor's degree in Letters, Arts, and Sciences from Penn State, just earned his master's degree from Marywood.
"Marywood was in my blood," Zack explains. "All of my family went there, and it was a well-rounded educational experience that helped me realize that my dreams could never be too big." Eric appreciated his education, but it was the mentorship of Mr. Friedman that truly set his path in motion, so his retirement prompted both young men to fill the hole in the market that he left.
"I always wanted to be an entrepreneur, and when Eric approached me about this business idea, everything just fell into place," Zack says. "I wouldn't take a risk until I knew there was a market need and that it was practical; this business fit both those criteria. The idea of going into a field that I was passionate about, while also filling the gap in the market seemed like my ideal opportunity to fulfill my entrepreneurial dream." Eric said the encouragement and direction of Mr. Friedman were invaluable, and he even guided them to their current location on Rutter Avenue in Forty Fort. "It's an amazing environment," Eric stated.
The Haberdashery definitely takes eclectic style and kicks it up a notch, from a graffiti-decorated desk to a chandelier on the ceiling and a traffic light near the cabinet of private label shirts. As different as it may seem, it works. The 900 Rutter Complex is filled with other small businesses, and it was the perfect location for the store, which is customer-focused and serves clients from the entire region. It's not just the store's décor, however.
"People are drawn to the store because of the atmosphere we provide. It is outside the box, but still very welcoming and interesting," says Zack. "We offer brands that are exclusive to our store as well as tailoring and green dry cleaning services. We are a part of all the marketplace events at the 900 Rutter Avenue building, as well as other events that go on in the area. We are all about synergy and working with local businesses, so we try to get involved in as many things as possible."
Eric and Zack said The Haberdashery serves "the fashion-forward man," and they are filling a niche market as one of the only men's stores in the area. "Not only are we an exclusive men's store, but we are also a quality men's store. The brands we carry are only available in metropolitan areas, which separates us from the current market," states Zack.
The two men are "100 percent focused on customer service." After working in the service industry, they realized they were not always happy with the service that they received. "We appreciate people being honest with us and not just trying to make a sale. We have become style consultants. It's more important for our customers to be happy than anything else," says Zack.