Campus Locations
> Exercise Science Lab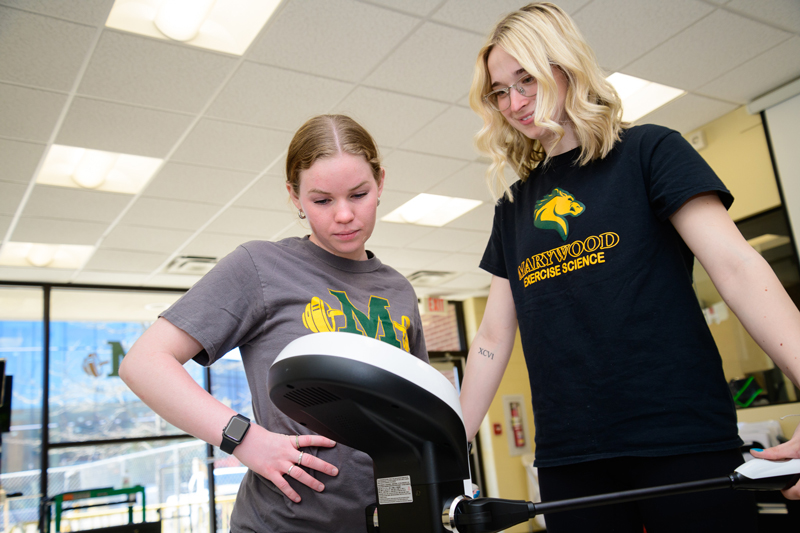 Exercise Science Lab
Map & Directions
Marywood's 2,040-square foot Human Physiology Lab (HPL) is one of the area's leading sites for student and faculty research. Located in the Center for Athletics and Wellness, the HPL is fully equipped to conduct a wide array of physiological measurements to assess health, fitness and athletic performance, and to complete various physiological and biological research.
The lab provides testing for those who wish to improve athletic performance or monitor their progress toward their fitness and/or weight loss goals. It is not a fitness facility. For recreational and competitive athletes, we offer body composition analysis, VO2max (aerobic) testing, lactate profiling, and Wingate anaerobic power testing. The purpose of fitness testing includes education of participants about their present fitness status relative to healthy standards and age/gender-matched norms, as well as collection of data that is not only helpful in development of exercise programs, but also provides baseline data that allow evaluation of progress toward goals.
Housed within the HPL is an independent biochemistry lab fully equipped for the preparation and analysis of chemical compounds and biological specimens. An environmental chamber, also within the lab, is available for studies needing precisely controlled temperature, humidity, or gas concentrations. The laboratory is equipped with a full complement of utilities, including climate control, electricity (110 VAC, 220 VAC), water, natural gas, vacuum, and compressed air, and a 30" x 36" certified fume hood.
Departments in this Location:
---
Related Locations