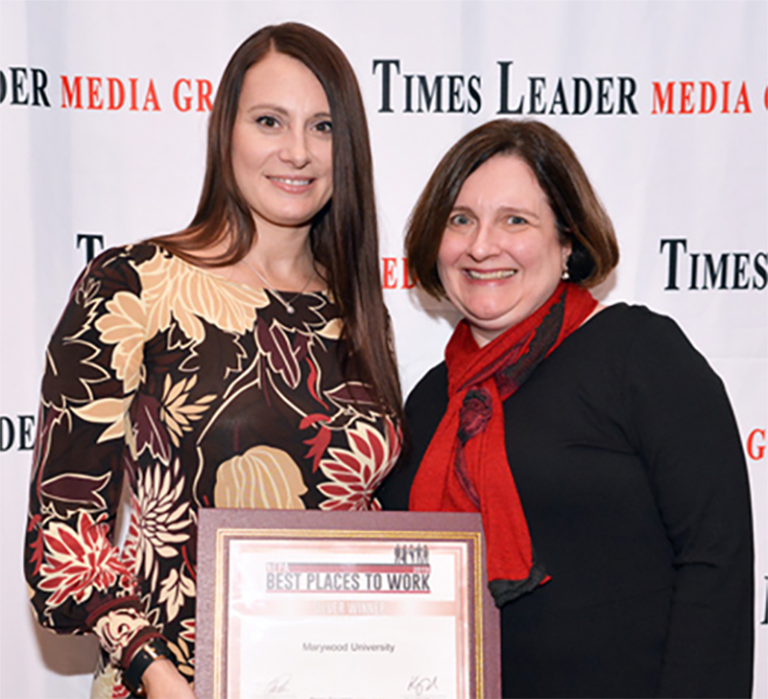 One of the Best Places to Work in NEPA
Marywood University was recently notified that it has been named among 2019's Best Places to Work by the Times Leader Media Group. The silver award for Best Places to Work was presented to Christina Brundage, career engagement specialist, and Molly Baron, director of human resources at Marywood University, at a networking mixer that took place at Le Manhattan Bistro, Wilkes-Barre, Pa.
Times Leader Media Group Publisher, Mike Murray, said, "You all are here because people do believe that you are the best places to work."
"This really has little to do with us," Murray added, "People want to work for you."
The winning businesses were separated into tiers: Bronze, Silver, Gold and Platinum. A full list of winners will be published on Saturday, December 14, 2019, in a special section of The Times Leader. The businesses represented were diverse and cover a range of industries, including early childhood education, higher education, dentistry, emergency services and senior living facilities.