Office of Student Engagement
Safe Zone Support
A place where students can talk to an adult in a non-judgmental environment, receive support, and get connected to the resources they need to succeed is a Safe Zone. Marywood University aims to be a safe, empowering, and affirming place for lesbian, gay, bisexual, transgender, & queer (LGBTQ+) students, faculty, & staff.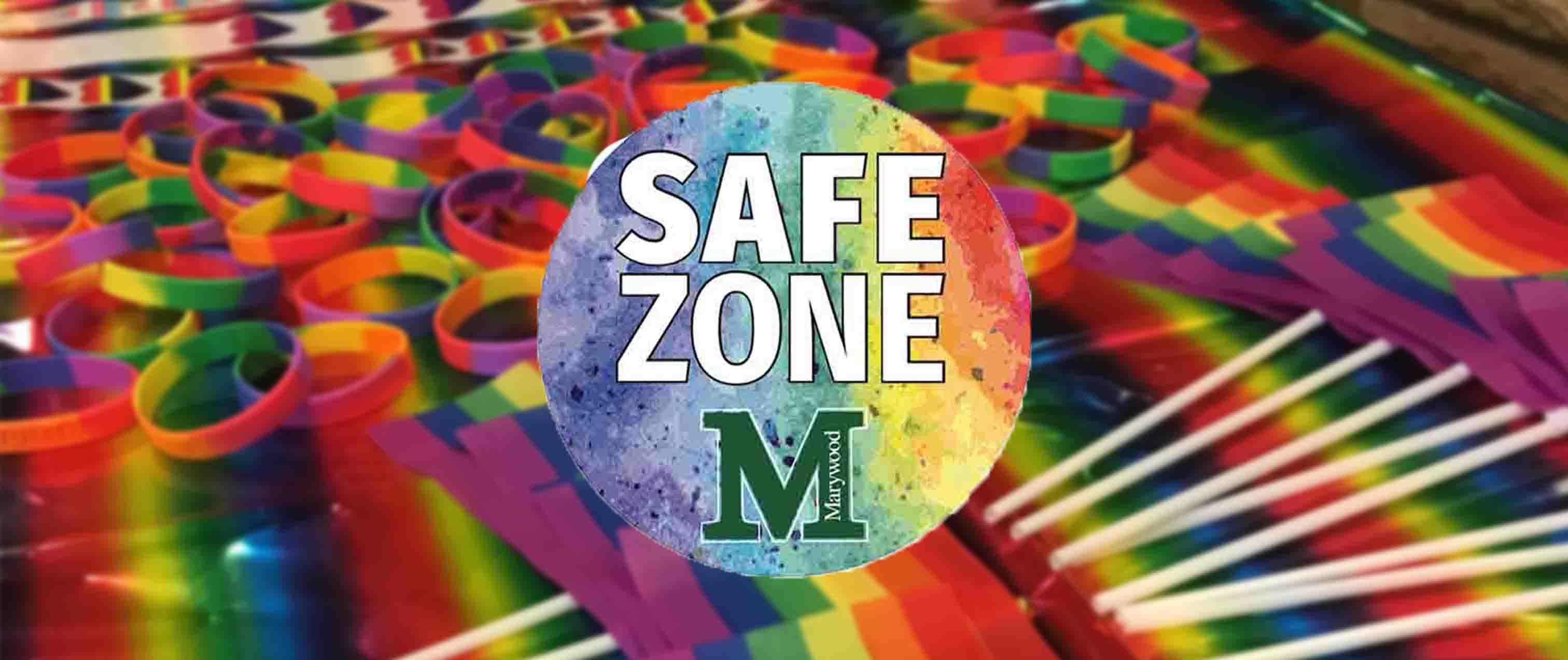 Safe Zone Training
Safe Zone Training is a dynamic, interactive session for faculty & staff that includes activities & discussion around the following topics: inclusive and respectful language, the process of coming out, understanding sexual and gender identity, taking action on our campus, where to go for help and much more. This session will give participants the skills they need to provide support and to create environments that are safe, welcoming, and inclusive for LGBTQ+ students and colleagues.
Safe Zone Training sessions will be offered periodically throughout the academic year. Additionally, all Orientation Leaders, Resident Assistants, and Counseling/Student Development Center Staff are Safe Zone trained each year.
Advocate Training
Advocate Training is the student version of Safe Zone and can be requested for student organizations, athletic teams, classes, Greek organizations, or additional student groups. Contact Michael Kalage to schedule a Safe Zone or Advocate Training session for your department, organization, class, and/or team, or to ask any questions you might have.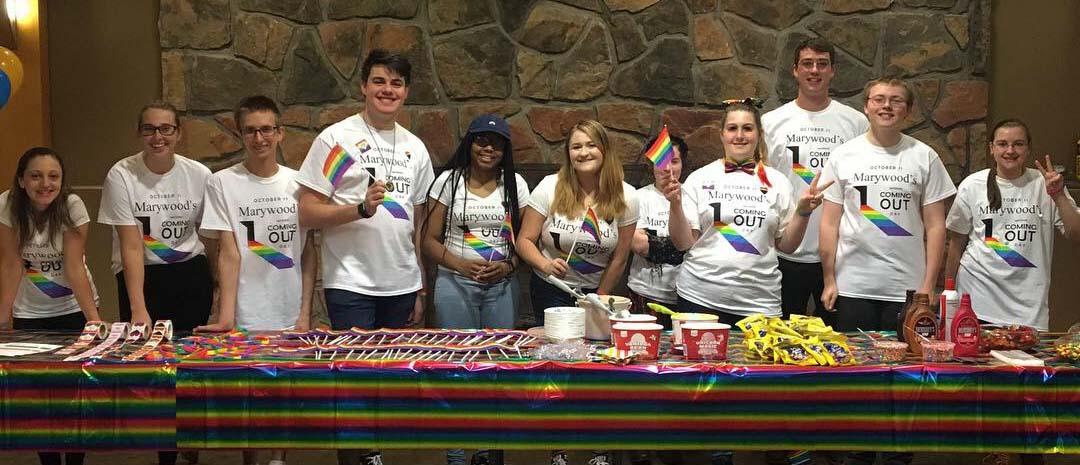 Sexuality and Gender Alliance (SAGA)
Students wishing to get involved as a member of the LGBTQ+ community or as an ally are encouraged to join the Sexuality and Gender Alliance (SAGA). This student group meets biweekly (meeting times TBD for the Fall Semester) to socialize, plan events, and discuss issues facing the community.
Resources
Students who need assistance or who want to get involved in the community can reach out to these local organizations:
NEPA Rainbow Alliance
The NEPA Rainbow Alliance provides education, support, and advocacy for LGBTQIA individuals and families while working to advance fairness and equality.
Queer NEPA
Queer NEPA stands on a wholly intersectional platform of community building, education, and advocacy in Northeastern Pennsylvania (NEPA).
Students in crisis are encouraged to use the following resources that can be reached from anywhere in the country:
The Trevor Project
866-488-7386
The Trevor Project is the leading national organization providing crisis intervention and suicide prevention services to lesbian, gay, bisexual, transgender, queer & questioning (LGBTQ) young people under 25.
Trans Lifeline
877-565-8860
Need to talk? Call! This peer support hotline is run by and for trans people. They're available 7am-1am PST / 9am-3am CST / 10am-4am EST. Volunteers may be available during off hours.
Crisis Text Line
741741
Crisis Text Line is free, 24/7 support for those in crisis. Text 741741 from anywhere in the US to text with a trained Crisis Counselor.
The below list indicates Marywood faculty & staff members who have completed Safe Zone training and are ready & able to support LGBTQ+ students in times of need.
Kaitlin Anderle, Director of Student Disability Services

Todd Ardan, Campus Safety

Rachel Baldini, Dance Team Coach

Dr. Paul Ballard, Assistant Provost for Student Success

Dr. Jennifer Barna, Psychology & Counseling Department

Dr. Marie Bonavoglia, Physician Assistant Department

Hannah Brown, Financial Aid

Dr. Christina Brundage, Career Development Center

Stephanie Campo, College of Professional Studies

Frank Carey, Music Theater & Dance Department

Antonia Cerda-Bevan, Advising & Retention

Patrick Cowley, School of Education

Richard Cox, Marketing

Dr. Joshua Deckman,

Communication, Language, and Literature Department

Renee DePietro, Campus Safety

Lea Dougherty, Social Work Department

Dr. Jeanine Engelmann, Exercise Science Department

Christina Gigler, School of Social Work

Jenny Gonzalez Monge, STARS Program

Juneann Greco, Marketing

Lawrence Hahn, Mathematics & Computer Science Department

Rachel Hartz, Director of Undergraduate Admissions

Dr. B. Lynn Hutchings, School of Social Work

Sue Jenkins, Art Department

Michelle Ketten, Advising & Career Development

Ashley Kruchinsky, Marketing

Dr. Chunchao Lane, Mathematics & Computer Science Department

Chesla Lenkaitis, Communication, Language, and Literature Department

Courene Loftus, Research & Sponsored Programs

Tara Lopatofsky, African Sisters Education Collaborative

Margaret Matthias, Registrar's Office

Dr. Christine McCarthy, Religious Studies Department

Ernie Mengoni,

Communication, Language, and Literature Department

Christina Menn, Admissions
Jennifer Mercereau, School of Education

Sr. Christine Mihelich,IHM English Department

Dr. Lindsay Morton, Psychology & Counseling Department

Dr. Janet Muse-Burke, Psychology & Counseling Department

Ross Novak, Dean of Students

Dr. Amy Paciej-Woodruff, School of Education
Kim Padden, Human Resources
Derek Parker, Psychology & Counseling Department

Dr. Heidi Peters, Exercise Science Department

Kimberly Petro, Communication, Language, and Literature Department

Mary Reggie, Human Resources

Brandice Ricciardi, Counseling & Student Development Center

Dr. Lia Richards-Palmiter, School of Social Work

Dr. David Romines, Music Theater & Dance Department

Karen Rossmell, Psychology & Counseling Department

Larissa Schwass, Counseling & Student Development Center

Rebecca Sesky, Certification Officer

Marcia Shaffer, Library Services

Rosemary Shaver, African Sisters Education Collaborative

Maura Smith, Director of Student Health Services

Dr. Kevin Snow, Psychology & Counseling Department

Dr. Susan Turell, Psychology & Counseling Department

Keshia Vilchert, Equity and Inclusion

Christa Vinciguerra, Marketing

Deborah Wardach, Science Department

Susan Wilkerson, Counseling & Student Development Center

Jay Yander, Director of Graduate Admissions

Dr. Frances Zauhar, English Department

Haleigh Zurek, Student Engagement