Office of University Advancement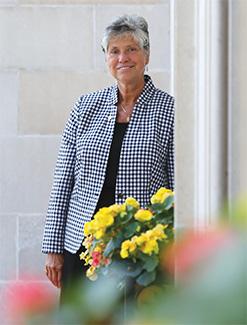 Dear Alumni and Friends of Marywood University,
We can truly say the academic year 2019-2020 ended like no other year in our 104 year history. The core values of our strong liberal arts education- flexibility, adaptability, openness to new ideas, creativity- guided us through the early days of the pandemic as we learned to pivot and grow with each new challenge placed before us. Our faculty and students continued to teach and learn and thrive, and their determination and grit inspired us all to keep looking to the future with hope and a little less trepidation.
However, in one very profound way, the year was just like all the years before it. Through it all, our loyal alumni and friends continued to demonstrate their belief in the transformative power of a Marywood education by supporting Marywood students with their gifts. These gifts provided scholarship assistance, investments in capital improvements, innovative programmatic and community outreach projects, student emergency assistance, investments in technology and remote learning, and support for extracurricular activities from athletics to theatrical productions to academic clubs. The gift of a Marywood education is an extraordinary gift- one that would not be possible without you.
Thank you for your unwavering commitment to helping our students find their passion and purpose at Marywood, and most importantly, in life. Our students prosper because of the extraordinary community that has invested in their future- thank you for being a very important part of that community. This year has certainly shown us once again that we are stronger together.
Gratefully,

Sister Mary Persico, IHM, Ed.D. '69
Revenues & Other Additions
| | |
| --- | --- |
| Tuition and Fees | $77,754,250 |
| Scholarships | $31,760,146 |
| Net Tuition and Fees | $45,994,104 |
| Government Grants | $3,031,059 |
| Privates Gifts and Grants | $8,214,038 |
| Endowment/Investment Income | $1,598,519 |
| Auxiliary Enterprises | $7,493,125 |
| Other Income | $1,105,988 |
| Total Revenue and Other Additions | $67,436,833 |
Expenditures & Other Deductions
| | |
| --- | --- |
| Instruction and Research | $26,604,008 |
| Academic Support | $9,182,747 |
| Student Services | $10,089,159 |
| Institutional Support | $12,200,228 |
| Student Aid | - |
| Auxiliary Enterprises | $5,997,470 |
| Total Expenditures and Other Deductions | $64,073,612 |
| Change in Net Assets | $3,415,393 |
| Net Assets Beginning of Year | $131,213,954 |
| Net Assets End of Year | $134,629,347 |
Lindsey Wotanis, Ph.D., associate professor of communication arts, was elected to serve as President of the Society for Collegiate Journalists' National Council at the Society's biennium conference in Louisville, Ky. Dr. Wotanis is serving a two-year term (2018-2020), with the possibility of re-election for a second term. She has served on the National Council since 2012, holding positions including Chapter Representative and, most recently, Vice President for Communication.
In June 2019, David Palmiter, Ph.D., professor of psychology at Marywood University, was approved for fellow status with the American Psychological Association (APA) for two divisions: Society of Clinical Child and Adolescent Psychology (division 53) and Society of Media Psychology and Technology (division 46). Dr. Palmiter is also a fellow for APA's largest division, Psychologists in Independent Practice (division 42).
In August 2019, Marla Kovatch, M.A., CCC-SLP, professor of practice in the Communication Sciences and Disorders department at Marywood University, was recently chosen to be featured in an article with the National Aphasia Association's Aphasia Threads.
In December, Marywood University was named among 2019's Best Places to Work by the Times Leader Media Group. The silver award for Best Places to Work was presented to Christina Brundage, career engagement specialist, and Molly Baron, director of human resources at Marywood University.
The Class of 2019 is nearly 100 percent employed or in pursuit of advanced degrees. Of the 99.7 percent of graduates who are pursuing graduate school or are employed, 92.2 percent of those employed have jobs related to their major. Marywood's Class of 2019 includes 52.1 percent who are continuing their academic careers in graduate school, with 88.3 percent of those advanced degree seekers choosing to continue their graduate studies at their alma mater.
Marywood was recognized as one of the 2019 Best Online Master's in Emergency Management programs in the nation by BestColleges, a leading provider of independent college rankings, college planning resources, and higher education research. Marywood was also ranked #27 in the Top 45 Master's in Higher Education Programs and as the best program at a Catholic University by Intelligent.com that same year.
Marywood University's School of Architecture was ranked in one of the top tiers of schools with the most hired graduates from architecture schools by the DesignIntelligence 2019 School Rankings Survey. It was also among the Top 50 Best Architecture Degrees by Learn.org. According to Learn.org, Maywood University is ranked at #29 because its undergraduate students have several exceptional ways to earn an architecture-focused degree, including bachelor of architecture (B.Arch.), bachelor of environmental design in architecture (BEDA), and bachelor of interior architecture (BIA).
In 2019, Marywood's Early Childhood Education Program ranked among the best in the country in a recent listing of Study.com's Best Early Childhood Education Schools. Ranked at #26 from the hundreds of schools evaluated, Marywood ranked among the 50 schools that offered exceptional early childhood education programs selected.
Marywood's chapter of Psi Chi, the International Honor Society in Psychology, won the 2019-2020 Psi Chi Model Chapter award. Psi Chi's Board of Directors and Central Office staff chose only 23 chapters to achieve the Model Chapter status from nearly 1,200 chapters.
Marywood University's clinical psychology doctoral program (Psy.D) ranked #30 among the top 50 in the nation for students to consider in 2020. The ranking was provided by PsyDPrograms.org, a leading online social community for graduate-level psychology students.
The 2019 and 2020 graduating classes from the Communication Sciences and Disorders department's Master of Science program in Speech-Language Pathology achieved a 100 percent pass rate on the National Examination, which is required for certification as a speech-language pathologist by the American Speech-Language-Hearing Association and licensure in all states.
Marywood University is among Money's 2020 Best Colleges. Marywood also offers the "Best Value" among Northern Regional Universities, according to the 2020 U.S. News & World Report's Best Colleges ranking. Marywood was also one of only two regional institutions included in U.S. News "Best Colleges for Veterans" category.
In January 2020, Marywood University was named by The Association of American Colleges and Universities (AAC&U) to host a Truth, Racial Healing, and Transformation (TRHT) campus center. Organized around the five pillars of the TRHT framework—narrative change, racial healing and relationship building, separation, law, and economy—the Centers seek to prepare the next generation of leaders to confront racism and to dismantle the belief in a hierarchy of human value.
The university purchased the former Holy Family Residence, renaming it Marywood Heights, and established it as the first university-based retirement community (UBRC) in Northeast Pennsylvania. Students will be able to use the space free of charge for their clinical rotations and internships. Additionally, those who reside at Marywood Heights can participate in life at Marywood, such as musical events, art exhibits, use of the Learning Commons, and more. While the pandemic halted some of these community collaborations, the university remains committed and connected to Marywood Heights. During the initial peak of COVID-19 in the spring, Marywood did its part by donating supplies of vital medical equipment to Marywood Heights, as well as other local hospitals and medical organizations.
In February, Marywood received a Pennsylvania Education Improvement Tax Credit donation in the amount of $20,000 from Fidelity Bank through the University's Momentum program. Additionally, Marywood University will receive the National Science Foundation (NSF)'s Robert Noyce Scholarship. The grant, which totals $1,195,022, will be awarded to assist Marywood students in meeting the significant teacher shortage and addressing the need for those teachers in the areas of Science, Technology, Engineering, and Mathematics (STEM).
Marywood has been involved in many charitable ventures over the past year. In light of COVID-19, Marywood University has been donating its supplies of vital medical equipment to local hospitals and other medical organizations. Marywood volunteers have been assisting the food giveaways conducted by Friends of the Poor throughout the area. In addition to food giveaways at announced locations, volunteers take any remaining food and donations and deliver them door-to-door, which serves an additional 500 or more families.
In May, Christopher Speicher, Ph.D., associate professor and director of entrepreneurship in Marywood University's School of Business and Global Innovation, was named a regional recipient of the 2020 ACBSP Teaching Excellence Award. The Accreditation Council for Business Schools and Programs (ACBSP) recognizes individuals each year who exemplify teaching excellence in the classroom. In July, Dr. Speicher received the 2020 Accreditation Council for Business Schools and Programs (ACBSP) International Teaching Excellence Award.
Marywood University master of business administration and undergraduate business students, as well as their faculty advisor, Christopher Speicher, Ph.D., associate professor in the School of Business and Global Innovation, participated in the X-Culture International Business Project. The X-Culture Project is a large-scale experiential learning exercise designed to provide students with an opportunity to gain first-hand experience in international virtual collaboration.
Marywood University senior Interior Architecture students received three of the top ten international design awards from Formica Brand Corporation. Jessica Reid, Oxford, N.J., was awarded third place for her "G Table", and she received $500. She will also be featured in Form Magazine. Allison Plunkett, Hatboro, Pa., received fifth place with her "Imagination Table" design; and Brandon Freely, Clifford Twp., Pa., rounded out the top ten designs with his "Geode Table" design.
Marywood University graphic design students and a recent graduate, including Alexander Jubinski, senior, Dalton, Pa.; Amanda Focht, 2019 graduate, Philadelphia, Pa.; and Matt Catanzaro, senior, Peckville, Pa., won top awards recently at the NEPA American Advertising Federation (ADDY) 2020 Awards Ceremony. Additionally, Marywood's Chapter of the Society for Collegiate Journalists (SCJ) took home ten awards in the national contest for students' work at The Wood Word, Marywood University's online news source, and TV-Marywood, the campus television station in May.
Marywood's Physician Assistant (PA) program is named among the Top 15 Physician Assistant Schools in Pennsylvania by Turbo Scholars.
Marywood's Interior Design program ranks third among the top eleven design programs in the state of Pennsylvania according to universities.com.
Marywood's Chapter of the National Student Speech-Language-Hearing Association (NSSLHA) earned Gold Chapter honors from the National NSSLHA Executive Council.
Marywood's student-run radio station, VMFM 91.7, was voted "Best College Radio Station" by AccessNEPA.com. This is the 16th time that VMFM has merited top honors in this regional contest.
Marywood University's String Project was selected to be featured in a national documentary that is being made by the music company J.W. Pepper. The documentary is about the National String Project Consortium's (NSPC) Virtual Orchestra celebrating its 20th Anniversary.
*List contains all donors who made a gift between July 1, 2019 and June 30th, 2020
†† Indicates deceased as of publication date
Anonymous
American Association of Colleges & Universities
Chartwells Food Service
Chartwells/Compass Group
Cloverfields Foundation
The Congregation of the Sisters, Servants of the Immaculate Heart of Mary
Gloria Corbo Davidow, 1970
Robert and Hiroko Davidow
Mary O'Neil Dunkerly, 1963
Pia Ferrario
Fidelity Deposit & Discount Bank
Bernadette Gray-Little, 1966, Ph.D., and Shade Little
Cecelia Lynett Haggerty
The Hawk Family Foundation
David and Ann M. Hawk, M.A. 1996
Stephen and Barbara Korosec Hemsley, 1974
Ann R. Henry, 1973, Ph.D.
The Hoeffner Foundation
Sandra Stockey Hoeffner, 1960
†† Ann Marie Janders, M.S.L.S. 1968
Lynett-Haggerty Families
Edward and Lynda Mulligan Lynett, 1966
George V., Esq., and Patricia Brady Lynett, 1966
William R. and Mary Jean Foley Lynett
Daniel and Kathleen Damico Mezzalingua, 1960
Fred Miller, M.D., and Joan Miller, Ph.D. 2003
Paul and Sandra Gaudenzi Montrone, 1963
Keith J. O'Neill, 1976, and Teresa O'Neill
Pascucci Family Foundation
Michael C. Pascucci
The Penates Foundation
Pepsi Beverages Company
†† Zeena Plesko
The Pocono Foundation
Sanofi Pasteur
Sebonack Foundation
The Donald B. and Dorothy L. Stabler Foundation
Sweeney Family Foundation
John and Jean Blackledge Sweeney
Tambur Family Foundation
Robert and Virginia Tambur
Robert S. Tamburro
Molly Conahan Toole, 1965
Wyoming Valley Health & Education Foundation
Anonymous
Edwin and Mary Ann Conaboy Abrahamsen, 1973
Allied Services
Col. (Ret.) Richard H. and Col. (Ret.) Lorraine T. Rupp Breen, 1978
Talcott K. and †† Joan Banick Brooks, 1965
Elizabeth A. Burns
Salvatore and Susan Cognetti
Bernard A. Egan Foundation Inc.
Valerie Rott Garofalo, 1967
†† Edward J. Hanrahan
Gaven and Kathleen Bride Hurley, 1967
Lisa A. Lori, Esq., 1993
James B. and Mary Ellen McLane McDonough, 1973
Judy O'Hara Murphy, 1967
Mary Ann O'Hara, 1958
Victoria Klitsch Randall, 1969
Hartmut and Antonia Gerod Schierling, 1960
Dr. Mary Dillard Sewell, M.S. 1979
Robert H. Spitz Foundation
James and Salli Wilson Tuozzolo, 1967
Marria O'Malley Walsh, 1968
Anonymous
Baker Tilly Virchow Krause, LLP
Thomas J. Bermel and †† Margaret Brennan Bermel, 1975
Michael E. Bugno, 1998
Barbara J. Burkhouse, Ed.D., 1963
Ellen M. Burkhouse, 1966, M.S.L.S. 1969
William C., Esq., and Muriel Scherr Cagney, 1969
Ben and Mary Clare Cardoni Khordi, 1968
Marie L. Carpentier, 1967
William and Mary Ellen Mahon Conaboy, 1981, M.S. 1994
FNCB
Follett Higher Education Group
James, M.S.W 1973, M.S. 1985, and Catherine Gavin
Ellen S. Gorringe, 1975
David and Ellen Costa Hardy, 1968
HEMMLER + CAMAYD ARCHITECTS
David M. and Nancy Amori Hemmler, 1970
The Jamie Kotula Foundation, Inc.
Nancy Pfeiffer Loch, 1969
Marywood Alumni Club of NEPA-MAC
Daniel and Judith Millett
Mary E. Molloy, 1973
Eugenia Warady Mule Riordan, 1953
Vernon and Carol Banick Mummert, 1963
NET Credit Union
Benjamin and Ann Cooney Newswanger, 1957
Mary Kelly O'Connor, 1951, M.D.
John F. and Diane Williams Parks, 1967
Frank and Stephanie Persico
Mary Kay Rotert
Schwartz Mack Foundation
The Scranton Times
Paula K. Shields
James and Barbara Spellman Shuta, 1968
The Sordoni Family Foundation
William E. Sordoni
Stevens & Lee
Roy and Edwina Wagner
Waste Management
The Wright Center
David and Frances Zauhar
Anonymous
Association of Independent Colleges and Universities
Peggy Maloney Barnhill, 1966, and †† Frederick Struble
John, M.S. 1981, and Kim Kelly Bartley, 1978
Joseph and Claire Ralph Borda, 1978
Frances Wyandt Bordogna, 1964
Maureen D. Brennan, 1981
Mary F. Brundage, 1984
Sister Gail Cabral, IHM, 1963, M.S. 1967, Ph.D.
Patricia Gagen Cain, 1958
Clayton Park Industries, Inc.
Jean Manganello Colarusso, 1957
Mary Ellen Coleman, 1968
Commonwealth Charitable Management, Inc.
Ann Conflitti, 1996, M.S. 2005
Elizabeth A. Connery, M.P.A. 1999
Col. Jim Coolican, USMC (Ret.) and Jean Woody Coolican, 1961, Ph.D.
F. Dennis, M.D., and Grace Finnerty Dawgert, 1968
Donald and Mary Arendt DeMarco, 1965
Christopher, 1988, and Ann Celli DiMattio, 1987, M.S. 1993
Edmund F. Diskin, Jr., M.S. 1980
Mary Anna Donohoe, Esq., 1967
Lois King Draina, Ph.D.
Patrick and Colleen Dudley
John J. and Joanne Durkin Dunn, 1954
Edwards Business Systems
John M. and Joan Egan
Jane Farr, Ph.D.
Ellen M. Farrell, 1968
Mary Anne Merkel Fedrick, 1968, M.S.L.S. 1972, M.A. 1980, Ph.D.
Clayton and Catherine Fitzhugh
Mary Lawler Murphy Fox, 1971, M.S. 1976, Ph.D. 2012
Patrick J., M.D., and Andrea Fricchione
Thomas and Mary Ann Barrett Gallagher, 1966
Mary Teresa Gavigan, Esq., 1976
Joanne Gilmore, 1974
Maria Carmeada Gogal, 2004
Cindy Gowell, 1970, M.S. 1974
Mary Jo Gunning, 1978, Ed.D., and Richard MacGregor, 1976
Dr. Nancy M. Hawkins, IHM, 1976
Dr. Raymond and Carol Heath
Mary Ann Wendolowski Heneroty, 1974
Patricia Kucab Horvath, 1957, M.S. 1969
Gregory and Andrea Hunt
Jeffrey and Sharon Dux Hyde, 1976
Interfaith Youth Core
Patricia S. Kane
Clyde and Margaret Tomassi Kang, 1969, Ed.D.
Peter P. and MaryCarol Tighe Kanton, 1964, M.S. 1971
Thomas and Flora Keating Karam
William and Diane Keller, M.S.W. 1997, Ph.D.
Mary Ellen Kennedy
John and Florence Sweeney Lawless, 1977
The Edith and Herbert Lehman Foundation, Inc.
Hilda Faust Mathieu, 1957
Margaret M. McCarty, 1967
Mark E. and Michele Abbott McDade, 1970
Barbara Yedinak McGoldrick, 1967
Thomas and Josephine Medico
MEMCO Realty Company Limited
Thomas and Grace Horan Murry, 1989
The Palumbo Group
John S. Palumbo
Peoples Security Bank & Trust Company
Phyllis Rockovits Perron, 1962
Maureen McHugh Pesavento, 1954, M.S. 1957
Frank H. Phillips, M.S. 1978
The Presser Foundation
Prudential Financial
John Charles & Kathryn S. Redmond Foundation
Evan, M.D., and Rosemary Barr Reese, 1965
Wesley and Susan Horensky Rhiel, Esq., 1981
Samantha Roos-Meiser, 2001
Christine Sacco, 1963
Patricia Duane Sanders, 1961
Gabriel J. and Gina R. Scala, Ed.D.
Christopher, 2011, and Roxanne Schell
Pamela M. Schwitter, 1969
William and Maryla Peters Scranton
David E. Setzer, Ph.D.
Donald, Ph.D., and Catherine Miles Shaver, 1967
Virginia Collins Shields, 1948
Sandra M. Sposato, 1985
Joseph and Kathleen Fitzsimmons Sterchak, 1980
F.L. Peter Stone, Esq.
Dorothy A. Swift, 1967
James and Geraldine Flood Weadick, 1964
Stephanie Wise
Dr. Robert and †† Carole Cook Wright, 1989
Margaret Yarina, Ph.D.
Sonya Swoyer Zacker
Christine Esposito Zike, 1976
Anonymous
John Anthony Farkas, Jr., M.A. 2015
Erik, M.S. 2019, and Christina Mace, M.B.A. 2017
Victoria M. Moshy, 2012, M.B.A. 2014
Frank and Sarah O'Brien Sweeney, M.S. 2011
Scott, Ph.D. 2010, and Sunny Minelli Weiland, M.S. 2002, Ph.D. 2012
Anonymous
Mary Ellen Ahearn Wayne, 1977
Jeffery Barry
Susann Wiezavich Barziloski, 1966, M.S. 1976
Jane Vavala Batten, 1993
Denise Matthews Bone, 1973
Marc and Susan Smith Bowen, 1991
Thomas & Regina Bradley Foundation
Thomas and Regina Bradley
Christopher and Kathleen Brown
Catherine M. Brundage, 1979
Joan H. Caffrey, 1955
Carpenters Local Union 445
Barbara A. Cawley, 1963
Louis and Therese Skovira Ciabattoni, 1957
Phillip and JoAnn Sapone Coleman, 1970
Anne Cassidy Connolly, 1963
John and Lorraine Conti
Arlene B. Crandall, 1978
Dr. Charles T. and Judith Bartell Curtin, 1963
R.N. DeMeck Roof Management Services, Inc.
Christine Atwater Dermody, 1959
Mary Margaret Diehl, 1966
Karen Creagh Dixon, 1968
Maureen Dwyer, 1968
Carol Rinaldi Fisher, 1964
Herbert, M.B.A. 1990, and Annette Hizny Fisher, 1977, M.P.A. 1989
Thomas Flanagan
Christopher and Joy Foskett
Mary Margaret Harris Graham, 1968
Mary Lisa Gunning, 1975, M.D.
Andrew, Esq., and Mary Diskin Hailstone, 1963
Marie Elizabeth Harrington, 1967
Highland Associates
Carolyn Tarbrake Hildebrand, 1962
Peter T. Hoffer
George, Ph.D., and Merel Imel
Keith and Carol Jenkins
Dave and Michele Rodeghiero Joerg, M.A.T. 1995
Stase Kazlauskas, 1953
Diane Capello Kilduff, 1966
Kohl's Department Stores, Inc.
Mary C. Kruger, 1969
Lackawanna Bar Association
John J. Lawless Motors, Inc.
Bernice Simoncic Lukus, 1971, M.S. 1974
The Luzerne Foundation
Catherine Coyle Mascelli, M.S.W. 1980
Claire Coyne McAndrew, 1966
Alice Schwieghofer McDonnell, M.P.A. 1977, Dr.P.H.
Linda I. McGaughy, M.A. 1978
Randi McGinn
Mary Ann Munley, 1974
Mary Ellen O'Mara, Esq., 1963
Oppenheim Foundation
Jane E. Oppenheim
Vera Jean Pace, 1956
Theresa A. Philbin, 1969, M.S. 1972
William and Roseann Ford Piseczny, 1957
George, 1984, and Jacqueline Pawlikowski Podolak, 1964
Reuther + Bowen
Ross Family Foundation
Mary Fitzgerald Rubinstein, Esq., 1965
Sabia Family Foundation
Scranton UNICO Foundation
Brenda Lucia Seitz, 1983
Patricia Brown Sheetz, 1969
Joseph K. and Suzanne Vanston Speicher, 1972, Ph.D.
John and Ana Steele Clark, 1958
Samuel J. and †† Carmen Thame Stephens, 1955
Super Duper Publications
Frank and Sarah O'Brien Sweeney, M.S. 2011
Carl, D.D.S., and Rita Tempel, D.D.S.
Donald Toton
Gerald, M.D., and Mary Burke Tracy, 1963, M.S. 1964
Toni Mella Tracy, 1970
Sister Jo Ann C. Trama, IHM, 1963, M.S.W. 1994
Patricia Hageman Ungaro, 1969
Verizon Foundation
Willis Towers Watson
Anonymous
Adams Oral Surgery, Inc.
Richard and Elizabeth Bachefski
Sandra Bednarczyk Ballantine, 1968
Margaret Jean Welch Baxter, 1966
Mary Ellis Bigley, 1969
Angelo and Ann Marie Bonacci
Erin McNulty Booth, 1969
Suzanne Chalone Branshaw, 1963
Brucelli Advertising Company, Inc.
Col. (Ret.) Edward J. and Nancy O'Malley Burke, 1964
Kathleen Bartley Burns, 1963
Judith Wilcox Casey, 1957
Rosemary Chromey, 1975, M.P.A. 1982, and Richard M. Goldberg
ConocoPhillips
The Honorable Joanne Price Corbett, 1975, and James Corbett
Covenant Physician Partners
Joan Bender Cracco, 1959, M.D.
Elaine I. Dalley, 1966
Dorothy Dolgash, 1966
Marianne Carney Dunn, 1958
Gerald, M.P.A. 1975, and Sheila Sheridan Durkin, 1969
Equitable
Paul and Anne Wagner Falzett, 1979
Leigh C. Farrar-Freeman, Ph.D. 2009
Ann Zalusky Flynn, 1981
Alice O'Donnell Foley, 1966
Marie C. Froncek, 1967
Elisabeth von Kerczek Gilligan, 1959
James and Valerie Grabicki
Greater Scranton Chamber of Commerce
Charles W. Grimm Construction, Inc.
Jeffrey and Virginia Haney
Ruth M. Harvey, 1969
Highway Federal Credit Union
Robert and Suzanne Hine
William and Mary McGowan Hoban, 1969
Elizabeth Zapitz Holcomb, 1969
Eugene L. Jerauld, 1987
Suzanne Klassner Jones, 1967
Mary Fox Kauffman, 1969
Dr. Marilyn J. Kemple, 1963, M.S. 1973
Brian Kennedy
Margaret K. Klein, 1971
William Kobesky
June Wolicki Kostival, 1968
Jacques and Therese Murphy Kueny, 1964
Roberta Taniser Lamson-Motter, 1963
Legion of Mary
Jeffrey, 1993, Ph.D. 2000, and Jacklyn Hudak Leitzel, Ph.D. 2001
Jeanette Kearney Lemieux, 1967
Frank Loughlin
Frank and Carolyn-Kay Miller Lundy, M.P.A. 1992
Erik, M.S. 2019, and Christina Fenton Mace, M.B.A. 2017
Jane Cleary Marrer, 1976
Ulla H. M. Martz, M.S.W. 1997
Robert and Mary Ann Azzarelli Marzen, 1970, M.S.W. 1972
Thomas A. McCullough, Jr., 1993
Capt. Joseph A. McDonald
Jeanne M. McGowan, 1991
Marianne McGowan, 1969
Margaret Casey McGrath, 1975
Sarah Jane McHale, 1949
Jennifer M. Mercereau
Paulette Posluszny Merchel, 1969, Ph.D.
Minooka Motor Sales, Inc.
Victoria M. Moshy, 2012, M.B.A. 2014
Charles and Jane Nash
Ayesha N. Nicholas, 2007
Gloria J. Nilsson, 1964
Barbara O'Reilly Nutt, 1969
Joseph, Esq., and Barbara Scanlon O'Brien, 1969, M.S. 1993
Law Offices of Jason O'Malley
Jason, Esq., and Sara Van Wert O'Malley, 1998
Margaret R. O'Neil, 1965
Edmund and Marianne Pannoni
Paul, Esq., and Mary Theresa Gardier Paterson, Esq.
Picture Rocks Baptist Church
Stephen Prislupsky and Colleen Mulrooney
Lauretta A. Reap, 1964
José, Ph.D., and Alice Susco Reyes, 1969, M.S. 1979
Eileen Shatzel Richards, 1993
Lawrence, M.S. 1988, and Patricia H. Rosetti, 1993
Brian and Nancy Tucker Scheld, 1978
Priscilla Calabro Scovell, 1959
Thomas and Barbara Shuman Sheehan, 1956
Elizabeth M. Slovenkai, 1971
Deirdre-Holly Spelman, M.S.W. 1972
Betsy Sherwood Sprout, 1987
Ronald J. Steele, M.A. 1997
Albert, 1999, and Erin Stroble
Stanley B. Supon
Carmella Todaro, 1959
Topp Business Solutions
Susan C. Turell, Ph.D., and Sandra R. Smith, Ph.D.
Amy Julia Tuttle, 2001
Universal Printing Company
P & W Washo, Inc.
Scott, Ph.D. 2010, and Sunny Minelli Weiland, M.S. 2002, Ph.D. 2012
Fred and Katherine Sheedy Weiss, 1972
Anonymous
Joan Twaddle Altemus, 1961
Patrick Apodaca
The Barber Shop & Co
Mary Ann Burns Bausch, 1970, M.P.A. 1993
Sheila Sanderson Breitweiser, 1963, Ed.D.
Denise Barber Brown, 1971
Margaret Kelly Buck, 1953
Stephen, Ph.D., and Mary Ellen Burke
Anne Quinn Butler, 1975
Ellen Ratchford Caggiano, 1970
Joshua and Carrie Calacanis
Gerald and Jennifer Calamia
Vincent and Donna Capoccia
Frances Murphy Carlson, 1968
Dale, 1977, and Ann Boland Chase, 1979
Jane Lebojesky Comroe, 1964
Patricia McElhenny Cook, 1965
James and Catherine McDonough Corcoran, 1964
John, 1999, and Deborah Killino Coval, 1996
Cynthia L. Critelli, 1978
Deborah Rice Curatilo, 1971
Joseph and Donna Castronova Dailey, 1985
Joe Dailey, State Farm Agent
Joan Sheehan Dalton, 1958
Michelle Kalavoda Davis, 1996
Mary Ann McElwee DeCusatis, 1973, M.S. 1988
Marcos and Silvia Doglio
Elizabeth Lynott Donohue, 1974, M.S. 1992
Joseph P. Donohue, M.S.W. 1974
Mary T. Drew, 1957
Susan Duffy
Virginia Nolan Duffy, 1964
Mary Krupski Dymond, 1971, M.S. 1985
Donald and Marcia Chmielewski Eckerson, 1970
Maria C. Evers Insurance
Maria Cascio Evers, M.P.A. 1976
The Fahey Family Trust
Marigrace Corcoran Fahey, 1958
John Anthony Farkas, Jr., M.A. 2015
Leonard and Joan Murphy Fasullo, 1979
Amelia Finan, 1960, Ph.D.
Arnan and Marlene Friedman Finkelstein, M.S.W. 1984
Leo and Marianne Feeley Flanagan, 1963
Kathleen Fleitz
Timothy, Esq., and Susan McGinnis Foley, 1969
Paula Haven Fontes, 1970
Tara Ford
Paula Fricchione and Bradley Shike
James and Barbara Melliand Frutchey, 1984, M.S. 1987
Karla Rupp Gabre, 2001
Caroline Fernandes Gallis, 1958
Penny Saamer Gardner, 1972
Kathleen Kane Gastinger, 1971
Geer Wissel & Levy, P.A.
Terri DuBreucq Gelles, 1964
Mary Joyce Gill, 1968
Marianne Menapace Gilmartin, 1983
Rose Ann Giordano, 1960
John Goldman, M.D., and Maureen O'Toole
Joseph and Katherine Faerber Gonglefski, 1971
Albert and Geraldine Gregori
John Gulden
Wayne Haack
Joan M. Halstead, 1971, M.S. 1976
William and Patricia Timlin Hardy, 1970
Roseann Anastasio Henzes, 1958
Salvador Horta
Carol Armezzani Howell, 1967
Gale A. Jaeger, Ed.D.
JoAnn Leputa Jarrach, 1958
Maureen Foley Kearney, 1964, Ph.D.
Edward and Kathryn Hickey Keglovits, 1956
Frank, 2003, and Lauren Kelleher, Jr.
David and Melissa Kelly
Dorothy O'Gara Kelly, 1964
Thomas and Joan Barrett King, 1959
Knowles Associates Insurance Consultants
Michele Memolo Knowles, 1981
Brian and Amy Koehnke
Anthony J. and Peggy Dalton Kolasa, 1974
Kathleen McMurtrie Kollar, 1987
Lynn Semptimphelter Kopon, Esq., 1978
Donna M. Kravabloski
Joseph M. Krzywiec
Judith Latsko Kunec, M.S.W. 1978
Sharon Brady LaBelle, 1968
Maureen Diskin Ladd, 1961, Ph.D.
Lange Technical Services Ltd.
Peggy Miller Lashbrook, 1978
Mary Clare Quinnan Leonard, 1993
Therese Keane Lindner, 1972
Judith Salvin Long, 1964
Julie Johnson Loven, 1970
Robert J. and Noelle Lynett
Maureen Collins Maher, 1967
Constance Link Mahon, 1967
David Majiros
Margaret Duffield Manila, 1963
Gregory and Kathleen Cullen Martino, 1981
J. P. Mascaro & Sons
Scott and Therese Matthews
Virginia Fitzpatrick McAllister, 1963
Thomas K. McFadden
Jane Earley McLane, 1975, M.S.W. 1977
Michael Mertz
Michaelangelo Sculpture Casting, Inc.
Wayne and Carolyn Michener
Marilyn Fastiggi Moore, 1973
Michaela Moore
Debra Morgan, M.P.A. 1978
Mary Lou Hoagland Mraz, M.S.W. 1991, M.P.A. 1993
Michele Feeney Mulligan, 1971
Mari Foley Murphy, 1973
Grace DeCecco Nakagawa, 1960
Capt. William and Donna Versaggi Nash, 1976
George McCutchen Nisbet, Jr., M.S.W. 2003
Isabella Buckley Nobilski, 1957
Northeastern Transit, Inc.
Howard and Mary Ellen Levchak Nusbaum, 1974
Janice Endrelunas O'Brien, 1966
Bartholomew J. O'Connor
Helen Hodgson Overlan, 1963
Margaret Lennon Owens, 1952
Salvatore, Ph.D., and Roseann Blanco Paratore, 1957
Paul and Phyllis Conrad Parker, M.S. 1974
Maj. Richard, M.S.W. 1975, and Ann Marie Caporelli Parry, 1968
Carole M. Paswinski, 1958
Marilyn J. Patrick, 1958
Sister Mary Persico, IHM, 1969, Ed.D.
Regina Magnotta Peters, 1968
Stacy Reed
Robert and Janet Reese
Catherine Gallagher Renga, 1961
Andrea Jaworski Ridolfi, 1969
Dr. Eugene and Anne Marie Casey Roe, 1952
Joan Diane Rognoni, 1966
Susan Kane Ronan, 1979
Margaret Maher Rowe, 1977
Dennis J. Saake
Melissa Ann Saddlemire, 2006, M.B.A. 2009
Marie Yeager Samaha, 1968
John and Leslie Sanchez
Michael and Jeanette Cogliandro Santalucia, 1968
Edward and Ermelinda Sottile Sariti, 1958
Karen Tierney Schamel, 1964
Marianne Schimelfenig, Esq., 1969
Anne Schroeder
Carla Sciara and Lester Hilbert
Scranton Area Foundation
Scranton Preparatory School
Sandy Savulis Shemonsky, 1968
Randi Gregory Short, 1983
David and Linda Smith
Barry D. Sobolewski and Janet M. Perrino
St. Paul's United Methodist Church & Wesley Foundation
Thomas and Dawn Steffes
Virginia Sullivan, 1966
Judith Tierney, 1963, M.S. 1970
Patrick, 2000, and Carrie Bowen Toomey
United Association Local Union No. 524
Mary-Celine Burke Von Esch, 1961
David, Au.D., and Jeanne McHale Wadas, 1970
William J. Weber
Linda A. Weidner
David and Laura Perez Westfall, 1996
Margaret M. Williams, 1959
Samuel and Frances Caldicott Wilson, 1968
Peter A. A. Winograd
Betty Luvender Zapp, 1962
Donald E. Zwick, Jr., 1982
Anonymous
3Seed Marketing, Design & Interactive
George Abaunza
Richard, M.S.W. 1972, and Linda Leighton Adams, M.S.W. 1978
David P. Adomiak, 1975
Bill Aguglia Insurance and Financial Services Inc
Christina Alexander
William, M.A. 2001, and Michele Alford
The Honorable William Amesbury, M.S.W. 1976, and Karen Tarnowski Amesbury, 1981, M.A. 1984
Adam Anderson
Jacqueline M. Andrus
Appraisal Services
Michael, M.D., and Patricia Aronica
Christie Phillips Aronow, 1994, M.S.W. 1995
Andrew Athy, Jr.
Barbara Macaw Atkinson, M.S. 1978
Joan Grado Avery, 1973
Patricia Carsley Baasch, 1978
Robert M. Babskie, M.A. 1979
Priscilla A. Baden, 1970
Paul S. Bahn
Joseph and Christine Balanovich
Margaret E. Baldini, M.S.W. 1991
Jeffery and Monique Baldwin
Janet P. Ballute, M.S.W. 1999
Sean Patrick Bamford, 1995
Bank of America Charitable Foundation
Lisa Barclay
Glen and Jennifer Barillo
Kathleen Loughney Barkelew, 1981
Nicholas A. Barna, Attorney at Law
Helen Winum Barr, 1958, M.S. 1984
Jane Barrow
Susan Audrieth Bartolone, 1965, Ed.D.
Mary Murray Barton, 1957
Annette Greko Bartosh, 1964
Col. John J. Bartosh, USA (Ret.), M.S. 1982
Michael and Christine Bashore
Genevieve Battisto, 1958
Virginia A. Beauchamp, 1975
Daniel and Maureen Beck
Sonia Bednorchik, 1963
Jane A. Behlke, 1968
Kathleen Redding Bellitto, 1974
Msgr. John J. Bendik
Jill Emillie Bennett, 1964
Anna Marie Berardi, 1983
Msgr. John A. Bergamo
Constance R. Bergum, M.F.A. 2000
Tracy Bieber
Rosemary Ludwick Bieker, 1971, Ph.D.
Robert J. Bingham
Binghamton Chapter Alumni Association
Dorothy Thie Bintz, 1968
Helen Bittel, Ph.D.
Judith A. Blachek, 1980
Mary Elizabeth Woodward Blackwell, 1980
Margaret A. Blaha, 1968
Annette Blasi-Strubeck, M.S. 2009
Dawn G. Blasko, 1993, Ph.D.
Robert and Gail Blevin
The Honorable Thomas M. Blewitt, M.P.A. 1979
Jessica Lambert Bodzio, 1997, M.S. 2010
Irene Ruseckas Boezi, 1960
Anne L. Boland, 1946
Mary Bergen Bommer, 1969
Nora Bonsall
Sara Schofield Booker, 2000
Thomas and Kim Boosinger, III
Kate Booth
Barbara Savino Bossi, 1990
Jeannine Forquer Boswell, 1966
Adam Boussatta
Barbara L. Bowman, 1981
Mike Boyle
Lizabeth Bradley
Rex and Marci Brand
Christine E. Brazill, 1990
Timothy and Latonya Brennan
Mark and Wendy Robson Brenzel, 1990, M.S. 2000
Pasqua Jean Delfino Brezovsky, 1956
Joanne Collevechio Brice, M.S.W. 1979
Mary Elizabeth Kurz Bright, Esq., 1966
Donald and Patricia Kelleher Brooks, 1964
David and Rosanne Brough
Laurie Bryan
†† Monica Bubser
Robert and Lynn Buchala
Edward B. Budda, 1983, M.B.A. 1988
Michael Buening
Jeffrey L. Bugno
Phillip and Susan Bullwinkel
Linda Root Burke, M.S. 1980
Raymond and Susan Burke
Eileen Gillern Burnard, 1963
Judith Antenori Bushko, 1969
James, M.D., and Sylvia Graziano Butcofski, 1960
Lenore Korczakowski Butler, 1970
Grace Potelunas Byrne, 1972
Mary S. Cadden, 1965
Mary Ann Heasley Calabrese, 1963
Julianne Zinskie Calabro, 1986
Catherine Calacanis
Sally Mannion Callahan, 1968, M.S. 1974
Marilyn Gleason Campagna, 1964
Victoria Zabka Campbell, 1962
Christopher Cariffe and Lisa Carolan
Jennifer L. Carleton
Robert and Kay Carone
Joanne DeSantis Carpentier, 1969
Vincent and Lisa Chuff Casella, 1993, M.A. 2010
Dr. Jeane Rhodes Cassidy, 1980
Samuel J. Castellino, M.B.A. 1991
Margaret Hermanns Cataldo, 1961
Robert and Nicole Catchings
Sophia Cesare
Denis, M.D., and Mary Brita Bergen Chagnon, 1968, M.D.
Carine Chen-McLaughlin, 1974
Roseanne Wielgos Cherney, 1973
Stephen and Barbara Chmil
Vincenzo and Karlene Coval Cicco, 1993
James J. Cimakasky, M.B.A. 2013
Sister Kathleen M. Clancy, IHM, 1979, M.S. 1993
Mary Clark
Susan Honold Cleary, 1985
Eileen Clifford, 1969
Michael and Karen Coco
Michael James Colangelo, 2004, M.S. 2007
Marlena Garofalo Colarossi, 2002
Sue Ellen Coleman, 1968, M.A. 1982
Colgate-Palmolive Company
Marisa J. Colonna-Garrow, CPA, 2000
Lydia Naples Comerford, M.S. 1977
Patricia Campbell Comey, 1973
Mary Kate Kennedy Conaboy, 1981
Jeanne Moroney Conboy, 1977
Christine O'Brien Condon, 1968
Deborah Soroka Congdon, M.S. 1985
Sarah Conklin
Kathleen P. Connaghan, 1972
Anthony and Alma Connor
Mary Ellen Hutton Connors, M.A. 1986
Mary Mongoven Conroy, 1982
Elaine Hack Convery, 1962
Cook Design Group Inc.
Randall Cook
Sandra Hojnoski Cooper, 1981
Timothy and Rosemary Cooper
Janet M. Corbett, 1984, M.P.A. 1991
Robert L. Corgan, M.A. 1976, M.D.
Lawrence and Carmel Costa
Ellen Regan Costello, 1976
Peter P. Costello
Mary Elizabeth Almy Cote, 1964
Jacqulyn Cottrell
John A. Craunakis, M.A.T. 2017
Katherine M. Crawford, M.S. 1979
Marion Lewis Crawford, 1959
Veronica Creazzo
John and Lisa Crilly
Daniel and Kimberly Crocker
Michael Croft
Elaine Eiden Cross, 1968
Francis and Betsy Crowley
Mary Ann Crozier, 1961
Jianhua Cui, M.S. 2007
Rev. William Ryan Culnane, M.A. 1974, Ph.D.
Lisa Hamm Cummings, 1985
Harry Curnow, III
Harry Curnow, IV
Terri L. Curnow
Maureen Lawless Curtin, 1972
William and Margaret Jennings Cusick, 1965
Karen Czar
Joseph and Charlotte Daily
Sharon Dalli
Joseph and Sheila D'Auria
Ellen Jordan Davidson, 1967
Jacqueline R. Davies, 1960
Scott and Cheryl Davies
Ann Loftus Davis, 1967
Robert M. Davis
Katie Murray DeAngelis, 1963
Nancy Coyle Decandis, 1967
Lee A. and Ellen Svatek DeHihns, 1967
Mary-Louise Argentieri DeHoratius, 1967
Jimmy De'Lise
John Dellasanta, 1978
Diane M. DellaValle, 2001, Ph.D.
Frank Dellorusso
Ellen Mercedes DeMasi
Bernardine Grzybowski DePietro, 1966
Michael, M.S. 2009, and Elizabeth Zaydon Dessoye, 2007
Steven and Paula Dickey
Michael W. Dickinson
Kathleen Viggiano DiCosta, 1963
Todd and Margaret Dietrich
Eileen Harrington DiLeo, 1983
Elizabeth Augustine Diretto, 2011
Claire Hines Dishlip, 1969
Disney Worldwide Services, Inc.
Dorothy L. Distel, M.S.W. 1987
John and Jane Dixon
Leonard and Marianne Venosh Dobrzyn
Karen A. Donato, 1975
Stephen G. Doncevic, M.H.S.A. 2003
Katherine Donnelly, 1980
Helaine Burger Donovan, 1970
Richard and Nancy Doud
Timothy and Ann Doherty Dougherty, 1976
James T. Dove
Marita McDermott Dow, 1982
Alice Adams Dowling, 1968
Marian White Dowling, 1962
John Doyle Plumbing Service
Jean Ann Doyle, 1962
Joan Marie Doyle, 1961
Mary Campana Droll, 1944
Marie Langan Duclos, 1961
Susan DePietro Dukin, 1970
Uldarico, Ph.D., and Viola Yap Dumdum, M.B.A. 1993
Marion Milk Dumond, 1957
Suzanne McGrath Dunnigan, 1956
James A. Dunstan, M.S.W. 1987
Judith Brunori Eagan, 1970
Marion Gaetano Eagen, 1965
Eagle Lake Community Association
William E. Ebersole, 1989
Dr. Mary Kosar Ebert, 1973
Christopher and Maria Eccleston
Richard L. Eckersley and Rev. Linda K. Eckersley, 1998
Denyse B. Edge, M.S.W. 1996
Educational Services and Consulting LLC
Catherine French Edwards, 1942
John P. Ehnot
Mary Hopkins Eichelberger, 1976
Melissa Sostak Eichenauer, 1976
Robert and Karen Eiswerth
Christopher, 2003, and Jennifer Scott Ell, 2002
Vicki Mellott Ellis, 1992
Margaret Enright
Anne Marie Simoncic Ermolovich, 1967
Meaghan Evanich
Anne Kaczmarczyk Evans, M.P.A. 1985
Joseph, 1981, and Margaret Higgins Evans, 1975, M.S. 1989
Rosemarie Corallo Fahey, 1964
Rose M. Faiss
Geraldine Abraham Faivre, 1967
Michele M. Falchek, 1973
Ellen Marie Faliskie, 1989, M.S. 1995
Kevin B. Farrell
Janice C. Fech, 1961
Dr. Ann Tully Feeney, 1987
David and Tracey Ferguson
Marian R. Ferguson, 1976, M.S.W. 1977
Ann M. Finnerty, 1972
Lisa Cucura Fischetti, 1987
Katherine S. Fisne, 2009
Rita Claire Desmond Fitzsimmons, 1963
Michael and Amy Flederbach, 2001
Donna Tyson Flynn, 1985
Kathleen Flynn
William and Janet Flynn
Jean Folsom
Edward J. Fortuna, M.S. 1993
Anthony John Frable, Jr., 2004
James Franco and Catherine Haller-Franco
Linda Lussy Fraser, 1974, Ph.D.
Laurence, M.S.W. 1974, M.B.A. 1985, and Marion O'Boyle Frayne, 1971
Mary Alice Frederick, 1966
Diane Kucz Freeman, 1970
Rosemary J. French
Thomas and Rosemary French
Kathryn Nickischer Friel, 1999
Elaine Lewis Fries, 1958
Jerry Fuller
Paulette A. Furness, 1968
Dana Garberg
Sara Stevens Gardner, 1971
Stephen E. Gardner, M.S.W. 1973, D.S.W.
Kay Garrison
Paul V. Garrity
Vincent Robert Gatto, 2005
Annette O'Malley Gaughan, 1972
Thomas and Kelly Gauntlett
Denise Mackarevich Genello, 1979, M.S. 1987
George & Co. Diamond Jewelers
Dominick Paul Gianuzzi, M.B.A. 2008
Patricia Loyd Gilmore, 1956
Mary E. Dougherty Ginda, 1971
James and Betty Ann Armstrong Godshalk, M.S.W. 2014
Jane Roche Goetzman, 1957
Christine Kaszuba Gola, 1974
Timothy Gooch
Mary Ann Murzenski Gorrick, 1964
Glen and Bridget O'Malley Goryeb, 1996
Kathleen Gosselin
Anne Cottone Grady, M.B.A. 1994
Charles Graham, M.S.W. 1980
Henry and Patricia Quinn Graham, 1963
Judith O'Malley Graziano, 1955
Theresa Casarella Graziano, 1967
Angelo Grecco
Juneann Greco, 1983, M.S. 2006
Pat Green, 1973
Gerry Zujkowski Grogan, 1959
Bart and Margaret Grossjung
Andrea Bower Guise, 1970
James Gulden
Jeffrey and Kelly Gulvas
Kelly Gulvas
Tom Gunn
Joe Guydish, M.A. 1980
Albert and Anita Zale Guzek, LSW, 1971, M.S.W. 1979
Joseph and Angela Guziewicz
Brian and Erin Hahn
Jeannine Ducharme Haight, 1982
James R. Halbert
Stephen and Kathleen Hannigan
Carolyn Hays Harding, 1984, M.S.W. 1986
Grace T. Harding, 1964
Marcia Reidy Harney, 1968
Jane Harrison
Betsy Lavin Hart, 1969
Daniel J. Hart, 1997
Christina A. Hasemann, M.S. 1993, Ph.D. 2004
The Very Rev. George P. Hasenecz, M.S. 1979
Christian P. Haskett, 1996
Lillian Manglaviti Hassler, 1969
Cheryl Arnold Hathaway, 1984
Thomas and Jennifer Hauber
Bernice Locasto Healy, 1968
Patricia Healy
Anne L. Heffron, 1982
Richard and Maureen Harris Heilmann, 1982
Carol Martini Hemphill, 1970
Theresa Bennett Hensley, 1975
Robert D. Herrema
William and Janet Heyen
Richard and Mary Speicher Hickey, 1970
Mark and Christina Higgins
Marilou Zeller Hinchcliff, M.A. 2009
Lorraine E. Hinck, 1999
Robert Hizny
William and Sheri Hizny
Eleanore O. Hofstetter, 1961
Valerie Hung Holler, 1966
Jay and Tamara Holman
Kathryn J. Holod, 1969
Lillian Bishop Holt, 1983
Florence Horecky, M.B.A. 2007
Eric Hosie
Margaret Tama Hovell, 1963
Robert and Roberta Farkash Howes, 1975
Diane Stanchak Hudachek, Esq., 1970
Martin and Anne McHugh Hudacs, 1976
Carol Servatius Hughes, 1959
Joan Rembecki Hughes, 1977
Judith Meehan Hughes, 1961
Todd and Lisa Hynes
I.B.E.W. Local Union No. 81
Michael and Christine Iannuzzi
Robert E. Ide, 1988, and Susan M. Turcmanovich, M.A. 2005
Anne Ryan Imbalzano, 1969
Patricia Ippolito
Mark and June Iverson
Daniel and Rose Kuchwara Jacklinski, 1999, M.S. 2015
Jacobson Strategic Communications
Susan Jacobson
Gerard and Mary Ann Jacquinot
Heidi Selecky Jarecki, 1971
JD Backhoe Service Inc
Rev. Michael J. Jendrek
Craig M. Johnson, Ph.D.
MaryAnn Taberski Johnson, 1967
William C. Johnson, M.A. 1974
Grace Previty Johnston, 1957
Daniel Joyce
Mary Frances Conole Joynes, 1961
Maria Nardone Kaegi, 1957
Shawne Koehler Kaeser, 1970
Terry Coslett Kaly, 1973, M.S. 1975
Jo Ann Pluciennik Kamichitis, 1965
Barbara Sereditch Kaminski, 1971
Kathleen A. Kanavy, 1976
Kathleen Kisel Kane, 1976
Noreen Shea Kane, 1964
Louis Kantaros
Marsha Creedon Kashner, 1966
Michael H. Katz
Margaret L. Kearney, 1969, M.S.W. 1972
Nancy Fitzpatrick Keating, 1966
Frank and Rita Kelly Foundation
Dorothy Schiller Kelly, 1955
Msgr. Joseph P. Kelly, M.S.W. 1975
Marilyn C. Kelly, 1976
Patricia King Kelly, 1972
Deborah Falchek Kelsch, 1975
John and Elizabeth White Kemple, 1958
Joan M. Kennedy, 1987
James J. Kernoschak
Kent W. Kesecker, 1980
Tanya Keyser-Cook
Mary Alice C. Kilcullen, 1957
Mark and Kathleen Kilker
Rev. John J. Kilpatrick
Barbara Williams Kimmich, 1969
Daniel W. King, II, M.S.W. 1975
Theresa McGuire Kinne, 1965
John and Marla Pacchioli Kinney, 1975
Donald and Maura Murphy Kirchner, 1986
George Klein
William M. Klien, Jr., 1980, M.S. 1983
Michelene Klim, 1995, M.S.W. 1996
Alvin B. Knighton
Amy H. Kolakowski, 2006, M.S.W. 2008
Helen Mokriski Kolman, 1967
Jason M. Konschnik, 1995
Mary Jane Ferrett Koons, 1965
Ronald and Valerie Koper
Alexandre N. Kotchnev, 2002
Robert and Carol Graczyk Kouba, M.A. 2004
June A. Kozloski, 1982
Vera Kowal Krewsun
Suzanne R. Kroboth, 1971
Cathleen Kenney Kruse, 1967
Joan T. Kryzanowski, 1968, M.S. 1973
John and Margaret Kubash
Janet Kaminski Kuna, 1975
Rose Marie Kathleen Kushwara, 1964
Jane Murray LaBar, 1971, M.S. 1974
Howard and Patricia Lambert
Susan Barnes Langhorne, 1971
Frank and Rosalie Wladyka Larkin, 1963
Joseph Lauria and Susan Walsh-Lauria
Mary Kearney Lavin, 1966
Douglas B. Lawrence, M.A. 1997, Ph.D.
Mary Hallahan Lawryk, 1972
John and Nancy Neary Leahy, 1988
Cindy Pierce Lee, 1967
Guy and Rosemary Lee
Grace Boardman Leighton, 1980
Mary Valentini Leitzel, 1982
Jacqueline G. Leonard, 1982
Brian and Camilla Levine
Lisa Lewis
Anne Licciardello
Regina Lieb
Khoon Lim
Marie A. Littell, 1993
Kenneth and Joan Ratchford Lloyd, 1962
Mary Walsh Lomax, 1977
Cheryl D'Andrea Lottman, 1973
Francis and Lillian Loughlin
Margie Biagioli Loughney, 1973
John Luchonok, Jr., 1999
Margaret N. Luddy, 1965
Paul M. Ludgate, 1979
Camille Puzycki Lukasik, 1977
Constance Lutz
Sandra Musso Lynch, 1964
Joanna Ciofalo Lynn, 1967
Gemma Pellegrino Lyons, 1972
Timothy and Marianne Gavigan Lyons, 1976
Sandra Mackston
Joy Snyder MacLean, 1975
Nancy Connors Madej, 1968
Ellen J. Maffey-Koons, 1970
Charlie and Ruth Howell Magill, 1958
Patrick R. Maher
Christine K. Malecki, 1974
Mark and Vita Malinak
John and Joyce Butler Maloney, 1971
Gary, D.M.D., and Rebecca Manci
Richard and Mary Jane McGrath Mangan 1966, M.B.A. 1990
Dolores M. Manganella
Kevin Manley
Dominick and JeanAnne Manzo
Mary Bauer Mapleson, 1962
Patricia Mareda
Cynthia Marlow and Joseph Augustine
Helen Wysocki Marsicano, 1957
Ann Yacka Marsteller, 1972
Joan Balcerzak Martini, 1963
Armond T. Mascelli, M.S.W. 1977
Barbara A. Maslak, 1972
Henrietta Reiber Massina, 1953
Michaelene Ketchur Mastriani, 1961
Jamie Mastroianni
Jon and Daynis Masur
Joseph, 1988, M.B.A. 1995, and Gina Matoushek, 2000, M.B.A. 2005
Connie Adler Matricardi, 1968
Brielle E. Mayle, 2014
Pia Buratti Mazzarella, 1967
Toni Siock McAndrew, 1988, M.P.A. 1992
John and Eileen Ryan McAuliffe, 1977
Patrick and Nancy McCall
Marie Bolzan McCandless, 1968
Helen Barrett McCarthy, 1964
Lauren Persico McCarthy, 2004
Donna McDine
Joan Weiss McDonald, 1967
Arthur, 1998, M.F.A. 2001, and Heather Clark McElroy, 2000
Betty Ann Schoenig McGeehan, 1950
Mary Virginia Corcoran McGrade, 1961
Jim and Tammy McArthur McHale
Paul and Mary McHale
Alice Jean McHugh, 1956
Brian and Debra McKenna
Donna Mulvihill McMahon, 1968
Betty Ann McNamara, 1966
Catherine McErlean McNeil, 1965
Paul and Sandra DeRiggi Meagher, 1967
Susan Vaughn Mecca, 1980, M.B.A. 2001
Michael and Mary Medici
Christine Medley
Carmen M. Megivern
Andrew and Ann Melick
Kevin and Jacqueline Melly
Mary Jane Milner Memolo, 1959, M.S. 1977
John and Nancy Sieber Menapace, M.A. 1982
Ernest D. Mengoni, 1987
Renee Zirpolo Merges, Esq., 1980
Paula Santa Maria Meseroll, 1980
Melissa Metzgar
Mey Sulla, L.L.P.
Nancy Michaelson
Carol Myslewicz Middleton, 1977, M.A. 1980
Midlantic Engineering
Joanne Nerger Mild, 1990
Barbara Ann Miller, 1961
Paul Miller
Michael M. Mirabito, Ph.D.
Marie Karmazin Miskell, 1959
Ernest and Susan Mondics
Vincent L. Montagnino
Robert E. Moore, M.S.W. 1976
Sally Morcos, Psy.D. 2010
James, Esq., and Rosemary Kelly Morgan, 1969
Sandra Ciabocchi Morgan, 1967, M.S.W. 1972
Linda Fuscaldo Morris, 1963
Patricia Flaherty Morrissey, 1965
Sherry Moss
Barry and Helen Moyer
Teresa Schirra Mulderig, 1961
Mary McDonald Muldoon, 1946
Thomas and Rosemary Skala Muldoon, 1969
Friends of Kyle Mullins
Francine Munkacsy
†† The Honorable James and Kathleen Purcell Munley, 1960, Ph.D.
Marion Munley, Esq., and Matthew Cartwright, Esq.
Nancy Cullen Munley, 1975
Patricianne Murnane, 1962
Judith Pilch Murphy, 1969
John, 1979, and Elizabeth Small Murray, 1975, M.S. 1979
Janet L. Muse-Burke, Ph.D.
Angelo and Paula Musso
Thomas and Nancy Musso
Robert E. Myefski, M.S. 1975
Robert Nathan
Brian Naughton
Needle Crossings
Lauren Neu
Laura M. Neuscheler, 1981
Ann Harvey Neuser, 1967
Terry Thomas Nighan, 1974
Ruth Gallagher Nolan, 1969
Northeastern Pennsylvania Philharmonic
Northminster Presbyterian Church
Mildred A. Norton, 1945
Stan Oakes and Gerri Gold
Colin O'Boyle
Kate O'Boyle, 1976
John, Esq., and Sally O'Brien, Esq.
Karin Maguire O'Brien, 1963
Thomas and Patricia Porro O'Brien
Terri Murphy O'Connell, 1969
Lydia Palermo Oliveri, 1963
Hans and Patricia Olsen
Barbara Zwick Olsheski, 1980
Joseph Olszewski and Kelly Gage
Francis, Esq., 1981, and Ann Hopkins O'Neill, 1979, M.B.A. 1991
Barbara Cottell Oney, 1957
Andrea Jean Oravec, 1996, M.S.W. 1997
Colleen M. O'Reilly, 1986
Robert, M.A. 1972, and Norma Koons Orner, M.S. 1974
Nancy Kaiser O'Rourke, 1967
Kathryn Lynott Oursler, 1972
Amy Paciej-Woodruff, Ph.D. 2011
Karen Paczkowski, 1974, M.D.
Mary Crisci Paladino, 1980
Brian and Heather Palmer
Renee Giacomini Paolantonio, 1952
Maureen Byrne Papola, 1964
Ann Marie Paris, 1995
Isabel Golden Parry, 1982
Tracie L. Pasold, Ph.D.
Gerald and Mary Seirmarco Peden, 1961
Pena-Plas Company
Joseph, Esq., and Marilee McGraw Pennington, 1975
Percy Pentecost
John and Mary Elizabeth Penzone
Michael Perdomo
Virginia Polentz Perfetto, 1962
Gina Perino, Dave Rosenberg, Owen Rosenberg, and Kara Rosenberg
Duane R. Perrelli, M.S. 1982
Josephine M. Perrino
Anthony, M.D., and Emily Savino Perry, 1961
Peter and Mary Lou Johnson Persuitti, 1975
Charles and Sheila Berry Petras, 1982
Ward F. Petrie
Hue Thi Pham, M.S. 1973, Ed.D.
Joseph Pichiarello, 1988
Joan Pasco Pilosi, 1968
†† Alice Garrity Pinney, 1952
Dr. Margaret J. Potthast
Michelle Fenton Price, 1993
Sarah Barnasconi Price, 1957
Primanti Corporation
Patricia M. Priolo, 1964
Joseph Profeta
Marilyn Krastek Prybicien, 1984
Kyle and Jennifer Purdy
Ken and Evonne Pustelniak
Jean Kinney Quinn, 1989
Elaine Starrett Radcliffe, 1958
Nancy J. Ramsberger, 1972
Mariane Chiles Randall, 1981
Peggy Landers Rao, 1957
Robert L. Redcay, M.S.W. 1984
Esther Babyar Redding, 1979
James H. Reese
Lynn Escandon Reiner, 1965
Sister Miriam Joseph Reinhardt, IHM, 1951
Gerrie Szakmeister Reis, 1963
Paul, D.O., and Christine Loftus Remick, 1973, M.A. 1989
Heather W. Reymunde, M.S. 2019
Edwin and Lorie Rhoads
Tricia Richards-Service, Ph.D. 2018
John and Karen Buckland Rickert, 1986
Joyce O'Malley Rittenhouse, 1958
David L. Ritter, M.P.A. 1977
Mary Lou Ritzco, 1970
Karen Rizzo
James and Mary Miller Roberts, M.S. 1975
Beverly A. Robertson, 1979
Marie Kilpatrick Robinson, 1961
Daniel and Mary McCabe Roche, 2003
Teresa Rodriguez
Albert J. Roessler, 1986
Susan DiSimoni Rollins, 1993
Carol Brennan Roncace, 1964
Sheila K. Rooney, 1953
Mariann Judge Rosar, 1982, M.S. 1996
Joan Marbach Roskos, 1971
Anne B. Roth, 1954
Patrice McDonald Rowbal, 1989
Edward and Anne Ruddy
Mark J. Ruddy, Jr., 2004
Gregory M. Rudick
†† Sam and Joan Rudick
Rugby Imports LTD
Rev. William G. Rushik, M.A. 1988
William A. Russell, M.S.W. 1974
Michael F. Russin
Ellen Spillane Ryan, 1963
Susan Wren Ryan, 1983
Juliette M. Saadi, 1964
Anita M. Sabia, 1983
John A. Sabia, 2004
William and Cheryl Sacks
Joseph R. Sadowski, M.S. 1980, M.S. 1994
John, M.D., and Julie Saiki
Merle B. Sandly, 1980
Laura Flanagan Santoski, 1984
Nancy Lewis Satterwhite, 1977
Christian D. Saunders, 2003
Patricia Werner Savage, M.S.W. 1976, Ph.D.
Patricia E. Scalese, 1992, and Christopher Fusco, Esq.
Dominick Scarnato, M.A.T. 2018
Eileen Green Scarton, 1964
Jordan Scepansk and Lea Wells
Judith Cowley Scheatzle, 1968, M.A. 2002, Psy.D.
Susan Boles Schimelfenig, 1982
Jennifer Chrisman Schoenly, 2004
Stefanie Lichak Schoomer, 1975
Deborah Miller Schreiber-Ott, 1964
Mark Schulze
Carl W. Schweizer
Maureen Quinn Scolere, 1970
Carol Mancini Scrimalli, 1980
Charles J. Scrobola MD
Susan J. Semple, 1970
Agnes Fidati Senn, 1949
Barbara Sepko
Bonnie Shaffer
Constance Phillips Shaffer, 1965
Jeffrey, M.S. 2005, and Suzanne Murphy Shaffer, 1991, M.S. 2000
Daniel and Joanne Shaheen
Robert S. Shaw, M.A. 1986, Psy.D.
Julie Bizzarri Shaylor, 1960
Sheet Metal Workers International Association Local Union 44
Mia Shernoff
John J. Sherosick
Betsy McCormick Shields, 1958
Jean M. Shields, 1971, M.A. 1985
Eric R. Sica, 2020
Richard and Luisa Sica
Carol Sankner Sicoli, 1968
Msgr. Constantine V. Siconolfi, M.S. 1983
Karen Anne Silvestri, 1980
Mary Ellis Simon, 1964
Larry and Patricia Simpson
Janet T. Skiba, 1959
Dorothy Horan Skierski, 1969
John Gregory Slanta, 1981
Charles A. Smith, 1977, M.S. 1990
Jean Casey Smith, 1950
Kathleen Clarke Smith, 1966
Mary Ann Mackrovitch Smith, 1956
Philip J. Smith, 1981
Thomas and Elfriede Smith
Richard and Paula Sobolewski
Jay and Sheryl Lynn Harris Sochoka, 1992
David and Mary Louise Sodl
Kevin Southard
Joann Arnese Spall, 1962
Brenda L. Spangenberg, 1966, M.S. 1971
Laurie B. Speranzo, 1997
Ralph and Karin Spiezia
St. Maria Goretti Church
St. Mary's Church of the Immaculate Conception
State Farm Companies Foundation
Staten Island Columbiettes
Annette K. Staub
Christopher G. Stefalo
Emily Huber Stefanac, 2003
Marcy Barron Stein, 1950
Ann Marie Stevens
Dr. Linda Yacone Stewart, 1971
Henry J. Steyskal
Elaine Faleskie Stoback, 1962
Barry D. Stoner, M.S.W. 1994
Sheila Maughan Stozenski, 1958
Ellen A. Strauskulage, 1973
Ann Marie Reynolds Streeter, 1983
Virginia M. Stringer, 1974
Jane Strobino, D.S.W.
Alfred and Marie Strouse
Kenneth and Eileen Sullivan
Mary Jane Sullivan
Michelle Leggat Summers, 2000
Alice Hosie Surace, 1986
Patrice B. Swartz, 1982
Elizabeth Messina Sweedo, 1971
Elizabeth Langan Swisher, 1952
Karen Colitz Tanenberg, 1966
Tricia Tanguay, 1976
Wade Taylor
Ben and Nancy Tefertiller, 1962
Texas Instruments Inc.
Joseph and Misty Theobald
Mary Hogan Theobald, 1961
William and Mary Theobald
Bob Thiel's Auto Body Shop, Inc.
Catherine Polasky Thomas, 1964
Sandra L. Thompson, 1976
Jeff C. Tierney and Robin A. Fernandez
Janet Moran Tinajero, 1993
Marilyn Martell Tinter, 1956
Mary Clyne Tinti, 1971
Catherine M. Toczek, 1993, and James J. Sherma
Mary Parise Tomaine, 1969
Connie C. Tompkins
Eileen Toomey
Amanda C. Toth, 2010
Ann Pesaresi Tracy, 1971
Msgr. David L. Tressler, M.S. 1990
Julie Dougherty Trott, 2012
John, 1980, and Jean Trotter
Charles, M.A. 1986, D.M.A., and Mary Truitt
David Tucker
Janet Partyka Tucker, 1974
Rev. John J. Turi, M.S. 1983
Kevin and Carla Jerolemon Twardzik, M.S.W. 1993
Renee Twardzik
Romayne Twardzik
Amy Lampman Twist, 1994
Leander Hall Uvary, 1999, M.S.W. 2003
Caroline Pulice Vadala, Esq., 1978
George and Mary Ann Zukauskas Van Dyk, 1968
Dale F. van Fossen, 1980
Rosanne Evans Moran Van Heertum, 2001
Jeffery L. Van Horne
Ann Kendrick Van Malderghem, 1969
Nancy Vander Eyk, 1969
John and Carol Fruehan Jones Verrone, M.S. 1980
Tosca C. Villano, M.A. 1994
Robert and Claudia Moran Visalli, 1971
Marcia Rupp Vogel, M.S. 1982, Ph.D.
Rev. Paul E. Walker, Sr., 1978, M.S. 1981
Martha R. Walton
Margaret Anne Walty, 1967
Marian Gaza Wanielista, 1973
Rev. Estelle C. Webb, 1989
William and Catherine Webster
Alfred, Esq., and Catherine Houlihan Weinschenk, 1971
Jean Pascoe Weinschenk, 1968
John and Connie Weiss
Seth and Chelsea Welcker
Christine Yachna Wendoloski, 1972
Luanne Kromko White, M.B.A. 2009
Mary Davis White, 1962
Irene Pettigrass Wiehe, 1960
Andrea M. Wilczynski, 1993
Linda Willard
Jane Ann Willchock, 1972
Carol Massi Williams, 1964
Patricia Williams, 1970
Mary Ann Bezares Wimmer, 1963
Aliceann Witkoski, 1971
Carl, M.S.W. 1977, and Mary Witkowski
Ernest and Joanne Paciorek Wittenborn, 1969
Arlene Fiegleman Wizwer, 1968
Nelson and Shelley Woehrle
Susan C. Wohlbach, 1973
George and Paige Wolters
Richard and Virginia Good Woodhouse, 1963
Mark and Delores Woolever
Lindsey L. Wotanis, Ph.D.
William W. Wray
Joseph and Dolores Wulko
James Wyers Landscaping
Michael and Melinda Yacuboski
Marianne Reynolds Yacynych, 1982
Charles and Heidi Yanavich
Mary Yanish-Keiper, 1970, M.S.W. 1972
Shelby W. Yeager
Rebecca Rosette Yerxa, 1982
Kimberle J. Ykema, M.S.W. 2014
Nancy Keefe Yonko, 1956
Richard and Caroline Zabretsky
Jay and Sandra Antenori Zahner, 1965
Beverley Zarnowski, 1967
Dawn Zatorski
Shawn, 1999, and Renée Gregori Zehel, 1991, Ph.D. 2016
Cindy H. Zimmerman
Marielle C. Zuccolo, 2006
Joseph and Elizabeth Zullo
Anonymous
Bruce A. Abbott, Jr., 1992
Elaine Speicher Ackroyd-Kelly, M.A. 1995
Sister Elizabeth Monica Acri, IHM, M.A. 1993
Christine A. Adams, 1984
Sister Mary Ann Adams, IHM, 1965
Mary Ann Zugarek Adams, 1953
Maxine Kowalchik Adams, 1969
Paul and Nell Adams
Alexandra K. Albright, 2017
Lauren Tyrrell Albright, 2009
Sister Jeanne Albrittain, IHM, 1962
Bonnie Alco, 1969, Ph.D.
Sister Christina Aldarelli, IHM, 1966, M.S. 1978
Dr. Patricia R. Allaire
Sister Robert Marie Alston, IHM, 1969
Joan E. Altomare, 1959
Amazon Smile Foundation
Sister Mary Frances Ambs, IHM, 1959
Alex Amend
Molly Amend
Amy Craig Ament, M.S.W. 1997
Betty O'Handley Amer, 1960
John and Kathleen Ammirati
Jennifer E. Anderson, M.S.W. 2007
Sister Mary Elaine Anderson, IHM
Morris Anderson, 1980
Marie C. Andreoli, 1995, M.A. 1998
Darla Fisher Andrew, 1989
Martha Major Andreychik, 1970
Joseph Frank Andusko, 2000
Anthony and Donna Angelico
Mary Ann FitzPatrick Anslow, 1955
Bradley A. Antes
Armando and Christa Antonini
Althea Jennings Appleyard, M.S. 1978
Thomas and Jacquelyn Arbanas
Maria Ardaix
Lois Arena
Sister Susan Armbruster, IHM, 1983, M.S. 1991
Gregory C. Aronica, 2001
Robert and MaryAnn Siedlecki Ashton, M.S. 1978
Susan Wywoda Asimakis, 1979
William David Attick, M.S. 1975
Betsy Mortorff Aulbach, 1970
Ryan G. Aungst
Peter and Robin Duffy Auth, 1984
Rocco and Christine Dende Averto, 1973
Sonia Englot Azaravich, 2007
Sister M. de Montfort Babb, IHM, 1954
Gina Babcock, 2020
Bernard and Eleanor R. Babonis, M.P.A. 1984, Ph.D.
Sister Jean Louise Bachetti, IHM, M.S. 1989
Teresita Cruz Baer, 1985
Sister M. Gracette Baker, IHM, 1961
George and Margaret Baland
Chris Baldwin
Joseph Baldwin
Sister Dolores M. Banick, IHM, 1967
Joseph, M.A. 1978, and Karen Baranoski
Judith Murray Barberich, 1968
Judith K. Barbour
Maj. Anne M. Barlieb, 2004
Deborah Leon Barlow, 1955
Wesley and Rose Picca Barnshaw, 1978
Molly Baron
Andrew J. Barry, M.S. 1974
Sister M. Janice Barry, IHM, 1955
Nell A. Bartholomew
Kathleen M. Bartlett, 1984
Marie D. Bartosh, M.S. 1993
Sister Joan M. Bastress, IHM, 1980
Kenneth and Charlene Batchelor
Cathleen E. Bateman, 2019
Alice Cassidy Batt, 1965
Anthony, M.A. 1982, and Carole Campagna Battaglia, 1968
Karen King Battaglia, M.S. 2005
Karen McAndrew Battaglia, 1969
Karen Tiberi Bazzarri, 1993
Kelly Simonis Beal, 2005
Maureen Naso Beauchamp, 1963
Dorothy Zientek Beaulieu, 1967
Clare Guerrise Bechtel, 1968
Elizabeth Barlow Bechtel, M.S.W. 1987
Amy Ziegler Beck, M.S.W. 1988
Noah Beck
Matthew T. Beckish
Richard and Patricia Kreidler Behles, 1972
Damion Bell
James, Esq., and Rosemary Bell
William and MaryAnn Bell
John W. Bellas, M.A. 1979
Sister Ann Belz, IHM, 1968
Lawrence and Sangeeta Benbow
Edith Cooper Bender, M.S. 1971
Judith Smith Benedetto, 1982
Danielle A. Benner, 1998, M.S. 2000
Colleen Bennett, M.S. 2010
Cynthia Kita Bennett, 1961
Kathleen Butwina Bennett, 1982
Lon Bennett
Stephen C. Bennett, M.S.W. 1975
Sister Ann Berendes, IHM, 1967, M.A. 1979
Scott Berg
Joshua Berman, M.A. 2018
Ira A. Bernson
Joseph and Florence Berwind
Gloria Dusza Bessette, 1967
Best Landscape
Mary Daley Bharkhda, 1976
Brianne G. Bianco, 2017
Edward and Mary Bickowski
Jane Bidwick
Glenn and Judy Bieber
Douglas Cliff Billet, 2003
Luz Guzman Bird, 1957
Sister M. Carlita Bird, IHM, 1966, M.S. 1977
Sheila H. Birmingham, 1983
Richard and Faye Bishop
Robert and Laura Kurland Black, M.S.W. 1982
Billie Blackwell
Katherine Callahan Blancaflor
Carrie Kohler Block, 2004
Joseph, 1986, and Lisa Barrett Bobinchock, 1975, M.B.A. 1991
Dr. Thomas M. Bock, 1980
Sister M. Carleen Boehlert, IHM, 1953
Meghan Reid Bogado, 1993
Donna L. Bogin, 1986
Donn and Crystal Bohner
Lydia Darocha Boileau, M.S.W. 1978
Katherine M. Bollinger
Angela Bonacci
Carolyn M. Bonacci
Dominick and Lisa Jones Bonacci, M.B.A. 1996
Ann Cancelli Bonanni, 1975
†† Sister Christina Theresa Bonanza, IHM, 1961
Vincent, 1994, and Marie Gillette Bonavoglia, M.S. 2006, Ph.D. 2013
Mark T. Bonfiglio, M.A. 2002, and Danielle K. Fleming, M.A. 2003, M.Ed. 2011
David C. Bonin
Anne Marie Bonomo, M.S. 1974
Regina A. Bonomo, 1990
Immaculate Mary Jacobeno Boone, 1969
Ghislaine Scutt Borno, 1954
Sister Anne Mary Boslett, IHM, 1964, M.S. 1977
Norma L. Bottone, 1956
John and Jane Bouselli
Dorothy Tobelmann Bowen, M.A. 1986
Sister M. Leonnette Bower, IHM, 1961
Kathleen Mangan Bowman, 1983
AnnMarie Shear Boyko, 1972
George V. Boyle and Theresa A. Boyle-Ackerman
Rhea M. Boyle
Judith A. Bozzo
Patricia Maglio Bracey, 1980
Copeland and Judith Bradford
Nathan, 2009, M.A.T. 2016, and Elizabeth Smith Bradley, 2011
Charles and Elizabeth Brady
Sister M. Josaire Brady, IHM, 1959
Margaret R. Brady, 1980
Trisha A. Bready, 2009, M.S. 2010
Carol Kollonige Brelish, 1970
Amanda Lavin Brennan, M.S. 2010
Ann Rutledge Brennan, 1961
Debra Brennan
Mark Brennan
Mildred Naglak Brennan, 1961
Allen and Karla Brenneman
Dori Bright
John and Anne Brixius
Joyce E. Brobst, M.S. 1977
Sister Mary E. Broderick, SHCJ, M.S. 1979
Katherine Starr Brotman, M.S. 1981
Linda Watts Brown, 1964
Maureen Foy Brown, 1970
Frederick and Sherrolyn Mason Bruner, M.S.W. 1984
Brunetti's Pizza
Zachary J. Brunner, M.B.A. 2020
Isabella Annette Bruno, 1963
Helen Sledjeski Brush, 1954
Sister Ann Monica Bubser, IHM, 1972
Peter and Elena Buccino
Marguerite Zimmer Buck, 1967
Sister Lois Buckley, IHM, 1973
Joseph and Ann Marie Budney
Anthony W. Bugno
Ellen M. Bugno
Gary F. Bugno
Robert and Paulette Bugno
Stephen A. Bugno
Sister Elizabeth Edward Mary Bullen, IHM, 1967, M.S. 1980
Lynne R. Bunavage, M.B.A. 2012
Susan Bigney Bunzey, 1977
Susan T. Buonocore
Dr. Donna Buraczewski
The Burke Family
Judith Pish Burke, 1964
Kathryn Schaar Burke, M.A. 1998
†† Sister Margaret Burke, IHM, 1965
Margaret M. Burke, 1973, M.S. 1982
Elizabeth M. Burkhauser, 1968
Sister Kathleen Mary Burns, IHM, 1977, Ed.D.
Mary Joan Burns, 1981
Holly Burton
Kathryn Blanchard Busen, 1966
Gregory and Kelly Hill Butler, 1998
Jack and Susan Butler
Martin and Alicia Butler
Gloria Byalick
Owen and Carolyn Byrne
Donna Scartelli Cadden, 1990, M.A. 1993
Robert and Karen Caffrey
Alison Feryo Cahill, 1995
Georgeann Chemchick Calabro, 1972, M.S. 1978
James Calacanis
Laraine Zelno Caldwell, 1953
Tammy S. Calnan, M.S.W. 1998
Gail A. Calomino, 1975, M.S. 1981
Susan Cahill Camise, 1973
Roberta Cecci Cammer, 1990
Sister Grace Campbell, IHM, 1967, M.S. 1976, M.S. 1990
Sister Mary Barbara Campbell, IHM, 1957, M.S. 1971
William A. Campoli, Sr., M.A. 1983
Theresa Canfield
Anthony, M.S. 1978, and Mary Papa Cantafio, 1980
Julia Martin Cantarella, 1992
Philippa Cantillon
Sister M. Marguerita Carbone, IHM, 1956
Rose Marie Nealon Carden, 1956
Kenneth and Nicole Cardone
John and Agnes Cardoni
Cmdr. Antonio and Ellen Scheitrum Cardoso, 1975
Shawn Carduff
Care & Prayer Counseling Ministries
Janet L. Carey, 1990
Carlini Properties LLC
Claudette Carlson
Sister Ellen Carney, IHM, 1969
Patricia Spillane Carr, 1985
Lisa Pelucacci Carrozza, 1990
Braheem and Andrea Carter
Jacalyn Carter
Kathleen Carter
Lori Parise Carter, 1995
Lawrence, D.M.D., and Elizabeth Caruth
Joseph G. Casciano, 1977, M.S. 1984
James and Brenda Erdman Casey, 1980
John and Carol Leeser Cassidy, 1962
Mary Ann Wells Cassidy, 1963
Ann Marie DiVecchia Castelgrande, 1972, M.A. 1976
Patrick and Denise Castellani
Anthony Louis Castellano, 2012
Michael Peter Castellano, 2010
Charles and Rosanne Castiglione
Joseph F. Catanzaro, M.A. 1983
Charmaine Primerano Caulder, 1992
Andrea M. Caulfield, M.S.W. 2003
Alice M. Caulson, 1975, M.A. 1986
Sister Beatrice Caulson, IHM, 1966
Marie Tierney Cavanaugh, 1948
Mary Jane Buselli Cerminaro, 1991, M.S. 1997
Ann Cerminaro-Costanzi, Ph.D.
Isabelle Cerra
Kathleen McGee Cerra, M.A. 1985
Amanda Cervenka
Thomas, 1982, and Irene Kosiarski Cesarini, 1981, M.S. 2006
Rev. Thomas M. Cesarini, M.S.W. 1972
Christi Chamberlain
Alexander and Cheryl Chan
Dr. Dennis G. Chapman
Sharon M. Chapman, 1986
Sister M. Helen Ann Charlebois, IHM, 1967
Meril D. Chaskin, 1975
Sister Louise Checchi, IHM, M.S. 1983
Mary Ann Hudgick Chegezy, 1971
Valray Wills Cheripko, 2005
MarieAnn Cherry
John and Mary Chichilla
Judy Allegrucci Chickillo, 1972
Mary Ann Kelly Chindemi, 1988
Barbara Sochovka Chisdock, 1986, M.S. 2008
Sister Nancy Christiano, IHM, 1982, M.S. 1988
Donald and Lourdes Christina
Lucille Tubach Christini, 1963
Bernice Chubay
Anthony and Sharon Ciavarella
Peter and Jacqueline Cicchetti
Danielle and F. Anthony Cicco
Julia E. Cicco
Danielle Ciccotti
April L. Ciesielski
Julia Cieszeski
Mary Frances Cimini
Sister Josephine Cioffi, IHM, 1968
Ann Therese Clark, 1962
Taylor Clark, 2017
Ellen Clark-Cruz, 1984
Catherine Walsh Clarke, 1959
Sister Katie Clauss, IHM, 1973, Ph.D.
Clean Air Group, Inc.
Donna Ide Clemens, 1982
Patricia Welch Cliber, 1960
Mary Ann McNulty Clifford, 1973
Sister Eileen Clinton, IHM, 1967, M.S. 1972
Anne Rowland Clymer, 1974
Jay, Ph.D., and Elizabeth Ruddy Clymer, 1981
Raymond E. Clymer, Jr., M.P.A. 1982
Samantha A. Coco, 2014
Sister Mary Ann Cody, IHM, 1969
Donna M. Cohn
Mary L. Colalillo, 1980
Michael and Ann Marie Colasurdo
Andrea L. Cole, 1998
Bryan and Karen Cole
Sister Eileen M. Coleman, IHM, 1964, M.A. 1992
Edward, M.S.W. 1977, and MaryClaire McCormack Coleman, 1976, M.S. 1995
Sister Marionette Coll, IHM, 1948
Suzanne R. Colley, M.S.W. 1992
Karin Favini Collins, 1975
Kayla Collins
Sandra Petrucci Collins, 1972
John and Elizabeth Moleski Colonna, M.S. 1985
Robert and Kathryn Colucci
Complete Health Dentistry of NEPA
Bryan and Denise Compton
Catherine Gilvary Compton, 1995
Sister Jean Conaty, IHM, 1959
Sister M. Alphonsa Concilio, IHM, 1954, 1966, M.A. 1977
Michele Condon
Christine Reichard Confer, M.S.W. 2019
Sister Jane Marie Connolly, IHM, 1965
Barbara McGonigle Connor, 1975, M.S. 1983, M.S. 1990
Michael and Anne Campbell Connor, 1973
Sommur Dougher Connor, 2000
Thomas and Claudia Cooley
Phoebe Littell Coolican, M.S. 1977, M.S. 1990
Lisa A. Cooper, 2000
Cooper's Seafood House, Inc.
Judith E. Copeland, M.S.W. 1976
Patricia M. Corbo, 2013
Frank and Carolyn Cordaro
Mark and Teresa Ann Pascucci Cordelli, 1983
Kimberly Elizabeth Corona, 2014
Sister Catherine V. Corrigan, IHM, M.S. 1977
Richard and Andrea Cory
Mary Gleason Costabile, 1964
Todd and Adele Costantino
Sister Mary Elizabeth Costello, IHM, 1958, M.S. 1975
Gary, 1995, and Elizabeth Horan Controneo, 1995
Ann Hoffman Cotter, 1965
Sister Jean Coughlin, IHM, 1971
Susan Pierce Couture, 1976
Riley E. Covaleski, 2016
Jennifer Griffith Cowgill, D.M.
Eileen P. Coyne, M.A.T. 2001
Sister Mary Ellen Coyne, IHM, 1974, M.S. 1983
Amanda M. Craig
Dawn E. Craig, M.S.W. 2014
Sister M. Helen Ann Cranston, IHM, M.S. 1986
Mary Beth Judge Craven, 1973
Gabrielle M. Creazzo, 2017
Patricia A. Creazzo, M.P.A. 2001
David Crisci, 2007, M.S. 2010, and Allison Crisci, 2012
Pasquale and Beverly Boyne Crocco, 1972
John and Diane Croom
Thomas and Doreen Crowe
Sister Maureen Cryan, IHM, 1950
Andrea Cost Cucura, 1969
Lisa M. Cuffaro, M.S. 1997
Shawn C. T. Cullen, 1997
Frances DeGennaro Culver
Alan and Mary Pat Meehan Cunningham, 1983
Michael and Mary Ann Baldini Cunningham, 1967
James G. Curley, 2018
Jordan R. Curnow, 2019
Christina Curran
Claire Murphy Curtin, 1957
Kathleen Toomey Curtis, 2000
Margaret Durkin Curtis, 1960
Wilson and Cheryl Freeman Curtis, 1972, Ed.D.
Richard Czermak
Elaine Schaad Daglio, 1961
Edward and Evelyn D'Agostino
Sister Maureen Dailey, IHM, 1966
Elinor W. Daley, 1959
Karla G. Dalious, 2012, M.S. 2013
James and Carmen Dalli
Linda M. Damiano, 1990, M.B.A. 2000
Leonard and Mary Ann Lambrigger Dammers, 1961
Mary Ellen Neeson D'Angelo, 1965
Marisa Germaine D'Annibale, 1976
Joseph and Florence D'Auria
Peter and Dinorah D'Auria
Dave and Sherri Davenport
Nana Pressman Davenport, 1957
Kathleen Davern
Robert and Abigail Drewes Davis, PA-C, 2004, M.S. 2006
Danny L. Davis, Jr.
Laura O'Connor Davis, 2005
Robert J. Davis, Jr., 1986
Brian, 2014, and Kayla N. McNamara Davitt, 2014
Sister Mary Dawson, IHM, 1965
Sara B. Day
The Rev. Dr. Roger A. De Noyelles, M.S.W. 1989
Gary and Nancy DeAcosta
Jeffrey and Lynn DeAcosta
Sister Nancy DeCesare, IHM, 1978, M.S.W. 1981, Ph.D.
Renee M. Dech, 1975
Barbara Decker
Jeane M. Decker, 2008, M.S.W. 2009
Sister Suzanne Delaney, IHM, 1968
Victor and Maria DeLazzari
Mary Lynn Delfino, 2004
Dean Dellolio
Michele Pierre DelPrete, 1991
Barbara DeMaio
Joseph DeMilia
Susan Dennen
Dolly Marie Reilly Densevich, 1962
Michael and Valerie DePalma
Stella Lushis DePaulo, M.A. 1983
August and Renée DePietro
Regina Radocha DePuy, 1974
Cecelia P. Derstine
David and Karen Derstine
Sister Eleanor Desaulniers, IHM, 1954
Sister Ann Barbara DeSiano, IHM, 1968
Peter J. Dessoye, M.S. 1974
MaryLou Costa Devers, 1949
Linda DiLorenzo Devery, 1975
Elisa M. DeVincentis, 2006
Amy Welcome Devine, 2010, M.S. 2012
Gerard A. Devine
James and Meghan DeVito
Sister Agnes Mary Devitt, IHM, 1965, M.S. 1976, M.S. 1994
Sister M. Ann Rosalia Devlin, IHM, 1972
Geniene M. DiBlasio, 1999
Heather Boland Dickey, 1998
Carol E. Dieffenbach, 1979
Sister Rose DiFluri, IHM, 1973
Carolyn Ann DiMarcello, 1965
Louis and Catherine DiMattio
Sister M. Monique Dissen, IHM, 1966
Amanda J. Ditri, M.S.W. 2016
Dennis and Kathleen Dittrick
Sister Damian Marie Dlugos, IHM, 1959
Ernest and Hope Dodge
Neil, M.S.W. 1973, and Kathleen Kelleher Donahue, 1973, M.S. 1977
Sister Jacquelyn Donohue, IHM, 1965, M.S. 1974
Sister M. Anysia Donohue, IHM, 1965
Marie Roche Donovan, 1969
Anne M. Doonan, 1963
Thomas and Concetta Dorner
Sister Vincentia Dorsey, IHM, 1967
Anne Marie Auriemma Dougherty, 1963
Kristen Dougherty, 2016
†† Mary Elizabeth Dougherty, 1990
Romayne Mellody Dougherty, 1957
Sister Therese Mary Dougherty, IHM, 1971, M.A. 1979
Sister Thomas Mary Dougherty, IHM, 1965, M.S. 1975
Timothy and Cathleen Dougherty
Cheryl Owen Mazzarella Dowd, 1986
Sister Dolores Jean Dowling, IHM, M.S. 1973
Paul W. Downton, 2004
Leslie Swantek Doyle, 1994, M.A. 1998
Michael Doyle
Maxwell V. Drake, 2016
Sister Geraldine Marie Dranginis, IHM, 1958
Rudolph and Joyce Drasler
Mary Vita Margotta Drennan, 1963
Maria Caggiano Dressler, M.S. 2010
Jill Druckenmiller, 1997
Catherine Kowrach Druffner, 1960
Valerie Duca
James and Julia Duffy
Sister Jane Mary Duke, IHM, 1965, M.S. 1975
Stanley and Kathleen Duncan
Grace Connolly Dunkle, 1962
Sister Dolores Dunn, IHM, 1965, M.S. 1975, M.A. 1996
Lawrence and Arlene Dunn
Courtney Marie Dunne, 1999, Ed.D.
†† Sister Jane Frances Dunnigan, IHM, 1965, M.S. 1985
Sister Grace Madeline Dusch, IHM, 1965, M.S. 1980
Gregory Dustin, 2012
Ann McCarthy Dwyer, 1954
Jayne W. Dye, M.D., and John T. Dye
Jessica Cibenko Echelmeier, 1998
Sister M. Elsa Eckenrode, IHM, 1954
Karl Eder
Marcia Talhelm Edson, 1970
James P. Edwards
Sister Eileen M. Theodora Egan, IHM, 1967, M.S. 1973
Sister Mary Elizabeth Ehling, IHM, 1963
Barbara Ann Middleton Ehrenstrom, 1962
Marian L. Eide, M.S. 1979
Sister Nancy Marie Elder, IHM, 1968
Justin Ellard
Sister Jane Ellis, IHM, 1966, M.S. 1975
Marjorie Slear Ellis, 1964
Rosanne Reap Ellis, 1971
Maribeth Ruddick Embras, 1976
Audrey Endresen
Erica A. Engles-Senak, M.S.W. 2014
Keith and Cindy Warner Westbrook English, M.F.A. 1999
William and Kathryn Errante
John and Mary Ellen Errico
Steven Esgro, 1980
Heather Attalla Esposito, 1999
John J. Evancho
Lynn Ewaskiw-Gordon, 1999, M.S. 2001
Edward and Bernice Facciani
Frank T. Falcone, M.B.A. 2003
Ronald and Judith Falcone
Barbara A. Faletto
Sister Mary Kay Faliskie, IHM, 1981, M.S.W. 1982
Anne Marie, 1976, and Mark Fallek
Joseph, 1994, and Linda Woyshnar Fanti, 1993, M.S. 2002
†† Sister Maryla Farfour, IHM, 1948, M.S. 1978
Rachel Farmer
Daniel Farrell, M.S.W. 2018
Sister Lillian Marie Farrell, IHM, 1952, M.S. 1971, M.A. 1989
Maryann Moody Farrell, 1960
Edna Wilson Farris, 1968
Sister Fran Fasolka, IHM, M.A. 2003
Joyce Folan Fasula, 1971
Joseph and Carmella Manganiello Faust, 1971
Ronald W. Faust, M.P.A. 1984
Deborah A. Feddock
Josephine Sindoni Federico, 1964
James Joseph Fedor, M.A. 1990
Nadine Felice
Gerald, D.M.A., and Erika Felker
Katherine Lynam Fennell, 1963
John, M.S. 1974, and Ann Ferguson
Joseph and Michele Ferguson
Julie Hill Ferguson, 1995
James and Suzanne Lucas Ferguson, 1973
Simon and Stefanie Fernandes
Reisa Jones Ferrant, 1974, M.S.W. 1976
Sister Mary Pio Ferrario, IHM, 1964
Joseph, 1984, and Cathy Gorecki Ferraro, 1982, M.S. 1995
Frances D. Ferrese
Kimberly A. Fetter, M.S. 2010, Ph.D. 2016
Susanne Southward Finan, 1990
Patricia Boyea Findra, 1976
John and Melinda Finnerty
Claire McFarland Fioriti, 1959
Charles G. Fisher, 2010, M.S. 2011
Renae Fisher
Sister M. Alexius Fitzgerald, IHM, 1954, M.S. 1970
Sister Theresa Fitzgerald, IHM, 1961, M.S. 1969
Joan Ward FitzPatrick, 1953
Melinda O'Hora Fitzpatrick, 1964
James and Mary Fitzsimmons
Kimiko Kawasaki Flasser, 1979, M.A. 1984
Nancy A. Flesch, 1976
Kimberly Flick
Caroline Flynn
Gary and Jen Flynn
James, Ph.D., and Marigrace Flynn
Michael D. Flynn, Jr.
Clayton and Stacey Flyte
Michael A. Fogley
Sister Ave Maria Foley, IHM, 1951
John and Joan Kelleher Foley, 1984
Diane Moretti Fontana, 1972
Peter and Carol Forbes
Marianne Orasin Ford, 1965
Matthew P. Forlano and Vivienne R. Cipriano
Frances Fox, 1974, M.S.W. 1976
Dr. Pauline Schweinforth Fox, M.A. 1990
Thomas and Marsha Novotka Foy, 1972
Anna Marie Canino Fragnito, 1960
Melissa L. Francis
Joseph Franco, 2014
Rebecca L. Franco, 2009
†† Sister Gloria Frank, IHM, 1961, M.A. 1991
Patricia Franks-Evanish, M.S. 1980
Rosaly Franolich
Kevin and Denise Frantz
Nancy Frantz
Gary and Charlene Scribner Fraske, 1983
Margaret Jessie Frawley, 1965
Brandon P. Freely, 2020
Brenda J. Freitag
Mark W. Frenyea
Sister Theresa Frere, IHM, 1971
James and Jennifer Froh
Melissa D. Fronheiser
Gerald and †† Maureen Noone Frost, 1972, M.S. 1976
Jane Majernick Frye, 1975
Lydia R. Fulton, 2016
Robert A. Gable, M.S. 1973, Ph.D.
William and Maureen Gage
Beth McAllister Gallagher, 1977, M.S. 1987
Sister Jean Gallagher, IHM, 1966, M.S. 1979
Katie Gallagher
Sister Mary Ellen Gallagher, IHM, M.S. 1975
Sister Mary Jo Gallagher, IHM, 1968, M.A. 1984, M.S.W. 1999
Sister Paula Gallagher, IHM, 1969
Heather Hosie Galli, 2008
Paulette M. Gallo, 1975
Kendra P. Galvin
Harish and Jane M. Ganatra, M.S. 1989
Ellen Hogan Gannon, 1968
Sister Margaret P. Gannon, IHM, 1959, Ph.D.
Anthony and Shirley Lewert Garbarini, 1957
Sister Mary Martha Gardiner, IHM, 1955
Megan Bauman Gardner, 2010, M.B.A. 2014
Shirley A. Gardner, M.S. 1989
Ann Marie Czyzyk Garvey, 1977
Nancy R. Garvey, M.A.T. 1996
Jessica Gatti
Sister Jane M. Gaughan, IHM, 1970, M.A. 1978
Margaret Gaughran
Sister M. Estelle Gavel, IHM, 1973
Linda S. Geer, M.S.W. 1994
Anne Flaxman Geisser
Andrew Genovese
Lisa M. Genovese, 1986
Gina Gentile, 1984
Catherine Caterino Gerard, 1970
Tammy Geric
Marlene Gerrity
Gerrity's Supermarkets
Adriana R. Giammarino
Alissa Giammarino
Ryan B. Gibbs, 2000
Sister M. Myra Gilbart, IHM, 1967, M.S. 1994
Sister Mary Mercy Gilbart, IHM, 1967, M.S. 1976, M.S. 1994
Paige M. Gill
Mary Barbara O'Neill Gilligan, 1975
Katherine J. Gilmartin
Kathleen A. Gilmartin, 1975, M.S. 2005
Michael, M.A. 1972, and Nadine Jennings Gilmartin, 1974
Robert, 1999, and Barbara Rattigan Gilmartin, 2000
Sister Catherine Ann Gilvary, IHM, 1965, M.S. 1974, M.S. 1981
Autumn Gimbel
Giordano Dental
Raymond and Eileen Giovagnoli
Christian and Susan Girard
Sharon A. Giuliano
William Glah
Elizabeth Heffernan Gleason, 1970
Janet Quinn Glynn, 1962
Nancy M. Godlewski, 1971
Theresa Grescavage Gogets, 1980
Ryan Gates Gold, 2001
Sister Joan M. Golden, IHM, 1962
Linda Crump Gomar, 1970
Linda Gomes
Margaret A. Gorman, 1965
Carolyn Cardone Gotowko, 1972
Sister Rosemary Goulet, IHM, 1971, M.A. 1980
The Gourmet Club
Kelly Grady
Patrick, M.D., and Susan FitzPatrick Grady, 1978
Christine Graham
Paul and Rita Betti Graham, 1991
Sister M. Johnice Grand, IHM, 1969, M.S. 1981
Joanne Vitris Grant, 1976
Deborah Kopicki Graser, 1969
Joseph, M.S. 1977, and Elvira Latrella Grasso, 1970
Vincent, D.P.M., and Marlene Grattolino
Kimberlee D. Gravitz, M.S.W. 2001
†† Ann Marie M. Grayeski, 1974
John and Debra Graziano
Karen Cole Greco, 1980
Cara Bell Green
Jane S. Green, M.P.A. 1994
Mary Rengier Green, 1994
Beatrice Greenberger
Lee Ann Gregg
Sister Rosemarie Luz Gregorio, IHM, 1984
Jennifer A. Greseth, 2001
Sister Francis Xavier Grieb, IHM, 1961
Sister Sandra M. Grieco, IHM, 1971, M.S. 1982
Tina Grieco-Calub, 1995
Sister Carole Griffin, IHM, 1967, M.S. 1978
William T. Griggs
Dorothy J. Grill, 2007, M.Ed. 2010, Ph.D. 2019
Elizabeth Grimes
Sister Marylin Grosselfinger, IHM, 1966, M.A. 1975
Roger and Marguerite Gruen
Carolyn Kester Grzenda, 1969
Sharon A. Guarino
Marie Frances Guesto, 1972
Diane Howell Gunnett
Esperanza M. Gutierrez, 2017
Mary Louise Andres Gyllenborg, 1967
Sister Ruthanne Gypalo, IHM, 1969
David and Grace Haack
Paul and Dorine Haberman
Eileen A. Hackett, 1980
Sister Susan Hadzima, IHM, 1969, M.S. 1978
Lawrence E. Hahn
John and Margaret Hambrose
†† Sister Dorothy A. Haney, IHM, 1962, M.S. 1981, Ph.D.
Hank's Hoagies
Sean and Kristine Hanlon
Megan E. Hannon, 2011
Patricia McCormick Hansen, 1980
Margaret Hanson, M.S.W. 1977
Sister Roberta Mary Harding, IHM, 1969, M.S. 1981
Sally Mollenhauer Hardy, 1970
Sister Rose Lawrence Harlan, IHM, M.S. 1981
M. Suzanne Harper, 1964
Clair H. Harr, 1991
Elisha Harris
Devon L. Harrison, 2004
John and Lynn Harrison
John and Margaret Harrison
Robert and Estelle Harron
Sister Michael Marie Hartman, IHM, 1963
Susan Wagner Hartney, M.A. 1984
William and Betsy Pane Hartshorn, 1993
Jerome and Karen A. Hartt, M.S.W. 1991
Robin Harvey
Maria Dommerich Hase, 1998
Mitsunori Hase, 1997
Andrew J.M. Hassay, M.S.L.S. 1972
Sister Kathleen Hassett, IHM, 1962
Sister Patricia Hauser, IHM, 1970, M.S. 1981
Robert Hauspurg
Cassie Haw
William and Sherry Hayes
Sister M. Cor Immaculatum Heffernan, IHM, 1954, M.S. 1973
Douglas and Patricia Hein
Sister Daniel Mary Heisey, IHM, 1967
Sister Janice Heisey, IHM, 1959
Sarah M. Helcoski, M.S. 2012
Frances Kirsch Hellmann, 1962
Sister M. Rosarii Hemmer, IHM, 1958
Sister M. Melissa Hester, IHM, 1955, M.S. 1972
Gerard M. Hetman, M.A. 2010
Melissa Heuss
Sister Helene Hicks, IHM, 1967
Sister M. Sabine Higgins, IHM, 1954, M.S. 1973
Sister Mary Ellen Higgins, IHM, M.S.W. 2000
Joan Cerra Hild, 1963
Terri Griffin Hillmann, 1968
Beverly Gambo Hilton, 1969
David A. Hines, M.P.A. 2000
Mary Ryan Hines, 1965
William P. Hines, 1982
†† Sister Beverly Hmel, IHM, 1963
Gerald and Antoinette Hobbs
Rick Hoffenberg, D.M.A.
Cheryl Sharkey Hoffman, 1992
Erin Madison Hoffmann, 1967
Annmarie Hogan
Chelsea Hogan
William and Joan Hogan
Ralph and Barbara Cawley Hohmann, 1970
Mark and Leslie Hoke
Deborah Hokien, Ph.D.
Ellen Benson Holdredge, M.S. 1978
Ann Holland
John J. Holler, 2014
Isaac Holmes
Sister Sarah Ann Holmes, IHM, 1967
Michelle Holzmann
Kay Powell Hometchko, M.A. 1985
Judy Abbott Hoover, 1988
Sister M. Anine Hopkins, IHM, 1959
Thomas and Sandra Dianese Hoppey, 1996
Patricia Lorenz Horton, 1962
Mary Frances Hoffman Horvath, 1968
Saundra Sossong Horvick, 1966
Lois Hosie
Chad and Kimberly Hoskins
Christopher Houck
Phyllis Renaldo Houle, 1964
Stephanie Jane Howard, M.S.W. 1997
John L. Howell
Harry and Maureen Howland
Dr. Victoria Carnali Hruby, 1987, M.B.A. 1988
William L. Hubbs, 1982
Madeline Hudacko
Rosemary O'Brien Hughes, 1968
Matthew and Rozalin Hummer
Joseph F. Hunt, 2017, M.B.A. 2018
Timothy Hunter
Gail Yasinskas Hurchick, M.S. 1985
Peggy Grady Iannetta, 1972
Barbara R. Ide
Lisa Imbriaco, Ph.D., 2017
Helen Piorkowski Ingerick, M.S. 1975
Mike and Karen Inglese
Interior Magic
Wayman and Maureen Iriarte
Charles Isdell
David and Donna Isgan
George J. Izzi
Sister Barbara Jablonski, IHM, 1964
Jackson Lewis P.C.
Rosemarie Cardoni Jackson, 1959
Gloria J. Jacoby, 1980
Sister Maryalice Jacquinot, IHM, 1988, M.A. 1995
Megan Virginia Jadro, 1996
Theresa Jakubowski
Lee David Jamison, II, 2014
Joseph and Marianne Janeski
Bradley A. Janey, Ph.D.
Kevin and Donna Jeandell
Sister Janet Jeffers, IHM, 1978, M.S. 1978
Derek and Jeaneen Jess
Patricia Joannou
Sandra Freuler Jobson, 1980
Breah Johnson
Jacob, 2006, and Lindsay Young Johnson, 2005, M.S. 2007
Nick Johnson
Scott Johnson
Jane Johnston
Peter and Kathleen Johnston
Adrianna M. Jones, 2020
Clayton and Sherri Jones
Mary Clare Jones, 1993
Mary Lynn Jones, 1966
Shirley A. Jones, 1967
Susan O'Keefe Jones, 1973
Henry and Kathleen Jonkman
Mary Drutarovsky Jordan, 1971
Sister Theresa M. Jordan, IHM, 1982, M.B.A. 1991
Mary Reilly Jordano, 1963, M.S. 1970
Margaritta I. Jost
Janice O'Boyle Joyce, 1977
Janine Kadelak
Sister Jan Marie Kalyan, IHM, 1966, 1969, M.A. 1980
Elizabeth Bryk Kaminski, 1971
Ann Durkin Kane, 1951
Erin M. Kane
Sister Mary Alice Kane, IHM, 1967, M.S. 1974
Margaret Sziracky Karolyi, 1975, M.S. 1978, M.A. 1986, Ph.D.
Anne L. Karp, 1989
Sister Joan Katoski, IHM, 1969, M.A. 1997
Patricia Nealon Kearney, 1986
Anne Ratchford Kearns, 1957, M.A. 1973, M.F.A. 1995
Patricia Keilty Kearns, 1964
David and Margaret Keenhold
Linda A. Kellock, 1994
Anne B. Kelly
Rev. E. Francis Kelly
Kaitlin Kelly
Sister Kathleen Kelly, IHM, 1945
Sister Kathleen Kelly, IHM, 1968
Sister Kathleen K. Kelly, IHM, 1967
Sister Kathleen M. Kelly, IHM, 1969
Sister M. Annellen Kelly, IHM, 1962
Sister Maria Rose Kelly, IHM, 1965, M.A. 1992
Christopher Kennedy
Eileen Kennedy
Cathy Kenyon
Kaitlin Kenyon
Michon Munson Kerlin, 1983
Sophie Kernoschak
Mary Lynn Keselowsky, 1968
Christine Kessen, D.S.W.
Sister Dorothy Kibler, IHM, 1973
Michael C. Kiel, Ph.D.
Kevin M. Kilker
Thomas E. Kilker, 1985
Sister Nancy A. Kilmer, IHM, 1982, M.A. 1990, M.F.A. 2003
Sister Angela Ok Hwa Kim, IHM, 1992, Ph.D.
Sister Eleace King, IHM, 1968, Ed.D.
Joshua A. King
Lewis and Linda Kistler, M.A. 2002
Jeremy Klapac
Jeffrey A. Kleha, Esq., M.S. 1997
Anne Klein
Elizabeth Klein, 1971
Leslie A. Klein
Susan M. Klein
Alex and Mary Kleiner
Kim Howarth Kloniecke, 1987
Lorraine LaVelle Kloss, 1988, Ph.D.
Ryan, M.S. 2015, and Elizabeth Grimes Klubeck, M.B.A. 2016
Nancy Knapman
Sister Marianne Knight, IHM, 1965
Elizabeth A. Knizer, 1988
Melanie A. Kobela, 2017
Sister M. Priscilla Koblarchik, IHM, 1959
Bret Kobler
Simon J. R. Koenig, 1982
Nancy Brennan Koester, 1972
James and Karen Koestler
Patricia M. Kolar
Jenna Kollar
Robert J. Kollar
Vincenza LaFata Konopelski, 1958
Collette Kopa
Sister Donna Marie Korba, IHM, 1982, M.A. 1988
Brittany A. Kornacki, 2015
Anne Hamorski Korpita, 1952
Laurence S. Kosowski, 1984
Deborah Kumiega Koss, 1976, M.S. 1983
MaryAnn Kostura
Cheryl Ann Kosydar
Deborah A. Kosydar, M.B.A. 1995
Maryellen Newman Kosydar, 1984
Donna Rehkop Kotansky, M.S. 1987
Eric Anthony Kovac, 2007
Jeffrey, 1998, M.S. 2003, and Brenda Rudzinski Kovaleski, 1999, M.B.A. 2002
Peter P. Kovaleski, 1981
Stephen P. Kowalchik, 1975
Colleen M. Kozak
Bernadette Kozlowski
Louise LaSorsa Krafjack, M.S. 1974
Sister Regina Patrice Krage, IHM, M.S. 1976
Margaret Weinert Kramer, M.S. 1979
Donna Blake Kranick, 1990
Sister Maria Peter Kratz, IHM, 1979
Patricia Maheu Krause, 1964
Esther Anderson Krochta, 1978
Sister Romaine Krug, IHM, 1952
Raymond and Christine Kruk
Robert and Robyn M. Krukovitz
Carol McClain Kruskie, M.A. 1986
Kris Kasha Krystyniak, 1982
Mary Katherine Kubick, 2013
Joan Gombar Kuchkuda, 1954
Sister Claire Marie Kulp, IHM, 1981
John Girard Kuna, M.A. 1998, Psy.D.
Sister Kathryn Kurdziel, IHM, 1968
Alan S. Kurlansky, M.S.W. 1973
Edward and Joanne Kurtz
Ken Kurtz Builder LLC
Marsha Kurzweil
Anita Gasparovic Kuzas, 1964
Jody Stanavitch Laboranti, 1994
Mary Muzzipapa Lahutsky, 1986
Kelly Lambert, Ph.D. 2018
Robert, 1988, and Ellen Walsh Lambert, 1984, M.B.A. 1990
Thomas and Judith Lambert
Maureen Jimenez Lamberti, 1982
Helen Roethling Lamparella, 1964
Robert and Diane Lamson
Diana Butash Lance, 2014
Susan Lance
Kyle Landis
Janis M. Lando, 1978
Sister Mary Ann Lang, IHM, M.S. 1991
Ann Klimaitis Langan, 1968
Silvia Langdon
Craig and Tracy Langlotz
Patricia Rossiter Langrell, 1963
Joan Gloriande Lantka, M.S. 1992
Sister M. Francis Rose Lapitino, IHM, 1968
Colleen Durkin Lapowsky, 1980
George Lappe
Treat LaRusso, 2011
Anthony and Cynthia LaSalle
Michael and Patricia Last
Constance Owczarski Latimer, 1975
Sister Franziska Laudascher, IHM, 1969, M.S. 1980, M.S. 1992
Angelina Lauria
Timothy Law
Amy Lazrovitch
Sister Andrea J. Lee, IHM, Ph.D., Hon. D. 2016
Barbara Lee
Robert, M.S. 1993, and Christina Legath
Joseph Legg
John and Theresa Leitold
Michael A. Lemoncelli, 1981
Nancy Swistak Lengler, 1979
Sister Madonna Marie Lenikus, IHM, 1966
Anthony and Chesla Bohinski Lenkaitis, 2001
Sister Kathleen Marita Lennon, IHM, M.S. 1974
Nancy Lockwood Lennon, 1962
Josephine Kovacic Lensler, 1958
Keith S. Lentz, M.S.W. 1989
Maureen Leo
Theodore and Barbara Leo
Alexis J. Leon, 2004
Sister Jean Leonard, IHM, 1964, M.S. 1970
Barry and Mary Wenner Lerman, 1971
Lisa Davies Lewis
Joseph A. Liberty
Amy Beth Lidle, 1998
John and Catherine Liegel
Sandra Linebaugh
Elaine Slivinski Lisandrelli, 1973, M.S. 1976
Joseph, 2009, and Lindsay Jacob Listanski, 2009
A Little Pizza Heaven
Justin M. Liu, 2017, M.S. 2018
Edith A. Lloyd, 1961, M.A. 1972
Margaret Peduto Lo Cicero, 1976
Sister Margaret Loftus, IHM, 1953
Sister Mary Edward Loftus, IHM, 1953
Shaun and Donna Logan
Keira P. Logue, 2015
Aimee Lucas Long
Daniel and Margo Longstreet
Charlene J. Loomis, 1997, M.A. 1999
Sol Lopez, 1975
Eleanor Jennings Loughney, 1964
Sister M. Carol Loughney, IHM, 1967, M.S. 1975
Joan Lown
Kenneth J. Lown
Sister Carol A. Lubas, IHM, 1969, M.S. 1979
David and Maria Lucarine
David G. Luchetti, 1982
Michael, M.S.W. 1979, and Carol Dolak Ludgate, 1971
Mary Ann Ludka, M.S.W. 1996
Elayne Abess Luis, 1971
Sister Kathleen M. Lunsmann, IHM, 1985
Lorraine Louise Lupini, M.S. 1980
Andrew, M.S. 2016, and Mackenzie Goodwin Lutz, 2015, M.S. 2016
Sister Catherine Luxner, IHM, 1966
Sarah R. Lynch
Sister Ann Marie F. Lynott, IHM, 1965
Cathy Lyons
Maria Fiorino Lyons, 1966
Michael Lyons and Eleanor Salmon
Carol Connors Maccaroni, 1967
Maria Noel MacDonald, M.A. 2006
Mariah Maciejewski
Barry and Janet Shaffer Mack, 1965
Joseph and Kathleen MacKenna
Sister Ann Bernadette MacNamara, IHM, M.A. 1976
Mackenzie E. MacNeal, 2018
Sister Joanne Madden, IHM, 1967
Matthew Madden
Sarah A. Madden, 1994
Leslie Stranix Madison, 2001
Mark and Nancy Magarosky
Kathleen Magrino, 2014
Mark and Carol Magrino
Eugenia Mahdavi
Barbara Yarka Maher, 1972
Mary R. Maila, 1960
Christine Maiorana
Sister Eleanor Marie Malanaphy, IHM, 1966, M.S. 1975
Joseph and Mary Kathleen Ritter Maldonato, 1987
Sister Anita Maleski, IHM, 1968
Michael Thomas Malesky, M.A. 2012
Carol Malley
Jo Ann M. Mallo, 1966
Sister Mary Ellen Malloy, IHM, 1962
Sister M. Ancilla Maloney, IHM, 1964, M.A. 1988
Sister Mary Jane Maloney, IHM, 1961, M.S. 1969, 1977
Nancy O'Hara Maloney, 1974, M.S. 2011
Stephen and Mary Malphrus
Ann M. Manganiello, 1977, M.A. 1983
Sister Anne Manion, IHM, 1968
Gianna M. Manzo
Nicolo G. Manzo, 2020
Amanda M. Marchegiani, 2006, Au.D.
Kathleen Ottaviano Marchek, 1977
Amanda J. Marchese, 2016
Joseph and Donna Marchese
James and Janice Rupp Marcks, 1970
Sister Eleanor Mary Marconi, IHM, 1969, M.S. 1977
Michelle L. Marek, 1995
Margaret Rufe Margolis, 1967
Gail Undercoffler Marinari, 1964
Diane Marino
Sister Florence Ann Marino, IHM, 1964
Daniel and Kate Markey
Irvin and Julie Markle
Sister Joyce Marks, IHM, M.S. 1981
Robert and Judith Marmo
Sister Ellen Maroney, IHM, 1972, M.A. 1994
Victor and Andrea Marquardt
Elizabeth A. Marro
Alejandra Marroquin, M.S.W. 2016
Paul and Marie Marsac
Anna Martinez
Robert, M.P.A. 1982, and Sharyn Martucci
Martin and Judith Maschak
Mario G. Matrone
Mary Kearney Mattern, 1977
Barry Matthews, Sr., 2009
Mikayla E. A. Matthews
Carolyn Apon Maurer, 1964
Janice Kozal Mauro, 1985
Sister Ritamary Mayan, IHM, 1964
Lauren E. Mayurnick, M.S. 2019
Cidalina Maziarski
Barbara A. Mazurik, 1985
Lisa E. Mazzarella, 1982
Sister Teresia Njeri Mbugua, IHM, 2010, M.A. 2013
Sister M. Lenore McAllister, IHM, 1950
Mackenzie McAndrew, 2015
Thomas and Ann Marie Brunetti McAndrew, 1962
Sister Jeanne Marie McAuliffe, IHM, 1969
Patrick and Virginia McCabe
Avery E. McCall, 2017
Emmett C. McCall
M. Colleen McCann
Joseph and Barbara McCarthy
Sister M. Daniela McCarthy, IHM, 1954
Michael and Nancy McCarthy
Robert and Lisa McCarthy
McCarthy-Remick Flowers
George and Sue McCartney
†† Judith Gatto McCauley, 1962
Joanna McClintock
Bryan, 1998, and Annemarie Tichy McCloskey, 1999, M.S.W. 2000
Phyllis Sabatini McCormack, 1972
Victoria McCormack
Harrison G. McCormick, M.S.W. 1986
†† Sister Margo McCormick, IHM, 1965
Margaret Luker McCoy, 1980
Sister Joan E. McCusker, IHM, 1979, Ph.D.
Constance I. McDermott, 1960
Joan Catherine McDermott, 1962
Donna Schlesinger McDonald, 1975
Sister Ann Marie McDonnell, IHM, 1967, M.S. 1992
†† Marie Kropf McDonnell, 1975
Mary O'Brien McDonnell, 1971
Patrick and Patricia Quinn McDonnell, 1968
Kaitlyn E. McDonough, 2019
Sister Elizabeth McEneaney, IHM, 1975
Rev. James E. McGahagan, M.S. 1975
Sister M. Daria McGinn, IHM, 1950
Raymond P. McGinnis, M.S.W. 1977
Brian and Sharon McGlynn
Mary C. McGraw, 1998
Shirley R. McGuigan
Sister Ann Eulaine McHale, IHM, 1965
Joan Peirano McHale, 1951
Sister M. Martin de Porres McHale, IHM, 1963, M.B.A. 1990
Mary Kay McHale, 1973
Megan McHale, 1994
Jerome and Irene Kunz McHugh, 1973
Maureen Evans McHugh, 1969
Barbara Einterz McInerney, 1967
Sister Raymond Mary McIntyre, IHM, 1965
Amanda B. McKaig
Mary McKenna
Albert E. McKenney, Jr., 1989
Sister Ann St. Luke McLaughlin, IHM, 1967
Sister Sandra McMahon, IHM, 1969
Barbara McMann, M.S.W. 1980
Charles and Jeanette McMurtrie
Joan McNamara
Sister Delia Marie McNeirney, IHM, 1971, M.S. 1978
Sister Kathleen McNulty, IHM, 1951
Thomas McNulty
Jeff and Amanda McPhillips
Patricia Flaherty McQuade, 1969
Sister M. Anselm McShea, IHM, 1960
Maryann Brady Meade, 1963
Matthew F. Medici, 2013
Nancy McLaughlin Medicis, 1954
Luciana Medric
Mary Lou Walsh Meehan, 1966
Alecia M. Meila, 2010
Gina Mercurio Meissler, 1997
Janet Derenick Melnick, M.S.W. 1984, Ph.D. 2000
Marinella Mendez-Martinez, 1992
Denise Svetovich Mercer, 1987, M.S.W. 1993
Francis J. and Beverly A. Merkel
Mary K. Merkel, 1967
Sister Peter Marie Merrick, IHM, 1970
Paula Mesaris, 1988
Patricia Krzywicki Metz, 1972
Mary Lou Metzgar
William, 2006, and Melissa Everitt Michlowski, 2007
Mick's Barber Shop
Joseph and Gretchen Middleton
Meagan Mielczarek, Ph.D. 2017
Sister Christine Mihelich, IHM, 1968, Ph.D.
Michelle Mikita
Sister Janet M. Maliya Milan, IHM, 1968
Milanville General Store
David, 1984, and Barbara Royal Miller, 1987
Lawrence and Beth Ann Miller
Linda A. Miller
Ronald, M.A. 1977, Ph.D., and Patricia Bederman Miller, M.S. 1982, Ph.D. 1999
Kathleen Tracy Millon, 1965
Elizabeth Waters Minchak, 1965
Shelly A. Minucci, 1990
James and Ruth Mirabella
Edward and Pamela Misewicz
Annette Y. Miskiewicz
Charlene Clark Mitchell, 1966
Edward and Beverly Mizanty
Robert and Kera Mizok
Jane Cavallao Moeller, M.S. 1980
Moira C. Molloy, 1987
Enrico and Larissa Monacelli
Barbara Monaghan
Joe Monaghan
Michael Monaghan
Agnes Maylath Monopoli, 1974
Sister M. Dorothy C. Montague, IHM, M.A. 1984
Joyce Hakes Montanaro, 1971, M.S. 1973
Melissa J. Montenes
Robert and Alice Montgomery
Doralyn Howard Moody, M.A. 1977
Eric and Stephanie Moore
Sister Marie C. Moore, IHM, 1964
Stacy Moore
Carol Horvath Moran, 1965
Richard Moraski
Bettie Ann Morgan, M.P.A. 1986
Susan Dickson Morgan, 1980
Dina and Lucio Morin
Brandon J. Morley, 2019
Cheri Krell Morris
Sister Marian Vincent Morris, IHM, M.A. 1980
Christopher, 2015, and Veronica Smith Morrison, 2016
Megan Moser
Sheila A. Moser, 1989
Gloria Colaiaco Mosher, 1957
Jaime L. Kester Mosher, M.S. 2006
Donald and Judith Salitsky Mosley, 1967
Mary J. Mountz
John A. Moyer
Mary Ann Cavezza Moylan, 1975
Sister Mary Elizabeth Muir, IHM, M.A.T. 1996
Sister Catherine Anne Mullaly, IHM, 1956, M.S. 1965
Mary Roche Mullen, 1961
Mary Ann Fletcher Mulloy, 1962
Sister Loretta Mulry, IHM, 1963
Sister Anne Munley IHM, 1966, Ph.D.
Annette Kita Munley, 1958
Sister Marilyn Muro, IHM, 1966
Alfred L. Murphy
Sister Concepta R. Murphy, IHM, M.A. 1984
Elizabeth Branning Murphy, 1982
James and Jane Murphy
Kathryn Walsh Murphy, 1948
Sister M. Rita James Murphy, IHM, M.A. 1984
Sister Robert Mary Murphy, IHM, 1964, M.S. 1975, M.S. 1989
Tiffany L. Murphy, M.S.W. 2015
Andrea Murray
Maureen McLean Murray, 1968
Richard, M.D., and Gayle Murray, M.D.
Susan Lynn Murray, 1997, M.S. 2006
Jerome, Esq., and Michele Musheno
Diane Wittig Musser, 1984, M.A. 2001
Gina T. Mustico, 1980
Mary K. Mutschler, M.S.W. 2004
Connie Myefski
Al and Sharon Myers
Allan and Patricia Myers
Christin Smith Myers, 1998
Ron Myers
NADA & CO
Kathleen Naeher
Lisa Nase
Vicki Hodell Nathaniel, 1998
Natural Family Health Services LLC
Sister Rita Ann Naughton, IHM, 1967, M.S. 1976
Anthony Navaro
Ronald and Susan Spang Naves, 1962
Sister Claudette Naylor, IHM, 1955
Erica Nealon, 2015
Nicalena Politch Neary, 1968
Gregg and Edith Nelsen
Mary Berzite Nervegna, 1962
New York Life Insurance Company
Lynda Possanza Newell, 1964
Sister Mary Newett, IHM, 1957, M.S. 1980
Richard and Rosemary Newton
Deanna Spencer Nezlo, 2003
Nibbles & Bits
Sebastiano and Rita Nicolia
Santa Maria Liuzzo Niedzwiecki, 1981
Steven and Janeen Lebida Nieratko, 1984
Barbara Zak Nilenders, 1963
Janet Hench Niles, 1967
Geraldine Valonis Nish, 1963
Rukman Niyangoda, M.F.A. 2015
Sister Barbara Nogiewich, IHM, 1967
Susan Normoyle
Northeast Tree Service
Kathleen Norton, 1978
†† Sister M. Immaculata Norton, IHM, 1943, M.A. 1977, M.S. 1981
Christopher and Janel Notari
Anna C. Notchick, 2018
Andrea Marie Novak, 1993
Victoria J. Novatski, 1996
Gloria Mancuso Novobilski, 1965
Irene Walsh Nunnari, 1963, Ph.D.
Sister Liberata Nyakashaija, IHM, 1984
Gary and Sara Nybro
Patricia Peacock Oakey, 1965
Sister Ann Marie O'Brien, IHM, 1956
Christopher, Ph.D. 2011, and Ann Loyek O'Brien, M.S.W. 2004
Daniel O'Brien
John and Judy O'Brien
Sister Judith Ellen O'Brien, IHM, M.A. 1989
Judith Johnson O'Brien, M.S.W. 1983
Mary Barbara O'Brien, 1964, M.S. 1971
Molly O'Brien
Sister Patricia O'Brien, IHM, 1954
Michael and Carolyn Terrery Occulto, 1961
Patricia Murphy O'Connell, 1971
Careen Reed O'Connor, 1974
Joannes Jordan O'Connor, 1951
Martin, 1989, and Maureen Morrison O'Connor, 2002
†† Sister M. Francis O'Donnell, IHM, 1960, M.S. 1977
Sarah Harris Ofalt, 1986
Andrew and Kim Ogonowski
Danielle R. Ogonowski, 2020
Joanne M. O'Hara, 1972, M.A. 1984
Paul Oles
Beverly Ann Oliveri, 1971
David and Mauri Olivetti
Mia R. Olivetti, 2018, M.B.A. 2019
Alyssa R. Olson, 2019, M.B.A. 2020
Donald and Maria Olson
Ciara R. O'Malley
Sister Celine Omolo, IHM, 2011, M.Ed. 2013
Ayden Ondek
Sister Katherine O'Neil, IHM, 1964, M.S. 1974, M.S. 1986
Mara O'Neil
Gina DiVizio O'Neill, M.S. 2009
Jane O'Neill, 1967
Sister Karen Marie O'Neill, IHM, 1966, M.S. 1975
Sister Mary Joy O'Neill, IHM, 1959
Joseph and Kimberlee Onofrio
Richard S. Onze, M.S. 1971
Sister Babette Opferman, IHM, 1965
Kylie Orlando
Sister Therese O'Rourke, IHM, 1967, M.S.W. 1998
Catherine Fodero Orsini, 1974
Martin, 2008, and Elaine Shedd Ort, 2007
Timothy and Pamela Orue
Constance Hudak Osborne, 1972, M.S. 1974
Joan McKenna O'Shea, 1980
Sister Joan Ottman, IHM, 1965
Emily C. Ousouljoglou, M.S.W. 2019
Thomas and Valerie Oxenreider
Arno G. Paessler, M.S. 1977
Lisa Paglia, M.S.W. 2013
Michael and Donna Pagnanelli
Sarah J. Pagnanelli, 2020
LoriAnn Pajalich, D.N.P.
Jean M. Palamara, 1982
Antonia Barnes Palazzolo, 1963
Debra L. Palmer, 1999
Daria Pampaloni-O'Hare, 2005, M.S.W. 2006
Sister Agnes Panik, IHM, 1966
Cindy Panzarella
Sister Carol Ann Papp, O.S.F., 1983
Sister Theresa Papsis, S.S.C., 1965
Martiann Parfitt, 1983
Sister Felicia Ann Parise, IHM, 1965
Renee F. Parisella, M.S.W. 2005
Nancy Grattan Parisi, 1975
Sister Angela Mary Parker, IHM, 1965, M.S. 1976
Sister Ann Annice Parker, IHM, 1967
†† Marlene T. Parks, 1962
Joanne Bullock Parrish, 1986
Sister M. Celeste Parry, IHM, 1959
Jennifer Kozal Pasculli, 1985
Sister Joan Paskert, IHM, 1951
Karen Pasqualicchio
Louis T. Pasqualicchio, 2013
Robert J. Passeri, M.S.W. 1971
Taral R. Patel, M.B.A 2017
Cornelia Dorsey Patterson, 1970
Mary Elizabeth Paul, 2000
Brendan W. Payne
Pamela Peaceman
Sister Elizabeth M. Pearson, IHM, M.S. 1964, Ph.D.
Mary Rose Peck, 1945
Anne Straub Pelak, 1973
Sister Annette M. Pelletier, IHM, M.A. 1991
Marcie S. Pennachioli, 1966
Mandy Boyle Pennington, 2010, M.A. 2011
Dawn Pentecost, 1975
James and Patricia Penzone
Jeanne Barbour Penzone, 1964
Robert and Sandra Penzone
Gary and Marcia Perdew
Carmen L. Perez
Sister Lisa M. Perkowski, IHM, 2004
Nancy Tolerico Perri, 1982
Mary Jo Perrino and Thomas N. Collins
Belinda Perry
Donald B. Perry, 1976
John and Sandra Rosar Pesavento, 1997, Ph.D.
Sister Richard Mary Peters, IHM, 1966
Sister Roberta Peters, IHM, 1966, M.S. 1972
Kathleen A. Petkovyat
Michael and Lisa Petrasko
Neil J. Petrosky, M.S.W. 2010
Paul and Sandra Pettit
Shirley Davis Pettus, 1965
Sister Theresa Petz, IHM, 1965
Dillon Petzold
Sister Mariam Pfeifer, IHM, 1954, M.A. 1970
Sister Mary W. Philbin, IHM, 1969
Mary Beth Feury Phillips, 1982
Nancy Hauber Phillips, 1972
Silvia D. Phillips
Susan Carol Phillips, M.S.W. 1985
Juliana Bliss Piccini, 1974
Lisa Piccolo, 2011
Edward M. Piestrak, M.S. 1976
Sister Regina Eleanor Pignoli, IHM, M.S. 1974
Michael T. Pilch
Sister Loretta Michael Pinner, IHM, M.S. 1979
Leslie M. Pinto
Pioneer Distributing Company
Robert and Suzanne Barton Piorkowski, 1992, M.S. 2005
Frank and Barbara Piotrowski
Rosemarie Gnall Pisk, 1962
Neal M. Pituch
Barbara Swantkowski Placek, M.P.A. 1980
Brian and Maureen Plunkett
Margaret Poje
Daria Polanchik, 1981
Robbin Polishan
Joseph, Ph.D., and Eva Polizzi, M.F.A. 2016
Amber Polkowski, M.B.A. 2015
William N. Pollack
†† Sister St. Kenneth Polley, IHM, 1952
Kim Posey
POSH
Dennis and Sandra Poshka
Frank Possanza
Barbara Boehlert Potter, 1953
Patricia A. Potter
Todd T. Pousley, 2007, M.P.A. 2014, and Linnette F. Reidmiller, 2006
Douglas Powell
Krystle N. Powell, 2009
Lucille R. Powell, M.S.W. 2000
Trevor M. Powers, 2020
Precision Vinyl Systems, Inc.
David C. Preston, M.S.W. 1996
Patrick Thomas Price, 1999
Michelle and James Prieto
Robert and Maureen Prieto
Kayla M. Prompovitch, 2015
Leslie and Shannon Prompovitch
Leonida Prosenica
Sherri K. Prosser
Trisha S. Prosser
Pamela Pruyn
Julia M. Purcell, 2011, M.S. 2012
Kelly Purdy
Nayonna Purnell
Elissa Chuckran Purpura, 1975
Anthony and Janis Pusateri
John Pusey
Joseph and Andrea Pytak
Sister Maria Grace Quartiero, IHM, 1965
Marilyn Scheckton Quatrini, 1963
Dale and Laurie Quick
Tyler M. Quick
Sister Anastasia Quigley, IHM, 1977, M.S. 1989
Sister Joan M. Quinn, IHM, 1963
Sister Kelly Ann Quinn, IHM, 1983
Sister Mariette Quinn, IHM, 1968
Catherine Gilligan Quinnan, 1961, M.S. 1965
George A. Rable, M.P.A. 1984
Carol A. Radics, 1976
Carol Ann Radle, 1993, Ph.D. 2008
Joan Monahan Radven, 1960
†† Sister M. St. Anthony Radzikowski, IHM, 1939
Sister Teresa Raftery, IHM, 1966, M.S. 1973
William L. Raiche, Jr., 1984
Elizabeth M. Raines, 1987
Greg Rakoczy
Thomas and Renie Ellen Pendell Ralston, 1995
Frank Ramiza, 2003
Sister Mary Rassley, IHM, 1959
Barbara McMurray Rathburn, 1985
Gordon and Janice Rattray
Tracey Carter Rawls, M.A.T. 1993
Sister Mary Reap, IHM, 1965, Ph.D.
Eileen Reardon, 1974, M.D.
Demetria E. Red
Rose M. Reed, 2020
Richard D. Reeser
Therese Molinari Regan, 1989
Angel Reid
Ann Reilly
Sean and Lisa Reilly
Suzanne Canivan Reisert, 1964
Mary Walsh Rekus, 1963
Doreen E. Remp
Joseph F. Reno
Olga Mary Renzi, 1952
Carolyn M. Repecki, 1991
Matthew, 2008, and Marianne Finney Reynolds, 2006
William, 1986, and Rosemary Terrana Reynolds, 1991
Valerie Soletro Ricciardi, 1979
Beverley Rice
Patricia Casey Rice, 1970
Norman and Nancy Rickert
Scott and Kemmy Rickert
John and Patricia Rigoliosi
Eileen Riley, M.S.W. 2004
Sheila A. Riley-Massa, M.P.A. 1984
Wayne and Cindy Rill
Mary Ferrario Rinaldi, 1971
Jane Rinkevich
Eileen Rishcoff
Maureen Culleton Ritenour, 1965
Tracy E. Ritter, 1996
RJA Company
Daniel and Kathleen Robinson
Marie Carocci Robson, 1966, M.S. 1971
Linda Pitoniak Roche, 1988, M.S. 1994
Richard J. Rodeghiero, M.S. 1982
Mary Mullaney Rodriguez, 1967
Deborah A. Rodzinak, 1978
Donna M. Rogers
Brother Joseph Rogers, CP, 1977
Lorraine Guido Rogers, 1977, M.S.W. 1979
Janet Rokosz
Jennifer Rollin, 1998
The Charles S. Romanow Family
Rob D. Roper, II
Madeline Rosa
Joseph Rosato, M.A. 1979
Mary Susan Rose, Ph.D. 2005
Patricia Brady Ross, M.A. 2016
Ronald and Rowena Ross
Sister Janet Rossiter, IHM, 1954
John and Karen Rossmell
Rev. Steven and Deborah Yurchak Rousos, 1976
Leslie Rowe
Robert and Leigh Rescigno Ruddy, 1992
Sister Frances Mary Rundell, IHM, 1952
Heidi Graver Ruppe
Kerry Ann Rusak, 2000, M.S. 2004
John and Dorothyann Kasuba Rush, 1967
Sister Frances E. Russell, IHM, 1964, Ph.D.
Sister Clementia Rutabanzibwa, IHM, 1983
Kevin and Margaret Battenberg Ryczak, 1979
Sister Rosemaron Rynn, IHM, 1961, M.S. 1973
Gail E. Sabella
Bernadine Carey Sabia, 1975
Debra DuBois Sachse, 1983
Barbara A. Sacks
Erin A. Sadlack, Ph.D.
Donna Saeger-Peters, M.S.W. 2019
Daniel S. Safin
Carmine, 1989, and Linda Jablonski Saita, 1991
Grace Sakevich, M.B.A. 2019
Mark Salerno, D.D.S. P.C.
Gregory A. Salitis, 1989
Susan Lopatofsky Salko, 1960
Danny Sallurday
Antoinette Carol Salva, M.A. 1999
Sister M. Rosella Salvato, IHM, 1975
Justine M. Samanas, Ph.D. 2020
Mary Marzen Sampson, M.A. 1976
Marc Sandberg
Jacquelyn Kobar Sandercock, 1976
Sister Annmarie Sanders, IHM, 1982
Sanderson Place
Suzanne Flynn Santarsiero, 1975
Hugo and Rosie Santos
Brian and Jennifer Sarafinko
Rosemary Petrillo Sarna, M.S.W. 1983
Jean R. Sartin, M.S. 2006
Elizabeth L. Sass
Sara Lameo Sauers
Anthony and Martha Sauter
Alyson N. Sawey, 2012
Joan Sawyer
Marco Scaccia
Rev. Mark P. Scalese, S.J., 1983
Ann Flynn Scanlan, 1967
J. Benedict Scerno, M.A. 1977
Andrew and Karen Prezelski Schaefer, M.S.W. 1978
Stephanie Leah Schaefer, 2010
William and Cynthia Schaefer
Suzanne Marie Schamberger, 1993
Tom and Christy Schearer
Anna Rosenberger Schildknecht, 1960
Hans J. Schindhelm and Phyllis L. Lerner
Denise Boccarossa Schiraldi, 1989
Katie M. Schkolenko, M.S. 2011
Albert and Susan Schmadtke
†† Sister Mary P. Schmidling, IHM, 1967, M.S. 1975
Sister M. Electa Schmidt, IHM, 1955
Janet Huddy Schmuff, 1976
Sister M. Mercille Schneider, IHM, 1959
Michael G. Schneider
Nathaniel and Tanya Schock
School Sisters of St. Francis
Cecile Cianflone Schrader, 1949
†† Sister M. Isabel Schratwieser, IHM, 1958, M.S. 1969
Sister Maureen C. Schrimpe, IHM, 1972, 1992
Paul R. Schule, Jr., 1981
†† Mary Ann Wozniak Schultz, M.A. 1969
Robert and Tamara Jo Schuster
David J. Schweitzer, Ph.D. 2019
Sister Lila Marie Sciabica, IHM, M.A.T. 1997
Gail Flanigan Sciamanna, 1965
Marie Matuszewski Scott, 1959, M.S. 1989
Giovanni D. Scotti
Lisa Scotto
Michelle Scully
Kristel Sommers Seagreaves, M.S.W. 1993
Leo, 1996, and Patricia Hopfer Sebastianelli, 1988
Lee A. Sebastiani, 1975, Ph.D.
Ann Seeley, 1966
Sister Catherine Seeley, IHM, 1971
Joan Haney Segally, 1975
Rev. Glen T. Segond, M.S.W. 1979
Lauren E. Seigfried, 2010
Joseph W. Sekusky, M.S.W. 1984
Lorraine Berta Semkew, 1974
Dorothy Lyons Senecal, 1964
Catherine A. Serafin, 1998
Elizabeth A. Servas
Sister Jacquelin Servick, IHM, 1959
Paul J. Sevensky, M.A. 2012
Stephanie Sexton
David and Christina Shackleford
Bruce and Melinda K. Shannon, M.B.A. 2009
Robert and Elizabeth Sharples
F. Jeanne Shaub, 1962
Susan M. Shaute, M.A. 1969
Sister Agnes Shaw, IHM, 1960
Sister Mary Sheehan, IHM, 1966
Mary DeWitt Sheehan, 1960
Beth Lannon Sheehy, 1994
Thomas D. Shelton, III
Candice Caputo Shiffer, 1971
Amanda M. Shire, 2015, M.S. 2016
Eloise A. Shoemaker
Lea Jabieski Shulman, 1996
Jillian L. Sibio, 2019
Richard and Christine Sibio
Sibio's Restaurant
Robert J. Sileo, M.B.A. 1989
Eileen Simko
Joyce Zakierski Simmons, 1970
Susan M. Simonsky, 1988
Linda Simplicio-Dorn
Lillian Medalis Simpson, 1961
Helen M. Simrell
Barry and Cynthia Morgan Singer, 1974
Sister M. Celesta Sinisi, IHM, 1954, M.S. 1978
Nicole Sinquee
Lawrence J. Sklaney, M.S.W. 1972
Alyssa Sklareski, 2016
Sister Mary Helen Slavinskas, IHM, 1967, M.S. 1980
Mark and Carol Grossel Slick, 1971
Stephen and Bernadette Slovensky
Loretta Partyka Slowikowski, 1969
Debrann Julia Sluko, 1989
Sidney and Michele Small
Sister Anne Mary (Matthias) Smith, IHM, 1967
Ashley Smith
Barbara Beynon Smith, 2003
Brandon H. Smith, 2005, M.S. 2012
Danielle Smith
David and Kelly Smith
Jason A. Smith, 1995
Kelly Smith
Margaret Spyhalski Smith, 1973
Mary Neary Smith, 1971
Sister Mary Rita Smith, IHM, 1968
Maura Kivlin Smith, 2008
Nancy Purnell Smith, 1971
Dean and Susan Snavely
Todd Snead
Courtney L. Snyder, 2018, M.A. 2019
Deborah Fitch Snyder, 1971
Deborah J. Snyder
Donna L. Snyder
Sister Jane M. Snyder, IHM, 1969, M.A. 1980
Joanne Smith Snyder, 1973
Julian P. Sochoka
Theodore R. Soltas
Maryla E. Soma, 1997
Elizabeth Marbach Sorrese, 1967
Katherine Sheehy Soule, 1967
Sister John Michele Southwick, IHM, 1971, 1975, M.S. 1986, M.A. 1992
Michael Sowa, 2011
Michael and Rita Sowa
John Spadaccini
Cheryl Scavo Spager, 1986
Theresa Tubach Sparrow, 1971
Julie Speicher, M.D., and Paul Kraycer
Linda Connor Speicher, 1968
David Spence
Frederick A. Spencer, Jr., M.S.W. 1997
Ann Jennifer St. John, M.S.W. 2012
Stephen Joseph Stahl, 2007
Patricia M. Stanavitch
Thomas and Diane Standish
Veronica Wass Stanley, 1969
Stanley and Marilyn Stark
Sister Kathleen Joy Steck, IHM, 1965, M.S. 1977
Sister Karen Marie Steinberg, IHM, 1987
Rose A. Steinberg
Gabrielle E. Stelmak
Amy Center Stevens, 1998
Sister Sue Ann Steves, IHM, 1966, M.S. 1979
Kristin A. Stewart, 2017
Lisa T. Stickney, , M.S. 1993, Ph.D.
Kathleen Mulhall Stoller, 1975
Susan Olszewski Stone, 1974
Laura Storm
Mary Fusco Stout, 1975
Maureen C. Gilhooley Straka, 1995, M.S. 1998
Tina Gavio Straub, 1979
Ann L. Stried
Larry and Tanaya Strohl
Brittany Mikajlo Stroker, 2014, M.S. 2015
Rev. William G. Carter and Jamie Strong
Paul J. Strunk
Sister M. Lorraine Studley, IHM, 1968, M.S. 1980
James and Susan Aquilina Sullivan, 1965
Maureen A. Sullivan, 1978
Patricia Yanul Sundheim, 1989
Ann Rapoch Super, M.P.A. 1989
June Linda Supey, 1985
Sister Grace Surdovel, IHM, 1986, M.S. 2004
Sister Madeline Swaboski, IHM, 1966, M.S. 1991
Kathleen A. Swaha, 1973
Cynthia S. Swatkoski
Sister M. Redempta Sweeney, IHM, 1966
Martin and Pamela Siemienkowi Swift, 1978
Susan Sanders Swiss, 1971
Dylan D. Swope, 2016
Todd, M.A. 1997, and Maria Sykes
Edward Philip Syron, Ph.D., 2009
Yvonne Mahig Szpara, 1966
Sister Linda C. Taber, IHM, M.A. 1993
John, 2011, M.S. 2012, and Dawn Talley, 2017
Shira Tanker
Sister Anna Tantsits, IHM, M.S. 1981
Justin, 2008, and Lorissa Taraschuk, 2006, M.A.T. 2011
Sister Marion Tarone, IHM, 1967, M.S. 1975
Stuart, M.D., and Dina Tashman
Sister M. Tarcisius Tasselli, IHM, 1959
Charles Taylor
Greg and Jo Ann Taylor
Janet Taylor
Aaron and Jill Teel
Amy C. Teeple, 1994
Jean Hudson Teitelbaum, M.S.W. 1987
Denise Dreater Teitsworth, 1981
Thomas and Elaine Tempel
Maria A. Temples, 2017, M.P.A. 2018
Sister M. Charlene Templeton, IHM, 1945
Suzanne Tenuto
Sister Rachel Marie Terry, IHM, 2003
Irene Bayorek Tesfai, 1963
Emily Theobald
Sister Bernadette Thomas, IHM, 1971
Sister M. Lenore Thomas, IHM, 1972, M.S. 1980
Mariam T. Thomas, 1983
Sister Mary Denise Thomas, IHM, 1970, M.S. 1982
Michele Greytock Thomas, 1988
Sister Joan Marie Thompson, IHM, 1968
Scott, 1993, and Kelliann Doyle Thorpe
Karen Bocchino Tigue, 1970
Sister Maria Goretti Timperio, IHM, 1959
Luigi Tirro, 2017, M.S. 2018
Sister Cecilia Yeon Tji Tja, IHM, M.F.A. 1985
Deborah Horak Tobin, 1977
Mary Rose Tolerico
Thomas Tomasello, 2006
Donna Rozelsky Tomasetti, 1977, M.B.A. 1995
Gina Tomassoni School of Dance
Gina Marie Tomassoni, 1979, M.S. 2001
Michael, M.S. 2004, and Tracy Maglioli Tomasura, M.A. 2003, M.S. 2005, Ed.S. 2007
Sister Jean Toolan, IHM, 1950
Tara Torello-McClanahan, 1999
Sister Vincent Ann Touey, IHM, M.S. 1989
Richard D. Tranovich, M.S.W. 1976
Colleen M. Traub, 2014
Joseph E. Troy, 2001, M.B.A. 2007
Andrea Trubiano
James Turchi
Margaret York Turna, 1959
James and Rebecca Tyson
David, M.S.W. 1974, and Ann Durski U'Halie, 1974
Elizabeth A. Ulicny, 2020
Georgette E. Ursich
Mary Ann Urso
Mary Uslander
Angie Vachio
George Valdez, Jr., 1987
Carol M. Van Horne
Angela Brady Van Ness, 1968, M.S. 1972
Sister M. Angelique Vannicola, IHM, 1964
Catherine Passarella VanNort, 1978
Sister Marie Lourdes Vanston, IHM, 1966, M.S. 1980
Carol A. Varnas
Mark Vehec
Kayleigh Velott, 2016
Sister Louis Marie Verchick, IHM, 1966
Angela Vergnetti
Melissa Vidakovic
Jennifer Torch Villano, 1995, 2000
Ramier Villarama
Brock Vincent
Christa A. Vinciguerra, 2011, M.F.A. 2019
Gary Vincze and Mary Ann Donovan
Michael and Maureen Coolican Vladika, 1979
Susan M. Vladika, 1983, M.S. 1995
Alicia M. Vogel, 2003
William Vrana
David and Elizabeth Vucic
Nicole Wagner
Timothy and Rose Wagner
Tim Wagner's Sports Corner, Inc.
Jerome and Linda Goldberg Wainick, M.S.W. 1991
Patricia Moffitt Wald, 1959
Sister Elizabeth Mary Wallace, IHM, 1965
James E. Wallace, 1986
Sister Ann Walsh, IHM, 1971, M.S.W. 1980
Denise Godfrey Walsh, 1977, Ph.D.
Kathleen Kandefer Walsh, 1969, M.S. 1988
Mary McDonald Walsh, 1977
Natalie E. Walsh
Patricia Oliver Walsh, 1965
Sister Patt Walsh, IHM, 1973
Sherry Walsh, M.S. 1980
Cherie A. Lisowski Ward, 2005, M.A.T. 2009
Msgr. William P. Ward
Keri Anne Zazzera Warhola, 1997, M.S. 2000
Amberly L. Warner, 2013
Jason J. Warner, M.S.W. 2013
Dawn Russo Warshay, 1969
Mildred Washenik, 1959
Natalie M. Wasko, 2017
Patricia Mihalik Wasley, 1984
Sister Virginia E. Waters, IHM, M.S. 1990
Eileen F. Watkins, 1972
Kristoffer D. Weary, 2012, M.B.A. 2019
Elizabeth Cooney Weaver, 1977, M.S. 1982
Ann Mineur Weeks, 1967
Robert and Theresa Weidow
Patricia Ellis Weimert, 1974
Mary Weinheimer
Joanne Colitz Weisskopf, 1960
Cristina A. Weitzmann
Joyce Ludgate Welby, 1959
Tiffany M. E. Welch, M.S.W. 2008, D.S.W.
Sister Minnette Welding, IHM, 1982
Charles Wellborn
Charles and Christine Weren
Barbara J. Wetzel
Jane Slota Wetzel, 1972
David and Mary Louise Tuite Weymann, 1986
Shannon M. Wheeler
Katlynn M. Whitaker, 2017
Sister M. Cecilian White, IHM, 1955
Catherine Mulk Whitebread, 1976
Joel and Agnes Whitehead
Whole Life Center for Health, LTD
Marilou Enns Wieder, M.S. 2001
Marygrace Wilce, M.B.A. 2015
Alexis Schemel Wilkie
Susan L. Wilkins, 1992
David and Ann L. Montoro Williams, 1984, M.A. 2007
Rev. Donald J. Williams
Inge Reichenberg Williams, 1953
Katherine A. Williams
Dr. Kathleen Whalen Williams, 1988
Sister Kieran Williams, IHM, 1977, M.A. 1986
Sister Doreen Willis, IHM, 1971, M.S. 1981
Sister Maureen Willis, IHM, 1971
Jim and Nancy Ferguson Wilson, 1967
Capt. Timothy, 1999, and Jennifer Jancola Wilson, 2001
Sister Constance Wilt, IHM, 1970
Catherine Kearney Winger, 1958, M.S. 1985
Catherine Matturro Winters, 1970
James and Lois Winton
Kylie S. Winton, 2019
Mary Scott Witaconis, 1971
Andrea F. Wnuck
Donald J. Wolbert, III
Wendy Wolbert
Jason, 2009, and Marie Leopardo Wolf, 2009
Ronald and Alison Wolfgang
Joann Sena Wolski, 1966
Sophie Wong
Woolston Construction Company, Inc.
Katie Workman
Yohannes Worku
Constance J. Wotanis
Jean Chapman Wright, 1980
Sister M. St. Mel Wright, IHM, 1961
Bruce and Roslyn Rowan Yackobowitz, 1993
Marianne Yacuboski
Wendy A. Yankelitis, M.B.A. 2006
Carol Lachovicz Yanusauskas, 1975, M.B.A. 2002
Jenny Rose Petrovsky Yasinskas, 2008
Mick and Sheri Yech
Mary Ann Plevel Yenason, M.A. 1981, Ph.D. 2001
Patricia A. Yencha, M.B.A. 2007
Natalie Ferdinand Yozzo, 1993
Andrew K. Yudichak, M.S. 1978
Sister M. Janet Yurkanin, IHM, 1971
Therese L. Zakrzwski, 1986
Sister Mary Luke Zaleski, IHM, 1963
Judith Ceccacci Zanghi, 1972
Emily A. Zarrilli, 2019
Sister Juana M. Zegarra, IHM, M.S.W. 1999
Barry and Brenda Zeglen
Austin A. J. Zehel, 2019
Sally A. Zelno
Desiree J. Zielinski, 2012
Tammy Ziller
Sister Mary Ann Zimmer, N.D., Ph.D.
Jay and Diane Ziskind
Dr. Joseph A. Zogby, M.S.W. 1978
Marianne Maciun Zoranski, M.S. 1985
Kathleen DeSanto Zrebiec, 1969
Nicholas, 2012, and Amanda George Zullo, 2011
Joseph, 1980, and Christine Carroll Zwick, 1979
Sister Amy Zychal, IHM, 1970
Nicole Santarsiero Zywicki, 2007
*List contains all donors who made a gift between July 1, 2019 and June 30th, 2020
†† Indicates deceased as of publication date