Office of University Advancement
2021-2022 Annual Report
President's Letter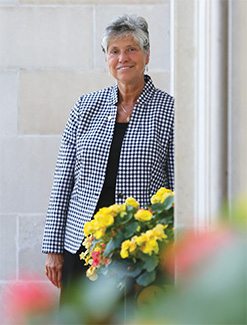 Dear Alumni and Friends of Marywood University,
We say it often—every gift matters—and we truly mean it! The tremendous impact of your generosity can be seen in the smiles of students as they achieve their goals and receive their diplomas, the amazing academic programs and cultural opportunities that benefit our entire community, and the strengthening of our institutional priorities and values—all because you said "yes."
In a world that challenges us every day, the most powerful thing we can do is choose to be kind. Through every gift you make, kindness flows directly from your hands to our students, our classrooms, and our spirits. It sets a force for good in motion that does not stop at the arch. The compassion and conviction you have for our mission is a testament to the rest of the world about what it truly means to be kind.
Thank you for your inspiring example of kindness and service. When our dedicated alumni and friends like you believe in and support Marywood and her mission, there truly is no limit to the good we can do in this world.
With sincere gratitude,

Sister Mary Persico, IHM, Ed.D. '69
President of Marywood University
Revenues & Other Additions
| | |
| --- | --- |
| Tuition and Fees | $79,247,622 |
| Scholarships | ($35,366,193) |
| Net Tuition and Fees | $43,881,429 |
| Government Grants | $4,680,707 |
| Privates Gifts and Grants | $13,192,892 |
| Endowment/Investment Income | $2,012,898 |
| Auxiliary Enterprises | $9,052873 |
| Other Income | $177,739 |
| Total Revenue and Other Additions | $72,998,538 |
Expenditures & Other Deductions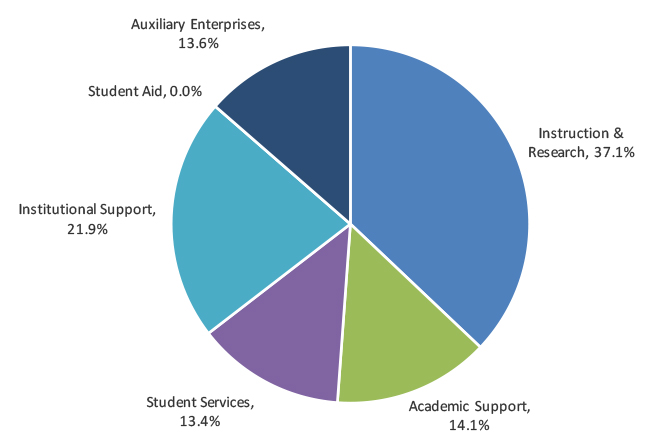 | | |
| --- | --- |
| Instruction and Research | $27,041,335 |
| Academic Support | $10,270,855 |
| Student Services | $9,769,328 |
| Institutional Support | $15,942,720 |
| Student Aid | - |
| Auxiliary Enterprises | $9,912,034 |
| Total Expenditures and Other Deductions | $72,936,272 |
| Change in Net Assets | $(12,227,821) |
| Net Assets Beginning of Year | $148,282,202 |
| Net Assets End of Year | $136,054,381 |
EMPOWERING Students through Education
STARS Program (Grant from the William G. McGowan Charitable Fund, Inc.)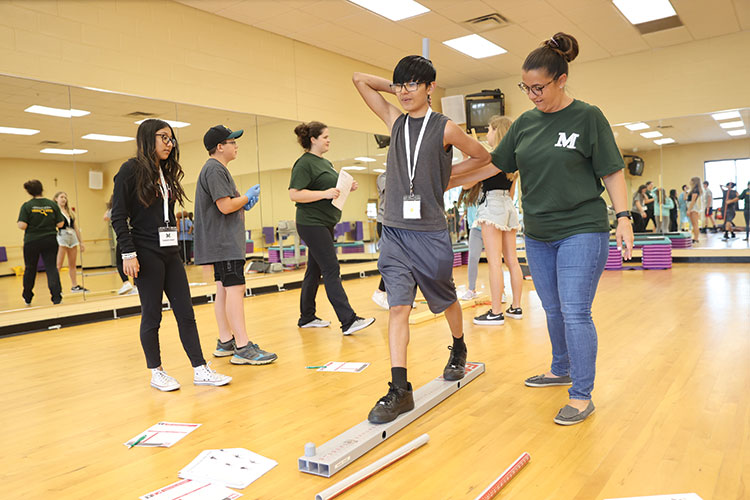 A $60,000 grant to support the expansion of the Students Together Achieving Remarkable Success (STARS) Program at Marywood University, provided through the generosity of the William G. McGowan Charitable Fund, Inc., supports middle and high school students and their families, as they journey on the path to academic success. The much-needed expansion allows the STARS Program to serve more Latinx families in the community, as well as provide more educational activities and experiences to expose them to diverse opportunities and career paths in the local area. STARS, also sponsored in part by the Robert H. Spitz Foundation, was developed as a collaboration with Marywood's Office of Equity and Inclusion specifically to support the academic success and career exploration of local Latinx youth while also preparing Marywood students to serve effectively in diverse, local, national and global communities.
"Programs like STARS are necessary to ensure we are preparing our youth to become our future leaders. Thanks to the McGowan Fund's support and believing in our mission and vision, STARS will be able to continue to grow and provide quality and holistic educational resources, information, and services to more families, using a community centered approach."
- Jenny Gonzalez Monge LMSW '19, Director of the STARS Program
MAKING Education Affordable
Endowed Scholarship: Dr. Margery Morgan Lowens Endowed Scholarship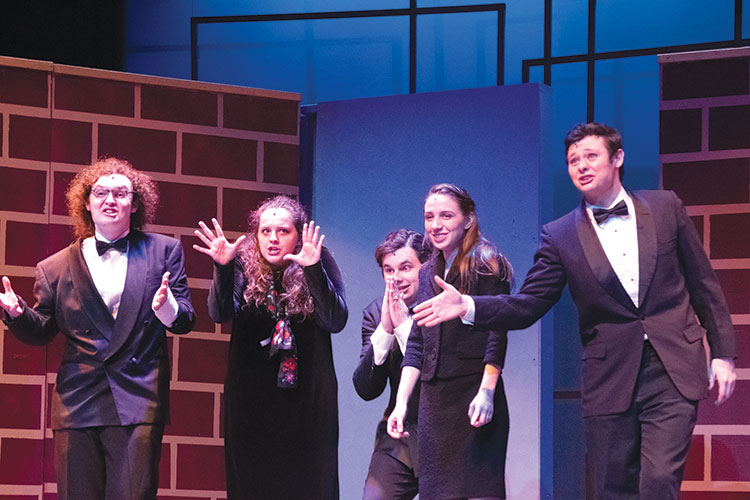 Known for her philanthropy throughout her life, Dr. Margery Morgan Lowens directed that a portion of her wealth be distributed to various nonprofits selected by the executrixes of her estate. A native of Scranton, Dr. Lowens was accomplished in music and musical research, holding a Ph.D. in Musicology. Lending her time, expertise, and generous financial support, she was a founding member of the Society for American Music. Through her research work at the Library of Congress, she met and later married the assistant head of the Music Division, Irving Lowens, in 1969. He later became dean of the Peabody Conservatory of Music, and Margery taught music history there, finding a passion for supporting student research by advising innumerable students in the early stages of their dissertations.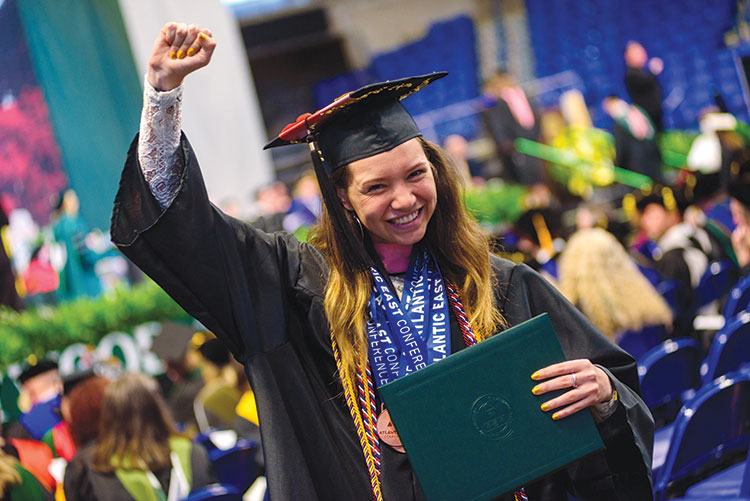 Her love of music and education drove many of her charitable efforts, and Marywood students will now benefit from her generosity and philanthropic vision. With a $340,000 gift to Marywood, the Estate of Dr. Margery Morgan Lowens recently established the Dr. Margery Morgan Lowens Endowed Scholarship to support full-time undergraduate students who demonstrate academic achievement and financial need.
Annual Scholarships: Dr. José Enrique Reyes and Mrs. Alice Susco Reyes Scholarship and the George Michael and Jacquelyn Susco Fueshko Annual Scholarship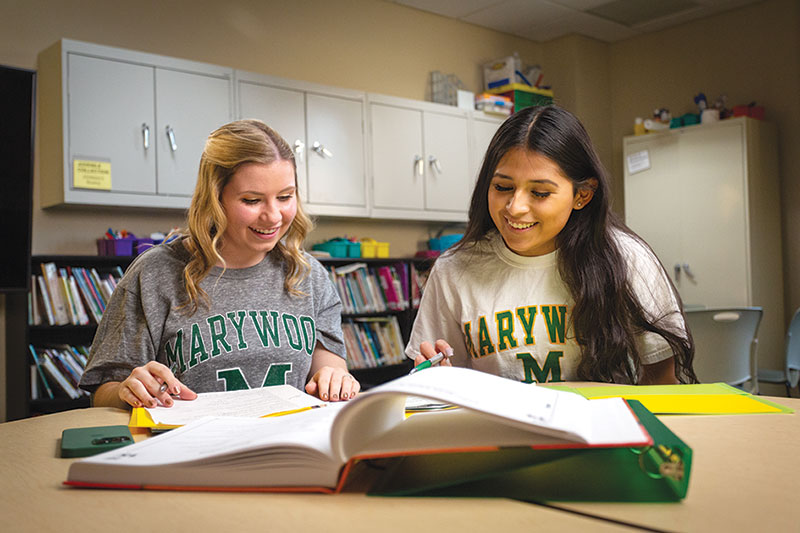 Alumni sisters Alice Susco Reyes '69, M.S. '79 and Jacquelyn Susco Fueshko '76 wanted to help students achieve their goals through direct assistance from annual scholarships. As a retired educator, Alice knows how critical it is to invest in students. Scholarship support helps alleviate tuition and related academic costs, lessening students' anxiety and opening the door to opportunities. Alice Susco Reyes '69, M.S. '79 established the Dr. José Enrique Reyes and Mrs. Alice Susco Reyes Scholarship, which will benefit full-time undergraduate students, with preference given to students who self-identify as being a member of the Hispanic community or are students of an underrepresented demographic population at Marywood. Jacquelyn Susco Fueshko '76 established the George Michael and Jacquelyn Susco Fueshko Annual Scholarship, which will assist full-time undergraduate students majoring in accounting. The sisters encourage former classmates, colleagues, and relatives to join them in assisting worthy student scholars. "We can each directly lighten the financial burden of a student, with a nominal monthly gift," noted Alice and Jacquelyn.
Special Gift: Schierling Gift to Support the Master of Social Work (MSW) Program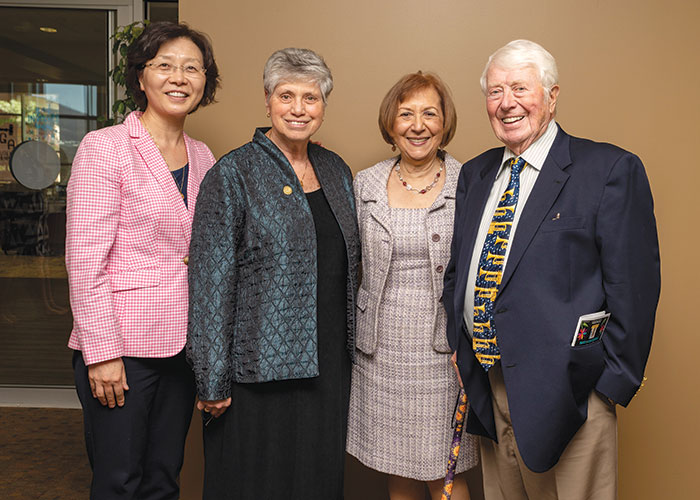 In their extended travel, Toni '60 and Hans Schierling have encountered people of
wide social, racial, economic, and religious diversity and disparity. They have observed
and learned about a great global need for social workers who are well-educated, trained, and committed. They also know that the Master of Social Work (MSW) program at Marywood University is an excellent program to educate and prepare students for the challenging tasks of a social worker. Toni and Hans have decided to financially support the program by providing annual scholarships for students who demonstrate the potential and willingness to apply themselves to fill the urgent need for social workers.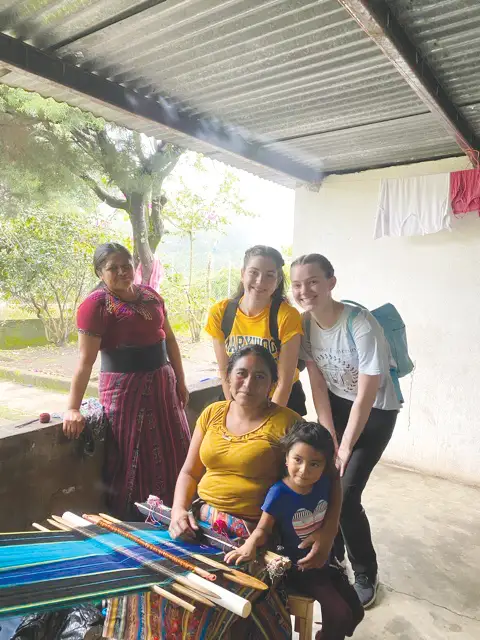 A portion of this gift will also support a visiting scholars program. By fostering intellectual exchange and collaboration, the visiting scholars program will positively impact the Marywood Social Work community with the addition of new research, viewpoints, and partnerships. Toni explained, "We want to support students with financial need to come to Marywood and to instill a sense of responsibility and commitment." Hans added, "There is such a need for social workers in our society, starting here in Scranton, and expanding nationally and worldwide." They hope prospective students will make the most of this educational opportunity. To the Schierlings, Mother Teresa, in her simple and selfless way, should be an example for all social workers. It is important to them that Marywood University continues to educate and prepare students with a global perspective, shaping responsible minds and hearts of service.
ENHANCING Campus Spaces
Barbara Sowinski Welcome Center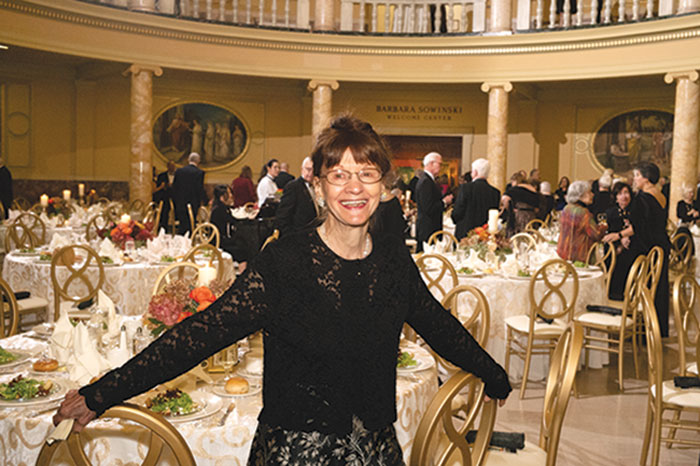 Barbara Sowinski, M.A. '00, a Northeastern Pennsylvania native, made a substantial leadership gift to Marywood University to support and enhance the Liberal Arts Center. The million dollar contribution, which established the Barbara Sowinski Welcome Center, located in the Admissions area of the Rotunda in the Liberal Arts Center, is supporting needed physical renovations and enhancements to the nearly 100-year old iconic campus facility. Following her retirement from a successful business career, Sowinski was ready to capture the creative spirit that had lurked within her all those years, diving into the art scene with enthusiasm, in addition to buying a 65-acre farm in Bradford County, Pa., to begin "phase two" of her life. She attended art schools, exhibited regionally and nationally, painted on location globally, and was a museum docent, workshop instructor, and juror. Sowinski's passion for art accelerated at Marywood, where she earned a Master of Arts degree in Art in 2000. The Rotunda's magnificent space, with its aesthetic and historical significance, was a driving force behind her gift, appealing to her deep desire to leave a beautiful family legacy in Northeastern Pennsylvania. Sowinski's love for beauty and art, combined with her desire to remember her roots and celebrate her lifelong journey, will have a lasting impact at Marywood now and for future generations.
"Art has been such a satisfying part of my life, and it's been a wonderful life."
- Barbara Sowinski, M.A. '00
EMBRACING Challenges of Today and Tomorrow
Trustee Challenge - Marywood Giving Day 2022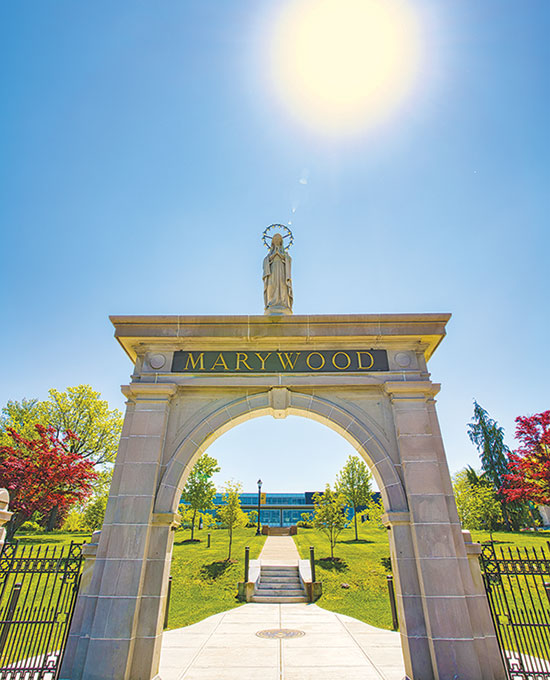 If you're running a marathon, wouldn't you rather have the support of your friends alongside you, rather than running the race by yourself? That's how Michael E. Bugno '98 viewed the Trustee Challenge for Giving Day 2022. In the past, trustees have issued individual fundraising challenges for causes dear to them at Marywood. This year, rather than compete against one another, several trustees collaborated to make a greater impact. Michael, along with Maria Gogal '04, Alejandra Marroquin, M.S.W. '16, Frank Kelleher '03, and Robert Tamburro, were unstoppable in their quest to make a difference, raising $48,105 from 249 donors, benefitting the Marywood Fund and addressing the greatest needs of the University and its students. The common bond of their Marywood experience fueled their passion to help current students who benefit exponentially from the atmosphere of empowerment, excellence, and educational opportunities that Marywood provides. The trustees are already planning to collaborate once more for Giving Day March 2023 to make the greatest difference possible.
"We show our love through actions, and we are stronger together. Giving Day provides the perfect way to express how grateful we are for Marywood's impact and role in our lives. It's our turn to give back to the University that helped us to grow, learn, and succeed, so we keep that love moving forward. That's what it means to 'live responsibly in an interdependent world!"
- Michael E. Bugno '98, Marywood Trustee
ADVANCING Healthcare Studies for Students and Community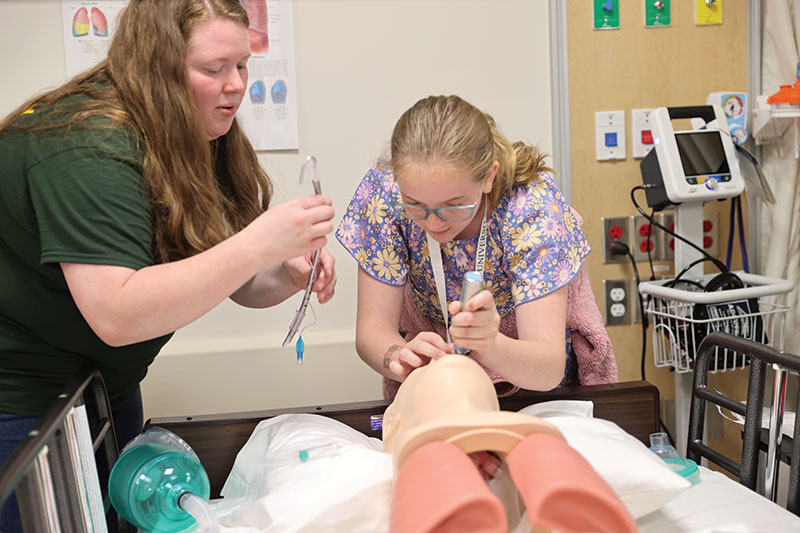 Two grants received by Marywood aim to advance healthcare studies in the Northeastern Pennsylvania region – one by funding current students and programs and the other by introducing healthcare careers to aspiring college students.
In grateful appreciation to the students and faculty who helped the local community receive vaccinations during the pandemic, an anonymous benefactor gifted a $50,000 grant to support Marywood's health sciences programs by funding student scholarships and the purchase of a newborn simulator. With realistic newborn traits, the SimNewB provides crucial hands-on medical training focusing on the critical first minutes of a newborn's life. With this gift of medical equipment, Marywood students will be able to practice neonatal resuscitation in a safe but realistic environment, improving neonatal outcomes in the future.
One of the 14 students who received a scholarship from this grant, Jacqueline McBride, a senior majoring in Biology, appreciates that through her studies, she can perform real life experiments that give her hands-on experience. In addition to her teachers and the supportive Marywood community, Jacqueline credits this gift of scholarship for helping her to succeed in her chosen field, writing, "I'd like to say thank you so much for this scholarship, it means a lot to me. I've been able to continue my education in the field I love due to your generosity."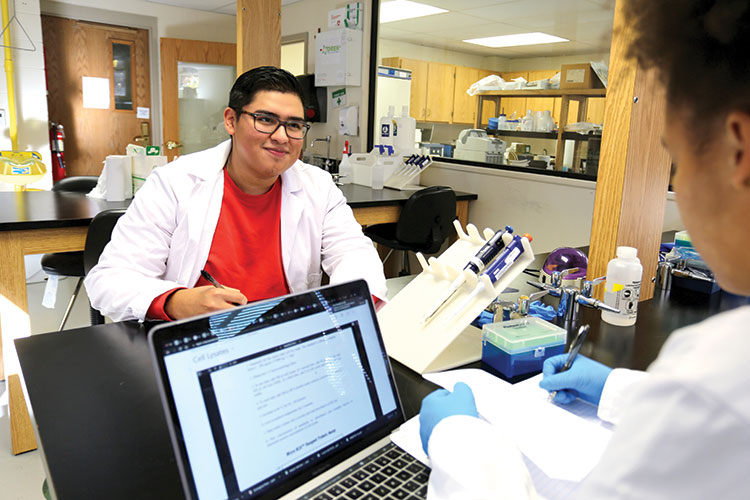 Aiming to help more students like Jaqueline, AllOne Charities, through a collaboration with NEPA Health Care Foundation, provided Marywood with a $40,000 grant to expand Healthcare Discovery: An Interprofessional Camp. Held on campus, this summer camp offers middle school and high school students the opportunity to learn more about healthcare fields and gain pre-professional hands-on experience in modern facilities. The three-day experience immerses the interested students in the many options available to those wanting to enter healthcare, including areas such as art and music therapy, speech language pathology, social work, psychology, nursing, and respiratory therapy.
SERVICE AND COMMUNITY IMPACT
Your Generous Gifts Made the Following Possible:
2,535 hours of clinical services on campus in the Psychological Services Center
3,347 hours of clinical services on campus in the Speech/Language and Audiology Clinics
185,568 total hours of community service
*List contains all donors who made a gift between July 1, 2021 and June 30, 2022
†† Indicates deceased as of publication date
AllOne Charities
Col. (Ret.) Richard H. and Col. (Ret.) Lorraine T. Rupp Breen, 1978
Congregation of the Sisters, Servants of the Immaculate Heart of Mary
Council of Independent Colleges
Gloria Corbo Davidow, 1970
Robert and Hiroko Davidow
The Dougherty Family II Trust
Pia Ferrario
Fidelity Bank
Bernadette Gray-Little, 1966, Ph.D., and Shade Little
Cecelia Lynett Haggerty
The Hoeffner Foundation
Sandra Stockey Hoeffner, 1960
Thomas and Flora Keating Karam
†† Florence K. Kelly, 1952
Nancy Pfeiffer Loch, 1969
Lynett-Haggerty Families
Edward and Lynda Mulligan Lynett, 1966
George V., Esq., and Patricia Brady Lynett, 1966
William R. and Mary Jean Foley Lynett
Maslow Family Foundation, Inc.
Richard Maslow
James B. and Mary Ellen McLane McDonough, 1973
William G. McGowan Charitable Fund, Inc.
Daniel and Kathleen Damico Mezzalingua, 1960
Fred Miller, M.D., and Joan Miller, Ph.D. 2003
National Collegiate Athletic Association
JAN - 65 - JWN
Keith J. O'Neill, 1976, and Teresa O'Neill
Pascucci Family Foundation
Michael C. Pascucci
Pepsi Beverages Company
Hartmut and Antonia Gerod Schierling, 1960
Barbara Sowinski, M.A. 2000
The Donald B. and Dorothy L. Stabler Foundation
Molly Conahan Toole, 1965
Catherine Matturro Winters, 1970
Wyoming Valley Health & Education Foundation
Anonymous
Bernard A. Egan Foundation Inc.
†† Angela Chen Cheng, 1956
Compass Group North America
Dynamic Campus Solutions Inc.
FNCB Bank
John and Catherine Harrington
The Kevin Kubasik Charitable Trust
Lisa A. Lori, Esq., 1993
Scott, Esq., and Anna Lynett
Mary Ann O'Hara, 1958
P & W / Washo, Inc.
PDQ Print & Fulfillment
Catherine Gilligan Quinnan, 1961, M.S. 1965
Victoria Klitsch Randall, 1969
Mary Kay Rotert
Paula K. Shields
Virginia Collins Shields, 1948
Robert H. Spitz Foundation
Maria O'Malley Walsh, 1968
Anonymous
Talcott K. and †† Joan Banick Brooks, 1965
Michael E. Bugno, 1998
Barbara J. Burkhouse, 1963, Ed.D.
Ellen M. Burkhouse, 1966, M.S.L.S. 1969
William C., Esq., and Muriel Scherr Cagney, 1969
Marie L. Carpentier, 1967
Commonwealth Charitable Management, Inc.
Concord Advisory Group Ltd.
Mary Margaret Diehl, 1966
Diocese of Scranton
Peter and Linda Rakowski Dunn, 1970
Christopher and Joy Foskett
Patrick A., Jr., and Mary Ellen Fricchione
Patrick J., M.D., and Andrea Fricchione
Mary Teresa Gavigan, Esq., 1976
James, M.S.W 1973, M.S. 1985, and Catherine Gavin
Ellen S. Gorringe, 1975
Gertrude Hawk Chocolates
The Hawk Family Foundation
David and Ann M. Hawk, M.A. 1996
HEMMLER + CAMAYD ARCHITECTS
Highmark, Inc.
Gaven and Kathleen Bride Hurley, 1967
Richard and Erin O'Grady Kane
James L. Kenefick Revocable Trust
Klehr Harrison Harvey Branzburg LLP
The Honorable Alfred J. Lechner, Jr.
Liberty Healthcare MGT LLC
Sister Kathleen M. Lunsmann, IHM, 1985
†† Eugenia Warady Mule Riordan, 1953
NET Credit Union
Benjamin and Ann Cooney Newswanger, 1957
John F. and Diane Williams Parks, 1967
Frank and Stephanie Persico
PPL Electric Utilities
Edward and Marianne Waering Prokop, 1966
Philip and †† Eleanor Reill Rader, 1966
Christopher, 2011, and Roxanne Schell
James and Barbara Spellman Shuta, 1968
Simplex Industries, Inc.
Robert S. Tamburro
Times-Shamrock Communications
Waste Management
The Wright Center
Anonymous
3Seed Marketing, Design & Interactive
American Psychological Association
Peggy Maloney Barnhill, 1966, and †† Frederick Struble
Thomas J. Bermel and †† Margaret Brennan Bermel, 1975
Sister Gail Cabral, IHM, 1963, M.S. 1967, Ph.D.
Patricia Gagen Cain, 1958
Salvatore and Susan Cognetti
John and Lorraine Conti
Col. Jim Coolican, USMC (Ret.) and Jean Woody Coolican, 1961, Ph.D.
Madeline Levy Cruz, M.S. 2011
F. Dennis, M.D., and Grace Finnerty Dawgert, 1968
Edmund F. Diskin, Jr., M.S. 1980
Dorothy Dolgash, 1966
Mary Anna Donohoe, Esq., 1967
John J. and †† Joanne Durkin Dunn, 1954
Mary Krupski Dymond, 1971, M.S. 1985
Jacquelin Colwell Ebert, 1969
Ellen M. Farrell, 1968
Mary Anne Merkel Fedrick, 1968, M.S.L.S. 1972, M.A. 1980, Ph.D.
Jacquelyn Susco Fueshko, 1976
Thomas and Mary Ann Barrett Gallagher, 1966
Noel Martin Gessner, 1961
Joanne Gilmore, 1974
Maria C. Gogal, 2004, and John Pusey
Cindy Gowell, 1970, M.S. 1974
A.J. Guzzi General Contractors, Inc
Dr. Nancy M. Hawkins, IHM, 1976
Dr. Raymond and Carol Heath
Mary Ann Wendolowski Heneroty, 1974
Elizabeth Zapitz Holcomb, 1969
David, Esq., and Carol Armezzani Howell, 1967
Clyde and Margaret Tomassi Kang, 1969, Ed.D.
William and Diane Keller, M.S.W. 1997, Ph.D.
Timothy, D.D.S., and Kathleen Dotzel Knight, Esq., 1971
Jane Murray LaBar, 1971, M.S. 1974
John and Florence Sweeney Lawless, 1977
Lehigh Valley Hospital - Dickson City
The Edith and Herbert Lehman Foundation, Inc.
Lisa Davies Lewis
Bernice Simoncic Lukus, 1971, M.S. 1974
The Luzerne Foundation
Edwin, M.D., and Rosemary Quinn Malloy, 1968
Marywood University Online Bookstore powered by Books by eCampus
Hilda Faust Mathieu, 1957
Margaret M. McCarty, 1967
Mark E. and Michele Abbott McDade, 1970
Margaret Kerber McGinnis, 1970
Jim and Tammy McArthur McHale
Thomas and Josephine Medico
MEMCO Realty Company Limited
Mary E. Molloy, 1973
†† Vernon and Carol Banick Mummert, 1963
Clara R. Munley, 1976
Julia O'Hara Murphy, 1967
Thomas and Grace Horan Murry, 1989
Northeastern Pennsylvania Chapter of AIA
The Palumbo Group
John S. Palumbo
Peoples Security Bank & Trust Company
The Presser Foundation
Lauretta A. Reap, 1964
John Charles & Kathryn S. Redmond Foundation
José, Ph.D., and Alice Susco Reyes, 1969, M.S. 1979
Sabia Family Foundation
Christine Sacco, 1963
Patricia Duane Sanders, 1961
Gabriel J. and Gina R. Scala, Ed.D.
David E. Setzer, Ph.D.
Donald, Ph.D., and Catherine Miles Shaver, 1967
Sordoni Construction Services, Inc.
The Sordoni Family Foundation
William E. Sordoni
Brenda L. Spangenberg, 1966, M.S. 1971
Joseph K. and Suzanne Vanston Speicher, 1972, Ph.D.
Sandra M. Sposato, 1985
Super Duper Publications
Dorothy A. Swift, 1967
Carl, D.D.S., and Rita Tempel, D.D.S.
Toyota of Scranton
Amy Julia Tuttle, 2001
Alicia M. Vogel, 2003
Betty Hennessy Walters, 1964
Fred and Katherine Sheedy Weiss, 1972
Donna Brenish Whitaker, 1971
Mary Loftus Wolyniak, 1970
Robert, M.D., and †† Carole Cook Wright, 1989
Christine Esposito Zike, 1976
Anonymous
Andrea L. Barker, 2011
Zachary Beja, 2019
Samantha A. Coco, 2014
Zachary A. Haney, 2015, M.A. 2019
Peter T. K. Howey, 2020
Erik, M.S. 2019, and Christina Fenton Mace, M.B.A. 2017
Nicholas A. Pesarchik, 2013
Deborah A. Pride, M.A.T. 2013
David F. Smith, 2019, M.B.A. 2020
Anonymous
Edwin, Esq., and Mary Ann Conaboy Abrahamsen, Esq., 1973
Mary Ellen Ahearn Wayne, 1977
Patricia Musalavage Baldwin, 1970, M.P.A. 1989
Sandra Bednarczyk Ballantine, 1968
Msgr. Thomas V. Banick, S.T.D.
Robert and Nancy Bennett
John and Mary Ellis Bigley, 1969
Paula Talerico Bomboy, 1970
Denise Matthews Bone, 1973
Christine Jumpeter Boyce, 1999
Maureen D. Brennan, 1981
Brookdale Recovery
Christopher and Kathleen Brown
Mary F. Brundage, 1984
Elizabeth A. Burns
Ellen Ratchford Caggiano, 1970
Margaret Potelunas Campbell, 1970, Ph.D.
Carpenters Local Union 445
Kathryn Karam Cawley, 1964
Dr. Joseph and Kathryn Tedesco Cesare
Clear Brook Foundation
Mary Ellen Coleman, 1968
Phillip and JoAnn Sapone Coleman, 1970
Arlene B. Crandall, 1978
Jianhua Cui, M.S. 2007
Dr. Charles T. and Judith Bartell Curtin, 1963
Elaine I. Dalley, 1966
Robert M. Davis
R.N. DeMeck Roof Management Services, Inc.
Christopher, 1988, and Ann Celli DiMattio, 1987, M.S. 1993
†† Gerald, M.P.A. 1975, and Sheila Sheridan Durkin, 1969
Emergency Services, PC
Frank and Renee Epifano
Paul and Anne Wagner Falzett, 1979
Jane Farr, Ph.D.
Ellen P. Filicko, 1985
Clayton and Catherine Fitzhugh
Donald, Esq., and Carolyn Reddon Flanagan, 1956
Thomas Flanagan
Ann Zalusky Flynn, 1981
Mary Lawler Murphy Fox, 1971, M.S. 1976, Ph.D. 2012
Marie C. Froncek, 1967
Penny Saamer Gardner, 1972
Sara Stevens Gardner, 1971
Geisinger Health System
James and Valerie Grabicki
Mary Margaret Harris Graham, 1968
Mary Jo Gunning, 1979, Ed.D., and Richard MacGregor, 1976
Andrew, Esq., and Mary Diskin Hailstone, 1963
Marie Elizabeth Harrington, 1967
Kathryn Flynn Highhouse, 1971
Highland Associates
Carolyn Tarbrake Hildebrand, 1962
Patricia Kucab Horvath, 1957, M.S. 1969
Jeffrey and Sharon Dux Hyde, 1976
George, Ph.D., and Merel Imel
JKLM Energy, LLC
Dave and Michele Rodeghiero Joerg, M.A.T. 1995
Kevin and Amy John
Frank, Jr., 2003, and Lauren Kelleher
Diane Capello Kilduff, 1966
Rev. Shane L. Kirby, 1996
Margaret K. Klein, 1971
Mary C. Kruger, 1969
John Girard Kuna, M.A. 1998, Psy.D.
Frank and †† Carolyn-Kay Miller Lundy, M.P.A. 1992
Michele A. Macedonio, 1970
Albert J. and Dorothy Brelish Magnotta, 1967
Carolyn M. Mancini, 1984
Regina Marcin
John, D.M.D., and Margaret Quinn Mariotti, 1975, Au.D.
Pat Donnelly Martinez, 1970
Marx Sheet Metal & Mechanical, Inc.
John, Esq., and Catherine Coyle Mascelli, M.S.W. 1980
John and Ann McAllister
Claire Coyne McAndrew, 1966
William and Donna McCoy
Thomas A. McCullough, Jr., 1993
Alice Schwieghofer McDonnell, M.P.A. 1977, Dr.P.H.
Linda I. McGaughy, M.A. 1978
Barbara Yedinak McGoldrick, 1967
Margaret Casey McGrath, 1975
Mary Ann Munley, 1974
George McCutchen Nisbet, Jr., M.S.W. 2003
Mary Ellen O'Mara, Esq., 1963
Judith Tama Page, 1970, Ph.D.
Paul, Esq., and Mary Theresa Gardier Paterson, Esq.
Pesavento Monuments, Inc.
John and Sandra Rosar Pesavento, 1997, Ph.D.
Theresa A. Philbin, 1969, M.S. 1972
George, 1984, and Jacqueline Pawlikowski Podolak, 1964
Msgr. Joseph G. Quinn
Letha Wells Reinheimer, 1971
Wesley and Susan Horensky Rhiel, Esq., 1981
Paul Riner and Joya Ricci-Riner
Ross Family Foundation
Joseph and Karen Richards Rulison, M.S.W. 1980
Pauline Ciliberti Sallusti, 1954
Elizabeth Pattara Schuster, 1998
Pamela M. Schwitter, 1969
Scranton UNICO Foundation
Betsy Sherwood Sprout, 1987
†† John and Ana Steele Clark, 1958
Tambur Family Foundation
Robert and Virginia Tambur
Topp Business Solutions
Gerald, M.D., and Mary Burke Tracy, 1963, M.S. 1964
Universal Printing Company
The University of Scranton
Urban Electrical Contractors, Inc.
David and Kathleen Van Solkema
Adam Woodard
Anonymous
Michael and Linda Anderson
Paul and Kathleen Lynch Armstrong, 1991
Richard and Elizabeth Bachefski
Robert Bardunias
Susann Wiezavich Barziloski, 1966, M.S. 1976
Jane Vavala Batten, 1993
Zachary Beja, 2019
Paul J. Brezovsky, Sr.
Catherine M. Brundage, 1979
Col. (Ret.) Edward J. and Nancy O'Malley Burke, 1964
R.J. Burne Cadillac
Kathleen Bartley Burns, 1963
Bruce and Gina Butler
Patrick and Denise Castellani
Charles W. Grimm Construction, Inc.
Sister Kathleen M. Clancy, IHM, 1979, M.S. 1993
John and Mary O'Malley Cognetti, Esq., M.S. 1975
Margaret M. Conway, 1970
The Honorable Joanne Price Corbett, 1975, and James Corbett
CVS Health Charity Program
Michael and Kris Deemer
Gloria Delrahim, 1968
Steven Dilorenzo
Karen Creagh Dixon, 1968
Elizabeth Lynott Donohue, 1974, M.S. 1992
Timothy and Ann Doherty Dougherty, 1976
Lois King Draina, Ph.D.
Marianne Carney Dunn, 1958
Jeffrey and Susan Ericson
Leigh C. Farrar-Freeman, Ph.D. 2009
Leonard and Joan Murphy Fasullo, 1979
Amelia Finan, 1960, Ph.D.
Ellen R. Flanagan
Paula Haven Fontes, 1970
Laurence, M.S.W. 1974, M.B.A. 1985, and Marion O'Boyle Frayne, 1971
L. Peter, Jr., and Laura Frieder
FrontStream
Robert and Kathleen Kane Gastinger, 1971
Catherine Caterino Gerard, 1970
Ian Gileski and DawnAnn Carino
Elisabeth von Kerczek Gilligan, 1959
John Goldman, M.D., and Maureen O'Toole
Greater Scranton Chamber of Commerce
Albert and Geraldine Gregori
Joseph and Angela Guziewicz
Mary Gliot Halick, 1997
Zachary A. Haney, 2015, M.A. 2019
Ruth M. Harvey, 1969
David M. and Nancy Amori Hemmler, 1970
Joseph, M.S. 1973, and Danelle Iammangini Hogan, 1971
Rosemary Stocoski Hrywnak, 1975
JoAnn Leputa Jarrach, 1958
Keith and Carol Jenkins
Judith Ely Kelly, 1970
Dr. Marilyn J. Kemple, 1963, M.S. 1973
Dale and Jeanne Klipple
June Wolicki Kostival, 1968
Jacques and Therese Murphy Kueny, 1964
Marianne Elizabeth Kuncewicz, 2004
Sharon Brady LaBelle, 1968
Tim and Ami Landis
Rev. John M. Lapera
Patricia A. Lawler, 1971
The Leone Family - Dan, Donna & Joseph
Erik, M.S. 2019, and Christina Fenton Mace, M.B.A. 2017
Ellen J. Maffey-Koons, 1970
David M. Maher
Christina Reyes Mahoubi, 1989
John and Joyce Butler Maloney, 1971
Janet Kralik Malzone, 1970
Joseph and Marybeth Marrone
Gregory and Kathleen Cullen Martino, 1981
Capt. Joseph A. McDonald
James and Shannon McEvoy
Sister Elizabeth A. McGill, IHM, 2006, Ph.D. 2015
Marianne McGowan, 1969
Sarah Jane McHale, 1949
Jason and April Metzger
Minooka Motor Sales, Inc.
Michele Feeney Mulligan, 1971
James and Ruth Nehlig
Laura M. Neuscheler, 1981
Janice Endrelunas O'Brien, 1966
Joseph, Esq., and Barbara Scanlon O'Brien, 1969, M.S. 1993
Kristin and Thomas O'Donnell
Timothy and Nancy O'Hare
Law Offices of Jason O'Malley, P.C.
Jason, Esq., and Sara Van Wert O'Malley, 1998
Paladin Adjustment Group
Edmund and Marianne Pannoni
Paul and Phyllis Conrad Parker, M.S. 1974
Virginia Polentz Perfetto, 1962
Phyllis Rockovits Perron, 1962
Sister Mary Persico, IHM, 1969, Ed.D.
Regina Magnotta Peters, 1968
William and Roseann Ford Piseczny, 1957
Stephen M. Prislupsky
Eileen Dunn Quinn, 1970
Kezzia Quintyne-Hilaire, 2006, M.A. 2008
Riccardo Law Center PC
Dawn M. Riccardo, Esq.
Eileen Shatzel Richards, 1993
Andrea Jaworski Ridolfi, 1969
Arthur and Denise Rinaldi
Mary Lou Ritzco, 1970
Andrew and Kim Roberts
Dennis and Karen Saake
Daniel, 1990, and Tina Kasaczon Santaniello, 1988
Karen Tierney Schamel, 1964
Brian and Nancy Tucker Scheld, 1978
William A. Schutter
Brenda Lucia Seitz, 1983
Lauren McFadyen Shaughnessy, 1970
Thomas and Barbara Shuman Sheehan, 1956
Deborah High Shuart, 1975
Elizabeth M. Slovenkai, 1971
Kevin Southard
Deirdre-Holly Spelman, M.S.W. 1972
Thomas M. Sueta, 1989
Michelle Leggat Summers, 2000
Susan Hammann Tackaberry, 1969
Tiger Tours, Inc.
Daniel M. Tortora, 2007
Walter and Susann Cooney Trnka, 1965
Robert and Claudia Moran Visalli, 1971
Scott, Ph.D. 2010, and Sunny Minelli Weiland, M.S. 2002, Ph.D. 2012
Maureen West, 1960
John and Anna Wilson
D.J. and Wendy Wolbert
Robert Woodard
Robert, M.D., and Marianne Reynolds Yacynych, 1982
Wendy A. Yankelitis, M.B.A. 2006
John, 1991, and Lisa Lambert Zaums, 1993
Shawn, 1992, and Renée Gregori Zehel, 1991, Ph.D. 2016
Boyne and Kristin Zemanek
Anonymous
Lynn Rasmus Abell, 1991, M.D.
Joan Twaddle Altemus, 1961
The Honorable William Amesbury, M.S.W. 1976, and Karen Tarnowski Amesbury, 1981, M.A. 1984
Andy Gavin's
Louis Anemone
Salvatore and Barbara Anzaldi
Paul S. Bahn
Dorothy Schipp Bambach, 1970, M.S. 1977, Ed.D.
Pete, Eileen and Jonathan Bardunias
Andrea L. Barker, 2011
Col. John J. Bartosh, USA(Ret.), M.S. 1982
Mary Ann Burns Bausch, 1970, M.P.A. 1993
Jane A. Behlke, 1968
Kathleen Redding Bellitto, 1974
Constance R. Bergum, M.F.A. 2000
Erika Lawrence Bernard, 1970
Donald and Erika Bidwell
Armond James Bisignani, IV, 2008, M.A. 2010
Margaret A. Blaha, 1968
Jean Body, 1970
Mary Bergen Bommer, 1969
Sara Schofield Booker, 2000
Joseph and Claire Ralph Borda, 1978
Sheila Sanderson Breitweiser, 1963, Ed.D.
Margaret Kelly Buck, 1953
Stephen, Ph.D., and Mary Ellen Burke
The Honorable Thomas and Mrs. Margaret Burke
Joshua and Carrie Calacanis
Miguel A. Calvo-Salve, Ph.D.
Church of St. Gregory
Danielle and F. Anthony Cicco
Anthony F. Cirotti
Michael Ciullo
Christina A. Clark, Ph.D.
E. Pat Cliver, M.S.W. 1973
Jay, Ph.D., and Elizabeth Ruddy Clymer, 1981
Samantha A. Coco, 2014
Kevin and Roshelle Coleman
Jane Lebojesky Comroe, 1964
Mary Mongoven Conroy, 1982
Patricia McElhenny Cook, 1965
Richard and Irene Cossa
Francis and Betsy Crowley
Shawn C. T. Cullen, 1997
Lisa Hamm Cummings, 1985
Joseph and Donna Castronova Dailey, 1985
Rev. Kenneth V. Daniel, M.P.A. 2001
Scott and Cheryl Davies
Michelle Kalavoda Davis, 1996
Lee A. and Ellen Svatek DeHihns, 1967
Dempsey Uniform & Linen Supply, Inc
Michele Dempsey
Joseph Descipio
Deutsch Institute
Michael W. Dickinson
Joseph P. Donohue, M.S.W. 1974
Lea M. Dougherty, 1991, M.S.W. 1993
Colleen Costello Dreifke, 1971
Virginia Nolan Duffy, 1964
DxDempsey Architecture
Tim and Mary Eberle
Donald and Marcia Chmielewski Eckerson, 1970
Lawrence and Anne Marie Egan
William and Jennifer Egan
Christopher, 2003, and Jennifer Scott Ell, 2002
Marigrace Corcoran Fahey, 1958
Rosemarie Corallo Fahey, 1964
Anne Marie, 1976, and Mark Fallek
Janice C. Fech, 1961
Laurie Fitzpatrick Felix, 1970
David and Tracey Ferguson
Simon and Stefanie Fernandes
Arnan and Marlene Friedman Finkelstein, M.S.W. 1984
Ambrose and Irene McNulty Finnegan, 1969
Carol Rinaldi Fisher, 1964
Leo and Marianne Feeley Flanagan, 1963
Donna Tyson Flynn, 1985
Timothy, Esq., and Susan McGinnis Foley, 1969
Donald and Sarah Franko
James and Barbara Melliand Frutchey, 1984, M.S. 1987
Karla Rupp Gabre, 2001
Caroline Fernandes Gallis, 1958
Marianne Menapace Gilmartin, 1983
Linda Crump Gomar, 1970
Joseph and Katherine Faerber Gonglefski, 1971
Patrick, M.D., and Susan FitzPatrick Grady, 1978
Angelo Grecco
Rebecca D. Grubb, 2003
Michael J. Hale, Esq., 1984
William and Diane Hallett
Joan M. Halstead, 1971, M.S. 1976
Thomas and Jennifer Hauber
Heat Restoration, Inc
Richard Hellard
Roseann Anastasio Henzes, 1958
Robert D. Herrema
Mark and Christina Higgins
Peter T. Hoffer
Jeanne A. Hoffman, 1970
Richard and Amy Hoffman
Jay and Tamara Holman
Paul and Mary Horner
Peter T. K. Howey, 2020
Bridget Anne Hudacs, 2000
Martin and Anne McHugh Hudacs, 1976
John and Jane Kane
Kateri Carroll Kashuba, 1968
Kerry Aline Kearney, Esq., 1970
Maureen Foley Kearney, 1964, Ph.D.
Nancy Fitzpatrick Keating, 1966
Edward and Kathryn Hickey Keglovits, 1956
Kelly Mazda
Kelly Motor Company, Inc.
Dorothy O'Gara Kelly, 1964
Beatrice Kerridge
Kevin and Diane Kilkenny
Joseph King
Susan L. King, 1987
Thomas and Joan Barrett King, 1959
Jeffrey and Cathy Kolakowski
Anthony J. and Peggy Dalton Kolasa, 1974
Kelly and Catherine Kollar-Dye
Lynn Semptimphelter Kopon, Esq., 1978
Joan T. Kryzanowski, 1968, M.S. 1973
Judith Latsko Kunec, M.S.W. 1978
Maureen Diskin Ladd, 1961, Ph.D.
Dr. Guido and Mary Ann Smith LaPorta, 1969
Michael and Florence Latrella
Cindy Pierce Lee, 1967
Mary Clare Quinnan Leonard, 1993
Lily US Matching Gifts Program
Therese Keane Lindner, 1972
Mary Ellen Luker, Esq., 1978
Alice J. Lyman, M.S. 1971
Robert J. and Noelle Lynett
Keith and Kathleen MacDougall
John and Mary Ellen Madden
Robert and Jamie Madonna
David Majiros
Margaret Duffield Manila, 1963
J. P. Mascaro & Sons
Enrico and Jamie Mastroianni
Virginia Fitzpatrick McAllister, 1963
John and Eileen Ryan McAuliffe, 1977
Brian and Debra McKenna
Jane Earley McLane, 1975, M.S.W. 1977
Patricia McMahon
Mary Jane Milner Memolo, 1959, M.S. 1977
Jill Mendygral and Gene Zlabotney
Michaelangelo Sculpture Casting, Inc.
Gary and Michelle Michak
Michaela Moore
Marlana M. Morell, 2003
Debra Morgan, M.P.A. 1978
Mary Lou Hoagland Mraz, M.S.W. 1991, M.P.A. 1993
John and Tammy Mulherin
Mari Foley Murphy, 1973
Elizabeth Manley Murray, 1972
Kathleen A. Murrin, 1967
Grace DeCecco Nakagawa, 1960
Capt. William and Donna Versaggi Nash, 1976
Nasser Accounting Service
Joseph G. Nasser, 1981
Susan J. Nicastro, Esq., 1980
Gloria J. Nilsson, 1964
Northeastern Child Care Services
Gabriella M. Nowak
Howard and Mary Ellen Levchak Nusbaum, 1974
Karin Maguire O'Brien, 1963
Helen Hodgson Overlan, 1963
Margaret Lennon Owens, 1952
Karen Paczkowski, 1974, M.D.
†† Maj. Richard, M.S.W. 1975, and AnnMarie Caporelli Parry, 1968
Carole M. Paswinski, 1958
Marilyn J. Patrick, 1958
Tina Pavlovicz
David and Christina Peck
Michael Perdomo
Steven and Marianne Perkins
Barbara J. Peters
Brian R. Peters
Hue Thi Pham, M.S. 1973, Ed.D.
Frank H. Phillips, M.S. 1978
Pioneer Crossing Landfill
Terry S. Plank, Jr.
Steffen Potter
Susan Powers Jankowski, 1981
Deborah A. Pride, M.A.T. 2013
Joseph Profeta
Madison, Marcy and Tim Racine
Kenneth and Kellianne Reed
J. Spence and Maureen E. Reid, 1986
Catherine Gallagher Renga, 1961
David, Jr., Ph.D., and Lia Richards Palmiter, Ph.D. 2009
Riverfront Sports
Rick and Tina Rodriguez
Joan Diane Rognoni, 1966
Susan Kane Ronan, 1979
Margaret Maher Rowe, 1977
Gian and Sandra Russo
John A. Sabia, 2004
Melissa A. Saddlemire, 2006, M.B.A. 2009
John and Kristen Salisbury
William and Gina Sanders
Michael and Jeanette Cogliandro Santalucia, 1968
Patricia E. Scalese, 1992, and Christopher Fusco, Esq.
Brian and Becky Scanlan
Barbara L. Schmitt
Vincent and Stacey Scibello
Scranton Area Foundation
Scranton Preparatory School
Justin and Heather Seitz
Mia Shernoff
Randi Gregory Short, 1983
Carol Sankner Sicoli, 1968
Charles A. Smith, 1977, M.S. 1990
David and Linda Smith
David F. Smith, 2019, M.B.A. 2020
Nancy Purnell Smith, 1971
Thomas and Elfriede Smith
Brian and Toni Sorce
Alan and Jane Sorensen
Michael Sorg
Laurie B. Speranzo, 1997
Rick Stains
Adam and Deann Stefl
Joseph and Kathleen Fitzsimmons Sterchak, 1980
Linda A. Striefsky, 1974
Albert, 1999, and Erin Stroble
Virginia Sullivan, 1966
Heidi and Michael Suppo
Judith Tierney, 1963, M.S. 1970
Janet Moran Tinajero, 1993
Timothy and Lori Tobin
William and Jo-Marie Totten
Adam Turoni
Peter and Elizabeth Tzitzis
Robert Unger, 1990
Robert and Renee VanBrunt
Mary-Celine Burke Von Esch, 1961
David, Au.D., and Jeanne McHale Wadas, 1970
John and Oona Walter
Joseph and Kristin Welsh
Andrea M. Wilczynski-Urbaniak, 1993
Carol Massi Williams, 1964
Margaret M. Williams, 1959
Patricia Williams, 1970
Samuel and Frances Caldicott Wilson, 1968
Ernest and Joanne Paciorek Wittenborn, 1969
Michelle, D.M.D., and Peter Yilanjiam
Denise Yobs
Anonymous
Mary Alice Hennigan Acquaviva, 1972
David P. Adomiak, 1975
Michael and Ellen Burchill Aherne, 1973
William, M.A. 2001, and Michele Alford
Brian and Anne Ammons
Nancy Gaffney Amos, 1971
Brian Anderson
Deborah Sanders Anderson
Morris Anderson, 1980
Howard and Sueann Anderson
Thomas and Kimberly Anderson
Anemone Consulting Inc
Lynn Antonelli
Gloria Arlotta
Melissa Londell Armenti, 1999
Kevin Armour
Douglas Arroyo and Jude Pattavina
Emily Nobert Aschenbrenner, 1964
Susan Wywoda Asimakis, 1979
Mark and Patty Asinski
Robert L. Askew, Jr.
Assurance Service Partners, LLC
Barbara Macaw Atkinson, M.S. 1978
Betsy Mortorff Aulbach, 1970
William and Patricia Averill
Priscilla A. Baden, 1970
Marianne Meehan Baker, 1979
George and Margaret Baland
Janet P. Ballute, M.S.W. 1999
Sean Patrick Bamford, 1995
Helaine Marovitz Banghart
Barna Law
Andrew and Christy Barone
Helen Winum Barr, 1958, M.S. 1984
John, Ph.D., and Emily Barrett
Margaret Shaw Barry, 1992
Lorraine Buikus Bartolai, M.A. 1988
Emily Baskin
Alice Cassidy Batt, 1965
Ann Murtaugh Battaglia, 1970, M.S.W. 1973
Genevieve Battisto, 1958
Michele Battle
Dr. Janice Baylor and Jason Baylor
Be Wise Occupational Health LLC
Maureen Naso Beauchamp, 1963
Ernest Becker
Sonia Bednorchik, 1963
Benco Family Foundation
Colleen Reynolds Bender, 2011
Msgr. John J. Bendik
Mark and Lisa Benedict
Maryann Benicaso
Jill Emillie Bennett, 1964
Kathleen Butwina Bennett, 1982
Anna Marie Berardi, 1983
Msgr. John A. Bergamo
Ann Marie Politch Bergman, 1965
Elizabeth Bermudez
Maureen McNulty Bidula, 1975, M.D.
Katie Bilodeau
Birchwood Tennis & Fitness Club
Janet D. Bisset, Ph.D. and Kevin G. Madden, M.D.
Helen Bittel, Ph.D.
BK Construction & Renovations
Judith A. Blachek, 1980
Phyllis N. Black, D.S.W.
Scott and Renee Blakiewicz
Jonathan, M.D., and Katherine Blancaflor, Esq.
Robert and Gail Blevin
The Honorable Thomas M. Blewitt, M.P.A. 1979
Irene Ruseckas Boezi, 1960
Angelo and Ann Marie Bonacci
Mark T. Bonfiglio, M.A. 2002, and Danielle K. Fleming, M.A. 2003, M.Ed. 2011
Adele Bon-Shannon, M.S.W. 1982
Immaculate Mary Jacobeno Boone, 1969
Kevin and Brenda Healey Borrelli, 2004
Caroline Jaeger Bosch, 1962
Barbara Savino Bossi, 1990
Jeannine Forquer Boswell, 1966
Sandra Oakley Boyle, Esq., 1971
Rex and Marci Brand
Mark Brennan
Catherine Reuscher Brennan, 1957
Margaret Ace Breznay, 1980, M.S. 1983, D.C.
Joanne Collevechio Brice, M.S.W. 1979
Donald and Patricia Kelleher Brooks, 1964
Patricia Grant Brooks, 1970, M.S.W. 1982
Barbara Stengle Brown, M.A. 1975
Chris and Ann Brown
Denise Barber Brown, 1971
Maureen Foy Brown, 1970
Brucelli Advertising Company, Inc.
Robert and Lynn Buchala
Alicia Farrell Bunce, 1969
David and Stacie Burgos
The Burke Family
Austin J. and Marianne Burke
Linda Root Burke, M.S. 1980
Jessica D. Burkovich, 2018, M.I.A. 2020
Eileen Gillern Burnard, 1963
James, M.D., and Sylvia Graziano Butcofski, 1960
Lynn Fitzgerald Butler, 1970
Grace Potelunas Byrne, 1972
J. Stephen Byrne, 2007, Psy.D. 2009
Sandra L. Cadden
Joseph and Cara Caico
Mary Ann Heasley Calabrese, 1963
Julianne Zinskie Calabro, 1986
Michelle Grzech Calachino, 1992
Sally Mannion Callahan, 1968, M.S. 1974
Marilyn Gleason Campagna, 1964
Paulette Campana
Victoria Zabka Campbell, 1962
C. Estelle Campenni, Ph.D.
Kimberly A. Canner
Paul A. Capoccia, 2016, M.A. 2018
Holly A. Scacchitti, 2008
John A. Cardamone, M.P.A. 1987
Justin W. Cardamone
Christine Carleton
Richard and Jean Carlson
Matthew and Elizabeth Carpenter
Joanne DeSantis Carpentier, 1969
Annmarie Carroll
Daniel and Lois Carroll
Thomas J. Carroll
Brad Carver
Vincent and Lisa Chuff Casella, 1993, M.A. 2010
Damon and Donna Cassandra
Patricia Cassandra
Ann Marie DiVecchia Castelgrande, 1972, M.A. 1976
Samuel J. Castellino, M.B.A. 1991
Margaret Hermanns Cataldo, 1961
Joseph F. Catanzaro, M.A. 1983
Sharon Cease
Julie Cerny DMD PLLC
Dr. Dennis G. Chapman
Doris Chechotka-McQuade, Ph.D.
David and Holly Chemidlin
Carine Chen-McLaughlin, 1974
Donna Chestnut
Sonja Chestnut
Lucille Tubach Christini, 1963
Vincenzo and Karlene Coval Cicco, 1993
Dana E. Ciccotti
CK Book Keeping Service
Kenneth Clausen
Clay-Tee Printing
Susan Honold Cleary, 1985
Mary Butterly Clifford, 1970
Michael and Karen Coco
Melba Baron Cohen, 1981
James and Barbara Colangelo
Michael James Colangelo, 2004, M.S. 2007
Marlena Garofalo Colarossi, 2002
Coleman Contracting INC
James and Jill Coleman
Karin Favini Collins, 1975
Marisa J. Colonna-Garrow, CPA, 2000
Lydia Naples Comerford, M.S. 1977
Patricia Campbell Comey, 1973
Community Foundation of Louisville
Regina Nealon Conaboy, M.S. 2003
Richard P. Conaboy, Jr.
Dr. John and Jeanne Moroney Conboy, 1977
Christine O'Brien Condon, 1968
Douglas Conklin
Kathleen P. Connaghan, 1972
Mary Ellen Hutton Connors, M.A. 1986
Michelle Consenza
Elaine Hack Convery, 1962
The Cooler Guys LLC
Sandra Hojnoski Cooper, 1981
James and Catherine McDonough Corcoran, 1964
Core Fitness and Rehabilitation
Mitzi Corrado
Jeffrey Corrigan
Joan Del Mastro Costa, 1962
Lawrence and Carmel Costa
Ellen Regan Costello, 1976
Carolyn Korosec Cottrell, 1969
Gerald and Vivian Coutinho
Pamela J. Cozzi, 1984
Joan Bender Cracco, 1959, M.D.
Betty Crane
Katherine M. Crawford, M.S. 1979
Patricia A. Creazzo, M.P.A. 2001
David, 2007, M.S. 2010, and Allison Crisci, 2012
Cynthia L. Critelli, 1978
Mike and Nannette Croll
Seth R. Croll
Brian and Nancy Cronin
Gerald V. Cronin
Cross Valley Federal Credit Union
Elaine Eiden Cross, 1968
Thomas and Doreen Crowe
Mary Ann Crozier, 1961
CTS Drafting and Design
Rev. William Ryan Culnane, M.A. 1974, Ph.D.
Dan Curry
Maureen Lawless Curtin, 1972
Rosemarie Sharlow Cushing, 1983
William and Margaret Jennings Cusick, 1965
G. Kupiec Dainack, 1973
Drew Daise
John Dalrymple
Charles and Johanna Dalton
Marietta T. Dantonio-Madsen, M.S. 1978, Ed.D.
Joseph and Sheila D'Auria
Vincent and Rhonda D'Auria
Ellen Jordan Davidson, 1967
Jacqueline R. Davies, 1960
Ann Loftus Davis, 1967
Katie Murray DeAngelis, 1963
Barbara Decker
Barbara DeMaio
Ellen Mercedes DeMasi
Colleen J. DeMorat, M.S.W. 1985
Susan Dennen
August and Renée DePietro
Bernardine Grzybowski DePietro, 1966
Regina Radocha DePuy, 1974
Jack and Zora Derderian
David and Karen Derstine
Michael, M.S. 2009, and Elizabeth Zaydon Dessoye, 2007
John, M.S.W. 1980, and Brenda Richards DeVaney, M.S.W. 1981
Matthew DeWitt and Linda Darnell-DeWitt
Jeff Dickerson
Steven and Paula Dickey
Dickson City Hyundai Inc
Todd and Margaret Dietrich
Eileen Harrington DiLeo, 1983
Kevin and Susan Dingwell
Dorothy L. Distel, M.S.W. 1987
Janet Dixon
John and Jane Dixon
Aubrie Dodge
Marcos and Silvia Doglio
Karen A. Donato, 1975
Noah Doncses
Katherine Donnelly, 1980
Helaine Burger Donovan, 1970
Abygail M. Doud, 2020
Richard and Nancy Doud
Dougherty Leventhal & Price LLP
Collin P. Dougherty
Michele Dougherty
Marita McDermott Dow, 1982
Alice Adams Dowling, 1968
Marian White Dowling, 1962
Sister Jennifer Doyle, 2005, M.S.W. 2010
Joan Marie Doyle, 1961
Leslie Swantek Doyle, 1994, M.A. 1998
Mary T. Drew, 1957
Mary Campana Droll, 1944
Susan DePietro Dukin, 1970
Marion Milk Dumond, 1957
Ellen Dunn
Courtney Marie Dunne, 1999, Ed.D.
Suzanne McGrath Dunnigan, 1956
James A. Dunstan, M.S.W. 1987
Durkin MacDonald, LLC
William and Cynthia Dwyer
Edward and Elke Dyminski
Judith Brunori Eagan, 1970
Marion Gaetano Eagen, 1965
Richard L. Eckersley and Rev. Linda K. Eckersley, 1998
Denyse B. Edge, M.S.W. 1996
John, 1998, and Ronna Schumacher Egan, 1999
William Egan, Sr.
Linda Sakovich Eggleston, 1982
Mary Hopkins Eichelberger, 1976
Brett and Gwendolyn Elliott
Edward and Marjorie Slear Ellis, 1964
Roger and Karin Ennis
Ross and Mary Ennis
Patricia Quinn Erhard, 1973
Anne Marie Simoncic Ermolovich, 1967
Anne Kaczmarczyk Evans, M.P.A. 1985
Daniel and Wendy Evans
Joseph, 1981, and Margaret Higgins Evans, 1975, M.S. 1989
Events by Nosh
Rose M. Faiss
Geraldine Abraham Faivre, 1967
Kimberly Falcone, 1997
Fancy Parsley Architecture + Design
Kevin B. Farrell
Maryann Moody Farrell, 1960
Michael and Evelyn Fatula
Joseph and Carmella Manganiello Faust, 1971
Ann Tully Feeney, 1987, Ph.D.
John and Sharon Fenton
Marian R. Ferguson, 1976, M.S.W. 1977
Giovanni S. Fernandes
Joseph, 1984, and Cathy Gorecki Ferraro, 1982, M.S. 1995
Rosemary Nicholas Fiddler, 1964
Patricia Boyea Findra, 1976
Neil and Karen Fiorillo
FirstLight Home Care of Greater Scranton
Marina Moyles Fisher, 1959
Katherine S. Fisne, 2009
Garrett O. Fitzgerald, 2007, M.A. 2012
Mary Ann Traino Fitzpatrick, 1971
Rita Claire Desmond Fitzsimmons, 1963
Jim and Amy Fleming
James, Ph.D., and Marigrace Flynn
Michael D. Flynn, Jr.
Clayton and Stacey Flyte
Severio and Janice Benoit Fodero
Helen Denniston Fong, 1974
Marianne Orasin Ford, 1965
Edward J. Fortuna, M.S. 1993
Brian and LoriAnn Foytack
Dennis, Esq., and Libby O'Boyle Franko, 1973
Kevin and Denise Frantz
Linda Lussy Fraser, 1974, Ph.D.
Diane Kucz Freeman, 1970
Colleen Friedman
Kathryn Nickischer Friel, 1999
Elaine Lewis Fries, 1958
Richard and Debra Fuchs
Mary Sweeney Gallagher, 1959
Joel Garcia
Chester Gardner
Stephen E. Gardner, M.S.W. 1973, D.S.W.
Valerie Rott Garofalo, 1967
Nate Gaudio
MariaLuz Gaviola
Lisa Gayle
Ellen Bercofski Gebert, 1978
Norman L. Gelabert, Jr.
Brad J. Gelles
Terri DuBreucq Gelles, 1964
Generations PT/Kilkenny
Genetti Manor
Lisa M. Genovese, 1986
Jane George
The Honorable Vito and Elaine Mooney Geroulo, 1969
Gibbons Ford
Mary Anne Giello, 1985
Louise Langan Gike, 1951
Rita M. Gilbride, 1992, M.F.A. 1996
Patricia Loyd Gilmore, 1956
Miriam Kaschenbach Giordano, 1964
Rose Ann Giordano, 1960
Give Lively Foundation Inc.
Helen McEwen Gleason, 1957
Global Masonry & Construction Corp.
Global Village Keepers CO
Darren and Lauren Glorioso
Marie Glorioso
Nancy M. Godlewski, 1971
James and Betty Ann Armstrong Godshalk, M.S.W. 2014
Christine Kaszuba Gola, 1974
Lisa Gory
Anne Cottone Grady, M.B.A. 1994
Charles Graham, M.S.W. 1980
Steven Grasso
Judith O'Malley Graziano, 1955
The Green Scene LLC
Jennifer A. Greseth, 2001
Dorothy J. Grill, 2007, M.Ed. 2010, Ph.D. 2019
Gerry Zujkowski Grogan, 1959
Carol Gibbons Grow, 1979
John and Angela Grow
Anthony and Kimberly Grzesek
Brenda Guinto
Matthew J. Guinto
Robert and Andrea Bower Guise, 1970
Gunsel Family
Scott Gunsel
Joe Guydish, M.A. 1980
Jailyn Guzman
H & H Tax Services
Haggerty Hinton & Cosgrove Law Firm
Jeannine Ducharme Haight, 1982
James R. Halbert
John J. Hammond
Rev. Frances Handy, M.S. 1998
Jane Gargani Hanley, 1970
Sally Mollenhauer Hardy, 1970
William and Patricia Timlin Hardy, 1970
David and Kathleen Harger
Marcia Reidy Harney, 1968
M. Suzanne Harper, 1964
Devon L. Harrison, 2004
Betsy Lavin Hart, 1969
Daniel J. Hart, 1997
Robin Harvey
The Very Rev. George P. Hasenecz, M.S. 1979
Kevin and Elizabeth Hastie
Bruce and Deborah Hasty
John F. Havrilla, M.S.W. 1977
Mary Ann Douaihy Hazzouri, 1951
Bernice Locasto Healy, 1968
Anne L. Heffron, 1982
Richard and Maureen Harris Heilmann, 1982
Chad and Apryle Heintzelman
Frances Kirsch Hellmann, 1962
Carol Martini Hemphill, 1970
Ann R. Henry, 1973, Ph.D.
Theresa Bennett Hensley, 1975
Matthew and Michelle Herb
Todd Heritage
William and Janet Heyen
Larry and Linda Ritsick Hickernell, 1980
Richard and Mary Speicher Hickey, 1970
Marilou Zeller Hinchcliff, M.A. 2009
Lorraine E. Hinck, 1999
Robert and Suzanne Hine
Amanda M. Hirschler, 2017
Mary Ann Hoffman, 1966
Ralph and Barbara Cawley Hohmann, 1970
Jodie Holmes
Kathryn J. Holod, 1969
Lillian Bishop Holt, 1983
Marek and Andrea Homola
Honeychilds LLC
Thomas and Sandra Dianese Hoppey, 1996
Florence Horecky, M.B.A. 2007
Jenn Horne
Patricia Horvath
Ryan, 2007, M.A. 2008, and Laura Camlet Houser, 2007, M.A. 2008, Ph.D. 2012
Margaret Tama Hovell, 1963
Robert and Roberta Farkash Howes, 1975
Mary Ann Kuplinski Hudachek, 1968
Carol Servatius Hughes, 1959
Joan Rembecki Hughes, 1977
Judith Meehan Hughes, 1961
Michael and Michele Huk
HVAC Services Unlimited, INC
I.B.E.W. Local Union No. 81
Kevin and Mary Icker
Stephanie Baker Ives, 1970
Daniel and Rose Kuchwara Jacklinski, 1999, M.S. 2015
Jackson Chapter 2342 Women of Moose
Rosemarie Cardoni Jackson, 1959
Gerard and Mary Ann Jacquinot
Gale A. Jaeger, Ed.D.
JD Backhoe Service Inc
Rev. Michael J. Jendrek
Kimberley A. Jennings, M.A. 2000
Derek and Jeaneen Jess
Helenanne M. Jimmie, 1981, M.S. 2010
Craig M. Johnson, Ph.D.
Daniel Johnson and Nicole King
Jeffrey R. Johnson, D.M.A.
MaryAnn Taberski Johnson, 1967
Stanley and Charla Johnson
William C. Johnson, M.A. 1974
Grace Previty Johnston, 1957
Clayton and Sherri Jones
David, M.D., and Susan Jones
Barbara Barrett Jordan, 1970
Mary Reilly Jordano, 1963, M.S. 1970
Mary Frances Conole Joynes, 1961
Patrick, M.P.A. 1985, and Lynnette Judge
Maria Nardone Kaegi, 1957
Shawne Koehler Kaeser, 1970
Bill and Teresa Kalinich
Jo Ann Pluciennik Kamichitis, 1965
Kathleen A. Kanavy, 1976
Brian Kane
Chris Kane
Kathleen Kisel Kane, 1976
Noreen Shea Kane, 1964
Dr. David Kang
Jason and Elissa Kanterman
Marie McAndrew Karam, 1970
John and Dana Karavias
Marsha Creedon Kashner, 1966
The Katyl Agency
Michael H. Katz
Margaret L. Kearney, 1969, M.S.W. 1972
William, Esq., and Virginia Plumb Kearns, 1966
Janette Dixon Kelly, 1972, Ph.D.
Msgr. Joseph P. Kelly, M.S.W. 1975
Marilyn C. Kelly, 1976
Patricia King Kelly, 1972
Deborah Falchek Kelsch, 1975
Elizabeth White Kemple, 1958
James and Sandra Holman Kenosky, 1973
Kent W. Kesecker, 1980
Marianne Quinn Kester, 1969
Mary Alice C. Kilcullen, 1957
Elizabeth Kilker, 1987, and John F. Kennedy
Rev. John J. Kilpatrick
Barbara Williams Kimmich, 1969
Sandra Abda King, 1969, M.D.
Rayven A. King-Gray, 2014
Theresa McGuire Kinne, 1965
George Klein
Stephen and Tracey Klemick
William M. Klien, Jr., 1980, M.S. 1983
Michelene Klim, 1995, M.S.W. 1996
Ryan Klubeck, M.S. 2015, and Elizabeth Grimes, M.B.A. 2016
Knowles Associates Insurance Consultants
Michele Memolo Knowles, 1981
Christopher Koerner
Nancy Dranichak Kohudic
Andrew and Deborah Kohut
Mary Jane Ferrett Koons, 1965
Geraldine Morgan Korenda, 1968
Laurence S. Kosowski, 1984
Judith Harrity Kosydar, 1980
Alexandre N. Kotchnev, 2002
Marion Kovacs
Jill M. Kovalich, 1984
June A. Kozloski, 1982
Rebecca A. Kozlosky, Ph.D. 2009
Vera Kowal Krewsun
Suzanne R. Kroboth, 1971
Esther Anderson Krochta, 1978
Cathleen Kenney Kruse, 1967
Jack and Peggy DeVivo Kubash
Bruce and Lori Kugler
Debbie Kuo, 1995
Charles and Jennifer Kurian
Anita Gasparovic Kuzas, 1964
Madelyn Vanston Kvidahl, 1973
David, 1990, and Teresa Connor Lacey, 1991
LaCoe Enterprises Inc
Sarah Helen LaCoe, 2000
Thomas LaFemina
Stephen and Elena Lalik
Robert E. Lamb, Inc.
Howard and Patricia Lambert
Virginia Minarelli LaMotta, 1964
James and Linda Lane
Norman and LaTangie Lane
Suzanne Lange
Susan Barnes Langhorne, 1971
Patricia Rossiter Langrell, 1963
Frank and Rosalie Wladyka Larkin, 1963
Thomas Laskowski
Jessica Lauren, M.S. 2015
Mary Kearney Lavin, 1966
Raymond and Amy Lavo
John and Nancy Neary Leahy, 1988
Grace Boardman Leighton, 1980
Mary Valentini Leitzel, 1982
Nancy Swistak Lengler, 1979
Krista Leo
LePage Family
Barry and Mary Wenner Lerman, 1971
Earl C. Lewis, Jr.
Marie A. Littell, 1993
Little Star Productions
Elizabeth Moran Liuzzo, Esq., 1977, M.S.W. 1978
Kenneth and Joan Ratchford Lloyd, 1962
LMEPAC Charity Match Program
Edward Loch
Brian Locker
Mary Walsh Lomax, 1977
Judith Salvin Long, 1964
Richard and Mindy Barrett Longstreet, 1993
John Lotito
Margie Biagioli Loughney, 1973
Julie Johnson Loven, 1970
John Luchonok, Jr., 1999
Luckenbill Law Group
Margaret N. Luddy, 1965
Donna Herrman Luff, 1980
Camille Puzycki Lukasik, 1977
Othniel E. Lunan, M.S.W. 2009
Joanna Ciofalo Lynn, 1967
Karl and Sarellen Lynott
Noreen Machelli Lynott, 1967
Maria Fiorino Lyons, 1966
Timothy and Marianne Gavigan Lyons, 1976
Joseph and Kathleen MacKenna
Mary Ann Macri
Rich and Judy MacRone
Nancy Connors Madej, 1968
Margaret Madigan-Caulson, 1964
Maureen Collins Maher, 1967
Patrick R. Maher
Mark and Vita Malinak
Richard and Mary Jane McGrath Mangan 1966, M.B.A. 1990
Dolores M. Manganella
Joseph and Mia Manna
Kacy P. Manning
Mannings Mobile Ice Cream Shoppe
Dominick and JeanAnne Manzo
Mary Bauer Mapleson, 1962
Joseph Augustine and Cynthia Marlow
Helen Wysocki Marsicano, 1957
Ann Yacka Marsteller, 1972
Kevin Martin
Mary Loftus Martin, 1971
Joan Balcerzak Martini, 1963
Rich Martino
Ulla H. M. Martz, M.S.W. 1997
Armond T. Mascelli, M.S.W. 1977
Barbara A. Maslak, 1972
Michaelene Ketchur Mastriani, 1961
Jon and Daynis Masur
Mario G. Matrone
Ellen Bewick Matthews, 1971, M.S. 1975
Mikayla E. A. Matthews, 2021, M.S. 2022
Rowland C. Matthews
Elizabeth Connor May, 1968
Pia Buratti Mazzarella, 1967
Thomas and Ann Marie Brunetti McAndrew, 1962
Toni Siock McAndrew, 1988, M.P.A. 1992
Ed McBurnie
Donna McCabe
Frank and Kathleen McCabe
Helen Barrett McCarthy, 1964
Joan Weiss McDonald, 1967
Patrick and Patricia Quinn McDonnell, 1968
James and Jill McDonough
Jeffrey and Michele McDonough
Abbey N. McGee
William C. McGinley
Charlene Carter McGowan, 1958
McGrail, Merkel, Quinn & Associates
Megan McHale, 1994
Donna Mulvihill McMahon, 1968
Patricia Flaherty McQuade, 1969
Francis and Ruth McSherry
Maryann Brady Meade, 1963
Kathryn F. Meagher, 1958
Paul and Sandra DeRiggi Meagher, 1967
Renee Malone Meath, 1988
Susan Vaughn Mecca, 1980, M.B.A. 2001
Michael and Mary Medici
Catherine Lubinski Medina, 1969
Christine Medley
David and Pamela Meek
Gina Mercurio Meissler, 1997
Katherine A. Mellody, Esq., 1969
Mary Ann Morrell Mellody, 1978
Kevin and Jacqueline Melly
Paula Mesaris, 1988
Paula Santa Maria Meseroll, 1980
Christian K. Miccio, II
Joseph and Dolores DiRienzo Michalczyk, 1970
William, 2006, and Melissa Everitt Michlowski, 2007
Carol Myslewicz Middleton, 1977, M.A. 1980
Mike's Scrap Recycling
Aida Ibradzic Milcetic, 1998
Joanne Nerger Mild, 1990
Caroline D. Millen, Ph.D. 2021
Barbara Ann Miller, 1961
Susan Weber Miller, 1969
Johnathan and Kerry Milnes
Elizabeth Waters Minchak, 1965
Sara Miraglia
Alex Molfetas
Ernest and Susan Mondics
Linda Quartiero Mongeau, 1970
Joyce Hakes Montanaro, 1971, M.S. 1973
Deborah Chavis Moore, 1974
Jill P. Moran, 1983
Michael Moran
Sally Morcos, Psy.D. 2010
Eric L. Morin, 2020
Leo and Nicole Morin
Brandon J. Morley, 2019
Linda Fuscaldo Morris, 1963
Patricia Flaherty Morrissey, 1965
Sheryl L. Brown Moss, Esq., 1987
Barry and Helen Moyer
Betsey Brown Moylan, 1973
Thomas and Rosemary Skala Muldoon, 1969
Margaret M. Mulrooney, 1983
Francine Munkacsy
Nancy Cullen Munley, 1975
Dominick Muracco
Patricianne Murnane, 1962
Judith Pilch Murphy, 1969
Patrick R. Murphy
John, 1979, and Elizabeth Small Murray, 1975, M.S. 1979
Michael J. Murray
Tyrone and Crystal Muse
Benjamin J. Mustakos
Steve and Leila Mustakos
Robert E. Myefski, M.S. 1975
Thomas and Mary Lynne Van Guilder Naples, 1965
Nearra's Pizzeria
Sandra Neeb
Wanda Newman-Johnson
Jennifer Sharer Newton, 1995, M.B.A. 1999
Isabella Buckley Nobilski, 1957
Dolores C. Nolan, 1977
Northeastern Security Systems
NovaCare
Irene Walsh Nunnari, 1963, Ph.D.
Barbara O'Reilly Nutt, 1969
Kate O'Boyle, 1976
Drs. Ed and Jean O'Brien
John, Esq., and Sally O'Brien, Esq.
Thomas and Patricia Porro O'Brien
Michael and Carolyn Terrery Occulto, 1961
Christine M. O'Connor, 1993
Kate A. O'Connor
Albert P. O'Donnell Funeral Home
Etmara Smith Offe, 2005
Nancy O'Hare
Michael J. O'Keefe
Lydia Palermo Oliveri, 1963
Barbara Zwick Olsheski, 1980
Margaret R. O'Neil, 1965
Jeffrey and Margaret O'Neill
Barbara Cottell Oney, 1957
Andrea Jean Oravec, 1996, M.S.W. 1997
Leann C. Ostrow
Chelsea E. Outman, 2016
Ozane Inc.
Amy Paciej-Woodruff, Ph.D. 2011
Rita Zirpolo Padden, 1973
Harold and Meredith Page
Mary Crisci Paladino, 1980
Louis T. Palmeri, M.S.W. 1979
Annette Talkevich Palutis, 1959
Renee Giacomini Paolantonio, 1952
David and Ana Paramo
Ann Marie Paris, 1995
Louis Pasqualicchio, 2013, and Carolyn Bonacci
Marion Rutledge Passante, 1965
Marion R. Patterson
Mary McAllister Payne, 1969
PDR Construction and Home Remodeling
Christina Zavrotny Pearson, 1981
Samantha N. Peck
Peculiar Kitchen
Gerald and Mary Seirmarco Peden, 1961
Danette Smith Penenburgh, 1978
Joseph, Esq., and Marilee McGraw Pennington, 1975
Francisco Perez and Grace Vega
Corey S. Perkins
P. Joseph Perrotti, D.M.D.
Emily M. Perruso, 2015
Anthony, M.D., and Emily Savino Perry, 1961
Peter and Mary Lou Johnson Persuitti, 1975
Charles and Sheila Berry Petras, 1982
John and Sandra Phillips
Dr. Patricia Gimber Phillips, 1964
Joseph Pichiarello, 1988
Kristen Piscadlo
Robert C. Piurowski
Pivot Physical Therapy
Glenn and Elizabeth Plokhoy
Joan Lammerding Poet, 1970
Narad Pokhrel, M.H.S.A. 2014, Ph.D. 2022
Sharon Martin Pompey, 1983
Kathryn McCormack Popien, 1983
Porter Plus Realty
Potter Associates, Inc.
Patricia A. Potter
Todd T. Pousley, 2007, M.P.A. 2014, and Linnette F. Reidmiller, 2006
Mathew and Sandra Povse
Melinda Ghilardi, Esq. and Sidney J. Prejean, Esq.
Michelle Fenton Price, 1993
Sarah Barnasconi Price, 1957
PrimeMed, P.C.
Patricia M. Priolo, 1964
Marilyn Krastek Prybicien, 1984
Nieves Puente
Patricia Puorro
Kyle and Jennifer Purdy
Jean Kinney Quinn, 1989
Tom and Carol Rachael
Elaine Starrett Radcliffe, 1958
Anthony and Renee Raffino
Nancy J. Ramsberger, 1972
Mariane Chiles Randall, 1981
Barbara Raspanti
Rori Ann Ray, 2004
RBJI Inc Rosarios Pizza
Kathleen Reap
Robert L. Redcay, M.S.W. 1984
Esther Babyar Redding, 1979
Reeds Appliance Repair
Evan, M.D., and Rosemary Barr Reese, 1965
Gerrie Szakmeister Reis, 1963
Mary Walsh Rekus, 1963
Paul, D.O., and Christine Loftus Remick, 1973, M.A. 1989
Rinaldi & Poveromo, P.C.
Rinaldi Holding Co.
Raymond and Rosemarie Rinaldi
Dr. Thomas and Joyce O'Malley Rittenhouse, 1958
David L. Ritter, M.P.A. 1977
Beverly A. Robertson, 1979
Albert J. Roessler, 1986
Gilberto and Jacqueline Rolon
†† Gilbert and Susan Rolon
†† Mariann Judge Rosar, 1982, M.S. 1996
Toby Rosekrans and Elizabeth Emig-Rosekrans
Sophie Rosenfeld
Lisa Metallo Ross, 1978
Ross-McDonnell Optical
Patrice McDonald Rowbal, 1989
Mike Ruane
Mary Fitzgerald Rubinstein, Esq., 1965
Mark J. Ruddy, Jr., 2004
Morgan C. Rulison, M.S.W. 2014
Rev. William G. Rushik, M.A. 1988
James Rushworth
Michael F. Russin
Jason A. Russo
Sebastian and Robin Russo
Ellen Spillane Ryan, 1963
Mary Anne Ryan, 1988, M.S.W. 1989
Susan Wren Ryan, 1983
Heather Ryder
Juliette M. Saadi, 1964
Anita M. Sabia, 1983
Karen Krompasky Safko, 1972
Gregory A. Salitis, 1989
Darlene Saltsman
Marie Yeager Samaha, 1968
Merle B. Sandly, 1980
Sandos Whole Life Center for Health LLC
Kelley Saneman
Tony and Deborah Saneman
Zachary S. Saneman
Brian and Jennifer Sarafinko
Nancy Lewis Satterwhite, 1977
Patricia Werner Savage, M.S.W. 1976, Ph.D.
Raffaele Scalzi
John Scanlan
Jason Scarborough
Mary Ann McGovern Schetter, 1960
Gene Schiappa
Rosalinda Ginepra Schleim, 1968
Nathaniel and Tanya Schock
Jennifer Chrisman Schoenly, 2004
Deborah Miller Schreiber-Ott, 1964
Carl W. Schweizer
John E. Scibello
Maureen Quinn Scolere, 1970
Ms. Lisa Scotto
Scranton/Wilkes-Barre RailRiders
Carol Mancini Scrimalli, 1980
Joan Haney Segally, 1975
Susan J. Semple, 1970
Agnes Fidati Senn, 1949
Linda McDonnell Serplus, 1967
Christine Plonski Sezer, 1968, Ph.D.
Daniel and Joanne Shaheen
Michael and Denise Shearon
Jennifer Sheehan
Patricia Sick Sheehan, 1970
Sheet Metal Workers International Association Local Union 44
Betsy McCormick Shields, 1958
Jean M. Shields, 1971, M.A. 1985
Erik V. Shirvanian, 2019
Linda Olsen Shirvanian
Chris Shrader
Rena Bartell Shull, 1964, Ph.D.
Msgr. Constantine V. Siconolfi, M.S. 1983
Karen Anne Silvestri, 1980
Joyce Zakierski Simmons, 1970
Mary Ellis Simon, 1964
Janet T. Skiba, 1959
Dorothy Horan Skierski, 1969
†† Lawrence, M.S.W. 1972, and Katherine Sklaney
John, 1981, and Elizabeth Slanta
Mary Grace Murdock Sloan, 1957
Elizabeth Rafferty Slover, 1964
Gregory Slusser
Jean Casey Smith, 1950
Kathleen Clarke Smith, 1966
Mark and Brandy Smith
Mary Ann Mackrovitch Smith, 1956
Philip J. Smith, 1981
Tyler R. Smith, 2018, M.B.A. 2019
Jon and Carrie Snell
Joanne Smith Snyder, 1973
Faith Walsh Snyder, 1967
Societe Generale
David and Mary Louise Sodl
Connor S. Soles, 2019
Charles and Eileen Sorce
Martin S. Sowa, M.A. 1980
Hunter L. Sowersby
Kevin Sowersby
Specialty Physical Therapy LLC
Christopher, M.B.A. 1995, Ph.D., and Ann Lawlor Speicher, 1983
Matthew Spengler
Spices on the Green
Carlene Brogna Spitzer, 1993
Heather Spurley
Brenda Staerker, 2013, M.S.W. 2018
Sam and Lisa Luger Starr, M.A. 1987
State Street Grill
Stephens Pharmacy
Sara K. Sterchak, 2021
Tracy Sterner
Eric A. Stewart
Dr. Linda Yacone Stewart, 1971
Sherry Suereth Stine, 1985
Elaine Faleskie Stoback, 1962
John and Stacy Stollsteimer
Susan Olszewski Stone, 1974
Gabriel D. Stover
Sheila Maughan Stozenski, 1958
Ann Marie Reynolds Streeter, 1983
Jane Strobino, D.S.W.
Joan McHugh Stroud, 1959
Alfred and Marie Strouse
Elizabeth Brill Strubel, 1969
Paul J. Strunk
Marianne Sughrue
John Sukel
James J. Sullivan, RA, AIA
Kenneth and Eileen Sullivan
Maureen A. Sullivan, 1978
Judith Matter Sultzbaugh, M.S.W. 1986
Brian and Cynthia Sumner
Suppo Provisions, LLC
Michael and Christine Svanson
Soren L. Svanson
Patrice B. Swartz, 1982
Elizabeth Messina Sweedo, 1971
Charlie Sweeney
Thomas and Mary Culkin Sweeney, 1970, M.S. 1975
Marie Swyka
Edward Philip Syron, Ph.D., 2009, Lt. Col. (Ret.)
Barbara Szefc
Martina and Marian Szotak
Vincenzo and Linda Talarico
Tricia Tanguay, 1976
Ben and Nancy Tefertiller, 1962
Texas Instruments Foundation
TGI Friday's Dickson City
Mary Hogan Theobald, 1961
Christopher J. Thiel
Linda A. Thiel
Catherine Polasky Thomas, 1964
Shannon Thomas
Jerry, Lisa, and Richard Thorpe
Mary Ann Tierney, 1965
Justin and Anna Tighe
The Most Rev. James Clifford Timlin, DD
Marilyn Martell Tinter, 1956
Peter and Ann Tisi
Christopher J. Tobin
Dana Tofig
Mary Parise Tomaine, 1969
Joe and Donna Tomel
Mary Breen Toner, 1965
Christopher and Laura-Ann Tordy
Tara Torello-McClanahan, 1999
Christine Torian
Denise Tornabene
Mary Kathleen Torre, 1996
Traditional Home Health Care
Nicole DeNero Traeger, 2001
Richard D. Tranovich, M.S.W. 1976
Travel World
Msgr. David L. Tressler, M.S. 1990
Dana Trokel
James and Julie Dougherty Trott, 2012
John, 1980, and Jean Trotter
Joseph E. Troy, 2001, M.B.A. 2007
†† David Tucker
Kielty Turner, D.S.W.
Amy Lampman Twist, 1994
Two Italian Guys Pizzeria
Ufberg & Associates LLP
Robert Ufberg, Esq.
Patricia Hageman Ungaro, 1969
Leander Hall Uvary, 1999, M.S.W. 2003
Caroline Pulice Vadala, Esq., 1978
George and Mary Ann Zukauskas Van Dyk, 1968
†† Dale, 1980, and Shirley van Fossen
Rosanne Evans Moran Van Heertum, 2001
Jeffery L. Van Horne
Ann Kendrick Van Malderghem, 1969
Angela Brady Van Ness, 1968, M.S. 1972
Michael A. Vanacore-Netz, 2009
Nancy Vander Eyk, 1969
William C. Vanston
Holly Vaughn
Michael and Coleen Ventricelli
†† Kay Welker Vergnetti, 1963
John and Carol Fruehan Jones Verrone, M.S. 1980
Carlos Villamil
Vincenzo's Pizzeria
Robert and Marcia Rupp Vogel, M.S. 1982, Ph.D.
Sara Vosinakis
Michele Wagner
Dolores Chalone Walrath, 1969
Lewis and Mary Ellen Hanlon Walsh, 1970
Margaret Anne Walty, 1967
Marian Gaza Wanielista, 1973
John and Deborah Ward
Kevin Ward
Marietta Scalise Warnitsky, M.S.W. 1991
Dawn Russo Warshay, 1969
Brenda Watson
Terence J. Watson, Jr.
Rev. Estelle C. Webb, 1989
William and Catherine Webster
Ann Mineur Weeks, 1967
Alfred, Esq., and Catherine Houlihan Weinschenk, 1971
Jean Pascoe Weinschenk, 1968
John and Connie Weiss
Christine Yachna Wendoloski, 1972
WePay
Brendan and Caitlin Heaney West, M.A. 2012
David and Laura Perez Westfall, 1996
Jane Slota Wetzel, 1972
David and Mary Louise Tuite Weymann, 1986
Lisa Wheeler
Luanne Kromko White, M.B.A. 2009
Mary Davis White, 1962
Patrice Liddington White, 1980
Irene Pettigrass Wiehe, 1960
Susan L. Wilkins, 1992
Jane Ann Willchock, 1972
David and Ann L. Montoro Williams, 1984, M.A. 2007
James Williams
Jeffrey, 2001, and Nicole Castellani Williams, 2001
Joseph Williams, Jr.
Mary Ann Bezares Wimmer, 1963
Elizabeth Grady Wiorowski, 2003
Carl, M.S.W. 1977, and Mary Witkowski
Arlene Fiegleman Wizwer, 1968
Susan C. Wohlbach, 1973
Mindy MacRone-Wojton, D.Sc., and Henry Wojton
Lindsey L. Wotanis, Ph.D.
William W. Wray
Keith and Kelly Wren
Steve Wren
Joan Lay Wright, 1964
Therese L. Wright, 1949
Joseph and Dolores Wulko
Mary Pamela Slowey Wychunas, 1964
James and Jenifer Wyers
Kilie S. Wyers, 2022
Michael and Melinda Yacuboski
Mary Yanish-Keiper, 1970, M.S.W. 1972
Rebecca Rosette Yerxa, 1982
York Ballers
Joshua E. Young
Charles Youngken
Sister M. Janet Yurkanin, IHM, 1971
Jay and Sandra Antenori Zahner, 1965
Beverley Zarnowski, 1967
Dawn Zatorski
Barry and Brenda Zeglen
Austin A. J. Zehel, 2019
Robert and Patricia Zendarski
Paul and Jan Zieger
Ronald and Joan Ziegler
Marielle C. Zuccolo, 2006
Donald E. Zwick, Jr., 1982
Anonymous
Bruce A. Abbott, Jr., 1992
Sister Elizabeth Monica Acri, IHM, M.A. 1993
Tamra Adam
Mayra Adames
Jo Ann Calvario Adams, 1971
Arnold and Marlene Korczakowski Adams, 1976
Sister Mary Ann Adams, IHM, 1965
John W. Adonizio
Aram Aghababian, 2022
Melanie A. Akins
Keana N. Albert, M.S. 2022
Alicia Albright
Lauren Tyrrell Albright, 2009
Sister Jeanne Albrittain, IHM, 1962
Sister Christina Aldarelli, IHM, 1966, M.S. 1978
Thomas Alder
Ed and Kristin Aldridge
Dr. Patricia R. Allaire
Elizabeth Schron Allen, 1970
Marta DeVirgilio Allen, 1956
Loretta Aloise
Sister Robert Marie Alston, IHM, 1969
Amazon Smile Foundation
Cheyenne Amick
Brennan Anderson
Jennifer E. Anderson, M.S.W. 2007
Karen Anderson
Sister Mary Elaine Anderson, IHM
Elizabeth M. Andrzejewski, 2016
Matthew Angelo
Noelie Kilmer Angevine, 1963
Mary Ann FitzPatrick Anslow, 1955
Harry and Norma Antonelli
Lisa Antoniacci, Ph.D.
Jamie Anzaldi
Mary Jo Anzaldi-Foster
Audrey Albini Archer
Valeria Arias
Sister Susan Armbruster, IHM, 1983, M.S. 1991
Savannah Maria Armijo, 2008, M.A. 2012, Ed.S. 2013
Keith D. Armour
Erica L. Armstrong
Mary Jo Arthur, 1984
Maryann Asher
Robert and MaryAnn Siedlecki Ashton, M.S. 1978
William David Attick, M.S. 1975
Maria Aumick
Judey Austin
Tyler G. Austin
Gregory Averill
Joseph Averill
Judy Averill
Rocco and Christine Dende Averto, 1973
Wayne and Nancy Avery
Mina Aziz, 2022
Sister M. de Montfort Babb, IHM, 1954
Gina Babcock, 2020
Kathleen Simko Babich, 1969
Bernard and Eleanor R. Babonis, M.P.A. 1984, Ph.D.
Sister Jean Louise Bachetti, IHM, M.S. 1989
Sister M. Gracette Baker, IHM, 1961
Constantin Ballos
Kevin J. Bandru, 2000
Sister Dolores M. Banick, IHM, 1967
Marie Rice Bannister, 1962
Judith Murray Barberich, 1968
Genevieve Barchak
Susan Barger
Maj. Anne M. Barlieb, 2004
Wesley and Rose Picca Barnshaw, 1978
Don Barrington
Andrew J. Barry, M.S. 1974
Kathleen M. Bartlett, 1984
Susan Audrieth Bartolone, 1965, Ed.D.
Mary Murray Barton, 1957
Christopher Basile
Sister Joan M. Bastress, IHM, 1980
Kenneth and Charlene Batchelor
Karen McAndrew Battaglia, 1969
Mary Theresa Benner Beatty, 2006, M.S. 2010
Dorothy Zientek Beaulieu, 1967
Clare Guerrise Bechtel, 1968
Elizabeth Barlow Bechtel, M.S.W. 1987
Louis and Suzanne Bechtle
Amy Ziegler Beck, M.S.W. 1988
Richard and Patricia Kreidler Behles, 1972
Carmen Bellizzi
Jim Bellizzi
Paul and Jean Bellucci
Sister Ann Belz, IHM, 1968
Lawrence and Sangeeta Benbow
Edith Cooper Bender, M.S. 1971
Steven and Helen Benedict
Darlene F. Benjamin, 1996
Stephen C. Bennett, M.S.W. 1975
Sister Ann Berendes, IHM, 1967, M.A. 1979
Dee Marie Bernhardt, M.S. 1988
Ira A. Bernson
Vanessa Bertot
Gloria Dusza Bessette, 1967
Barbara Coleman Best, 1968, M.S. 1974
Andrew Bethea
Michele Bevans
Keith and Angela Beyer
Mary Daley Bharkhda, 1976
James B. Biagi, J.D., C.P.A.
Judith Bowen Bianco, 1960
Carol A. Biase
Carolyn J. Bidwick
Michael and Ronna Bievenour
Dorothy Thie Bintz, 1968
Sister M. Carlita Bird, IHM, 1966, M.S. 1977
Monica C. Bixby, 2011
Robert and Laura Kurland Black, M.S.W. 1982
Eric and Bridget Blackshire
John and Heidi Blackshire
Billie Blackwell
Mary Elizabeth Woodward Blackwell, 1980
Molly Moore Blessington, 1998
Carrie Kohler Block, 2004
Bob and Donna Bluff
Joseph, 1986, and Lisa Barrett Bobinchock, 1975, M.B.A. 1991
Alice Bobotas
Thomas M. Bock, 1980, Ph.D.
Sister M. Carleen Boehlert, IHM, 1953
Nancy Bohan, 1970
Lydia Darocha Boileau, M.S.W. 1978
Christopher Boland
Ann Cancelli Bonanni, 1975
Anne Marie Bonomo, M.S. 1974
Anne McManus Borent, 2004
Marianne E. Borja, Ed.D.
Ghislaine Scutt Borno, 1954
Vincent and Julann Borrelli
Sister Anne Mary Boslett, IHM, 1964, M.S. 1977
Norma L. Bottone, 1956
Michelle Boughton
Kim Bounds
Kellie Bower
Sister M. Leonnette Bower, IHM, 1961
Kathleen Mangan Bowman, 1983
William and Jean Boyer
Annette Lencovich Boyle, 1991
Rhea M. Boyle
Judith A. Bozzo
Copeland and Judith Bradford
Charles and Elizabeth Brady
Sister M. Josaire Brady, IHM, 1959
Alexander J. Branam, M.A. 2021
Carol Kollonige Brelish, 1970
Ann Rutledge Brennan, 1961
Mildred Naglak Brennan, 1961
Alaina N. Brenneman, 2022
John and Anne Brixius
Joyce E. Brobst, M.S. 1977
Sister Mary E. Broderick, SHCJ, M.S. 1979
Paul and Ellen Broderick
Steven Brookens
Katherine Starr Brotman, M.S. 1981
Kelly Brough
Doug and Lynne Brown
James M. Brown
Linda Watts Brown, 1964
Warren Brown
Frederick and Sherrolyn Mason Bruner, M.S.W. 1984
Isabella Annette Bruno, 1963
Cassie Bryce
Sister Ann Monica Bubser, IHM, 1972
Robert and Sandra Buchman
Sister Lois Buckley, IHM, 1973
Christian J. Budney, 2013, M.S.W. 2014
Joseph and Ann Marie Budney
Stephen A. Bugno
Sister Elizabeth Edward Mary Bullen, IHM, 1967, M.S. 1980
David M. Bulzoni, M.P.A. 2021
Susan Bigney Bunzey, 1977
Linda Powell Burgerhoff, 1964
Jacintha Krupinski Burke, 1975
John and Angeline Burke
Judith Pish Burke, 1964
Kellymarie Burke
Margaret M. Burke, 1973, M.S. 1982
Elizabeth M. Burkhauser, 1968
David and Patricia Burnett
Sister Kathleen Mary Burns, IHM, 1977, Ed.D.
Mary Joan Burns, 1981
Sister Regina Burns, IHM
Kathryn Blanchard Busen, 1966
Niklaus Buskirk
Bobbie Jean Barron, 2004
John and Alma Butler
Molly G. Butler
Nancy E. Button, M.S. 1979
Kathleen Byrne
Oneisha Cabrera, 2022
Mary-Ellen Ponessa Cacioppo, 1973
Georgeann Chemchick Calabro, 1972, M.S. 1978
Kevin and Erin Callahan
Gail A. Calomino, 1975, M.S. 1981
Roberta Cecci Cammer, 1990
Sister Grace Campbell, IHM, 1967, M.S. 1976, M.S. 1990
Sister Mary Barbara Campbell, IHM, 1957, M.S. 1971
Paula M. Canivan, 1968
Margaret McHale Cantafio, 1981
Claire Gregory Canto, M.S.W. 1986
Kristen A. Capitano
Penny Cappuccino
Thomas and Christine Caputo
Sister M. Marguerita Carbone, IHM, 1956
Rose Marie Nealon Carden, 1956
Darren and Kerry Cardone
John and Agnes Cardoni
Janet L. Carey, 1990
Donna Carleton
Gaye Carleton
Brandon M. Carlson
Sister Ellen Carney, IHM, 1969
Maria Carroll
Natalie Carroll
Lisa Pelucacci Carrozza, 1990
Christopher Carty
Mary Errico Casebolt, 1993, M.A. 2004
Shannon C. Casey, M.A. 2019
Alice M. Caulson, 1975, M.A. 1986
Sister Beatrice Caulson, IHM, 1966
Ann Marie Neary Cerra, 1976
Kathleen McGee Cerra, M.A. 1985
Jami Cerrato
Amanda Cervenka
Enrico Cesarini
Lynne Cesarini
Thomas, 1982, and Irene Kosiarski Cesarini, 1981, M.S. 2006
Rev. Thomas M. Cesarini, M.S.W. 1972
Joseph Chacke
Christi Chamberlain
Jordan Chandler
Sharon M. Chapman, 1986
Sister M. Helen Ann Charlebois, IHM, 1967
Melissa Charlesworth
Dale, 1977, and Ann Boland Chase, 1979
Meril D. Chaskin, 1975
Pradipta Mukherji Chatterji, M.S. 1980
Sister Louise Checchi, IHM, M.S. 1983
Mary Ann Hudgick Chegezy, 1971
Valray Wills Cheripko, 2005
Christine T. Cherr
MarieAnn McCue Cherry
John and Mary Chichilla
Judy Allegrucci Chickillo, 1972
Barbara Sochovka Chisdock, 1986, M.S. 2008
Naomi L. Chopyak, 1973
Bernard C. Cicchetti, 2002
Peter and Jacqueline Cicchetti
Antonio F. Cicco, 2020
Sister Josephine Cioffi, IHM, 1968
Eileen A. Cipriano
Amanda Clancy
Ann Therese Clark, 1962
Ehrin Faulborn Clark, 2012, M.A. 2013
Matthew G. Clark, 2012
Catherine Walsh Clarke, 1959
Sister Katie Clauss, IHM, 1973, M.A. 1982, Ph.D.
Carol J. Cleary, 1980, M.S. 1992
Donna Ide Clemens, 1982
Patricia Welch Cliber, 1960
Mary Ann McNulty Clifford, 1973
Richard, 2012, and Emily Weary Clifford
Sister Eileen Clinton, IHM, 1967, M.S. 1972
Lisa Clowes
Anne Rowland Clymer, 1974
Raymond E. Clymer, Jr., M.P.A. 1982
Luciana Coar
Angela B. Cobb
Sister Mary Ann Cody, IHM, 1969
Karen Coffey
Maureen Cohen
Andrea L. Cole, 1998
Danielle Colella
Theresa Colells
Sister Eileen M. Coleman, IHM, 1964, M.A. 1992
Isabella L. Coleman
Edward, M.S.W. 1977, and MaryClaire McCormack Coleman, 1976, M.S. 1995
Sister Marionette Coll, IHM, 1948
Suzanne R. Colley, M.S.W. 1992
Celeste von Ahnen Collier, 1993
Chelsea T. Collins, 2012, M.S.W. 2017
Georgine C. Collins
Lisa M. Collins
Sandra Petrucci Collins, 1972
John and Elizabeth Moleski Colonna, M.S. 1985
Pauline Quinn Comerford, 1959
Gabriella C. Comes
Janice Lynn Comes, 1993, M.S. 2002
Sister Jean Conaty, IHM, 1959
Sister M. Alphonsa Concilio, IHM, 1954, 1966, M.A. 1977
Maria Scrimalli Condron, 1979, M.S.W. 1980
Elizabeth A. Connery, M.P.A. 1999
Sister Jane Marie Connolly, IHM, 1965
Barbara McGonigle Connor, 1975, M.S. 1983, M.S. 1990
Mel Connor
Michael and Anne Campbell Connor, 1973
Sommur Dougher Connor, 2000
Katherine Herbster Connors, M.A. 2014, Psy.D. 2017
Phoebe Littell Coolican, M.S. 1977, M.S. 1990
Lisa A. Cooper, 2000
Cooper's Seafood House, Inc.
Joe Coradetti
Frank and Carolyn Cordaro
Mark and Teresa Ann Pascucci Cordelli, 1983
Rita Gedraitis Corey, 1972
Kimberly Elizabeth Corona, 2014
Frances M. Correa
Sister Catherine V. Corrigan, IHM, M.S. 1977
Daniel B. Cosacchi, Ph.D.
Mary Gleason Costabile, 1964
Sister Mary Elizabeth Costello, IHM, 1958, M.S. 1975
Joseph D. Costira
Gary, 1995, and Elizabeth Horan Controneo, 1995
Ann Hoffman Cotter, 1965
Brian Cotton
Mark and Donna Cotton
Sister Jean Coughlin, IHM, 1971
Susan Pierce Couture, 1976
John, 1999, and Deborah Killino Coval, 1996
James and Mary Ellen Reilly Coyle, 1973
Sister Mary Ellen Coyne, IHM, 1974, M.S. 1983
Steven C. Coyne, 2017
Tracie Craig
Sister M. Helen Ann Cranston, IHM, M.S. 1986
Creative Embellishments INC
Kevin P. Creegan, Ph.D.
Josh Croll
Patrice M. Cronin
Timothy Cronin
Sister Maureen Cryan, IHM, 1950
Andrea Cost Cucura, 1969
Lisa M. Cuffaro, M.S. 1997
William F. Cullen, Jr., M.S. 1983
Robert J. Culver and Frances C. DeGennaro-Culver
Rory Cummings
Alan and Mary Pat Meehan Cunningham, 1983
Margaret Durkin Curtis, 1960
Wilson and Cheryl Freeman Curtis, 1972, Ed.D.
Elaine Schaad Daglio, 1961
†† Sister Maureen Dailey, IHM, 1966
Elinor W. Daley, 1959
Scott W. Dalgliesh, M.P.A. 2009
Leonard and Mary Ann Lambrigger Dammers, 1961
Mary Ellen Neeson D'Angelo, 1965
Darrin and Dorothy Daniello
Marisa Germaine D'Annibale, 1976
Ciera Darmock
Amy Grocki Dastgheer, 2007, M.A. 2010
Joseph and Florence D'Auria
Peter and Dinorah D'Auria
Nana Pressman Davenport, 1957
Tricia Davies
Joseph and Gail Davis
Sister Mary Dawson, IHM, 1965
Danielle Day
Sarah Curtin De Vincentis, M.S. 1971
Jessica Dean
Patricia Brilla Dean, 2002
Brian M. Deane, 2021
Melissa Deangelo
Nancy Coyle Decandis, 1967
Sister Nancy DeCesare, IHM, 1978, M.S.W. 1981, Ph.D.
Renee M. Dech, 1975
Mary Ann McElwee DeCusatis, 1973, M.S. 1988
Janet I. Deegan
Jeanne M. DeFazio, 1970
Alexander DeFrance
Bianca DeGennaro
Anthony and Andrea Del Guercio
Catherine Regan Delaney, 1963
Sister Suzanne Delaney, IHM, 1968
Conrad and Sheryle Delewski
Mary Lynn Delfino, 2004
Michele Pierre DelPrete, 1991
Nicholas DeMaria
Nicholas and Margaret DeMaria
Ronald and Jane DeMarino
Amelia M. Demasi, 2016, M.S. 2017
John, M.A. 1979, Ph.D., and Terry Redmond Dempsey, 1973, M.S. 1977
Marjory Dillon DeSantis, 1971
Sister Ann Barbara DeSiano, IHM, 1968
MaryLou Costa Devers, 1949
Amy Welcome Devine, 2010, M.S. 2012
Mearalyn McGuigan Devine, 1952
James and Meghan DeVito
Sister Agnes Mary Devitt, IHM, 1965, M.S. 1976, M.S. 1994
June Devivo
Sister M. Ann Rosalia Devlin, IHM, 1972
Jenna Dickey, 2020, M.B.A. 2021
William and Melissa Diehl
Sister Rose DiFluri, IHM, 1973
Carolyn Ann DiMarcello, 1965
Louis and Catherine DiMattio
Claire Hines Dishlip, 1969
Sister M. Monique Dissen, IHM, 1966
Linda DiToto, M.S.W. 1981
Sister Damian Marie Dlugos, IHM, 1959
Mary P. Dolan, M.S.W. 1977
Greg and Audra Doll
Raul and Karina Dominguez
David C. Donati
Karen A. Donati
Talia Donati
Allison Dondero
Sister Jacquelyn Donohue, IHM, 1965, M.S. 1974
Sister M. Anysia Donohue, IHM, 1965
Marie Roche Donovan, 1969
Anne M. Doonan, 1963
Susan Loss Doran, 1969
Sister Vincentia Dorsey, IHM, 1967
James and Tami Dougherty
Romayne Mellody Dougherty, 1957
Sister Therese Mary Dougherty, IHM, 1971, M.A. 1979
Sister Thomas Mary Dougherty, IHM, 1965, M.S. 1975
Cheryl Owen Mazzarella Dowd, 1986
Sister Dolores Jean Dowling, IHM, M.S. 1973
Sister Geraldine Marie Dranginis, IHM, 1958
Maria Caggiano Dressler, M.S. 2010
Tanisha Elise Drummond, 2009, Psy.D. 2012
James and Julia Duffy
Mary Ann Duffy, Esq., 1969
Sister Jane Mary Duke, IHM, 1965, M.S. 1975
Sister Dolores Dunn, IHM, 1965, M.S. 1975, M.A. 1996
Billie Dunn-Fenwick
Elizabeth Dunsinger
John and Michele Duris
Sister Grace Madeline Dusch, IHM, 1965, M.S. 1980
Seth D'Ver, 2019, M.B.A. 2020
Ann McCarthy Dwyer, 1954
Court Dwyer
Thomas J. and Barbara Earley, M.S.W. 1973
Michelle Easton
Jessica Cibenko Echelmeier, 1998
Sister M. Elsa Eckenrode, IHM, 1954
Rosanne Seidel Eckert, 1969
Marcia Talhelm Edson, 1970
Sister Eileen M. Theodora Egan, IHM, 1967, M.S. 1973
Sister Mary Elizabeth Ehling, IHM, 1963
Barbara Ann Middleton Ehrenstrom, 1962
Kristin A. Eicholtz, 2003
Marian L. Eide, M.S. 1979
Amanda Young Eimers, 2016
Robert and Karla Einodshofer
Sister Nancy Marie Elder, IHM, 1968
Brandon and Julie Elderkin
Sister Jane Ellis, IHM, 1966, M.S. 1975
Laurie Bartol Ellis, 1988
Rosanne Reap Ellis, 1971
Matt Elston
Maribeth Ruddick Embras, 1976
Karen Erasmus
Karl Ericson
Lori Ericson
John and Mary Ellen Errico
Marianne Smith Erwin, Esq., 1980
Steven Esgro, 1980
Amy Eskridge
Anthony and Mary Esposito
Susann M. Evans, M.A. 1991
Casper and Judith Everhard
Angelito and Corazon Evora
Paul and Giselle Evora
Edward and Bernice Facciani
Raymond Fagnant and Suzanne O'Conor
Ronald and Judith Falcone
Sister Mary Kay Faliskie, IHM, 1981, M.S.W. 1982
Michelle Farkas
Laura E. Farley, 2021, M.S. 2022
Zachary Farmer
Daniel Farrell, M.S.W. 2018
Sister Lillian Marie Farrell, IHM, 1952, M.S. 1971, M.A. 1989
Edna Wilson Farris, 1968
Sister Fran Fasolka, IHM, M.A. 2003
Joyce Folan Fasula, 1971
Ronald W. Faust, M.P.A. 1984
Sarah Favara
Mary Cole Fedak, 1970
Josephine Sindoni Federico, 1964
James Joseph Fedor, M.A. 1990
John and Pamela Feik
Katherine Lynam Fennell, 1963
Janet A. Fenstermaker
James and Suzanne Lucas Ferguson, 1973
John, M.S. 1974, and Ann Ferguson
Joseph and Michele Ferguson
Samantha Ferrara
Sister Mary Pio Ferrario, IHM, 1964
Mary Motsko Ferraro, 1973
Frances D. Ferrese
Scott Fiello
Meagan Finazzo
Maureen Finn
Herbert, M.B.A. 1990, and Annette Hizny Fisher, 1977, M.P.A. 1989
Latanya Fitzgerald
Mary Leiby Fitzgerald, 1967
Logan J. B. Fitzsimmons, 2018
Catherine Sullivan Flannery, 1948
Richard and Lisa Flora
Jennifer G. Flynn
Kathleen Flynn
Thomas Flynn, 2022
Mary Folgore
Diane Moretti Fontana, 1972
Matthew P. Forlano and Vivienne R. Cipriano
Andrew Forman
Amy Foster
Gloria Garofoli Foster, 1986
Kathleen A. Fox, M.S. 2011
Thomas and Marsha Novotka Foy, 1972
Brendan Franko
Lorrie Anzaldi Franko
Ellen T. Frantz
Nancy Frantz
Gary and Charlene Scribner Fraske, 1983
Mary Alice Frederick, 1966
Sister Theresa Frere, IHM, 1971
Brie Friedman
Bruce and Karen Friedman
Rich and Maureen Frisch
James and Jennifer Froh
Debra Fuentes
Arthur and Diane Fulman
Lydia R. Fulton, 2016
Robert A. Gable, M.S. 1973, Ph.D.
Maria T. Gaglio, 1985
Gregory T. Gaines
Mike Galantini
Cindy Hadley Galenas, 1985
Megan Wolff Galko
Beth McAllister Gallagher, 1977, M.S. 1987
Sister Jean Gallagher, IHM, 1966, M.S. 1979
Sister Mary Ellen Gallagher, IHM, M.S. 1975
Sister Mary Jo Gallagher, IHM, 1968, M.A. 1984, M.S.W. 1999
Sister Paula Gallagher, IHM, 1969
Patti Gandolfo
Michael Gandu
Sister Margaret P. Gannon, IHM, 1959, Ph.D.
Anthony and Shirley Lewert Garbarini, 1957
Sister Mary Martha Gardiner, IHM, 1955
Shirley A. Gardner, M.S. 1989
James and Varin Gartley
Scott J. Gartley
Ann Marie Czyzyk Garvey, 1977
Jessica Gatti
Colleen Gaughan
Sister Jane M. Gaughan, IHM, 1970, M.A. 1978
Peggy L. Gaughran
Sister M. Estelle Gavel, IHM, 1973
Taylor Geisel
Michael A. Genello, Esq.
Angela Genter
Robert and Bonnie Genter
Gina Gentile, 1984
Joseph and Deborah Gentile
Karina George
Gerrity's Supermarkets
Clark and Chrishelle Gerver
Lisa Kearney Gibbons, 1996
Sister M. Myra Gilbart, IHM, 1967, M.S. 1994
Sister Mary Mercy Gilbart, IHM, 1967, M.S. 1976, M.S. 1994
Charles P. Gilbert, II, M.S.W. 1973
Jada K. Giles, 2022
Nicholas and Audra Gillette
Mary Barbara O'Neill Gilligan, 1975
Katherine J. Gilmartin
Sister Catherine Ann Gilvary, IHM, 1965, M.S. 1974, M.S. 1981
Raniero and Ivy Caputo Giombetti, 1975, M.S. 1983
Angela C. Giroux
James and Carol Giroux
Johanna M. Gleason
Michael and Kimberly Gleason
Janet Quinn Glynn, 1962
Theresa Grescavage Gogets, 1980
Ryan Gates Gold, 2001
Frank A. Golden
Sister Joan M. Golden, IHM, 1962
Mary Ann Murzenski Gorrick, 1964
Carolyn Cardone Gotowko, 1972
Sister Rosemary Goulet, IHM, 1971, M.A. 1980
Kerri Gowarty
Anthony and Sherry Grabowski
Brenda Grabowski
Dolores A. Grabowski
James and Ann Grady
Paul and Rita Betti Graham, 1991
Sister M. Johnice Grand, IHM, 1969, M.S. 1981
Deborah Kopicki Graser, 1969
Kimberlee D. Gravitz, M.S.W. 2001
Theresa Casarella Graziano, 1967
Karen Cole Greco, 1980
Jane S. Green, M.P.A. 1994
Michael and Charlotte Green
Cynthia Greenberg
Beatrice Greenberger
Sister Rosemarie Luz Gregorio, IHM, 1984
Sister Francis Xavier Grieb, IHM, 1961
Sister Sandra M. Grieco, IHM, 1971, M.S. 1982
Tina Grieco-Calub, 1995
Sister Carole Griffin, IHM, 1967, M.S. 1978
Margaret Moran Griffiths, 1959, M.S. 1985
Margaret Guinan Grigalonis, M.A. 1990
William T. Griggs
Cheri Grizzle
Sister Marylin Grosselfinger, IHM, 1966, M.A. 1975
Donald and Marcie Grubb
Roger and Marguerite Gruen
Carolyn Kester Grzenda, 1969
Antonette M. Grzesek
Linda Grzesek
Mason Guelho
Marie Frances Guesto, 1972
Anthony and Susan Gugino
Maria Turano Guidera, 1975
Keith and Charlene Gunsel
Sister Ruthanne Gypalo, IHM, 1969
Kerry Hackenberg
Eileen A. Hackett, 1980
Sister Susan Hadzima, IHM, 1969, M.S. 1978
Pamela Haefele
Curtis L. Hagerman, M.S.W. 2008
Emily Haley, 2022
Brother Edward J. Hall, CP, 1978
Lorraine Waltos Halter, 1964
James Hamill
Ali Hamilton-Fay
Patricia McCormick Hansen, 1980
Sister Roberta Mary Harding, IHM, 1969, M.S. 1981
Sister Rose Lawrence Harlan, IHM, M.S. 1981
Clair H. Harr, 1991
Tia Harr
Eugene and Kelly Curtin Harrington, 1993
Don and Sonal Harris
John and Margaret Harrison
Trevor Hart
Linda Hartman
Sister Michael Marie Hartman, IHM, 1963
Susan Wagner Hartney, M.A. 1984
Christina A. Hasemann, M.S. 1993, Ph.D. 2004
Andrew Hassay, M.S.L.S. 1972
Sister Kathleen Hassett, IHM, 1962
Lillian Manglaviti Hassler, 1969
Corrin M. Hasty
Sister Patricia Hauser, IHM, 1970, M.S. 1981
Jared, 2008, and Susan MacDonald Hayden, 2007, M.S. 2009
William and Sherry Hayes
Tara Heckel
Stephanie Heckman
Sister M. Cor Immaculatum Heffernan, IHM, 1954, M.S. 1973
Carol Ann Hefner, 1969
George and Kathy Heintzelman
Sister Daniel Mary Heisey, IHM, 1967
Sarah M. Helcoski, M.S. 2012
Sarah Yeust Herbert, 2013
Paul and Seanne Herbick
Ana D. Herrera
Jennifer Hershberger
Dalice A. Hess, M.A. 2019, Psy.D. 2022
Sister M. Melissa Hester, IHM, 1955, M.S. 1972
William Hewitt
Sister Helene Hicks, IHM, 1967
Sister Mary Ellen Higgins, IHM, M.S.W. 2000
Steve Higgins
Joan Cerra Hild, 1963
Beverly Gambo Hilton, 1969
David A. Hines, M.P.A. 2000
Mary Ryan Hines, 1965
William P. Hines, 1982
Jennifer Hinkle
Darlene L. Hock
Leslie and Eva Hoke
Joseph and Samantha Holbert
Ellen Benson Holdredge, M.S. 1978
John J. Holler, 2014
Sister Sarah Ann Holmes, IHM, 1967
Christine Mahoney Holst, 1985
Maria Homolova
Jason Hoover
Judy Abbott Hoover, 1988
†† Sister M. Anine Hopkins, IHM, 1959
Dorothy Horcher
Diane Antonelli Hornyak, 1969
Barbara Horsey
Patricia Lorenz Horton, 1962
Mary Frances Hoffman Horvath, 1968
Saundra Sossong Horvick, 1966
Phyllis Renaldo Houle, 1964
Stephanie Jane Howard, M.S.W. 1997
Catherine Gummoe Howell, 1964
Samantha Howey
Harry and Maureen Howland
Dr. Victoria Carnali Hruby, 1987, M.B.A. 1988
Lori L. Hubal, 1983
William L. Hubbs, 1982
Karen E. Hudock, 1969, M.S. 1980
Brianna P. Hughes, 2022
Rosemary O'Brien Hughes, 1968
Lynne Munson Hunkovic, 1970
Joseph F. Hunt, 2017, M.B.A. 2018
Ruth Hunt
Timothy Hunter
Gail Yasinskas Hurchick, M.S. 1985
Alison Hyde
Darren P. Hyde
John and Elizabeth Iacobacci
John L. Iacobacci, 2022
Peggy Grady Iannetta, 1972
Barbara R. Ide
Lisa Imbriaco, Ph.D., 2017
Mike Ingenito
Mark and June Iverson
Dana J. Jackson, 2018
Gloria J. Jacoby, 1980
Megan Virginia Jadro, 1996
Teresa James
Rex W. Jamieson, 1978
Joseph and Marianne Janeski
Bradley A. Janey, Ph.D.
Heidi Selecky Jarecki, 1971
Tana J. Jasionowicz
Kelly Jaskowiak
Sister Janet Jeffers, IHM, 1978, M.S. 1978
Mary Genussa Jermak, 1967
Melodie J. John
Jeffrey T. Johnsen, 2021
Maria Manzano Johnson, 1982
Mary Anne Foster Johnson, 1983
Rodger Johnson
Hunter M. Jones, 2020
Justin Jones
Mary Lynn Jones, 1966
Maureen Jones
Shirley A. Jones, 1967
Susan O'Keefe Jones, 1973
William B. Jones
Henry and Kathleen Jonkman
Mary Drutarovsky Jordan, 1971
Sister Theresa M. Jordan, IHM, 1982, M.B.A. 1991
Margaritta I. Jost
Janice O'Boyle Joyce, 1977
Anne M. Jozwiak, 1964
Pete and Janice Kaltenbaugh
Sister Jan Marie Kalyan, IHM, 1966, 1969, M.A. 1980
†† Ann Durkin Kane, 1951
Evelyn Howell Kane, 1965
Sister Mary Alice Kane, IHM, 1967, M.S. 1974
Sister Mary Elizabeth Karalis, S.S.J., 1975
Anne L. Karp, 1989
Tara L. Kasperowski, 2011
Sister Joan Katoski, IHM, 1969, M.A. 1997
Karyn Kazinski
Anne Ratchford Kearns, 1957, M.A. 1973, M.F.A. 1995
Linda Sue Keck, M.A. 1985
Regina Keegan
Teresa Keegan
Patricia Dibble Keiber, 1987
Eugene and Moira Reid Kellaher
Tina Kellar
Caroline M. Kelley, 1964
Linda A. Kellock, 1994
Rev. E. Francis Kelly
Grace Kelly
Sister Kathleen Kelly, IHM, 1945
Sister Kathleen Kelly, IHM, 1968
Sister Kathleen K. Kelly, IHM, 1967
Sister Kathleen M. Kelly, IHM, 1969
Sister M. Annellen Kelly, IHM, 1962
Sister Maria Rose Kelly, IHM, 1965, M.A. 1992
Christine Kempski
Michael P. Kenah, 2015, M.A. 2017
Willie and Sarah Kendricks
Loriann Valentine Kerber, 1993, M.A. 1997
Michon Munson Kerlin, 1983
Joanne Kerridge
Mary Lynn Keselowsky, 1968
Caitlin Kessler
Rosa Khalife-McCracken, M.A.T. 1991, M.S. 1997
Amanda K. Khozouri, 2016, M.A. 2020
Sister Dorothy Kibler, IHM, 1973
Michael C. Kiel, Ph.D.
Garrison H. Kieselowsky, 2022
Sister Nancy A. Kilmer, IHM, 1982, M.A. 1990, M.F.A. 2003
Sister Angela Ok Hwa Kim, IHM, 1992, Ph.D.
Sister Eleace King, IHM, 1968, Ed.D.
S.E. Kishel, LLC
Steven and Debra Kishel
Mia R. Kissinger, 2022
Lewis and Linda Kistler, M.A. 2002
John Kivlehan
Kenneth and Maria Klawiter
Matt Klein
Bradley R. Klemick
Erika Klepancova
Lorraine LaVelle Kloss, 1988, Ph.D.
Mary Alice Trapper Kman, 1979
Sister Marianne Knight, IHM, 1965
John and Stacy Knowles
Jonathan J. Knowles
Melanie A. Kobela, 2017
Nancy Brennan Koester, 1972
Patricia M. Kolar
Jocelyn Kollar
Robert J. Kollar
Andrew Kolojejchick, M.A. 2015
Kelley Koontz, M.D.
Sister Donna Marie Korba, IHM, 1982, M.A. 1988
Anne Hamorski Korpita, 1952
Cheryl Ann Kosydar
Maryellen Newman Kosydar, 1984
Victoria R. Kotcho, 2022
Elisa Kovacs
Joska and Sylvia Kovacs
Chris Kovalchik
Jeffrey, 1998, M.S. 2003, and Brenda Rudzinski Kovaleski, 1999, M.B.A. 2002
Jonathan and Marla Bailleau Kovatch, 1996
Stephen P. Kowalchik, 1975
Louise LaSorsa Krafjack, M.S. 1974
Sister Regina Patrice Krage, IHM, M.S. 1976
Margaret Weinert Kramer, M.S. 1979
Mariah Kramer
Donna Blake Kranick, 1990
Sister Maria Peter Kratz, IHM, 1979
Patricia Maheu Krause, 1964
Terry and Jacqueline Kresge
Linda Krom
Sister Romaine Krug, IHM, 1952
Robert and Robyn M. Krukovitz
Mary Katherine Kubick, 2013, D.M.D.
Steven and Natasha Kucharski
Joan Gombar Kuchkuda, 1954
Eleanor Kulick Kuligowski, 1970
Christina A. Kulp, M.S.W. 2000
Sister Kathryn Kurdziel, IHM, 1968
Samantha M. Kurian
Alan S. Kurlansky, M.S.W. 1973
Jennifer J. Kurzweil, 2022
Marsha Kurzweil
Lisa Kraycar Kwarcinski, 1998
Katherine F. LaBar, 1990
Karah Laboranti
Robert and Jody Stanavitch Laboranti, 1994
Thomas J. Lacey, 2022
Joan McCoola Lacombe, 1953
Taryn Lagonigro
Paul and Lois Lahm
Matthew and Kristi Lalik
Robert, 1988, and Ellen Walsh Lambert, 1984, M.B.A. 1990
Thomas and Judith Lambert
Maureen Jimenez Lamberti, 1982
Helen Roethling Lamparella, 1964
Diana Butash Lance, 2014
Miharu Qualkinbush Lane, M.F.A. 1995
Sister Mary Ann Lang, IHM, M.S. 1991
Ann Klimaitis Langan, 1968
Joan Gloriande Lantka, M.S. 1992
Jon A. Lanzaro-Fisher, 2019
Bob Lapetina
Sister M. Francis Rose Lapitino, IHM, 1968
Colleen Durkin Lapowsky, 1980
Constance Owczarski Latimer, 1975
Mark Laubach
Sister Franziska Laudascher, IHM, 1969, M.S. 1980, M.S. 1992
Monica L. Law, Ph.D.
Matthew W. Lawless, 2017, M.B.A. 2018
Monique Lawson-Henry, 2018, M.S.W. 2022
Brent Leber
Rodeen A. Lechleitner, M.A. 2006, Ph.D. 2014
Sister Andrea J. Lee, IHM, Ph.D., Hon. D. 2016
William and Katherine Lee
Christopher and Nicole Leeland
Robert, M.S. 1993, and Christina Legath
The Legler's
Gunter Leibkuchler
Barney Leinberger
Michael A. Lemoncelli, 1981
Sister Madonna Marie Lenikus, IHM, 1966
Sister Kathleen Marita Lennon, IHM, M.S. 1974
Josephine Kovacic Lensler, 1958
Keith S. Lentz, M.S.W. 1989
Alexis J. Leon, 2004
Lisa Leonard
Sister Jean Leonard, IHM, 1964, M.S. 1970
Grace E. LePage
Linda Lepage
Elizabeth M. Levine
Amy Li
Amy Beth Lidle, 1998
John and Catherine Liegel
Rebecca A. Lighthizer, 2010
Wendy Lindsley
Barbara Litteer
Edith A. Lloyd, 1961, M.A. 1972
Patrick A. Lloyd
Margaret Peduto Lo Cicero, 1976
Sister Margaret Loftus, IHM, 1953
Betsy Boland Lohrfink, 1965
Sol Lopez, 1975
Joe Loposky
Mary J. Loring, M.S.W. 1988
Sister M. Carol Loughney, IHM, 1967, M.S. 1975
Elizabeth Louk
Abigail L. Lovatt, 2022
Ryann Lewis Love, M.A. 2020
Natalie N. Lucas, M.S. 2012, M.S. 2017
Sherry Lucille
Mary Ann Ludka, M.S.W. 1996
Michael C. Ludka, 1998
Kelli and Laurel Ludwig
Elayne Abess Luis, 1971
Lorraine Louise Lupini, M.S. 1980
Lisa Martin Lutecki, 1980
Sister Catherine Luxner, IHM, 1966
Sister Ann Marie F. Lynott, IHM, 1965
Bethany C. Maby, 2022
Robert L. MacConnell, M.S. 1970
Kaela MacDougall
Suzanne MacDougall
Thomas and Joann MacDougall
Robert Mack
Maeve C. MacKenna, 2021, M.S. 2022
Ken and Theresa Macko
Sister Ann Bernadette MacNamara, IHM, M.A. 1976
Sister Joanne Madden, IHM, 1967
Leslie Stranix Madison, 2001
Deena Haroun Mahdavi, 2020, M.A.T. 2021
Michael and Jean Maholick
Tara Mahoney
Kristyn Elizabeth Maikranz, M.A. 2013
Sister Eleanor Marie Malanaphy, IHM, 1966, M.S. 1975
Joseph and Mary Kathleen Ritter Maldonato, 1987
Michael Thomas Malesky, M.A. 2012
Mary R. Malia, 1960
Patricia Schiehser Malinak, M.S.W. 1975
Jo Ann M. Mallo, 1966
Sister Mary Ellen Malloy, IHM, 1962
Sister M. Ancilla Maloney, IHM, 1964, M.A. 1988
Sister Mary Jane Maloney, IHM, 1961, M.S. 1969, 1977
Rita Mandik
Ann M. Manganiello, 1977, M.A. 1983
Christine A. Manganiello, 2008
Laura A. Mangano
Sister Anne Manion, IHM, 1968
Gianna M. Manzo, 2022
Nicolo G. Manzo, 2020
Alisha R. Marchegiani, 2016
Amanda M. Marchegiani, 2006, Au.D.
James and Janice Rupp Marcks, 1970
Sister Eleanor Mary Marconi, IHM, 1969, M.S. 1977
Margaret Rufe Margolis, 1967
Ronald and Patricia Marhefka
Gail Undercoffler Marinari, 1964
Sister Florence Ann Marino, IHM, 1964
Patricia Barrett Marion, 1965
Sister Joyce Marks, IHM, M.S. 1981
Sister Ellen Maroney, IHM, 1972, M.A. 1994
Brian and Jane Marshall
Kathleen A. Martel
Marie T. Martin
Robert, M.P.A. 1982, and Sharyn Martucci
Marywood Marketing Department
Anna C. Maslar, 2019, M.A. 2022
Darron and Jamie M. Mason-Clark, 1992, M.A.T. 1994, Ed.D.
Barry Matthews, Sr., 2009
Ryan C. Matthews, 2020
Despina Mattos
Carolyn Apon Maurer, 1964
Janice Kozal Mauro, 1985
Sister Ritamary Mayan, IHM, 1964
Barbara A. Mazurik, 1985
Sister Teresia Njeri Mbugua, IHM, 2010, M.A. 2013
James and Bridget McAndrew
Sister Jeanne Marie McAuliffe, IHM, 1969
Jessica McCabe
Patrick and Virginia McCabe
Heather Hanko McCarron, 1998, M.S.W. 2001
†† Sister M. Daniela McCarthy, IHM, 1954
Nicole McCarthy
Kristin Morra McConnell, 1999
Phyllis Sabatini McCormack, 1972
Margaret Luker McCoy, 1980
Sister Joan E. McCusker, IHM, 1979, Ph.D.
Joan Catherine McDermott, 1962
Donna Schlesinger McDonald, 1975
Katherine M. McDonald, M.A. 2020
Nancy E. McDonald, 1962
Sister Ann Marie McDonnell, IHM, 1967, M.S. 1992
Kathy Walsh McDonnell, M.A. 1981
Mary O'Brien McDonnell, 1971
Arthur, 1998, M.F.A. 2001, and Heather Clark McElroy, 2000
Betty Pfleegor McElroy, 1979
Sister Elizabeth McEneaney, IHM, 1975
Barbara McEvoy
Robert McGee
Sister M. Daria McGinn, IHM, 1950
Raymond P. McGinnis, M.S.W. 1977
Risa McGinty
Sister Ann Eulaine McHale, IHM, 1965
Sister M. Martin de Porres McHale, IHM, 1963, M.B.A. 1990
Jerome and Irene Kunz McHugh, 1973
Kathleen Schaeffer McHugh, M.S. 1974
Michael McILwee
Barbara Einterz McInerney, 1967
Sister Raymond Mary McIntyre, IHM, 1965
Mary McKenna
Robert and Ann Kupchak McKenna, 1959, M.S. 1992
Albert E. McKenney, Jr., 1989
Heather McKinnon
Sister Ann St. Luke McLaughlin, IHM, 1967
James D. McLaughlin, 2013
Sister Sandra McMahon, IHM, 1969
Barbara McMann, M.S.W. 1980
Genevieve McMullen, 1963
Charles and Jeanette McMurtrie
Catherine McErlean McNeil, 1965
Sister Delia Marie McNeirney, IHM, 1971, M.S. 1978
Sister Kathleen McNulty, IHM, 1951
Kathryn McNulty
Susan McNulty
Mary Lou Walsh Meehan, 1966
Mary Claire Megargle, 1982
Carmen M. Megivern
Alecia M. Meila, 2010
Nicole A. Melesky
Emily Melhorn, M.A. 2018, Psy.D. 2021
Robin Germinder Melleno, 1984
Zoe Mendal
Mason T. Mendygral
Jessica C. Meoni, 2012, M.F.A. 2015
Denise Svetovich Mercer, 1987, M.S.W. 1993
Mary K. Merkel, 1967
Patricia Krzywicki Metz, 1972
Susan Metz
George and Patricia Metzler
Christian M. Michak
Virginia Nigro Mickolajczyk, 1984
Sister Christine Mihelich, IHM, 1968, Ph.D.
Sister Janet M. Maliya Milan, IHM, 1968
Chris Miller
David, 1984, and Barbara Royal Miller, 1987
Jeffrey and Lori Miller
Sally Liples Miller, 1976
Michele Millington, M.A. 1986
Kathleen Tracy Millon, 1965
Mark and Jacqueline Mills
Joan Gajkowski Miluski, 1972
Edward and Pamela Misewicz
Charlene Clark Mitchell, 1966
Robert and Kera Mizok
Shayne R. Mizok
Sharon Struzinsky Modesto, 1984
Jane Cavallao Moeller, M.S. 1980
Alexandria Moletsky, 2022
Joan Monahan
Alexander M. Monelli
Denise Montagnese
Vincent L. Montagnino
Sister M. Dorothy C. Montague, IHM, M.A. 1984
Doralyn Howard Moody, M.A. 1977
Eric and Stephanie Moore
Kelly Moore
Kelly Moore
Sister Marie C. Moore, IHM, 1964
Harold Moorhouse
Carol Horvath Moran, 1965
Leslie Moran
Robert and Julie Moran
Kelli M. Moreno
Sandra Ciabocchi Morgan, 1967, M.S.W. 1972
Susan Dickson Morgan, 1980
Todd, 1994, and Laura Morgan
Gina M. Morgese, 2017, M.S.W. 2018
Sister Marian Vincent Morris, IHM, M.A. 1980
Michelle Morris
Sheila A. Moser, 1989
Gloria Colaiaco Mosher, 1957
Donald and Judith Salitsky Mosley, 1967
Mary Ann Cavezza Moylan, 1975
Sylvia Fritz Mozgowiec, 1964
Thomas Muehlenkamp
Sister Mary Elizabeth Muir, IHM, M.A.T. 1996
Sister Catherine Anne Mullaly, IHM, 1956, M.S. 1965
†† Mary Roche Mullen, 1961
Mary Ann Fletcher Mulloy, 1962
Sister Loretta Mulry, IHM, 1963
Katherine Mungo
Sister Anne Munley IHM, 1966, Ph.D.
Sister Marilyn Muro, IHM, 1966
Alfred L. Murphy
Sister Concepta R. Murphy, IHM, M.A. 1984
Jeanne-Marie Murphy, 1969
Sister M. Rita James Murphy, IHM, M.A. 1984
Sister Robert Mary Murphy, IHM, 1964, M.S. 1975, M.S. 1989
Erin Lonergan Murray, 1959
Richard, M.D., and Gayle Murray, M.D.
Susan Lynn Murray, 1997, M.S. 2006
Peter Musano and Annette Calabrese-Musano
Janet L. Muse-Burke, Ph.D.
Jerome, Esq., and Michele Musheno
Diane Wittig Musser, 1984, M.A. 2001
Angus Muttee
John, M.S.W. 1974, and Ann Lyons Nardone, 1970
Rev. James R. Nash
Jason Nataupsky
Vicki Hodell Nathaniel, 1998
Sister Rita Ann Naughton, IHM, 1967, M.S. 1976
Ronald and Susan Spang Naves, 1962
Sister Claudette Naylor, IHM, 1955
Nicalena Politch Neary, 1968
Michael and Selena Neiderer
Robert Nelson
Emma Nemeth
Shelly P. Nerangis
Mary Berzite Nervegna, 1962
Stephan and Jessica Nester
Network For Good
Brian J. Neu, 2003
Ann Harvey Neuser, 1967
Lynda Possanza Newell, 1964
Sister Mary Newett, IHM, 1957, M.S. 1980
Lori J. Nguyen, M.B.A. 2022
Gretchen Snyder Nichol, 1968
Sebastiano and Rita Nicolia
Santa Maria Liuzzo Niedzwiecki, 1981
Steven and Janeen Lebida Nieratko, 1984
Barbara Zak Nilenders, 1963
†† Sister Barbara Nogiewich, IHM, 1967
Kathleen Norton, 1978
Victoria J. Novatski, 1996
Gloria Mancuso Novobilski, 1965
Michael and Angel Nowak
Sister Liberata Nyakashaija, IHM, 1984
Gary and Sara Nybro
Sandra Hilson Oakley, 1971
Sister Ann Marie O'Brien, IHM, 1956
Sister Judith Ellen O'Brien, IHM, M.A. 1989
Mary Barbara O'Brien, 1964, M.S. 1971
Terri Murphy O'Connell, 1969
Basil F. O'Connor
Careen Reed O'Connor, 1974
Martin, 1989, and Maureen Morrison O'Connor, 2002
Tara A. O'Connor, 2010
Irene O'Donnell
Terrence O'Donnell
Sarah Harris Ofalt, 1986
Danielle R. Ogonowski, 2020
Bridget O'Hagan
Tom and Michele O'Hagan
Joanne M. O'Hara, 1972, M.A. 1984
Margaret Noone O'Hara, 1970
Robert and Sueanne Wildberger O'Hara, 1981
Alicia O'Hare
Annette O'Hare
Sister Celine Omolo, IHM, 2011, M.Ed. 2013
Sister Katherine O'Neil, IHM, 1964, M.S. 1974, M.S. 1986
Sister Karen Marie O'Neill, IHM, 1966, M.S. 1975
Sister Mary Joy O'Neill, IHM, 1959
Joseph and Kimberlee Onofrio
Sister Babette Opferman, IHM, 1965
Sister Therese O'Rourke, IHM, 1967, M.S.W. 1998
Ursula Schleyer Orr
Michele Orrson
Debra O'Brien Ortiz, 1993
Matthew R. Ortiz, 2022
Kathleen Otley
Anna Ott
Sister Joan Ottman, IHM, 1965
Brenda Owens
Vera Jean Pace, 1956
Richard C. Paddock, M.S. 1982
Gabrielle R. Pagnotti, 2022
Jennifer Eibach Palauskas, 2000
Antonia Barnes Palazzolo, 1963
Debra L. Palmer, 1999
Brooke A. Panek, 2020
Sister Agnes Panik, IHM, 1966
Rosemarie Rames Pantess, 1969
Cindy Panzarella
Martiann Parfitt, 1983
Sister Felicia Ann Parise, IHM, 1965
Sister Ann Annice Parker, IHM, 1967
Katilynne N. Parrent, 2021
Joanne Bullock Parrish, 1986
†† Sister M. Celeste Parry, IHM, 1959
Barbara J. Partyka
Kristine Moreno Paschalis, 2001
Jennifer Kozal Pasculli, 1985
Sister Joan Paskert, IHM, 1951
Tracie L. Pasold, Ph.D.
Michael J. Pastelok, 2007
Sagarkumar D. Patel, M.B.A. 2018
Jordan N. Pattavina-Arroyo
Cornelia Dorsey Patterson, 1970
Arthur and Elizabeth Paul
Sister Elizabeth M. Pearson, IHM, M.S. 1964, Ph.D.
Tina Peene
Jeanne Brack Peffer, 1991
Alissa M. Pelick
Sister Annette M. Pelletier, IHM, M.A. 1991
Grace Ciampi Penman, 1974
Marcie S. Pennachioli, 1966
Mandy Boyle Pennington, 2010, M.A. 2011
Dawn Pentecost, 1975
Alonzo F. V. Perez
Carmen L. Perez
Katherine Perkins
Sister Lisa M. Perkowski, IHM, 2004
Maryann Sterling Perrella, 1974, M.S. 1982
Duane R. Perrelli, M.S. 1982
Margaret Collins Perrera, M.S.L.S 1964
Nancy Tolerico Perri, 1982
Jeanette Perruso
Tara Perruso
David Perry
Kristen L. Persico, 2022
Sister Richard Mary Peters, IHM, 1966
Sister Roberta Peters, IHM, 1966, M.S. 1972
Sister Theresa Petz, IHM, 1965
Sister Mariam Pfeifer, IHM, 1954, M.A. 1970
†† Sister Mary W. Philbin, IHM, 1969
Lindsay Phillips, Psy.D.
Mary Beth Feury Phillips, 1982
Nancy Hauber Phillips, 1972
Susan Carol Phillips, M.S.W. 1985
Juliana Bliss Piccini, 1974
Dusty Pierson
Keith Pierson
Edward M. Piestrak, M.S. 1976
Sister Regina Eleanor Pignoli, IHM, M.S. 1974
Joan Pasco Pilosi, 1968
Jody Pinnavaia
Sister Loretta Michael Pinner, IHM, M.S. 1979
Pioneer Distributing Company
Robert and Suzanne Barton Piorkowski, 1992, M.S. 2005
Ann L. Pipinski, 1977, Ed.D.
Lindsay Pizano
Caroline G. Plank
Carolyn Plank
Mary K. Plank
Shane Plokhoy
Daria Polanchik, 1981
Patricia Pollick
Marie A. Poole
Carol Puglisi Porcino, 1975
Mary Lynn Barteluce Post, 1967
Krystle N. Powell, 2009
Lucille R. Powell, M.S.W. 2000
David C. Preston, M.S.W. 1996
Jennifer Price
Patrick Thomas Price, 1999
Kayla M. Prompovitch, 2015
Leslie and Shannon Prompovitch
Jean Prorock
Robert and Linda Puderbach
Barbara Purdy
Elissa Chuckran Purpura, 1975
Maureen Burke Pusateri, 1976
Sister Maria Grace Quartiero, IHM, 1965
Sister Anastasia Quigley, IHM, 1977, M.S. 1989
Sister Joan M. Quinn, IHM, 1963
Sister Kelly Ann Quinn, IHM, 1983
Lindsey Quinn, 2021
Sister Mariette Quinn, IHM, 1968
George A. Rable, M.P.A. 1984
Linda M. Racine
Joan Monahan Radven, 1960
Lisa Rafferty
Ryan A. Raffino
Sister Teresa Raftery, IHM, 1966, M.S. 1973
Thomas and Renie Ellen Pendell Ralston, 1995
Frank Ramiza, 2003
Francisco Ramos, 1993
Deanne Price Rasmussen, M.B.A. 1988
Sister Mary Rassley, IHM, 1959
Meghan M. Ratchford, 2022
Barbara McMurray Rathburn, 1985
Gordon and Janice Rattray
Tracey Carter Rawls, M.A.T. 1993
Evan J. Reakes
Sister Mary Reap, IHM, 1965, Ph.D.
Stephen and Katherine Redding
Therese Molinari Regan, 1989
Sister Miriam Joseph Reinhardt, IHM, 1951
Suzanne Canivan Reisert, 1964
David and Penelope Griggs Renoll, 1990
Mark A. Repecki, 1996
Jennifer Fank Repshis, 2002
Diane Reuss
Patrick and Joyce Ricci
Valerie Soletro Ricciardi, 1979
Patricia Casey Rice, 1970
Kelly S. Ridgeway
Michael Riley and Janet Duffy-Riley
Mary Ferrario Rinaldi, 1971
Chris Rinko
Gary and Susan Riopko
Maureen Culleton Ritenour, 1965
Barry, D.C., and Meredith Rizzo
Linda Rizzo
RJA Company
Daniel and Kathleen Robinson
Marie Carocci Robson, 1966, M.S. 1971
Daniel and Mary McCabe Roche, 2003
Richard J. Rodeghiero, M.S. 1982
Angel Rodriguez
Cruz Rodriguez
Teresa Rodriguez
Donna M. Rogers
Lorraine Guido Rogers, 1977, M.S.W. 1979
Barbara A. Rohan, 2006, M.S. 2008
Jillian Rojek, 2010
Jennifer Rollin, 1998
Chloe Karnick Romanowski, Esq. , 2014
Rob D. Roper, II
Joseph Rosato, M.A. 1979
Mary Susan Rose, Ph.D. 2005
Lawrence, M.S. 1988, and Patricia H. Rosetti, 1993
Sister Janet Rossiter, IHM, 1954
Bernhard Roth
Dan Roth
Molly Roth
Sandra Roth
Melody Rotzell
Rev. Steven and Deborah Yurchak Rousos, 1976
Elizabeth A. Roy, 2017, M.A. 2021
Joseph P. Ruane, M.S. 1976
John Rubinetti
Ellen Mulder Rudegeair, 1967
Harrison Ruivola
Sister Frances Mary Rundell, IHM, 1952
Mary Rocuba Rupp, M.S. 2004
John and Dorothyann Kasuba Rush, 1967
Raymond S. Rush
Emma Rushworth
Sister Frances E. Russell, IHM, 1964, Ph.D.
Alex Russo
Jason and Emily Russo
Marc Russo
Marissa Russo
Sister Clementia Rutabanzibwa, IHM, 1983
Ellen L. Rutkowski, M.A. 2000
Janet Ryan
Jocelyn H. Ryan
Sister Rosemaron Rynn, IHM, 1961, M.S. 1973
Donna Wells Sabater, 1967
Bernadine Carey Sabia, 1975
Trevor J. Sablan
Barbara A. Sacks
Erin A. Sadlack, Ph.D.
Carmine, 1989, and Linda Jablonski Saita, 1991
Sebastian Salazar
Susan Lopatofsky Salko, 1960
Salon Vanessa
A. Carol Salva, M.A. 1999
Ed Salva
Sister M. Rosella Salvato, IHM, 1975
Michael and Michelle Sames
Mary Marzen Sampson, M.A. 1976
Jacquelyn Kobar Sandercock, 1976
Sister Annmarie Sanders, IHM, 1982
Elaine Santarelli
Meredith M. Santiago
Deborah Reap Santini, 1974
Laura Flanagan Santoski, 1984
Rosemary Petrillo Sarna, M.S.W. 1983
Jean R. Sartin, M.S. 2006
Ann Flynn Scanlan, 1967
Mary Kreis Scanlon, 1953
John and Beth Scarpello
Maria Alena Scavone, 2008
J. Benedict Scerno, M.A. 1977
Andrew and Karen Prezelski Schaefer, M.S.W. 1978
Stephanie Leah Schaefer, 2010
Ann Marie Wolf Schatz, 1974, M.D., and Rudolph Schatz
Renee Paradis Schibel, 1971
Lauri A. Schlauch, 1990
Hildegard Schleyer
Arthur, 1988, and Beverly Schmidt
Leigh Schmidt
Janet Huddy Schmuff, 1976
Sister M. Mercille Schneider, IHM, 1959
Jake and Nicki Schock
Wayne and Joanne Schofield
Cecile Cianflone Schrader, 1949
Dorothy Ahearn Schrader, 1979, M.S. 1993
Sister Maureen C. Schrimpe, IHM, 1972, 1992
Paul R. Schule, Jr., 1981
Schultz Family
Adelaide Schumaker
Joseph M. Schwartz, M.F.A. 2012
Eugene and Christine Kucinski Schweitzer, 1965
Sister Lila Marie Sciabica, IHM, M.A.T. 1997
Gail Flanigan Sciamanna, 1965
Patricia E. Scienski
Marie Matuszewski Scott, 1959, M.S. 1989
Giovanni D. Scotti
Kristel Sommers Seagreaves, M.S.W. 1993
Patty Searle
Leo, 1996, and Patricia Hopfer Sebastianelli, 1988
Edward and Tracy Sedelmaier
Sister Catherine Seeley, IHM, 1971
Brooke Segarra
Phyllis Seitz
Joseph W. Sekusky, M.S.W. 1984
Khayman J. Sember
Kranthi Senadhi
Ethan J. Senecal
Sandra Serrano
Christine E. Serritella
Patricia Server
Karen F. Sexton, 1968
Hadi and Annamaria Seyedhassani
Erich Shafer
Melissa Shafer
Theresa Shahin
Bruce and Melinda K. Shannon, M.B.A. 2009
Robert and Elizabeth Sharples
Susan M. Shaute, M.A. 1969
Robert S. Shaw, M.A. 1986, Psy.D.
Stewart M. Shear, M.A. 1989, Ph.D.
Elizabeth C. Shechner, 1998
Luke S. Shedler, 2019, M.B.A. 2022
Meg Sheehan
Sandy Savulis Shemonsky, 1968
Thomas, M.S.W. 1973, and Dorothy Sroka Sheridan, 1968
Paul, M.B.A. 1983, Ph.D., and Holly Shoemaker
Cynthia K. Shore
Adam Sikoutris
Robert J. Sileo, M.B.A. 1989
Angel L. Silva
Zoe D. Simeone, 2020
Susan M. Simonsky, 1988
Nicole Sinclair, 2019, M.S. 2021
Barry and Cynthia Morgan Singer, 1974
Sister M. Celesta Sinisi, IHM, 1954, M.S. 1978
Sisters of Saint Joseph Saint Katharine of Siena Convent
Mari Shea Skelston, 1991
Sister Mary Helen Slavinskas, IHM, 1967, M.S. 1980
Mark and Carol Grossel Slick, 1971
Sandra Slowey
Loretta Partyka Slowikowski, 1969
Pam Slusser
Butch and Carol Slutter
Scott and Holley Slutter
Sister Anne Mary (Matthias) Smith, IHM, 1967
Brandon H. Smith, 2005, M.S. 2012
David and Kelly Smith
Donald Jay Smith, 1978, Ph.D.
George Smith
Jenn Smith
Kyle Smith
Margaret Spyhalski Smith, 1973
Sister Mary Rita Smith, IHM, 1968
Maura Kivlin Smith, 2008
Pamela Smith
Kristina Smoke
Dean and Susan Snavely
John and Florence Snell
Rosemary Rimmele Snow, 1966
Colleen Kelly Snowdon, 1972
Deborah Fitch Snyder, 1971
Sister Jane M. Snyder, IHM, 1969, M.A. 1980
Judith A. Snyder, 1978, M.A. 2000, M.F.A. 2009
Eva L. Solana
Maryla E. Soma, 1997
Gregory S. Sorg
Sister John Michele Southwick, IHM, 1971, 1975, M.S. 1986, M.A. 1992
Michael and Rita Sowa
John Spadaccini
Carol Speck
Linda Connor Speicher, 1968
Sheila Spelman
Thomas A. Spengler
Ann Jennifer St. John, M.S.W. 2012
Joanna M. Stains
Ricky L. Stains, Jr.
Patricia M. Stanavitch
Veronica Wass Stanley, 1969
Sister Kathleen Joy Steck, IHM, 1965, M.S. 1977
Christopher and Leslie Stefalo
Samantha C. Stein, 2022
Sister Karen Marie Steinberg, IHM, 1987
Jen Stenglein
Amy Center Stevens, 1998
Sister Sue Ann Steves, IHM, 1966, M.S. 1979
Raya Stewart
Teresa Hoover Stibrany, 1975
Lynn Denza Stiles, 1972
Barry D. Stoner, M.S.W. 1994
Matthew and Deanne Firestone Stover, 1990
Maureen C. Gilhooley Straka, 1995, M.S. 1998
Cole H. Strange, 2022
Virginia M. Stringer, 1974
Rev. William G. Carter and Jamie Strong
Gregory and Jane Strony
Gregory Strouse
Michael P. Strouse
Lorna Hertzberg Poole Stuart, M.P.A. 1984
Sister M. Lorraine Studley, IHM, 1968, M.S. 1980
Marie Urban Stupak, 1970
Kristyn Suckow
James and Susan Aquilina Sullivan, 1965
Brianna J. Sumner
Patricia Yanul Sundheim, 1989
June Linda Supey, 1985
Sister Grace Surdovel, IHM, 1986, M.S. 2004
†† Sister Madeline Swaboski, IHM, 1966, M.S. 1991
Cyrina A. Swanston, 2020
Melissa A. Swantek
Shelby Landis Swartley, M.S.W. 1994
Ann Hopkins Swarts, 1967
Edward Swartz
Sister M. Redempta Sweeney, IHM, 1966
Mary Swift, 2017, M.S. 2018
Martin and Pamela Siemienkowi Swift, 1978
Kara Swisher
Susan Sanders Swiss, 1971
Todd, M.A. 1997, and Maria Sykes
Louis and Joan Szemethy
Sister Linda C. Taber, IHM, M.A. 1993
Jane Takacs
Rev. John J. Tamalis, M.S. 1981
Christopher and April Tanguay
Marc Tanguay
Norman and France Tanguay
Paulette Tanguay
Sister Anna Tantsits, IHM, M.S. 1981
Sister Marion Tarone, IHM, 1967, M.S. 1975
Sister M. Tarcisius Tasselli, IHM, 1959
Chelly Taylor
Jean Hudson Teitelbaum, M.S.W. 1987
Denise Dreater Teitsworth, 1981
Michelle Teles
Trevor Tellip
Maria A. Temples, 2017, M.P.A. 2018
Samantha K. Temples, 2019
†† Sister M. Charlene Templeton, IHM, 1945
Suzanne Tenuto
Sister Rachel Marie Terry, IHM, 2003
Irene Bayorek Tesfai, 1963
Thai Rak Thai
Joseph and Misty Theobald
William and Mary Theobald
Ken Thom
Anna Ledgister Thomas, 2007
Sister Bernadette Thomas, IHM, 1971
Cheryl Thomas
Frank J. Thomas
Sister M. Lenore Thomas, IHM, 1972, M.S. 1980
Sister Mary Denise Thomas, IHM, 1970, M.S. 1982
Michele Greytock Thomas, 1988
Vanessa Vergnetti Thomas
Sister Joan Marie Thompson, IHM, 1968
Tyshawn J. Thompson, M.A. 2020
Cheryl Tigar
Christopher A. Tigue, 1998, M.S. 2006
Janet Bocchino Tigue, 1965
Karen Bocchino Tigue, 1970
Sarah Tilley
Sister Maria Goretti Timperio, IHM, 1959
Zachary J. Tinkham, 2020
Luigi Tirro, 2017, M.S. 2018
Milana Tirse
Sister Cecilia Yeon Tji Tja, IHM, M.F.A. 1985
Olivia K. Tobia, 2022
Deborah Horak Tobin, 1977
Cathy Tocket
Catherine M. Toczek, 1993, and James J. Sherma
Lauren Tokash
Mary Rose Tolerico
Gina Marie Tomassoni, 1979, M.S. 2001
Sister Jean Toolan, IHM, 1950
Matthew Totten
Sister Vincent Ann Touey, IHM, M.S. 1989
Ann Pesaresi Tracy, 1971
†† Sister Jo Ann C. Trama, IHM, 1963, M.S.W. 1994
Margaret Kane Traub, 1986
Werner and Eva and Patrizia Treibenreif
Andrea Trubiano, M.B.A. 2022
Charles, M.A. 1986, D.M.A., and Mary Truitt
Stephen Trygar, 2016
Margaret York Turna, 1959
Amanda Turoni
Nicole M. Turoni
Michael and Lori Tylutki
James and Rebecca Tyson
George and Zeffie Tzitzis
Kerstin Bradford Underwood, 2000
Rosemary Quinn Unhoch, 1969
Jeanne M. Urban, 1969
Christopher Valdes
George Valdez, Jr., 1987
Carol M. Van Horne
Kathryn Van Tol
Brian and Alana Vander Veer
Christine Vangarelli
Elizabeth Vanmiert
Sister M. Angelique Vannicola, IHM, 1964
Catherine Passarella VanNort, 1978
Sister Marie Lourdes Vanston, IHM, 1966, M.S. 1980
Carol A. Varnas
Andrew M. Varzaly, M.S.W. 1976
Zachary T. Vaughan, 2020, M.S. 2022
Michelle J. Vecchio, M.S.W. 2022
James Venafra
Dan and Karen Ventricelli
Sister Louis Marie Verchick, IHM, 1966
Felix and Sonia Vicente
Margarita A. Villamil
Jennifer Torch Villano, 1995, 2000
Maria L. Vital, Ph.D. 2018
Michael and †† Maureen Coolican Vladika, 1979
Susan M. Vladika, 1983, M.S. 1995
Christine Volciak
Robert and Carol Wagner
Jerome and Linda Goldberg Wainick, M.S.W. 1991
Patricia Moffitt Wald, 1959
Gregory and Christine Walker
Natalie Walker, 2021
Sister Elizabeth Mary Wallace, IHM, 1965
James E. Wallace, 1986
Noreen Waller
Sister Ann Walsh, IHM, 1971, M.S.W. 1980
Denise Godfrey Walsh, 1977, Ph.D.
Haven Walsh
James and Karen Walsh
Liana Nicholas Walsh, 1977
Lisa Walsh
Patricia Oliver Walsh, 1965
Sister Patt Walsh, IHM, 1973
Clinton and Caryn Walters
Rebecca Walters
Robert A. Walters
Sharra M. Walton, 2022
Emily B. Ward
Msgr. William P. Ward
Keri Anne Zazzera Warhola, 1997, M.S. 2000
Bernard and Mary Warholic
Christina Warmagiris
Nancy Hrenevich Warriner, 1970
Michael W. Wasko, 1983
Scott Waters
Sister Virginia E. Waters, IHM, M.S. 1990
Eileen F. Watkins, 1972
Jeff and Candy Watson
Elizabeth Cooney Weaver, 1977, M.S. 1982
Kristin K. Webb, 2011
Melissa Webber
William J. Weber
Mary Weinheimer
Joanne Colitz Weisskopf, 1960
Donnah Welby, 1970
Joyce Ludgate Welby, 1959
Marian Welch-Quigley
Sister Minnette Welding, IHM, 1982
Mary O'Neil Weller, 1969
Joseph J. Welsh
Jewel D. White, 1980
Jill White
Kaitlyn M. White, 2018
William and Robin White
Catherine Mulk Whitebread, 1976
Joel and Agnes Whitehead
Debbie Whittaker
Marygrace Wilce, M.B.A. 2015
Erin Shannon Wilday, 2007
Rev. Donald J. Williams
Katherine A. Williams
Sister Kieran Williams, IHM, 1977, M.A. 1986
Louis J. Williams
Steven and Nicole Williams
Sister Doreen Willis, IHM, 1971, M.S. 1981
Sister Maureen Willis, IHM, 1971
Barb and Ron Wilson
Candice Morgan Wilson, M.S. 2001
Jim and Nancy Ferguson Wilson, 1967
Victoria R. Wilson
Sister Constance Wilt, IHM, 1970
Donna Wimmer
Mona Wingle
Stephanie Wise
Mary Scott Witaconis, 1971
Dale and Janet Wittick, Jr.
Harrison Wiwczar
Rick Wojton
Karen Necker Wolkov, 1986
Elizabeth A. Woll, M.S. 1969
Joann Sena Wolski, 1966
Wendell Lee Woodmansee, M.P.A. 1975
Marian Woodrow
Patricia Mann Woolsey, 1969
Jean Chapman Wright, 1980
Kimberly Wayman Wright, 2006
Crystal M. Yacoub, M.A. 2022
Barbara E. Yacuboski
Laura Yanacek
Johnny Yau
John Yedlowski
Joseph and Nancy Yedlowski
Mary A. Yedlowski
Molly Yelencsics, 2020
Mary Ann Plevel Yenason, M.A. 1981, Ph.D. 2001
Patricia A. Yencha, M.B.A. 2007
Kimberle J. Ykema, M.S.W. 2014
Lavonne Yoder
Yohn Family
Amanda Young
Kathy Young
Marguerite Young
Brandon Youngken
Brett and Kelly Youngken
Andrew K. Yudichak, M.S. 1978
Kathleen R. Zale, 1973
†† Sister Mary Luke Zaleski, IHM, 1963
Emily A. Zarrilli, 2019, M.S. 2020
David and Frances Zauhar
Tim Zauner
Sister Juana M. Zegarra, IHM, M.S.W. 1999
Sally A. Zelno
Michael Zendarski
Desiree J. Zielinski, 2012
Heather Zielinski
Clark W. Zimmerman, Jr.
John J. Zimmerman
Jay and Diane Ziskind
Marianne Maciun Zoranski, M.S. 1985
Kathleen DeSanto Zrebiec, 1969
Joseph and Elizabeth Zullo