Give Yourself a Competitive Edge with a Spanish Degree
¡Bienvenides! Bienvenu(e)! Benvenuti!
Marywood Modern Languages provides students with instruction in language learning, literary studies, and critical cultural studies.
We offer majors in Spanish (Traditional BA and Applied BA), Spanish Secondary Education, and minors in Caribbean, Latinx, and Latin American Studies as well as Spanish for Professionals. We also offer courses in French and Italian. Specifically, our Italian courses support the Art and Architecture Departments' study abroad program in Florence, Italy. In line with the Marywood Core, all students will acquire linguistic proficiency at the intermediate level in their chosen language(s).
Our faculty each possess distinct specializations and teach a wide array of courses in language, literature, and culture. In addition to classroom instruction, a Spanish major has the opportunity to acquire real-world experience through one of our various study abroad programs, as well as to undertake independent research. Our students have presented their research at national and international conferences, published encyclopedia entries with faculty members, and have attended competitive institutes in preparation for graduate studies. Apart from strengthening student research, our language program has also produced Fulbright scholars who have taught English in Spain, Andorra, South Korea, and France.
In our program:
We use the most up-to-date conversation-based practices
We familiarize students with the major currents of Hispanic, Latinx literatures, arts, and cultures
We build research skills and encourage hands-on learning beyond our classrooms
We work with a variety of majors and professional programs to offer flexible minors and an applied major in Spanish that provide students with marketable language skills.
Spanish for Professionals Minor (18 credits)
CARIBBEAN, LATINX, & LATIN AMERICAN STUDIES MINOR (18 CREDITS)
Top Employers
Freelance Interpreter
Universities
School Districts
School Districts
Top Career Paths
Translator
Communications Specialist
Customer Service
Spanish Teacher
Dig Deeper Into the Program Details
Undergraduate Admissions Requirements
Completed application
Official transcripts
Letter of recommendation
Official SAT and/or ACT test scores (Marywood is test optional)
Essay (optional)
Spanish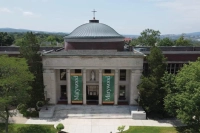 102 Morgan Road
Map & Directions
The Liberal Arts Center contains classrooms utilized by several programs, as well as the Office of Admissions and a variety of other administrative offices. It is also home to the iconic Rotunda and the NativityMiguel School of Scranton.
Learn More
|
Take a Virtual Tour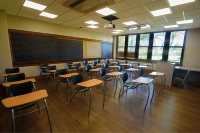 Map & Directions
The Liberal Arts Center provides classroom space for coursework in the Social Sciences, English, Philosophy, and Religious Studies programs.
Learn More
80+ opportunities for you to find the right fit with 50+ undergraduate degrees and 30+ graduate and certificate courses.
From #DayOne, Marywood is here for you each step of the way.
Tips for Success
Request Information
Loading...
Latest Program News & Events