Learn How to Build Trust and Learning Strategies with an Education Specialist Degree (Ed S)
The Educational Specialist (Ed.S.) Program in School Psychology is interdisciplinary in nature and is intended for students who seek state certification as a PreK-12 school psychologist. The Ed.S. degree program is designed as a 75-credit graduate program for students who wish to work in schools or related agencies. The program is competency-based and aims to train professionals in a scientist-practitioner model to provide the wide range of services expected of school psychologists. Emphasis throughout the program is on realistic integration of didactic instruction and experiential learning, with the candidate expected to demonstrate continual progress toward independent professional functioning.
The Ed.S. degree program is fully approved by the Pennsylvania Department of Education and follows guidelines for School Psychology training, as set forth by the National Association of School Psychologists (NASP) and Pennsylvania Department of Education (PDE) standards.
Students may enter the program post-baccalaureate or post-master's degree. Those seeking entrance post-baccalaureate earn a Master of Arts degree in Psychology upon completion of 48 credit hours and other degree requirements for the General/Theoretical concentration. Applicants seeking admission post-master's degree should expect to complete a minimum of 30 graduate credits, including a 1,200-hour internship, within three academic years. Part-time students, entering post-baccalaureate, are expected to complete the program and internship within five years.
Provide counseling, instruction, and mentoring
Assess barriers to learning, determine strategies to improve learning
Promote wellness and resilience
Work with students, families, teachers, administrators
Top Employers
School Districts
Mental Health Office
Clinical/ Doctor's Office
Hospitals
Top Career Paths
School Psychologist
Psychiatric Nurse
Clinical Psychologist
School Nurse
Dig Deeper Into the Program Details
Graduate Admissions Requirements
Bachelor's degree from a regionally accredited college or university
"B" average during undergraduate study or demonstrated potential for graduate work
Completed application
Official, sealed transcripts
Three letters of recommendation
GRE Optional
Those admitted to the program are expected to demonstrate continued professional growth. The progress of each candidate is reviewed yearly. To be recommended for certification, a student must also pass the Praxis II (School Psychology) standardized examination(s).
Note: Program requirements and curricula are subject to change, pending Pennsylvania Department of Education and NASP Training Standards.

Transfer of Credits:
All credits transferred must reflect at least a "B" grade, be from a regionally accredited institution, be similar in content and demand of equivalent Marywood courses and have been within the preceding five years. The Director of School Psychology must approve all transfer credits. The following criteria must also be met:
The student has attained Full Acceptance Status in the program.

The student has provided a syllabus of the proposed transfer course.

The student has provided an official transcript showing an earned grade of "B" level or above in the course(s) to be transferred. Grades lower than "B" are not transferable.

The student completed the transfer courses in the past five years prior to making this request.

The student met with his/her academic advisor who will make a recommendation of approval of transfer.
Transfer students applying at the Ed.S. level can transfer in previous related graduate credits of the required coursework for the Ed.S. degree, to be determined by the admissions committee. Transfer credits will not be applied to the following courses:
PSYC 549A Practicum
PSYC 549B Internship
PSYC 549C Internship
PSYC 551 School Psychology Law and Ethics
PSYC 562 Cognitive Assessment
PSYC 563 Assessment of Learning
PSYC 581 Socio-Emotional Assessment of Children and Adolescents
Final written approval is made by the Director of School Psychology with copies of the final determination placed in the student's file and emailed to the student.
The Psychology Department is located in the McGowan Center for Graduate and Professional Studies.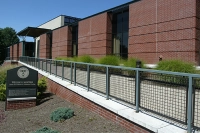 1201 University Avenue
Map & Directions
The McGowan Center for Graduate and Professional Studies, located on the corner of University and North Washington Avenues, contains classrooms and related clinical/professional space for Communication Sciences and Disorders, Psychology and Counseling, Education, and Business students. Market Marywood is also located here.
Learn More
|
Take a Virtual Tour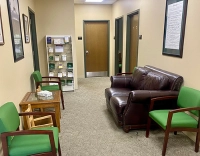 Map & Directions
The Psychological Services Center (PSC), located in Room 1009 in the McGowan Center for Graduate and Professional Studies, is a clinic and training facility. It serves the community as an outpatient mental health clinic that provides services to individuals across the life spectrum from young children to older adults. The entry of the PSC is privately located on the north side of the McGowan Center on Marywood's campus. The PSC is composed of several individual, couple, family, and group therapy rooms, as well as a reception area and waiting room.
Learn More
Fulbright Program
Sponsored by the United States Department of State, Bureau of Educational and Cultural Affairs, the Fulbright Program provides funding for students, scholars, teachers, and professionals to undertake graduate study, advanced research, university teaching, and teaching in elementary and secondary schools. The flagship international educational program sponsored by the U.S. Government, the Fulbright Program is designed to increase mutual understanding between the peoples of the United States and the people other countries.
View Tuition Rates
80+ opportunities for you to find the right fit with 50+ undergraduate degrees and 30+ graduate and certificate courses.
From #DayOne, Marywood is here for you each step of the way.
Request Information
Loading...
Latest Program News & Events