Set Your Psychology Career in Motion with a Clinical Psychology Degree
Clinical psychology is one of the largest specialty areas within psychology. Having a passion for discovery, learning, and listening are part of what it takes to be successful as a psychologist who delivers clinical or counseling services. Psychologists trained to provide clinical services work in research, education, training, and health sectors. Others specialize in areas such as counseling and school psychology. Working with numerous populations, they focus on individual differences, normal and abnormal behavior, mental and emotional health, healthy behaviors and mental disorders and their prevention.
Earning a Bachelor of Science degree with the Psychology - Clinical Practices track at Marywood University will set your career as a psychologist in motion. As a Clinical Psychology major, our faculty will provide you with an in-depth understanding of human behavior and a broad interdisciplinary study of humanity. You'll be trained in scientific and critical thinking and in research methods and statistical analysis; you'll learn to see psychology as an approach to solving problems and discovering new ideas. You will gain advanced knowledge of the fundamentals of clinical psychology along with applied experience through internship.
The 48-credit Clinical Track involves preparation for professional careers in clinical psychology and related areas, including but not limited to counseling, school psychology, and neuropsychology. Those who desire employment in the field immediately after graduation, and/or who seek to pursue graduate study in clinical psychology or related areas, should pursue the Clinical Track.
Internship opportuntiies
Preparation for field work after graduation
Hands-on experience
State-of-the-art facilities
Top Employers
Hospitals
Mental Health Office
Clinical/ Doctor's Office
Correctional Facilities
Top Career Paths
Psychiatrist
Clinical Psychologist
Speech Pathologist
Behavioral Therapist
Dig Deeper Into the Program Details
Undergraduate Admissions Requirements
Completed application
Official transcripts
Letter of recommendation
Official SAT and/or ACT test scores (Marywood is test optional)
Essay (optional)
The Psychological Department is located in the McGowan Center for Graduate and Professional Studies.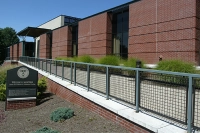 1201 University Avenue
Map & Directions
The McGowan Center for Graduate and Professional Studies, located on the corner of University and North Washington Avenues, contains classrooms and related clinical/professional space for Communication Sciences and Disorders, Psychology and Counseling, Education, and Business students. Market Marywood is also located here.
Learn More
|
Take a Virtual Tour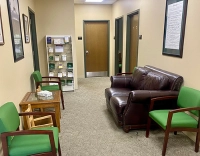 Map & Directions
The Psychological Services Center (PSC), located in Room 1009 in the McGowan Center for Graduate and Professional Studies, is a clinic and training facility. It serves the community as an outpatient mental health clinic that provides services to individuals across the life spectrum from young children to older adults. The entry of the PSC is privately located on the north side of the McGowan Center on Marywood's campus. The PSC is composed of several individual, couple, family, and group therapy rooms, as well as a reception area and waiting room.
Learn More
National Institutes of Health Undergraduate Scholarship Program
The National Institutes of Health (NIH) Undergraduate Scholarship Program (UGSP) offers competitive scholarships to students from disadvantaged backgrounds that are committed to careers in biomedical, behavioral, and social science health-related research. The program offers scholarship support, paid research training during the summer, and paid employment and training at NIH after graduation.
View Tuition Rates
80+ opportunities for you to find the right fit with 50+ undergraduate degrees and 30+ graduate and certificate courses.
From #DayOne, Marywood is here for you each step of the way.
Request Information
Loading...
Latest Program News & Events