Increase Your Career Options in Less Time with a Master's Degree in Professional Writing
With an Master's degree in Professional Writing, you will learn to write at an advanced level in a variety of professional settings, no matter your career interests--from business offices to courtrooms to political rallies to online media--and you will earn your graduate degree in less time than you might think! Create responsibly researched and innovative content, think critically, analyze language thoughtfully, and communicate effectively. Use your enhanced skills ethically as a global citizen, understanding how writing can be a force in society.
Marywood offers two tracks to earn a Master of Professional Writing:
4+1 Program for Traditional Undergraduates: Marywood's 4+1 program in Professional Writing is distinctive in Northeastern Pennsylvania. Traditional undergraduates in qualifying programs have the opportunity and flexibility to earn the M.A. degree in one year. Marywood students from the following programs, majors, and minors, with a minimum of a 3.5 GPA in the major or minor and 3.33 overall GPA, are eligible to apply for the 4+1 program:
Programs: Communication Arts and English
Majors: Advertising and Public Relations; Broadcast Journalism; Digital Media; Literature; Writing
Minors: Advertising, Broadcast Communication, Journalism, Public Relations, English, Writing
Traditional Graduate Program: The traditional Masters in Professional Writing consists of three full-time semesters or two years of part-time study.
Earn your M.A. in two years or less
Evening classes offered
Each degree path features hands-on learning in professional situations, classroom discussions, and writer workshops that hone students' writing and give graduates a thorough understanding of techniques of writing and persuasion across a variety of media appropriate to a range of professional settings.
Earn your master's degree in two years or less
Evening Classes and Writer Workshops
Wide variety of career opportunities
Hands-on learning in professional situations
Top Employers
Consulting Firms/ Recruitment
Universities
Motion Picture/Video Industries
Online Service Providers
Top Career Paths
Communications Director
Writing Professor
Grant Writer
Public Relations Manager
Dig Deeper Into the Program Details
Graduate Admissions Requirements
Bachelor's degree from a regionally accredited college or university
"B" average during undergraduate study or demonstrated potential for graduate work
Completed application
Official, sealed transcripts
Two or three letters of recommendation
Specific Program Requirements
Submit an essay that meets the following criteria:

A statement of purpose (two pages)

An academic or professional writing sample (6 to 10 pages, can be excerpted from a longer work).


Choose one of the two following prompts and write approximately 500-600 words in response:

Write an op-ed piece for a local newspaper (local to you) persuading its readers of the importance of learning a second language. Please identify the name of the paper to which you have chosen to write in the header. Give your essay a title that could be used as a headline.

Write a professional letter that could be sent to a real local business or a real local nonprofit agency arguing that their services to customers should be offered in both English and Spanish. Please identify the name of the business or agency.
English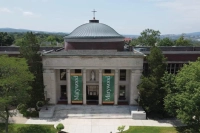 102 Morgan Road
Map & Directions
The Liberal Arts Center contains classrooms utilized by several programs, as well as the Office of Admissions and a variety of other administrative offices. It is also home to the iconic Rotunda and the NativityMiguel School of Scranton.
Learn More
|
Take a Virtual Tour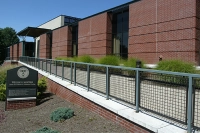 1201 University Avenue
Map & Directions
The McGowan Center for Graduate and Professional Studies, located on the corner of University and North Washington Avenues, contains classrooms and related clinical/professional space for Communication Sciences and Disorders, Psychology and Counseling, Education, and Business students. Market Marywood is also located here.
Learn More
|
Take a Virtual Tour
80+ opportunities for you to find the right fit with 50+ undergraduate degrees and 30+ graduate and certificate courses.
From #DayOne, Marywood is here for you each step of the way.
Request Information
Loading...
Latest Program News & Events