Campus Locations
> Maslow Study Gallery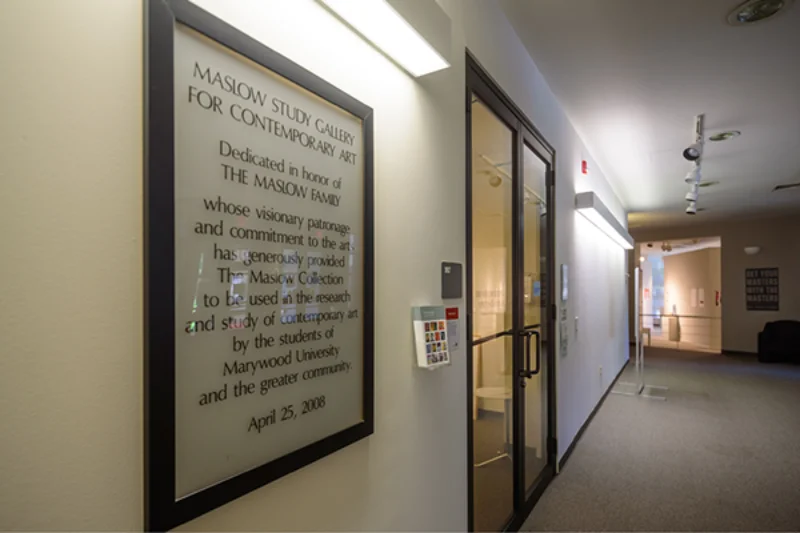 Maslow Study Gallery
Map & Directions
The Maslow Study Gallery, located on the first floor of the Shields Center for Visual Arts, is a learning laboratory, providing fieldwork experiences, internships, and opportunities in curatorial and exhibition studies to Marywood students. The Maslow Collection is one of the most significant and extensive collections of contemporary art in Northeastern Pennsylvania.
In May 2007, Mr. Richard Maslow and the Maslow family agreed to a long-term loan of The Maslow Collection to Marywood University. This significant gift, totaling $2.3 million, features prints by noted artists Andy Warhol, Jasper Johns, Roy Lichtenstein and Robert Rauschenberg. The Maslow Collection contains over 500 works from 178 artists, many of whom are represented by four or more works, with a number of artists having as many as 15 works in various media. Works in The Maslow Collection are available for professional research and study, and many are loaned to regional and national exhibitions.
In addition to the art work, Marywood University received funds to establish a million dollar endowment to the University. The endowment is used to support the Collection and its use as an educational tool by the University, as well as to provide for a Collection Curator and programmatic opportunities for Marywood students and the greater community.
Take a Virtual Tour of this location
Departments in this Location:
---
Related Locations