Campus Locations
> Center for Athletics and Wellness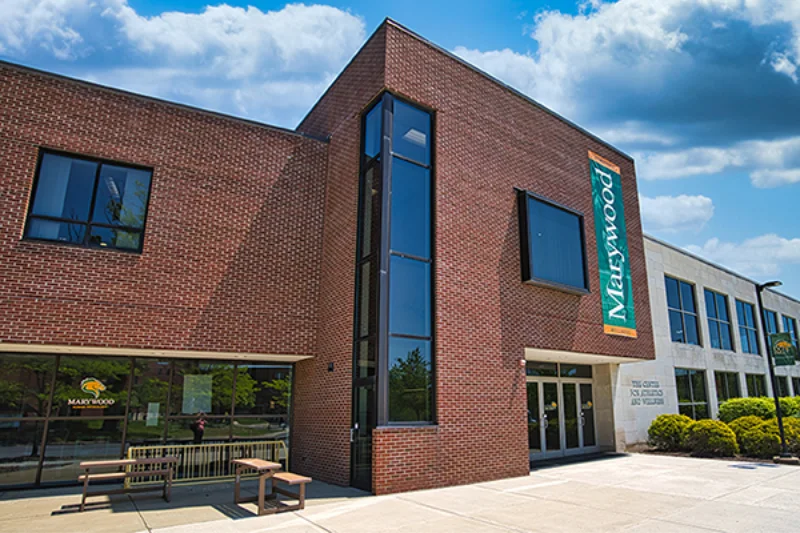 Center for Athletics and Wellness
1501 University Avenue
Map & Directions
Built in 2006, the 84,000-square foot Center for Athletics and Wellness houses the Insalaco Arena, the Aquatics Center, jogging track, fitness center, climbing wall, a dance studio, fitness labs, and locker rooms. It affirms Marywood's commitment to the health and wellness of its campus community and the region.
Features of the Center for Athletics and Wellness include:
The Marywood University Aquatics Center, dedicated in 2011, is one of the premier swimming and diving facilities in Northeast Pennsylvania, and home to the Men's and Women's Swimming and Diving teams. The 17,000-square foot facility also provides recreation and competitive opportunities for the campus community as well as regional schools and organizations.
The Insalaco Arena seats 1,500 spectators, has an elevated running track, a batting cage, and can be divided into two full-sized courts for volleyball and basketball.
The Lynett-Haggerty Fitness Center is a premier fitness facility with over 5,000 square feet of space and a rock-climbing wall. Framed by floor-to-ceiling windows that allow ample natural light and unobstructed views of Marywood's beautiful campus, the facility features equipment for overall and targeted workouts, such as weights, ellipticals, treadmills, stationary bicycles, and other popular exercise machines.
Exercise Science and Human Physiology labs, locker rooms, and a hydro therapy room are also in the Center for Athletics and Wellness.
Take a Virtual Tour of this location
Departments in this Location:
---
Related Locations