Enhanced Student Experiences Help Music Therapy Major Grow

Senior Music Therapy major Sophie French utilizes just about every opportunity that Marywood has to offer. She juggles a full academic course load with her on-campus jobs, extracurricular activities, and all the rigors of the Music Therapy program like singing lessons and recitals. To unwind, French took up crocheting as a hobby and was so impressed by its relaxation benefits that she founded Marywood's Crochet and Knitting Club. Through the club, she aims to help students relax, try something new, and build a greater sense of community.
Recently, French embarked on a two-week study abroad experience in South Korea along with other Music Therapy majors. This opportunity allowed her to immerse herself in Korean culture as well as observe the differences and similarities in how music therapy is conducted in other countries. She was left with a deeper, cross-cultural understanding of music therapy as well as an even greater conviction of her career goals.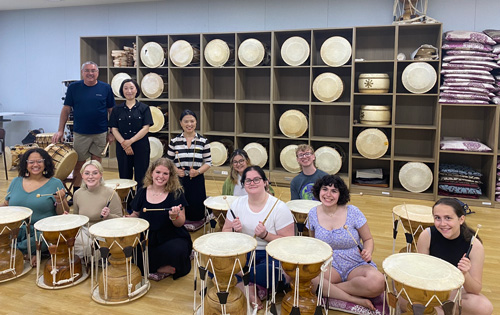 To help finance the trip, the Music Therapy department participated in Giving Day 2023, a 24-hour "Day of Giving" campaign held each year that unites alumni, parents, students, faculty, and staff from all over the world. The funds raised during this event helped to provide Marywood students with the opportunity to explore the intersection of music, health, wellness, and healing in South Korean communities. French is a Resident Assistant as well as a scholarship recipient, ensuring she has less financial burdens and can apply herself to Marywood opportunities that come her way.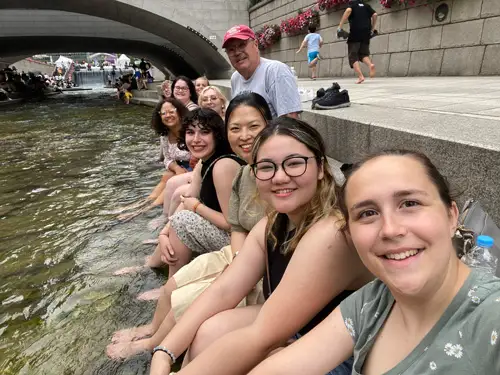 Though this trip was far out of her comfort zone, French felt supported enough to push her fears aside and expand her educational horizons. "The support that I had from my professors really pushed me to do it because I knew that I would be supported wherever I went with the Marywood community," French said.
Donor support plays a vital role in maintaining the momentum that keeps Marywood graduates a cut above the rest. When asked what helped her accomplish her many successes, French explained that, "Donors are a big reason that I can do what I do, that other students can do what they do."
Join us as a supporter of the EMPOWER Campaign and help provide opportunities like this to future generations.