Art Therapy Student Creates Videos About Life at Marywood University
Madison Solano, Roxbury, N.J., a senior in the Art Therapy program at Marywood, is passionate about her program, her school, her faith, her friends and family, her clubs and activities, and dance. She is also passionate about paying forward the knowledge she's gained through her YouTube videos and vlogs that she produces.
Madison was a step ahead in her college search by knowing the type of college experience and major she wanted. Those attributes made her decision a little less stressful after visiting several other colleges. Knowing that she was interested in pursuing a degree in art therapy, Madison's next big decision was finding a University that fit the type of college experience that suited her best, as well as one with dorm facilities that offered individual, rather than communal, bathrooms.
Madison said, "I was looking at schools for art therapy and realized that Marywood was an amazing school for that degree." She searched for the program through the internet, and, with help from her high school guidance counselor, she then visited Marywood in November 2018, went on an individual tour for art majors, toured the art facilities, and met with faculty and staff. "I knew it was the right fit for me, but the decision was solidified at freshman orientation in July 2019," she continued.
The dorm experience was and continues to be important to Madison. She said, "Going to college, you expect to be in a small dorm room, but Marywood has very spacious dorms. There's no timing things out or worrying about walking down the hall at 2 a.m. to use the facilities—everything I need is in my room."
Now in her final year of the art therapy program, Madison is also trying her hand at producing YouTube videos. In her latest video, "The Pros and Cons of Going to Marywood University," a video that helps those searching for colleges and programs, she educates her audience about what she was looking for in a college. She hopes the information that she provides eases the anxiety about her audience's decision.
"I wanted to produce YouTube videos, as I think it's an awesome platform to get to know colleges. Prospective students want to hear from a student who is already there. I also wanted to let my audience know about Marywood, especially those from my area, as it [Marywood] is a smaller school, and not a lot of people in my area know about it, so I wanted to make sure they know the benefits of going to Marywood and all the great things it [Marywood] offers," Madison said.
By producing the YouTube videos, Madison is documenting important memories and is influencing people. In addition to her informative videos about college life, Madison is also producing advice, lifestyle, and make-up videos. She sees the video platform as something that can help teach others about art therapy, how it works, and, in the future, providing recommendations about whether or not someone should go into art therapy.
Watch Madison's Student Testimonial Below
Madison said, "Art Therapy is a newer field. There are many people who have never heard of it. In fact, I didn't know about it until my junior year of high school. I always enjoyed art and helping people, which is another thing that I take pride in."
In addition to finding the right program, Madison was searching for a University where she could grow her faith. Since enrolling at Marywood, Madison has joined Delight Ministries, a campus ministry club for college women. Delight Ministries provides an environment for college women to incorporate worship nights, service, and fun get-togethers that help foster relationships.
Recently, Madison also was initiated, via Zoom, into Zeta Phi Delta, a student organization that was founded during the spring semester in 2001. The sorority is based on the belief that there are great advantages for younger women to uphold a sisterhood of women who appreciate friendship, promote loyalty and service, build character, and enhance the member's total education.
While passionate about her art therapy program, her college experience, growing in her faith, and serving others, prior to coming to Marywood, Madison was also a long-time member of a dance studio where she competed for 9 of the 15 years that she was a member. It was, and remains, a vital part of who she is today.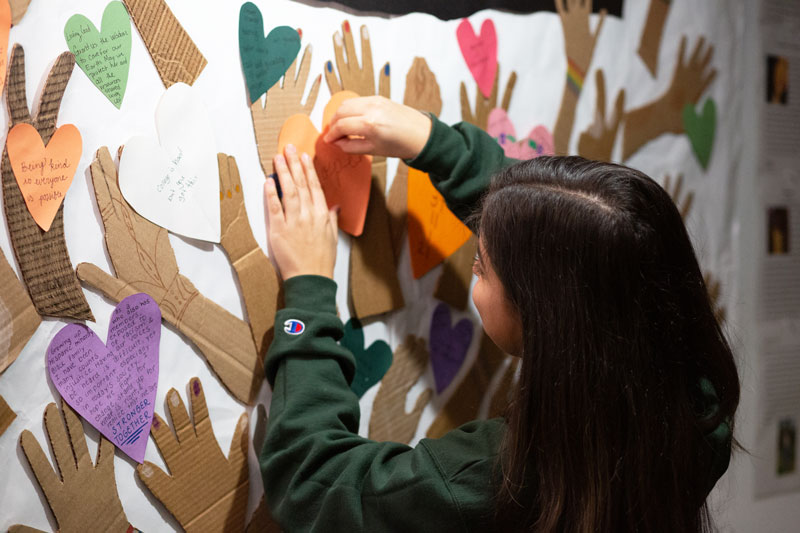 Madison said, "I was considering joining the dance team at Marywood, but I knew that I wanted to focus on my studies, and that it was important to adjust to college life first. I'll always love dance and will forever consider myself to be a dancer. College is a great way to start new paths and new interests though, and I'm following new paths now."
In the meantime, Madison is looking forward to returning to campus in the fall, continuing to stay involved with her sorority and Delight Ministries, and making her YouTube videos and vlogs. She's excited to return to her on-campus family, including faculty, staff, and administration members.
Watch Madison's YouTube Video Below