Interior Architecture Student Accepts Professional Internship with Disney
The dream of working for Disney is coming to fruition for Marywood University senior interior architecture student, Brandon Freely, Clifford Twp., Pa. Brandon was recently notified that he was accepted into the Disney World Resort's Professional Internship Program for students and recent graduates. Having applied in early January, Mr. Freely submitted a portfolio, participated in a phone interview, and was ultimately offered the position.
Mr. Freely will work on break room renovations. He explained that his team will be working with facility asset management at Disney World, which fills 4.5 million square feet of space. His team will provide support to strategic management for best use of space, but, most importantly, they will work on the rehabilitation of the break rooms. Mr. Freely is hoping to turn the six-month internship into a permanent position.
Prior to attending Marywood University, Mr. Freely attended Mountain View High School, Kingsley, Pa., where he took many art classes, but wasn't quite sure what he wanted to do with it. Architecture seemed to him like the right path to apply his art skills. After touring Marywood University, specifically its School of Architecture, and meeting faculty members, he didn't hesitate in committing to Marywood.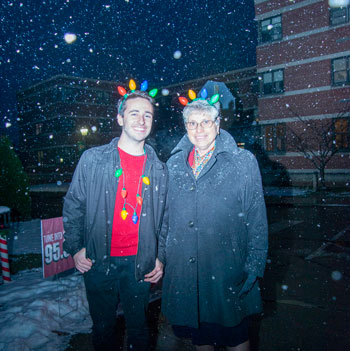 While at Marywood, Mr. Freely has been a member of Tau Sigma Delta, the University's Architecture Honor Society, and he was the biggest catalyst for the University's "Light Up Campus" event. A group of students in Marywood's Interior Architecture program took on an assignment themselves—providing a drive through lighting display to help enhance the holiday spirit. Prior to Marywood's lighting display, Mr. Freely was already considered a holiday light expert, as he provided a light show in his hometown of Clifford Township.
In his final semester at Marywood, Mr. Freely is excited about his future and starting his internship, but admits he will miss faculty members, his classmates, and the culture of Marywood.