Become a Certified Food Expert with a Degree in Nutrition and Dietetics!
A degree in Nutrition and Dietetics from Marywood University will prepare you to become a food and nutrition expert who can use evidence-based interventions to help people achieve their individual health goals. Registered dietitian nutritionists, or registered dietitians, are certified food and nutrition experts. Marywood's accredited undergraduate program in nutrition and dietetics will put you on the path to becoming an RDN. Nutrition and Dietetics is an in-demand field, due to the increased national focus on health and wellness, the aging population, and the increasing population of health-conscious people.
Why should you pursue a Nutrition and Dietetics degree from Marywood?
A Marywood education will prepare you for leadership and service in this ever-changing and rapidly growing field. Plus, you'll find flexibility in the Nutrition and Dietetics programs at Marywood University, no matter which degree path you choose.
Marywood's nutrition graduates have thrived due to the excellence of the program and the personalized attention it provides. Our faculty work with the students, getting to know them as individuals, and encouraging their growth in education, research, and service. We offer a challenging but supportive and nurturing environment that facilitates both professional and personal growth. Experiential learning opportunities and personalized guidance with the internship application process are also provided. Our Student Academy of Nutrition and Dietetics (SAND) is actively engaged on-campus and in the surrounding community.
Notification to current and prospective students regarding the closure of the Didactic Program in Dietetics
Marywood Nutrition Department Transitioning to Accredited Graduate Program in Nutrition and Dietetics
The Marywood University Nutrition and Dietetics Department is excited to announce that we have begun the process to transition our accredited MSDI program to an accredited Graduate Program in Nutrition and Dietetics (part of the Future Education Model)!
This transition will enhance your experience as a Marywood student and prepare you to enter the dynamic field of nutrition and dietetics as a Registered Dietitian Nutritionist (RDN).
What the Transition to the Future Education Model Entails
Coordinated with this transition to the Future Education Model, as of May 31, 2027, we will be voluntarily concluding our accredited undergraduate Didactic Program in Dietetics (DPD), since completion of an accredited undergraduate program is no longer a prerequisite for accredited Graduate Programs (GPs) in Nutrition and Dietetics.
As we transition to an accredited GP, our undergraduate DPD program will maintain its accreditation status through the Accreditation Council for Education in Nutrition and Dietetics (ACEND) until May 31, 2027. All students meeting the requirements for a DPD Verification Statement prior to May 31, 2027, will have the opportunity to earn a DPD Verification Statement.
Students who graduate from our undergraduate program after May 31, 2027, will not receive a DPD Verification Statement, but will earn a Bachelor of Science (BS) in Nutrition and Dietetics and will be eligible to apply to accredited GPs, including Marywood's GP.
Students will be conditionally accepted into Marywood's GP program upon enrollment in the undergraduate program at Marywood. Additionally, in accordance with our long history, we will continue to offer students several pathways, including accelerated options, to earn the RDN credential.
For more information about the transition process or other DPD program details, please contact our DPD Director Mrs. Kathryn Tullio MS, RDN, LDN tullio@marywood.edu, (570) 348-6211, ext. 2303.
Top Employers
Schools
Hospitals
Doctor's Offices
Health Companies
Top Career Paths
Nutritionist
Health Coach
Chef
Nutrition Assistant
Dig Deeper Into the Program Details
Undergraduate Admissions Requirements
Completed application
Official transcripts
Letter of recommendation
Official SAT and/or ACT test scores (Marywood is test optional)
Essay (optional)
Human Physiology Lab
The Human Physiology Lab includes a biochemistry lab, climate-controlled room, and equipment that measures:
Aerobic capacity
Anaerobic power
Strength
Bone density
Airway function
Body composition
More about the Human Physiology LabIn addition to traditional food testing tools, our Food Science Lab contains equipment to prepare students for food preparation in real-world commercial settings:
Blast chiller and rethermalization unit
Metabolic kitchen
Sensory evaluation lab
Ingredient room
Food Science Lab Photo Gallery
Our Healthy Demo Classroom is used for instruction and demonstrations, for both students and the community at large.
Our Sensory Evaluation Lab allows students to test the products they make in the Food Science Lab. The two laboratories are connected for easy evaluation.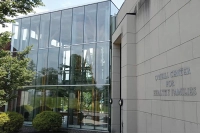 1401 University Avenue
Map & Directions
The O'Neill Center for Healthy Families, located on University Avenue, provides classroom and research space, joining academic programs to innovative research. Students from the Nursing, Nutrition and Dietetics, Exercise Science, Respiratory Therapy, and Physician Assistant programs have classes in this building.
Learn More
|
Take a Virtual Tour
80+ opportunities for you to find the right fit with 50+ undergraduate degrees and 30+ graduate and certificate courses.
From #DayOne, Marywood is here for you each step of the way.
Request Information
Loading...
Latest Program News & Events