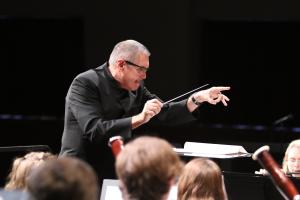 Wind Symphony & Ensemble Concert
Marywood University's music, theatre, and dance (MTD) department recently announced that the University's Wind Symphony and Ensemble will present the world premiere of the Patrick Burns' work, Fairest Morning, on Sunday, November 14, 2021, at 4 p.m., in the Sette LaVerghetta Center for Performing Arts. The concert is free and open to the public.
Patrick J. Burns will direct the band for the premiere. Mr. Burns is an adjunct professor of music at Montclair State University, New Jersey, where he teaches courses in music theory, orchestration, and composition. As a clarinetist, Mr. Burns has performed with many professional ensembles in the New York metro area, including The Metropolitan Opera Summer Ballet Orchestra; the pit orchestra for the Broadway revival production of Camelot, starring Robert Goulet; and with the New Jersey Chamber Music Society in broadcasts for National Public Radio and New Jersey Network Television.
Also on the program for that evening will be Omar Thomas' Of Our New Day Begun. The Marywood Wind Symphony was part of a commissioning body that led to the creation of this powerful work. Of Our New Day Begun was written to honor nine beautiful souls who lost their lives to a callous act of hatred and domestic terrorism on the evening of June 17, 2015, while worshipping in their beloved sanctuary, the historic Emanuel African Methodist Episcopal Church (affectionately referred to as "Mother Emanuel") in Charleston, South Carolina.
This special performance was a collaborative effort among various groups across the Marywood campus, including the Honors English classes, who wrote program notes, created posters, and interviewed guest artists and participants. It will be a day of reflection, remembrance, and celebration.
For additional information about the Wind Ensemble and Wind Symphony Concert at Marywood University, please email Dr. F. David Romines, MTD department co-chair, associate professor of music education, and director of bands, at dromines@marywood.edu, or call the music, theatre, and dance department at Marywood University, at (570) 348-6268.