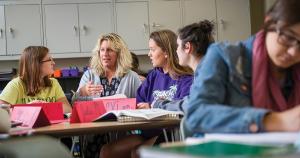 Toole Scholars Program
An investment in education is one that transcends generations. Molly Conahan Toole '65 and her husband, James Toole, experienced this in their own lives and families, and, now, they are giving back to Marywood University students with the gift of scholarships to honor their family's connection to the institution.
Jim's mom, Alberta Corgan Toole '27, and his aunt, Margaret E. Corgan '31, had access to education at a time when it was not common for women to attend college. With the introduction of the Toole Scholars Program, the couple is continuing the legacy of both women, who exemplified an ongoing love of learning and a commitment to the education of others. Margaret earned her Bachelor of Arts degree in Mathematics. She pursued a career in business, managing the office for Kingston Excavating, a family business. Alberta held a Bachelor of Arts degree in English, and later earned a master's degree. Her husband died when Jim was just a year and a half old. She taught math and Latin at Kingston High School.
"They were model women, who got their degrees at a time when many did not—simply because most could not—and, for that, they were both grateful," said Molly. She believes they would be delighted about the Toole Scholars Program. "Margaret would be thrilled. She loved her connection to Marywood and even served on the alumni board," Molly recalled. "Alberta fully believed in and was committed to education. When she was pursuing her master's degree, she took the Laurel Line to Marywood to take classes and earn her degree at night."
Molly understands their love and dedication to Marywood, because she also experienced it. "I loved being at Marywood," stated Molly, a graduate of the Class of 1965. "I had a wonderful experience. I could be involved in so many different things. I sang in the choir, even though I was not a music major. I loved the IHM Sisters—all great women and great teachers."
A Northeast Pennsylvania native, Molly majored in Elementary Education/English. She taught in the public school system in Hazleton for a year, then married Jim and subsequently moved to Minnesota, Panama, and Tucson, Arizona. She and Jim had six children, three boys and three girls.
"I was blessed to be a stay-at-home mom with all of them," she said. While raising a family, Molly volunteered for many years in her kids' schools. The Tooles lived in Tucson for 47 years and recently relocated to the Denver, Colorado, area to be nearer to family. Reflecting on her Marywood experience, Molly expressed, "It was joyful. I had no sisters—only brothers—so being at school with other girls was a truly great experience. I built so many memories and enjoyed lifelong friendships."
In addition to honoring their family, Molly and Jim founded the Toole Scholars Program to ensure that a new generation of high school graduates would have the opportunity to experience a Marywood education and then go on to pursue successful lives and to create their own legacies.
"The Marywood connection is a family connection," said Molly. "Education is so important, and that importance doesn't diminish with time. Any student who truly wants an education should be able to get an education without financial barriers."
There are many creative ways to give back to Marywood and its students. Learn more today at www.marywood.edu/support/ways-to-give/.