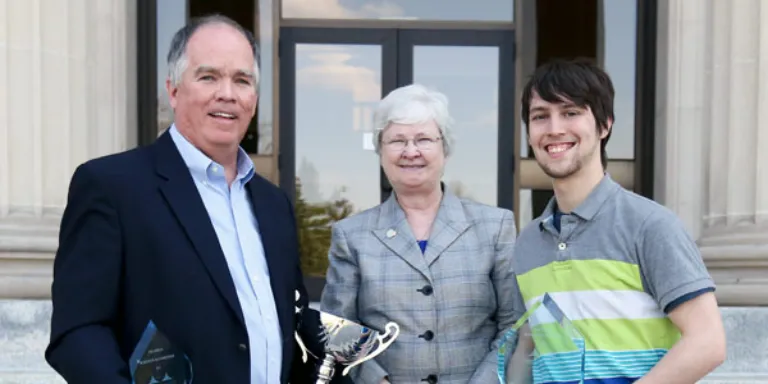 Students Win TecBridge Business Plan Competition
Marywood University's collegiate team won the 2015 TecBridge Business Plan Competition. Marywood team Late Skate won the top prize of $10,000 in start-up funds and $90,000 of in-kind services. The third place finishers were Marywood's team Last Lung.
Marywood was also the winner of the Smit-Webster Founders Award for top university among the 14 colleges and universities who participated in the Northeastern Pennsylvania competition. Christopher Speicher, Ph.D., associate professor of business and entrepreneurial director in the School of Business and Global Innovation, received the Faculty Advisor of the Year award at the ceremony.
Marywood's teams were among the top four teams chosen from more than 40 entries. Late Skate was selected as the overall winner of the competition. Late Skate team members include Frank Winger, Michael Neri, Jr., and Sarah Liang.
Third place winner Last Lung's team members include Gabriela Tornabene and Sherry Frable.
Previous Marywood team winners of the TecBridge Business Plan Competition employ over 700 people in entrepreneurial pursuits worldwide. Marywood business teams are consistently top-ranking in entrepreneurial developments in Northeast Pennsylvania, with the highest number of business start-ups per graduating student.
TecBridge is a regional collegial organization that collaboratively strives to create and embrace entrepreneurial opportunities with the purpose of growing technology and biotechnology wealth within Northeastern Pennsylvania.