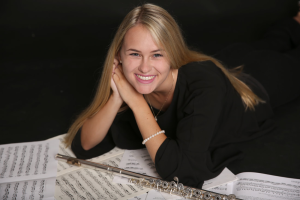 Samantha Humen Wins Marywood University's 2021 Concerto Competition
Samantha Humen, Archbald, Pa., junior music performance major, was recently notified that she is the winner of the 2021 Marywood Concerto Competition. The competition is held each November, and the winner is featured in the orchestra's spring concert, which will be held on April 11, 2021.
Samantha, a graduate of Valley View High School, Archbald, Pa., auditioned for the competition with Mozart's G major Flute Concerto, Movement 1. A talented musician, Samantha, prior to attending Marywood University, was a member of the Northeastern Youth Wind Ensemble, as well as Marywood's collegiate Wind Ensemble.
"I was drawn to the music program at Marywood University because of the individual attention from faculty—not just in the music department, but the University as a whole," Samantha said.
In addition to her music performance major, Samantha is minoring in world religions. Knowing that she wanted to pursue a minor, she explored multiple paths, including philosophy and psychology, but it was the minor in world religions that interested her most.
Looking to the future, Samantha hopes to combine her passions of music and world religions to serve as the basis for her master's thesis when the time comes.
"I want to determine the differences and similarities between Western and Eastern perspectives on music and how music incorporated into specific religious ceremonies across the globe is viewed. I don't have a title just yet, but I will present my findings during Research Day during the spring 2021 semester," Samantha said.
While Samantha began playing piano at age 5, it was a best friend who helped ignite her passion for becoming a flutist at age 12. Samantha said, "One of my best friends let me try playing her flute, a difficult instrument. I was determined to master it."
At Marywood, Samantha credits the faculty, who not only encourage her interests, but who also coach her through those interests. As a freshman, she wanted to put on a freshman elective chamber music recital. "The faculty listened to my initiative, coached me through the process, and helped me secure the resources for my recital," Samantha said.
Following graduation, Samantha hopes to audition for a master in music performance degree program. Ideally, she wants to pursue teaching in higher education, or teaching flute students while continuing to perform.
Visit Marywood University's Music, Theatre, and Dance Department or the Admissions Office for more information.