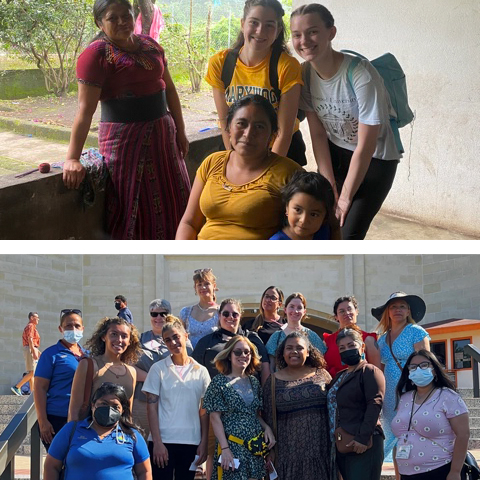 Service Trips Return after Pandemic
From June 4-11, two groups of Marywood students participated in Alternative Break Service and Immersion trips for the first time since the pandemic halted these service learning excursions two years ago.
Two groups of students went on the trips. Bachelor and Master of Social Work students traveled to serve with ARISE Adelante in McAllen, TX, and Nutrition/Dietetics and Physician Assistant students joined the Interprofessional Medical Mission, serving at the San Lucas Mission in Guatemala.
The first group worked with ARISE Adelante, a program that works with immigrant families and communities in south Texas to help them reach their goals in life, by facilitating a week of summer camp for children in the Rio Grande Valley. They organized games and activities to encourage positivity and empower the youth. In addition, this student service group visited La Posada Providencia in San Benito, TX, which serves as a shelter for immigrants seeking legal refuge in the United States.
The group serving with the Interprofessional Medical Mission worked alongside the health promoters and within the Mission's clinic to assist with basic health screenings and assessments. They also met with health promoters to provide an educational presentation.
Amy Fotta, Director of Community Service and Social Justice at Marywood, remarked that the ability to return after the pandemic and to act on the university's values are key takeaways from these trips.
"It really is an example of how the students live out the value of service," Fotta observed. "It helps each student understand how they can contribute to social justice and the common good."
For many students, these Alternative Break Service and Immersion trips are transformative and life-changing. Students who serve alongside these communities witness the lives of people who are marginalized, an eye-opening experience that prompts deeper reflection on these encounters and the circumstances that led to them.
"The students approach these experiences not as if they're serving to save people, but to serve alongside the community with a mindset of mutual exchange," Fotta said. "Each individual has their own gifts to serve with."
Community is a crucial part of the value of service, as Marywood has been sending students on these particular trips for many years—20 years in the case of the San Lucas Mission. These trips stress the importance of building relationships, not just among the students, but among the communities they serve. Building relationships around the core value of service and a commitment to the common good is integral to the Marywood experience, on campus and miles beyond it.