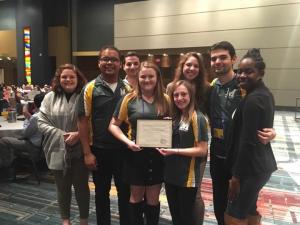 SAC Awarded Excellence in Programming at National Conference
The University's Student Activities Crew (SAC) members were recently awarded the Excellence in Programming award at the National Association of Campus Activities Northeast (NACA) conference, which was held in Hartford, Conn. SAC members submitted a proposal in September and were selected as finalists among 11 competing schools to showcase the programming board's (SAC) events held on Marywood University's campus.
Kim Coleman, director of Student Activities and Leadership Development at Marywood University said, "We feel that this is such an honor to receive the Excellence in Programming award, especially among other schools that competed including: private, public, and community colleges."
The University's SAC coordinates extra-curricular events for the University's undergraduate students. SAC hosts activities during the day, night, and on weekends to accommodate both resident and commuter students.
NACA is the recognized leader in higher education providing knowledge, ideas and resources for campus life. NACA provides members with programs and events focusing on student and professional leadership development, program planning, concert management, diversity and more.