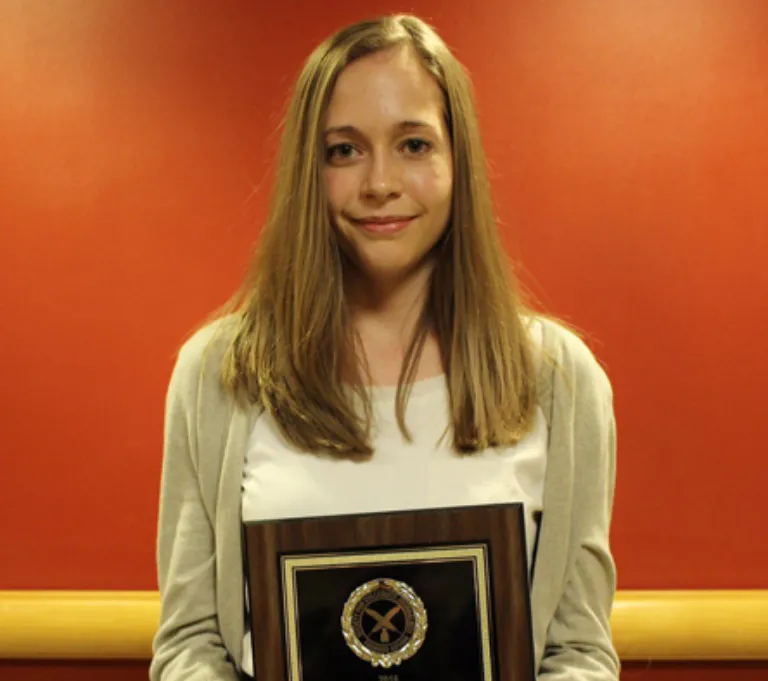 Communication Arts Student Receives Student Journalist of the Year Award
Rachel Looker, Blandon, Pa., junior digital media major, was recently awarded the Arthur H. Barlow Student Journalist of the Year Award at the Society for Collegiate Journalists (SCJ) 2016 Biennium Conference.
Ms. Looker is the editor-in-chief of The Wood Word, the University's student-run newspaper, as well as being heavily involved in producing packages for TV-Marywood, the student-run television outlet, which is distributed by Comcast, with department programming that reaches more than 100,000 households. She is also the vice president of the Society of Collegiate Journalists Chapter. Following graduation, Ms. Looker hopes to pursue a career in broadcast journalism in New York City.
The Arthur H. Barlow Student Journalist of the Year Award is named for longtime SCJ Executive Director, Dr. Arthur H. Barlow. This award is based on outstanding contributions to college journalism. It is designed to allow SCJ chapter advisers the opportunity to bring national recognition to a student journalist who meets the highest standards of ethics, service, leadership, and technical skills. The Barlow Award is supported with a $500 scholarship.
Ms. Looker, in addition to pursuing her major in digital media and broadcasting, is also pursuing minors in broadcast journalism and business. Lindsey Wotanis, Ph.D., associate professor in the communication arts department at Marywood University said, "Rachel is a dedicated young journalist who sees news and is determined to report it. She has a keen ability to juggle multiple stories at once, and I've never seen her allow any story to drop."
For additional information, please visit Ms. Looker's portfolio.