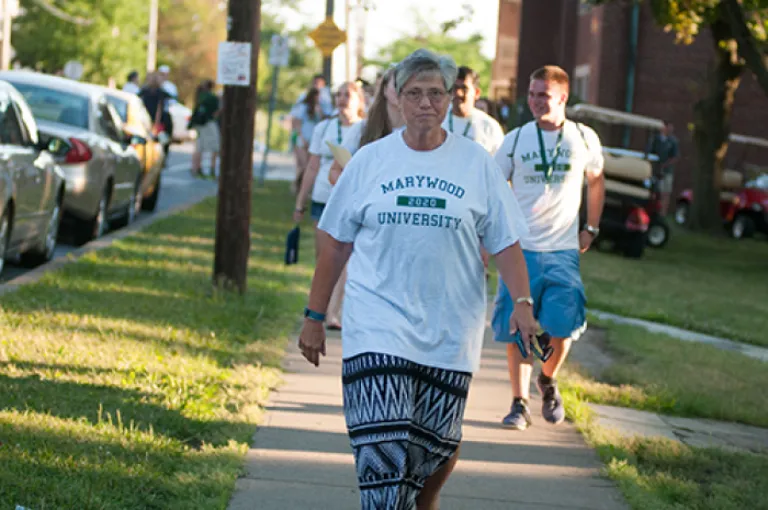 Letter to the Class of 2020
Dear Graduates of the Class of 2020,
We tried so hard! And then we tried again and again and again. No matter what we tried or what we did or who we contacted, it comes down to this – can't come together for an in-person Commencement right now for you!! Please know that your safety and that of your families and friends, as well as our compliance with governmental guidance, drove our final decision.

Under the guidelines and mandates of both the CDC and the PA Department of Health, no more than 250 guests are permitted at a gathering, even in cars. We researched other venues and scenarios, but nothing was ideal or personal. To accommodate the graduating class under these restrictions would require multiple ceremonies with limited students per ceremony. This would not have been the grand Marywood sendoff we envisioned.

If our mission and core values have taught us anything, it is to embrace the challenges that life throws our way and transform them into opportunities. As such, we will celebrate with a virtual Commencement event on our set date – August 15! We are extremely disappointed that our original plans could not be realized, but we are committed to creating a distinctive virtual broadcast, designed just for you.

We are also reserving a special section at next year's Commencement Ceremony in the Mohegan Sun Arena for your class, when we will recognize you individually. It will be a grand reunion and an opportunity to reminisce about your days at Marywood and catch up with your friends.

Again, I am deeply saddened that our original plans had to be changed. I have missed you and was looking forward to greeting you and congratulating you in person next month. It comes down to this–I want you to be safe. All of us at Marywood care about you and your families, and we don't want to take the chance of exposing you unnecessarily to the virus that has been disrupting and continues to disrupt our lives. Someday, this will be something in the past. For now, it is still very much with us, and our task is to walk the journey together, committed to the well-being of one another and supporting each other along the way.

Join the administration, faculty, and staff as we recognize your significant accomplishments at the virtual Commencement on Saturday, August 15, and plan now to be a special part of our 2021 Commencement, when we will gather as a community for a double celebration, with a special salute to the exceptional Class of 2020!