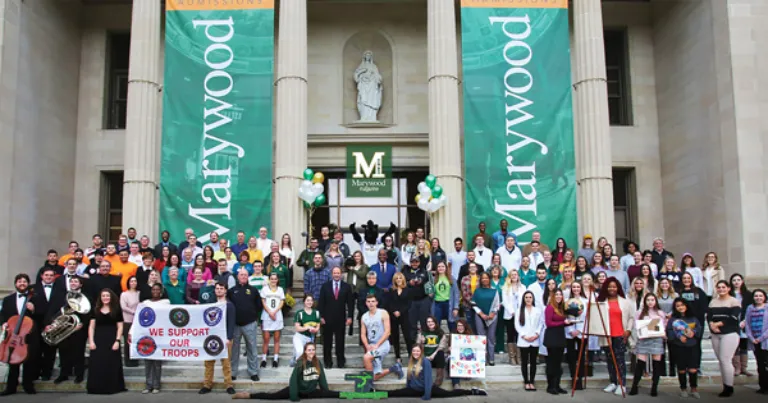 Passion + Purpose from Day One
"What's your major? What do you want to be?" For first-year and transfer students alike, these questions draw one of two feelings when asked; excitement or distress.
Some know the answers right away and will list the many reasons why they chose a certain major or career trajectory. Others are not sure, but eventually choose a field that offers a promising career path or that piques their interest through a class they take. There also are quite a few who simply don't know what their future holds. Which is the best path? All of them.
Every student's journey is different. Some will know exactly what they want to do when they are 17 years old (or even younger). There are adult students and members of the military who begin school later or return to explore a career change. Still others will start in one major, or even at a different college, decide it's not for them, and choose another that's a better fit. Undeclared students may seek guidance from the Academic Success Office, join a club or activity, or participate in a service project, and, in the process of one or all of these, discover a passion they might not have considered. There are graduate and doctoral students, who want to bolster their existing careers, change their focus, or prepare for professions that require advanced education.
Many students are now in the college selection process, trying to discern where and how they fit.
Here at Marywood University, we distinguish our brand of education by demonstrating that, from Day One, our students are empowered to discover their passion and realize their purpose. What does that mean? From Day One, your classes/applied experiences in your chosen field, as well as vital core courses, will shape the totality of your Marywood education. You will feel at home, and our signature hospitality and encouragement will be there to welcome and guide you. Even if you are not completely certain which path to choose, the many opportunities available and the people you encounter will help to shape your future aspirations. By the time you earn a degree, you will be fully educated and in demand.
Marywood is nationally recognized among Catholic Universities and statewide among Pennsylvania Universities. Individual accolades include Colleges of Distinction's national endorsements of Marywood's academic programs in Business, Education, and Nursing, as well as its exceptional student support initiatives in Career Development and Military Support.
Marywood students find their passions and realize their purpose through academic majors, student activities, athletics, and service; with the mentorship of faculty and student services professionals; and with the support of university leadership, staff, alumni, and benefactors. Many braved a cold October day to gather and visually represent a cross-section of what makes our community distinctively Marywood. There are many more majors, activities, and opportunities than could be represented on one cover or in the pages of one magazine; however, the stories in this issue are the proof points that a Marywood education promises and delivers.
The path to realizing your dreams is distinctively yours, and there are many ways to achieve them, but no one journeys alone. The real difference maker at Marywood is our welcoming and supportive community, which empowers your choices. Day One starts here.