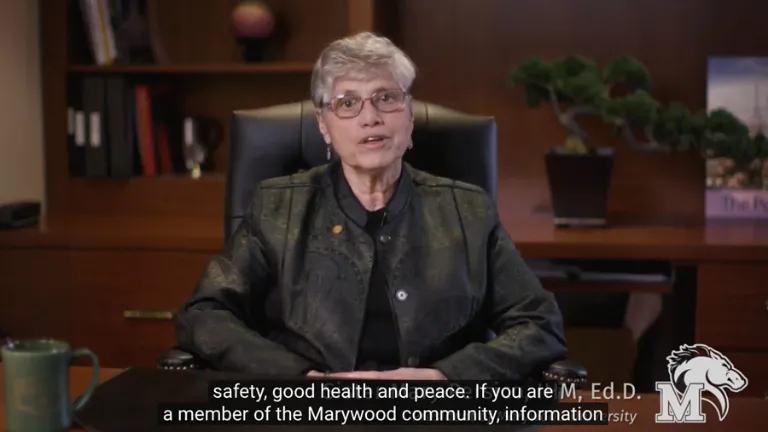 Our Best Selves
A Special Message from Sister Mary
Recent happenings in our world have touched all of us in differing but profound ways. The effects of such an unparalleled event in the life of Marywood will determine the direction of our future as a university. During this time, many of our colleagues and co-workers have worked unceasingly to determine the best course of events—for our students, who are the center of what we do, for our faculty and staff, and for Marywood in general. They were thoughtful and cautious, selfless and honest in their deliberations. With every passing day, they were confronted with new and evolving information which forced them to change their guidance and directives.

It is said there is a pivotal catastrophic event in every generation. We remember where we were and what we were doing when it happened. We never forget how it changed us. We have a choice now to be in touch with our best selves, the selves that allow hope to overcome fear, inner strength to steady our thoughts, compassion to direct our actions, and wisdom to guide our judgement. Our collective choices will either define us as a university that forges a strong remarkable history together or as a mediocre institution that gives in to the nagging voices of cynicism and regret.

Between now and our coming together again, let us encourage and support one another in creative and caring ways. To assist you at this unparalleled time in world history, we will continue to provide updates via email, website, and social media. In this rapidly evolving situation, please continue to visit marywood.edu/covid19 for updates.

The following is a prayer written by one of our IHM Sisters. I hope you will pray it often during this incomprehensible moment in history.
Warm regards to all,
Sister Mary
Prayer during a Pandemic
Loving God, Holy One,
Your desire is for our wholeness and well-being.
We hold in tenderness and prayer
the collective suffering of our world at this time.
We grieve precious lives lost and vulnerable lives threatened.
We ache for ourselves and our neighbors, standing before an uncertain future.
We pray: may love, not fear, go viral.
Inspire our leaders to discern and choose wisely, aligned with the common good.
Help us to practice social distancing
and reveal to us new and creative ways to come together in spirit and in solidarity.
Call us to profound trust in your faithful presence,
You, the God who does not abandon,
You, the Holy One,
breathing within us,
breathing among us, breathing around us
in our beautiful yet wounded world.

- Sisters of IHM, Scranton, PA