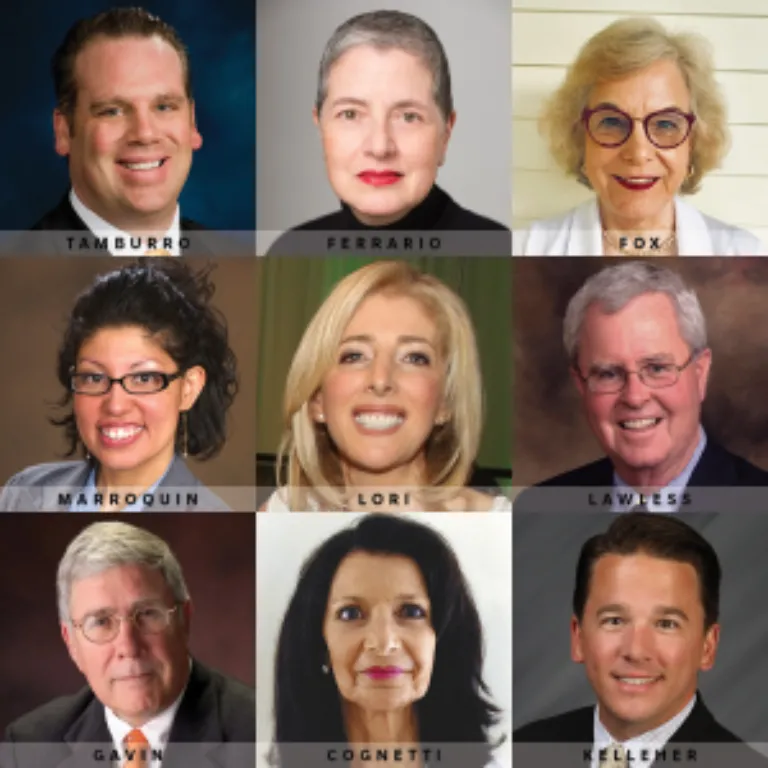 Marywood Welcomes New Board Members
Board Officers Also Announced for 2018-2019
Sister Mary Persico, IHM, Ed.D., Marywood University President, recently announced that five new trustees have been elected to Marywood's Board of Trustees. New board members include: Mary Lawler Murphy Fox, Ph.D., Tunkhannock, Pa.; Frank Kelleher, Ormond Beach, Fla; John J. Lawless, Dunmore, Pa.; Alejandra Marroquin, Scranton, Pa.; and Robert Tamburro, Wilkes-Barre, Pa. In addition, the slate of board officers elected for 2018-2019 includes: Lisa A. Lori, Esq., Philadelphia, Pa., Board Chair; Pia Ferrario, New York, N.Y., Vice Chair; Susan Cognetti, Clarks Green, Pa., Secretary, and James G. Gavin, M.S.W., Scranton, Pa., Treasurer.
New Marywood University Board Members, 2018-2019
Mary Lawler Murphy Fox, Ph.D.
Dr. Fox, Tunkhannock, Pa., has dedicated her career to the field of special education. She is the co-founder of SOAR (Students On campus Achieving Results) at Marywood University, a program for high school students with autism spectrum disorder, which was established in 2008. She is presently the Compliance Monitor for the Pennsylvania Department of Education's Bureau of Special Education, and she is a Pennsylvania special education advocate, providing advocacy for parents of children with disabilities. Early in her career, she taught in the Tunkhannock Area School District, then became the supervisor of special education at the Northeastern Educational Intermediate Unit (NEIU), overseeing several school districts in her region. She has also directed the special education departments of Western Wayne School District, Elk Lake School District, and the Career Technology Center of Lackawanna County. Dr. Fox has served as director of early intervention at NEIU, and she was an adjunct professor at Marywood University, Misericordia University, and Keystone College, as well as an associate behavior specialist at Step by Step, Inc., Wilkes-Barre, Pa.
A member of several professional organizations, including the Pennsylvania State Education Association, Pennsylvania Federation of Business and Professional Women, and Tunkhannock Business and Professional Women, Dr. Fox's current board associations include Tunkhannock Public Library and Friends of the Arc Auxiliary of Northeastern Pennsylvania. She recently concluded board service for the Marywood University Alumni Association. Her past associations include Goodwill Industries, where she was a member of the Board of Directors; Nativity of the Blessed Virgin Mary Parish, where she was president of the parish council; Arc of Wyoming County, where she was past president, and Arc of Pennsylvania, where she was vice president. Dr. Fox holds three degrees from Marywood University, including a bachelor of arts in special education, a master of science degree in special education, and a Ph.D. in human development, with a concentration in instructional leadership.
Frank Kelleher
Mr. Kelleher, Ormond Beach, Fla., is vice president of sales and marketing at International Speedway Corporation (ISC), Daytona Beach, Fla. A native of Northeast Pennsylvania, his association with ISC began with a college internship while he was pursuing a business degree at Marywood University. The internship opened his eyes to professional motor sports. After graduating with a bachelor of arts in business administration degree from Marywood in 2003, he was hired as an account coordinator for ISC. Mr. Kelleher has been promoted several times, and his positions have included serving ISC as an account executive, account manager, manager, and director, all in partnership marketing or sales. More recently, he served as senior director, marketing partnerships and media.
In his current role as vice president of sales and marketing, Mr. Kelleher oversees the 100+ million dollar corporate partnerships and media business, including representation from several Fortune 500 companies. He directs a team of 25 who are responsible for prospecting, selling, renewing, activating, creating concepts, and executing events. In addition, Mr. Kelleher manages the ISC brand, event and consumer marketing, directs the sales, marketing, and experiential elements of ISC's real estate developments. He also is responsible for leading strategy and sales against the recently announced $178+ million modernization of Phoenix Raceway.
John J. Lawless
Mr. Lawless, Dunmore, Pa., has worked in the automobile industry for his entire life, starting at Bradley Lawless Motors, Inc., where he served as president and own of both Nissan and Pontiac franchises. He sold that family business in 2001, and currently owns and operates John J. Lawless, Inc., an automotive, financial, and real estate enterprise.
He served for two years as the chairman of the Business Advisory Council to the School of Business and Global Innovation at Marywood University, where he led efforts to increase enrollment and alumni participation. He is a lifelong parishioner of Our Lady of Mt. Carmel Parish, Dunmore, where he served on the Parish Finance Committee and was president of the Holy Name Society. Mr. Lawless has also served on the board of directors for the Drug and Alcohol Treatment Services of Lackawanna County for the past 25 years and currently sits on its Executive Committee. He works beside his entire family on the Planning Committee for the Jude Zayac Foundation, raising funds for SIDS research and the St. Joseph's Center Baby and Children's Pantry, in memory of his late grandson, Jude. A graduate of the Scranton Preparatory School, Mr. Lawless attended Marywood and graduated from Thomas A. Edison University is a bachelor of science in business administration degree in marketing.
Alejandra Marroquin
Ms. Marroquin, Scranton, Pa., is the Latino outreach coordinator at Catholic Social Services, and she has spent her life in service to others. She regularly works to educate people and lead discussions on important issues, such as unconscious racism. She was born and raised in Guatemala City, Guatemala, where she lived until age 13, when she immigrated to United States.
Ms. Marroquin volunteered for 16 months with the Friendship Mission in Mexico, serving those at a girls' home, women's prison, and daycare. She then joined Catholic Social Services as a relief caseworker, working for seven years to provide resources to clients in need of various types of material assistance. She has worked closely with the IHM Congregation in Scranton to serve the local Hispanic community. In 2012, she assumed responsibility for the Hispanic/Latino program at Catholic Social Services, through which she provides translation/interpretation services, in addition to assisting clients with medical, legal, and personal appointments. A lector at St. John Neumann Parish, Scranton, Ms. Marroquin also serves on its parish council. She is an IHM Associate and a member of the IHM Congregation's Justice, Peace, and Integrity of Creation Committee. She played an instrumental role in bringing the "Nuns on the Bus" campaign to Scranton. A recipient of the Sister M. Eva Connors Peace Medal, Ms. Marroquin holds a master of social work degree from Marywood University, as well as a bachelor's degree in psychology from the Pennsylvania State University.
Robert Tamburro
Mr. Tamburro is a native of Kingston, Pa., and currently resides in Moosic, Pa., with his wife and family. He joined his father's Wilkes-Barre based business in 1997 and primarily focused on commercial real estate development and management. He remains engaged in real estate activities today.
In addition to his professional pursuits, Mr. Tamburro takes interest in the Tambur Family Foundation, a philanthropic trust founded by his parents, Bob and Ginny Tambur. He currently serves on several local boards, including Wyoming Seminary, Luzerne County Community College Foundation, Penn State Wilkes-Barre, Geisinger Wyoming Valley, and Lackawanna Valley Heritage Partners. Mr. Tamburro is a 1991 graduate of Wyoming Seminary and earned a bachelor of arts degree from the University of South Carolina in 1995. Robert graduated as a member of Phi Beta Kappa, which is the oldest and most prestigious undergraduate honor society in the country.
Marywood University Board Officers, 2018-2019
Lisa A. Lori, Esq., Board Chair
Atty. Lori, Philadelphia, is a Partner, Litigation Group, with Klehr, Harrison, Harvey, Branzburg LLP. She represents national and international businesses, including Fortune 500 companies, and individuals in a full range of complex commercial litigation matters. Since beginning her service on Marywood's Board of Trustees in 2014, she has served as secretary of Marywood's Board, and, for the past two years, as Chair. She has been a member of the Audit Committee, Financial Affairs Committee, and the Executive Committee. Atty. Lori, who holds a Bachelor of Science degree in Fashion Design from Marywood, initially began her career in the fashion industry before deciding to pursue a legal career. She earned her J.D., cum laude, from Temple, and then worked for a small firm in Philadelphia that did anti-counterfeiting work. She has been with her current firm since 2002, and was promoted to partner in 2007. Atty. Lori earned a Master of Laws (LL.M.) degree in Trial Advocacy from the Temple University School of Law.
Pia Ferrario, Vice Chair
Ms. Ferrario, New York, N.Y., now retired, served as the CEO of Victoria's Secret Direct. She had previously served in a number of executive leadership roles at Victoria's Secret, a subsidiary of LBrands. She also worked in leadership and management positions for Ups'N Downs, Enfield, Conn., JCPenney, Dallas, Tex., John Wanamaker, Philadelphia, Pa., and the Globe Store, Scranton, Pa. Since her election to Marywood's Board in 2014, Ms. Ferrario has served on the University Advancement Committee and the Committee on Trustees. She established the Angela and Pio Ferrario Memorial Endowed Scholarship at Marywood University, and she is the recipient of the Sisters of IHM Spirit Award. Ms. Ferrario's volunteer affiliations also include Catholic Relief Services, Catholic Charities of the Archdiocese of New York, Food Bank of NYC, and the Scranton IHM Congregation, among other faith-based and educational organizations. She is a graduate of Marywood Seminary and studied art education at Kutztown University.
Susan Cognetti, Secretary
Mrs. Cognetti, Clarks Green, serves as a paralegal and office manager at Cognetti &Cimini. Since beginning her service as a Marywood trustee in 2014, Mrs. Cognetti has served as chair of the Committee on Trustees and as a member of the Enrollment Services and Student Success Committee and the Executive Committee. She has been the secretary of the board since 2016. Mrs. Cognetti serves as Eucharistic Minister at St. Gregory's Parish, where she was also Parish Coordinator for First Penance and First Communion for more than 25 years. Upon graduation from St. Mary's High School, Manhasset, N.Y., she was a National Merit Scholarship Semifinalist and a New York State Regent Scholarship Recipient. A graduate of Manhattanville College, Purchase, N.Y., where she majored in psychology and was certified to teach Elementary Education, K-8, Mrs. Cognetti later earned her Paralegal Certification from the Pennsylvania State University.
James G. Gavin, M.S.W., Treasurer
Mr. Gavin, Scranton, is the President and Chief Executive Officer of Community Care Behavioral Health Organization. He has more than 40 years of training and experience in behavioral health care, from clinical service delivery through executive management. Since beginning his service on Marywood's Board of Trustees in 2009, Mr. Gavin has served as treasurer of Marywood's Board and has been a member of the Financial Affairs Committee, which he chaired; the Audit Committee; the Committee on Trustees; and the Executive Committee. A licensed social worker in the Commonwealth of Pennsylvania, Mr. Gavin holds a Bachelor of Science degree in Sociology from the University of Scranton and two master's degrees—a Master of Social Work and a Master of Managerial Science—from Marywood University.