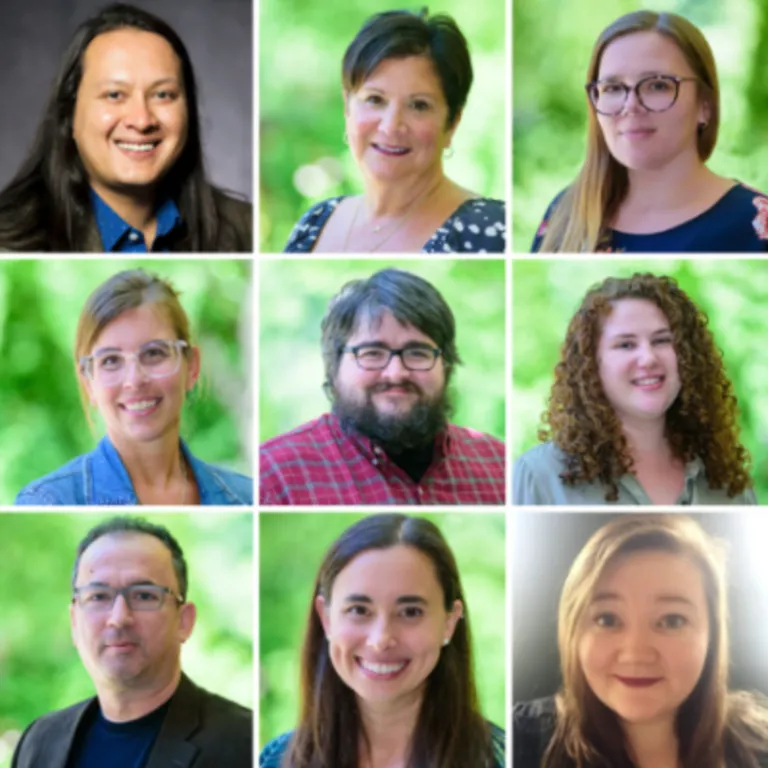 New Faculty Members for 2022-2023 Academic Year Announced
Scranton, PA (August31, 2022) —Marywood University deans, Shelby W. Yeager, MEd, LAT, ATC, CSCS, interim dean for the College of Health and Human Services; Jeffrey Johnson, D.M.A., dean for the Insalaco College of Arts and Sciences; and James J. Sullivan, M.Arch, RA, AIA, dean for the Reap College of Professional Studies, recently announced nine new faculty members for the 2022-2023 academic year.
In the College of Health and Human Services:
Kaitlyn A. Clarke, Ph.D., CCC-SLP/L., assistant professor of communication sciences and disorders, earned her master of science in speech language pathology from Misericordia University, Dallas, Pa., where she also earned her undergraduate degree, a bachelor of science in health science. Additionally, she holds a post-graduate certification in criminal justice with specialization in applied behavior analysis from St. Joseph's University, Philadelphia, Pa. Ms. Clarke received her Ph.D. in communication sciences and disorders from Pennsylvania State University in 2021. She works primarily with individuals diagnosed with autism spectrum disorder and those with complex communication needs. She has a passion for alternative and augmentative communication systems and is interested in the integration of multiple modes of sensory input in individuals with autism. She served as a Clinical Research Speech Pathologist at Geisinger's Autism and Developmental Medicine Institute and participated in research in the areas of genetics, ASD, and developmental delays. Additionally, Ms. Clarke has done research in voice disorders and treatment, as well as in treatment for stuttering.
Jessica R. Eberle, MPAS, PA-C, assistant professor of practice in physician assistant studies, holds her master of science in physician assistant studies from Marywood University, where she also received her bachelor of science degree in pre-physician assistant studies.She hasserved as a suturing lab instructor and exam proctor at Marywood, where sheguest lectured on the topic of abdominal pain in the emergency department. Additionally, Ms. Eberly presenteda guest lecture on thyroid disorders at Misericordia University. Her clinical experience includes serving as lead advanced practice clinician at Lake Scranton Urgent Care, where she also is the clinical preceptor for PA students and an urgent care physician assistant. She served previously in these clinician and preceptor roles at ApolloMD,Moses Taylor Hospital ER, where she worked as an emergency medicine physician assistant.
Allison Fruehan, Ed.S., pro-rata instructor in psychology/counseling, earned her educational specialist degree and endorsement in autism spectrum disorders from Marywood University. She also holds a master of arts in psychology and a bachelor of science in general psychology from Marywood and is expected to earn her Ph.D. in curriculum and instruction –special education from Liberty University in August 2022. Ms. Fruehan serves as a school psychologist for the Pocono Mountain School District. She previously served as a school psychologist at the Arts Academy Elementary Charter School in Allentown, Pa., and did her school psychology internship in the Anchorage School District, Anchorage, Alaska. Ms. Fruehan's graduate research focused on "Virtual Reality Social Skills and Job Interview Training," and her graduate professional contribution was titled "Culturally Responsive Suicide Prevention and Intervention: A Guide for Secondary Educators and Administrators." Additionally, her undergraduate honors thesis was "A Preliminary Examination of Stereotype Lift of Language Arts Skills in an Undergraduate Population of Women."
In the Insalaco College of Arts andSciences:
Conor J. Flynn, laboratory instructor of chemistry, holds a master of science in chemistry from Bucknell University. He has a bachelor of science in chemistry, as well as a bachelor of arts in music, liberal arts/euphonium from Bloomsburg University.Additionally, he holds an American Chemical Society Certification. Mr. Flynn has done doctoral level work at University of Illinois at Urbana-Champaign, where he studied physics, along with additional doctoral work at Brown University, where he studied chemistry. He has previously taught chemistry on the university level at Bucknell University, University of Illinois at Urbana-Champaign, and Wilkes University. Additionally, he has taught middle and highschool classes at Lakeland Jr.-Sr. High School as a substitute teacher. Mr. Flynn's research experience at Bloomsburg University includes the synthesis of silicone copolymers and development of analytical methods to measure effectiveness of flame-retardants in thermoplastic materials, as well as the study of catalytic properties of pentafluorophenylcyclopentadienyl cobalt dicarbonyl in the synthesis of heterocycles, and, at Bucknell University, he worked on the measurement of vibrational relaxation rate of collisionally coupled carbon dioxide molecules by transient laser absorption spectroscopy.While at Bucknell, he also presented "Carbon dioxide self-quenching rates measured by a quantum cascade laser" at the Summer 2015 AmericanChemical Society National Meeting.
Benjamin Hole, Ph.D., assistant professor of philosophy, earned his doctoral degree in philosophy from the University of Washington, Seattle, Wash., where he also earned his master of arts in philosophy. On the undergraduate level, he received a bachelor of arts degree in philosophy, with honors, along with minors in classical studies and English, from Lewis & Clark College, Portland, Ore.He has served as a visiting assistant professor at Pacific University, Forest Grove, Ore., and also has taught at Seattle University, Northeastern University (NU Global), Bellevue College, and the University of Washington. He has presented and published on topics such as animal activism, climate action, civic engagement, and sustainable development, among others, earning professional distinctions and awards for his work and teaching.
Anna Adams Petrin, Ph.D., assistant professor of religious studies, earned her doctoral degree in theology (liturgical studies) from the University of Notre Dame, where she also earned a master of theological studies degree. Additional, Dr. Petrin holds a master of divinity degree from Duke Divinity School, and two undergraduate degrees, a bachelor of arts in history and a bachelor of arts in religious studies, both from North Carolina State University. She received online/hybrid training from Wesley Theological Seminary. Dr. Petrin previous taught at Marywood as an adjunct faculty member. She also has taught at Wesley Theological Seminary and the University of Notre Dame. She has published and presented on various topics, ranging from Wesleyan theology and the sacraments to the Egyptian elements, the liturgy of Jerusalem and pastoral education. Dr. Petrin's research languages include Greek, Latin, French, German, and Italian.
In the Reap College of Professional Studies:
Kimberly Hagan, instructor of architecture, earned both her master of interior architecture and bachelor of architecture degrees from Marywood University. While an architecture student at Marywood, she also studied abroad at the International Studies Institute in Florence, Italy. Additionally, she holds a certificate in healthier materials and sustainable building. Ms. Hagan previously taught at Marywood as an architecture lecturer. She interned with Richard Pedranti Architect (RPA) and has international and national conference publication on topics such as sustainable solutions to hazardous materials, repurposing demolished building materials, and design-build leadership. Her conference presentations have focused on digital models, sustainable solutions to hazardous materials, community design build outreach, integrative design, and design-build leadership.
Arian Korkuti, Ph.D., assistant professor of architecture, earned his doctorate in architecture and design research from Virginia Tech, where he also received his master of science in architecture and master of architecture degrees. He holds a bachelor of fine arts in interior design from Virginia Commonwealth University. Dr. Korkuti has been a visiting assistant professor and instructor at Virginia Tech. Additionally, he has taught at the University of Arkansas. Dr. Korkuti's dissertation was titled, "Ratiocinium in the Architectural Practice of Giuseppe Terragini and its role in the relationship between architecture and the city during the modern movements in Italy." His peer-reviewed conference and lecture presentations have focused on building as service, the typology of the tower-house in the Albanian Alps, and architecture in times of crisis, among others.
Frances A. Loughney, M.S., instructor of education, earned a special education administration and supervision certification, a master of science degree in special education, an elementary education certification (K-6), and a bachelor of arts degree in special education, all from Marywood University. On the university level, she has taught at the University of Scranton, Wilkes University, and Marywood. Ms. Loughney held several special education positions in the Dunmore School District for many years prior to her retirement, initially serving as a learning support teacher and transition coordinator and eventually becoming the district's special education director. Ms. Loughney also has served the director for transition for NortheastCenter for Independent Living.