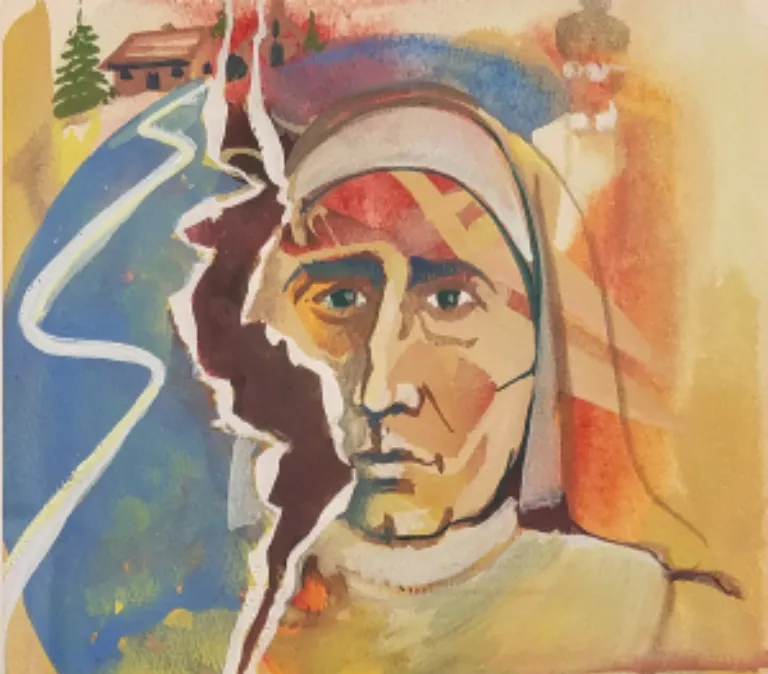 Official Portrait Unveiling of IHM Congregation Foundress Set (4/5)
Marywood University is presenting the official unveiling of Theresa Maxis, Torn Woman, a portrait of Mother Theresa Maxis, foundress of the Congregation of the Sisters, Servants of the Immaculate Heart of Mary (IHM), on Tuesday, April 5, 2022, 1 p.m., at the Archives Room, Second Floor of the Learning Commons, on the University's campus. The event is free and open to the public. The portrait was created by acclaimed artist Sister Helen David Brancato, IHM.
Born of unwed parents and of mixed racial lineage into a society that held both conditions in contempt, Mother Theresa Maxis nevertheless received an upbringing and education far superior to most women of her time, attributed to the kindness of her adoptive family. While her life was a paradoxical contrast of advantage and liability, her circumstances combined to create a determined and responsive personality and, ultimately, a resourceful and dynamic leader.
Constantly on the margins of society, she was willing to forego comfort and security throughout her lifetime, choosing instead to direct her energies to life-giving service. Mother Theresa Maxis's actions and choices, while disruptive and disagreeable to some of her contemporaries, resulted in the foundation of two religious congregations, in Baltimore (Oblate Sisters of Providence) and Michigan (IHM Congregation), eventually giving rise to two additional IHM congregations, Scranton and Immaculata (Philadelphia). Her influence can be seen in the growth of faith-supporting ministries, particularly among poor, immigrant, and working-class people, which continue today through the lives and work of the IHM Sisters and IHM Associates.