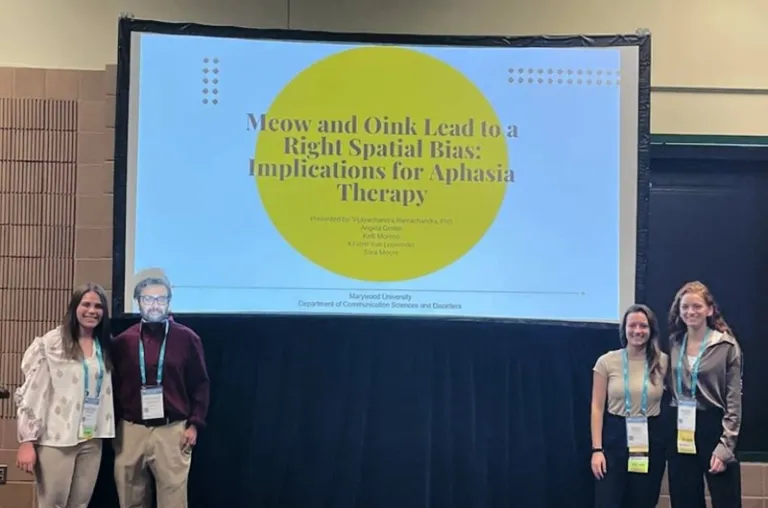 Marywood Researchers Present at ASHA Convention
Dr. Vijayachandra Ramachandra, Professor of Communication Sciences and Disorders at Marywood University, and first-year Speech-Language Pathology graduate students, Kirsten Van Louvender, Kelli Moreno, and Angela Genter, recently presented their research, "Meow and Oink Lead to a Right Spatial Bias: Implications for Aphasia Therapy," at the 2022 American Speech-Language and Hearing Association Convention, which was held in New Orleans, La., from November 17-19.
In this study, the investigators explored how the brain processes different types of words and environmental sounds using neuropsychological methods called visual and tactile line bisection. The findings of this study have important implications for treating people with aphasia, a disorder caused due to a stroke or a head injury and which can affect a person's ability to communicate.
For additional information about the communication sciences and disorders department at Marywood University, please visit marywood.edu/academics/csd, or contact the Admissions Office at (570) 348-6234. Additionally, prospective undergraduate students can email YourFuture@marywood.edu and prospective graduate students can email GoGrad@marywood.edu for more information.
Pictured in the image from left to right are Marywood University research presenters, Kirsten Van Louvender, Moscow, PA; Dr. Vijayachandra Ramachandra, East Stroudsburg, PA; Kelli Moreno, Hebron, MD; and Angela Genter, Scranton, PA.